This article was originally published in Domus 964 / December 2012

In October, Harvard's Graduate School of Design held the first in a series of conferences on the relationship between design and architecture. The motive behind the series is that the GSD — which, despite its name, is a school of architecture and urbanism — is exploring the idea of putting design on the curriculum. The obvious question is why? The flippant answer would be because Harvard's business school had the same idea, and the Dean of the GSD, Mohsen Mostafavi, is keen to reclaim a topic that traditionally falls in his territory. But the very fact that business schools are now teaching design — or "design thinking", at least — raises interesting questions about the role of design and its discourse in contemporary culture.

It is clear that design agencies have successfully packaged a methodology that the business sector finds attractive. At the same time, what we think of as "design" has been completely reshaped by its influence not just on the material aspect of our lives but also at the structural level, in everything from software to services and infrastructure. With that kind of influence, and with design arguably proving more successful than architecture at selling itself as a service, it is no wonder that the GSD would want to live up to its name.

Having said that, the series began on fairly safe ground, exploring furniture and interiors as an extension of "spatial practice". With a line-up of speakers that included designers such as Jonathan Olivares , curators and gallerists such as Murray Moss and senior figures at Knoll and Herman Miller, the question was how do you define a design practice? What distinguishes the two disciplines? And what can architecture education gain from a closer relationship with its cousin?

Justin McGuirk: What inspired the idea to explore bringing design to the Graduate School of Design?
Mohsen Mostafavi : I have thought for a long time that architectural education misses out on a lot by not considering interiors as a serious subject matter. We have a whole history of interior design — or some call it interior architecture — programmes, but generally they don't have a strong disciplinary focus, or a strong history and theory foundation, and often are on the border of interior decorating. This is despite the fact that the vast majority of graduates spend time dealing with interiors. Generally the emphasis is on the outside. So we did an issue of the Harvard magazine called "What about the inside? " Basically that was a kind of polemical statement to say that the relationship between architecture, furniture and design more broadly requires attention. We had some conversations about this with Vitra and we initiated a series of interior design studios.

Isn't this quite a traditional vision of architecture's relationship to design?
I was just giving you the context. When the Graduate School of Design was founded in 1936, we taught architecture and landscape design, so why did we have this umbrella of "design" to bring the different practices together? We just had our 75th anniversary and what has been on my mind is precisely that we need to understand whether design complements our activities in any way. Part of this relates to this discussion of what is architecture and what is design, whether it's industrial design, furniture design or design thinking. Let's think of design more broadly as a way in which we discuss our relationship with the world. Sometimes architecture is more opaque in how it connects with societal issues. Design in some ways stands a better chance as a means of communication, but the reason why I am doing this conference is to address the potential relationship between design and architecture.

The traditional relationship sees design as a subset of architecture, a producer of smaller elements, whether it's furniture or interiors. But in the last decade, and possibly just because the word is more elastic, "design" has emerged as an overarching discipline of which architecture is just a subset. So from architecture one can narrow in scale towards furniture and products or broaden out towards the systemic, from interaction and service design to the use of design to deliver public policy. And what's interesting to me is the way design has developed a more ambitious discourse than architecture, an almost expansionist rhetoric in terms of the things that design believes it can tackle. And then one wonders whether architecture as a discipline has much of a future if it just produces discrete objects called buildings and is not involved in the decisions about networks, infrastructures and the whole soup in which architecture sits.
I am with you almost all the way, but the final analysis I don't agree with. In some ways, we could also be seeing a renaissance of architecture as a discipline. We don't want to subsume architecture. Actually we want to keep this overarching idea of design, but also create distinctness between the disciplines, in order to be able to build on that and create cross-disciplinary practices. I'm actually optimistic about architecture, but it can also incorporate some of the attributes of design by becoming more proactive in societal issues. Architecture can become very formal and hermetic, and I want to emphasise the values of those formal qualities but also engage in this bigger project that design, as you say, has had more success at because of its ability to connect to governance and to politics, and to design thinking.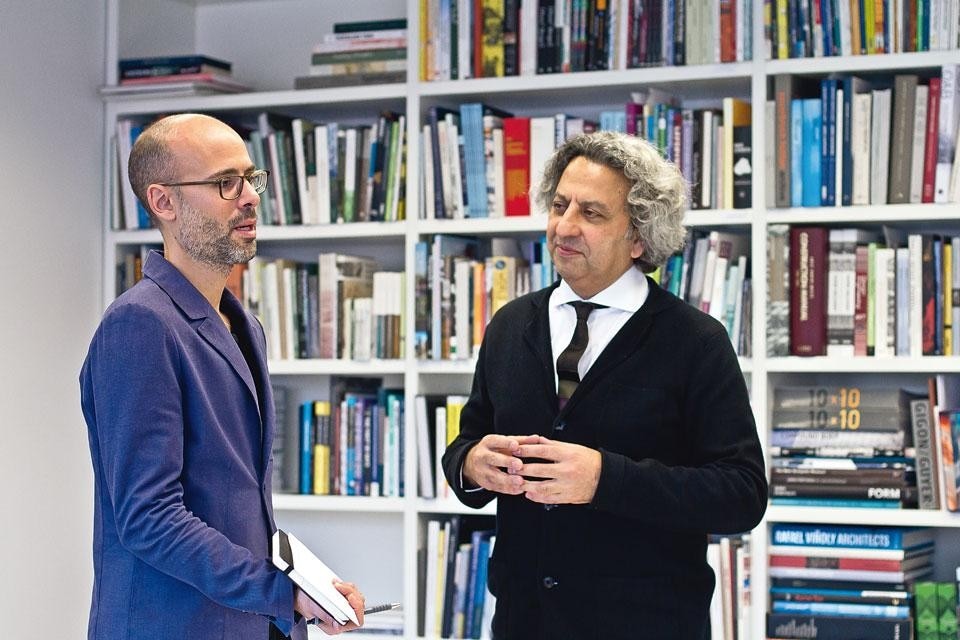 It's interesting that you talk about disciplinary distinctions, because what has been happening in design is a surge of confidence that has allowed designers to explode those distinctions, but this is not born out of design education. In other words, according to design's rhetoric there is nothing that design cannot solve, from societal issues to governmental issues, whereas in fact design students are simply not taught how to think at that scale at all. So is there a model of education that can combine highly specific craft skills to do with making and producing with the kind of strategic thinking required to solve problems on a societal level — say, the reorganisation of a health service? Are those two things inimical?
I think that the way we have been articulating the mission of the school is precisely at the interface of those two issues. For us, there are no contradictions in seeking to emphasise imagination and being able to address societal issues through design. Part of this in terms of design education is to instil in the students a certain sense of purpose. Independent of the faculty, the students themselves have over the past five to ten years become much more focused on social engagement, being much more proactive and we have very specific evidence of that. In part because we are a school that also has landscape, planning and urban design, it gives us a better platform to address some of these social and economic issues.

There is no question that schools like Harvard think on an urban scale or that indeed schools across the world now are turning to social issues. But perhaps what architecture has lacked is the ability to reach decision makers, the people who are in charge of the forces that create cities, infrastructure networks and so on. I'm talking about the ability to be stakeholders in that process.
Yes and no. For example, we have a series of studios looking into three emerging Chinese cities, and part of our interest is really to operate at this urban but also infrastructural level. The reason we want to do this is that we want to connect precisely with the policy makers and developers. So two weeks ago we went to Xiamen with the chief planning officer of the city. I don't want for a moment to pretend that what we are doing is replicating real life exactly, but we are spending time in China with the planners and the developers and, in fact, now the chief of planning is coming to the review of the students. So for the students, getting that kind of experience and understanding how decisions are made is very important. The other night I was talking to Ross Lovegrove , and he was saying that he is hiring architects in his office and not design graduates, because they are the ones who have a process.

Design schools, or in America the so-called "D schools", have become very adept at engaging business leaders, partly because the "design thinking" agenda promises to bring design creativity to business.
Everyone wants to be the next Facebook! And that excitement comes from realising that design can lead to entrepreneurial success. I think this is one of the key drivers.

But design's rhetoric has also been somewhat successful at exciting politicians. Whereas one doesn't hear politicians talking about architecture.
Actually it is worse than that, because what has happened is that that rhetoric has been co-opted by business schools. Now business schools are the ones that are talking about design thinking and selling design, and this is done by people who on one level, honestly, don't have a clue about design, yet they have embraced it. For instance, a professor in the Harvard Business School decided he is going to teach a class on design thinking. We are the design school, so why are you not talking to us when you are putting together a course called design thinking?

Why do you think that is?
Part of it is because what they are doing is probably not design but more the organisation of entrepreneurial ideas, part of it is because there is a sort of a language that has developed from companies like IDEO that translates more easily from design to entrepreneurship than architecture. Companies like IDEO have made a contribution but they have also cornered the market in terms of the language. So it's a challenge!

One reason this rhetoric is successful is because it is so seductive, because it seems to promise financial success, whereas architecture is more of an expense.
Design helps people to edit things, clarify, organise; it is much more to do with ways to organise things. Architects are not historically very good at explaining the values of our working methods, even in the context of a university. The studio model is a radically important way of working, and people in schools of government or business don't work like this. They are still doing things according to the case method. I think we have been remiss for not articulating the value of the studio. So we need to do more of that. And we have just got a grant to create a sort of design lab studio that will be a place for bringing people from different disciplines, from education, from governance and so on, actually using design to create new forms of knowledge. How to design that space is going to be an interesting challenge.

This interview took place on 19 October 2012