Alessandro Baricco's family home is located on the gentle hills surrounding Turin, a late 18th-century villa perched above high walls, where he lives with his partner Gloria Campaner. Born in Turin in 1958, he is a writer, essayist, screenwriter and music critic, founder of the Holden School, and one of Italy's best-known authors of contemporary fiction, both at home and abroad.
Gloria, born in Jesolo in 1986, is internationally renowned and considered one of the most talented pianists, who has played in some of the most prestigious concert halls in the world, including Parco della Musica in Rome, Carnegie Hall in New York, Kioi Hall in Tokyo and the Arena in Verona.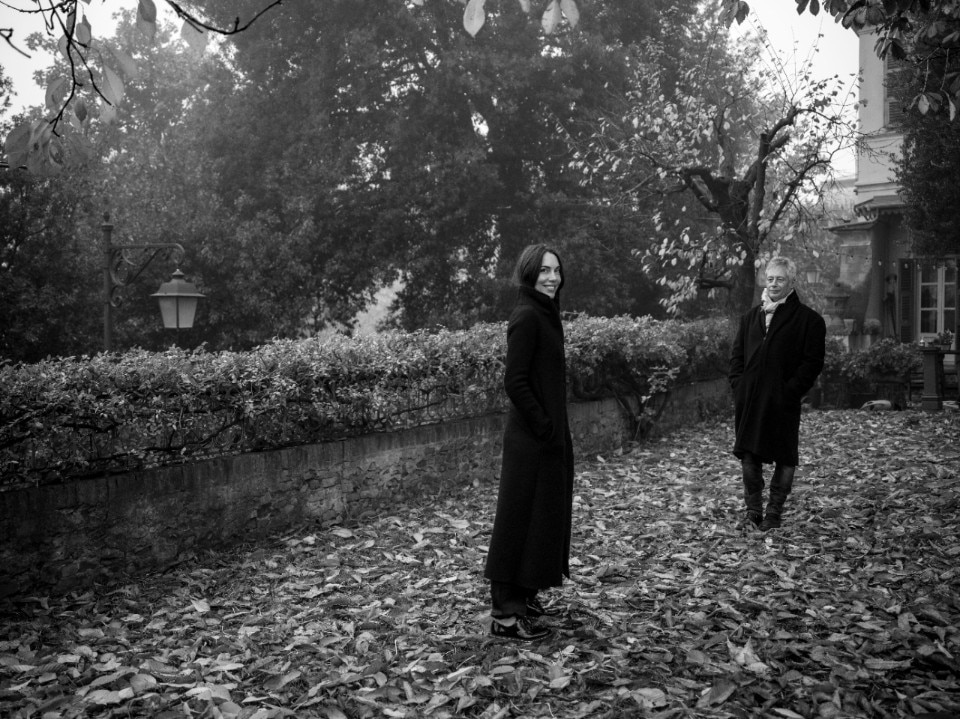 Together they live in a space that has a flavour of the past: the house – which also accommodates the family of Baricco's sister – is an authentic refuge from the stress and the spotlight, surrounded by the luxuriant nature of a large roof garden. "The history of this house is intense", Gloria tells us. "It has been inhabited and lived in by many people, for a long time, many things have happened here, and little by little these stories have permeated the architecture, the furnishings, the spirit of the house". Over the generations, in this area with a mild climate, known as the "Turin Riviera", the house has had different uses and meanings: it has served as a residence, a rural retreat in the countryside, even a refuge from the bombing during the war. "We used to come here because it was good for our health; the two palms and the olive tree in the garden are evidence of the sweetness of the air in this area just outside the city", says Gloria.
When you arrive, you are greeted by a feeling of peace and intensity. It is a very special place, a place with a soul, and when you visit, you feel that at every corner. A house full of "things", a house full of stories to tell, to remember, to imagine. The history of the objects that populate this place follows the lives and passions of its two inhabitants.
"The structure of the building, the frame, has remained the same since the 18th century, but the people who have lived here have made changes, adaptations to meet different needs, in some cases following the fashions of the time. So the bathrooms that were outside the central plan were included inside; one room still has carpeting, a reminder of the 1970s when it was all the rage. Even the objects that have become part of the house tell of their time; the doors are the original ones, very old and imposing", Campaner adds.
Campaner and Baricco have also made some changes: for example, the pianist wanted a large cast-iron bathtub with English-style feet, weighing 200 kilos, in one of the bedrooms on the second floor. Getting it there was a very complicated (and comical task), because there are only spiral staircases inside and a roof garden outside, so a small crane hoist had to be used, with a passage from the terrace. A simple house removals firm would not have been able to solve the problem and, therefore a specialist team of piano movers was called in. "Far from being a whim", smiles the pianist sweetly, "soaking in the water is essential for me, especially to relax after a concert".
This is where the couple enjoys inviting friends, spending their time, studying and writing, living in close contact with nature, a privilege and a great source of well-being and inspiration. Inside, the rooms follow one another as if they were linked by a red thread. The large kitchen has a blackboard where the couple mark their various appointments, her concerts or his lectures – each appointment in a different colour. There is a music room where Campaner can do her research and practise her music; here there are also a guitar and a bass belonging to Alessandro Baricco's son, Sebastiano, as well as other extraordinary musical instruments such as Pinuccio Sciola's stone that Campaner learned to play directly from the maestro: when touched in a certain way, the stone begins to "sing", playing new notes. And, of course, the Steinway&Sons baby grand stands out. Surprisingly, this piano belongs to him and not to her; Baricco loves to play it every day, even for just five minutes, while for Campaner this gesture means something quite different, that translates into study and research: "I can't play for such a short time, for me sitting at the piano is like opening my office", she smiles. Sometimes they play Schubert's Fantasia in F minor four-handed, a tradition they started during the days of the lockdown.
I like to imagine the intensity of this moment: for Gloria Campaner, ça va sans dire, but also for Alessandro Baricco, music is of vital importance, and is present in all his novels. 
The house is also inhabited by a few thousand volumes. There are books everywhere, even in the bathrooms. "There is a bookcase for French texts only, one for epics, there is a pile of poetry books laid out in a staggered way, like a sculpture". The books are scattered everywhere, but there is of course the writer's studio, where he can read, write or simply spend his time.This room, complete with a globe and a red velvet sofa, is framed by a sentence from Shakespeare's Julius Caesarthat runs around its perimeter. It is the sentence Pompey pronounced before the battle that decided his life against Caesar; Painted on the forest-green bookcase, Gloria continues, "it is a phrase much loved by Sandro. In Asia, in front of the plains where they were about to fight, Pompey says: 'O that a man might know / The end of this day's business ere it come! / But it sufficeth that the day will end / And the is known'."

Alessandro Baricco loves these words because they are able "to give things their dimension, he finds them reassuring in moments of uncertainty; we feel anxiety because we do not know what is going to happen, how things will end. And instead Shakespeare confronts us with the fact that, at the end of the day, that day will be like a stone on a table, unchangeable. It will be a day. And we will gain this awareness right away, tomorrow. So, this sentence puts things into perspective, and it has found its place, where it will reassure all those who read it".
In Asia, in front of the plains where they were about to fight, Pompey says: 'O that a man might know / The end of this day's business ere it come! / But it sufficeth that the day will end / And the is known'.
As well as books, the house is also full of maps, old geographical maps and nautical charts that Baricco has collected over time. "More than collecting, it is a fascination with the way man has seen the world and described over time, drawing the boundaries of what he knew and what was unknown, hic sunt leones". There are a multitude of objects of all ages, genders, sizes, origins, traditions, which intermingle and come to life, narrate, welcome. We are impressed by an old wooden man's hat mould, the patina of time is irresistible. It was a gift from his mother. "It is an old work tool, the felt was modelled and worked on this mould; it is rather heavy and bulky, but it has character, as well as its own original aesthetic; it too tells a story of craftsmanship and creativity". A collection as varied and complex as the talents of the two protagonists: the place where they live is a treasure chest where they can discover their own passions, through the value of culture, creativity, art, history and humanity.
Opening image: the library at Alessandro Baricco and Gloria Campaner's home. Photo Daniele Ratti; Turin, Italy