Genoa's historic center is a poetic place as it still shows that material and socio-cultural roughness which the heart of most large cities in Northern and Central Italy has been deprived of by decades of restorations and gentrification. And still, new populations are turning to the caruggi, also attracted by real estate values that are not entirely out of reach. A movement of colonization is already well underway, in particular on the brightest, panoramic upper floors, while it is struggling to dive into the dark alleys.
The House for a seadog by Dodi Moss and the House by the Bailucchi by llabb, completed in 2020, are two case studies for this process of retaking of Genoa's attics. A similar and decidedly "architectural" sensitivity towards the existing city is shown in this regard by two firms with very different stories: Dodi Moss is created in 2004 as an engineering company, while llabb is founded in 2013 in the first place as a carpentry workshop.

For the two projects, the entanglement of their multifaceted, multi-level settings is not a constraint to remove, but rather the source of spatial occasions. The newly-designed stairs – enclosed, black slate flights for the House for the seadog; an aerial, metal and oak frame for the House by the Bailucchi – are connections but also perceptible thresholds between different rooms and atmospheres, such as Dodi Moss's mezzanine bedroom and llabb's studiolo with a view. The two living rooms, opening onto their respective terraces, are the natural core of the domestic life, the actual luxury which offsets the discomfort of living arrangements that are distant from the optimized solutions of brand new constructions.
The House for a seadog and the House by the Bailucchi are visually enriched by the textures of their ancient envelopes, including 17th century wooden beams and exposed bricks surfaces in the case of Dodi Moss, as well as both homes' unfinished plasters. These interventions are delicate contemporary comments, that nestle into the historic built fabric just the "right amount" of design, necessary and sufficient to reactivate two different points of the same floating labyrinth of urban attics.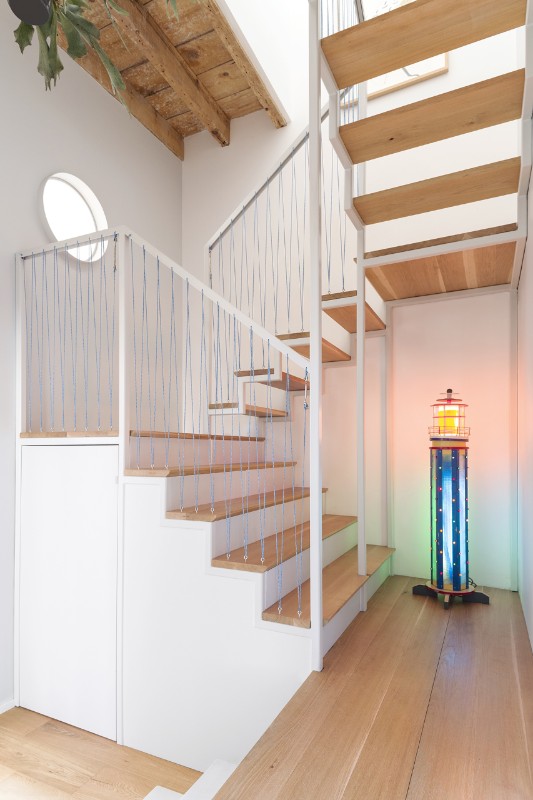 Project:

House for a seadog

Program:

private house

Location:

Genoa, Italy

Architects:

Dodi Moss

Partners Dodi Moss:

Matteo Rocca, Jacopo Battistini

Area (house and terraces):

164 sqm

Completion:

2020
Progetto:

House by the Bailucchi

Program:

private house

Location:

Genoa, Italy

Architects:

llabb

Partners llabb:

Luca Scardulla, Federico Robbiano

Design team:

Linda Consiglieri, Laura Davite, Riccardo Gelmini, Martina Pisano, Floria Bruzzone

Area (house and terrace):

235 sqm

Completion:

2020