"Designer" infrastructures are a theme that has been running through the entire 20th century, but their combination with the possibility of creating identification in the city as a matter of collective heritage, somewhat like monuments, landmarks punctuating different public areas and different neighbourhoods, seems almost to be a recent discovery, as if since the days of Hector Guimard's Parisian métro it had been "hidden in plain sight" — only to show up again in Gae Aulenti or Anish Kapoor's stations for Naples. In a context full of promises and projects, but also heated debates on the status of the local public realm, such as London in the 1990s, some of the most relevant names on the British and international architectural scene of the time were involved in the redefinition of the underground Jubilee Line, ready to embrace the south-east of the city. Domus presented the project in April 1993, on issue 748.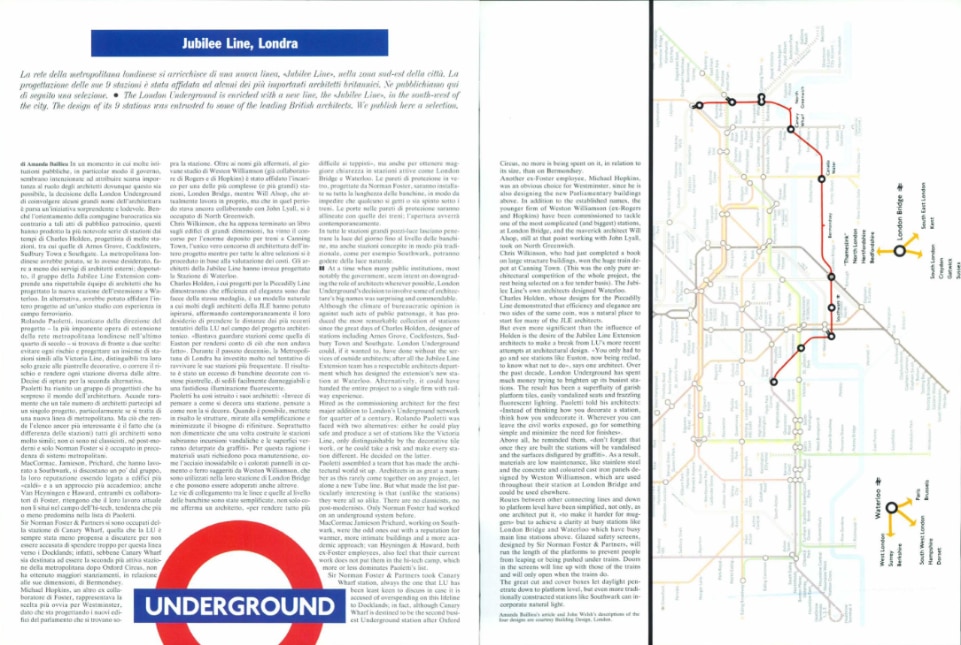 Jubilee Line, London
At a time when many public institutions, most notably the government, seem intent on downgrading the role of architects wherever possible, London Underground's decision to involve some of architecture's big names was surprising and commendable. Although the climate of bureaucratic opinion is against such acts of public patronage, it has produced the most remarkable collection of stations since the great days of Charles Holden, designer of stations including Arnos Grove, Cockfosters, Sudbury Town and Southgate. London Underground could, if it wanted to, have done without the services of outside architects; after all the Jubilee Line Extension team has a respectable architects department which has designed the extension's new station at Waterloo. Alternatively, it could have handed the entire project to a single firm with railway experience.
Hired as the commissioning architect for the first major addition to London's Underground network for quarter of a century, Rolando Paoletti was faced with two alternatives: either he could play safe and produce a set of stations like the Victoria Line, only distinguishable by the decorative tile work, or he could take a risk and make every station different. He decided on the latter.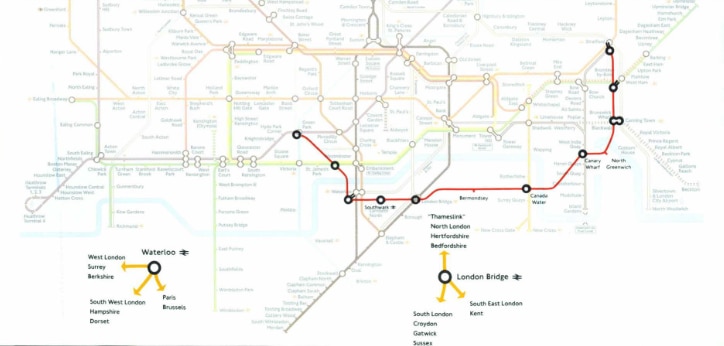 Paoletti assembled a team that has made the architectural world sit up. Architects in as great a number as this rarely come together on any project, let alone a new Tube line. But what made the list particularly interesting is that (unlike the stations) they were all so alike. There are no classicists, no post-modernists. Only Norman Foster had worked on an underground system before. 
Instead of thinking how you decorate a station, think how you undecorate it. Wherever you can leave the civil works exposed, go for something simple and minimize the need for finishes.
MacCormac Jamieson Prichard, working on Southwark, were the odd ones out with a reputation for warmer, more intimate buildings and a more academic approach; van Heyningen & Haward, both ex-Foster employees, also feel that their current work does not put them in the hi-tech camp, which more or less dominates Paoletti's list.
Sir Norman Foster & Partners took Canary Wharf station, always the one that LU has been least keen to discuss in case it is accused of overspending on this lifeline to Docklands; in fact, although Canary Wharf is destined to be the second busiest Underground station after Oxford Circus, no more is being spent on it, in relation to its size, than on Bermondsey. 
Another ex-Foster employee, Michael Hopkins, was an obvious choice for Westminster, since he is also designing the new Parliamentary buildings above. In addition to the established names, the younger firm of Weston Williamson (ex-Rogers and Hopkins) have been commissioned to tackle one of the most complicated (and biggest) stations, at London Bridge, and the maverick architect Will Alsop, still at that point working with John Lyall, took on North Greenwich.
Chris Wilkinson, who had just completed a book on large structure buildings, won the huge train depot at Canning Town. (This was the only pure architectural competition of the whole project, the rest being selected on a fee tender basis). The Jubilee Line's own architects designed Waterloo.
Charles Holden, whose designs for the Piccadilly Line demonstrated that efficiency and elegance are two sides of the same coin, was a natural place to start for many of the JLE architects. But even more significant than the influence of Holden is the desire of the Jubilee Line Extension architects to make a break from LU's more recent attempts at architectural design.  "You only had to go and see stations like Euston, now being reclad, to know what not to do", says one architect. Over the past decade, London Underground has spent much money trying to brighten up its busiest stations. The result has been a superfluity of garish platform tiles, easily vandalized seats and frazzling fluorescent lighting.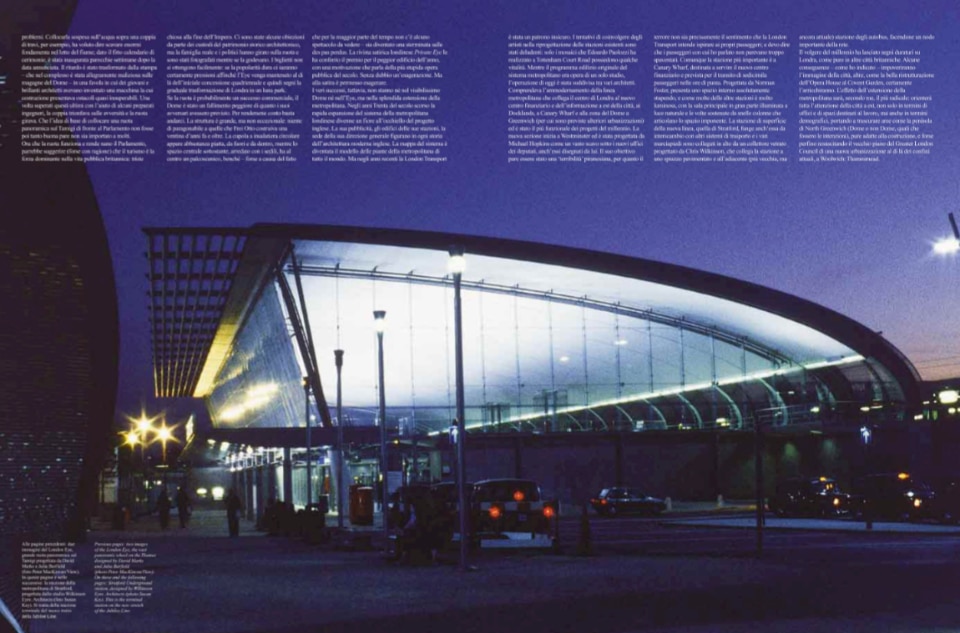 Paoletti told his architects: "Instead of thinking how you decorate a station, think how you undecorate it. Wherever you can leave the civil works exposed, go for something simple and minimize the need for finishes". Above all, he reminded them, "don't forget that once they are built the stations will be vandalised and the surfaces disfigured by graffiti". As a result, materials are low maintenance, like stainless steel and the concrete and coloured cast iron panels designed by Weston Williamson, which are used throughout their station at London Bridge and could be used elsewhere. Routes between other connecting lines and down to platform level have been simplified, not only, as one architect put it, "to make it harder for muggers" but to achieve a clarity at busy stations like London Bridge and Waterloo which have busy main line stations above. Glazed safety screens, designed by Sir Norman Foster & Partners, will run the length of the platforms to prevent people from leaping or being pushed under trains. Doors in the screens will line up with those of the trains and will only open when the trains do.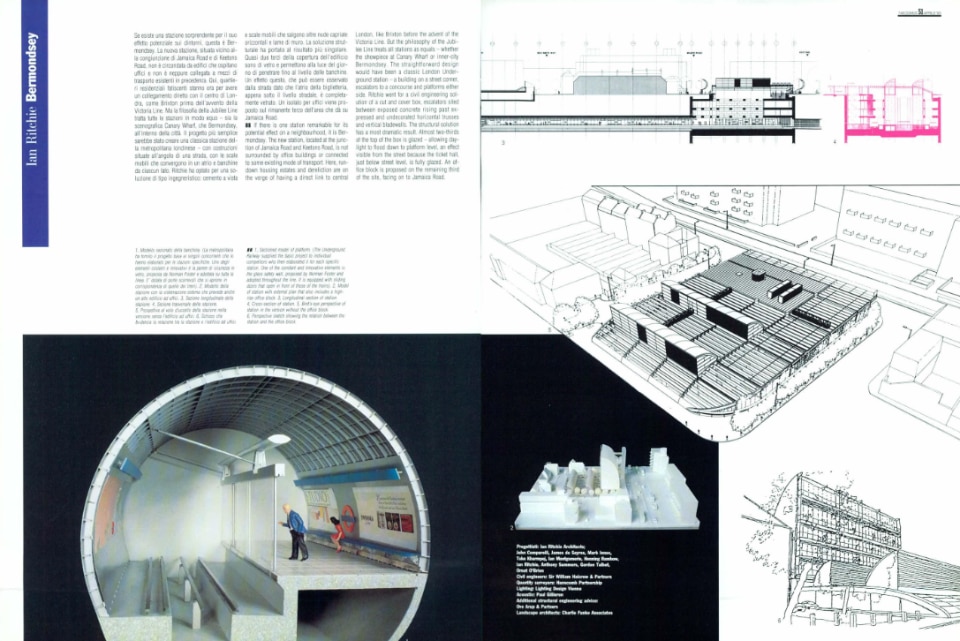 Bermondsey
If there is one station remarkable for its potential effect on a neighbourhood, it is Bermondsey. The new station, located at the junction of Jamaica Road and Keetons Road, is not surrounded by office buildings or connected to some existing mode of transport. Here, rundown housing estates and dereliction are on the verge of having a direct link to central London, like Brixton before the advent of the Victoria Line. But the philosophy of the Jubilee Line treats all stations as equals – whether the showpiece at Canary Wharf or inner-city Bermondsey. The straightforward design would have been a classic London Underground station – a building on a street corner, escalators to a concourse and platforms either side. Ritchie went for a civil engineering solution of a cut and cover box, escalators sited between exposed concrete rising past expressed and undecorated horizontal trusses and vertical bladewalls. The structural solution has a most dramatic result. Almost two-thirds of the top of the box is glazed – allowing daylight to flood down to platform level, an effect visible from the street because the ticket hall, just below street level, is fully glazed. An office block is proposed on the remaining third of the site, facing on to Jamaica Road.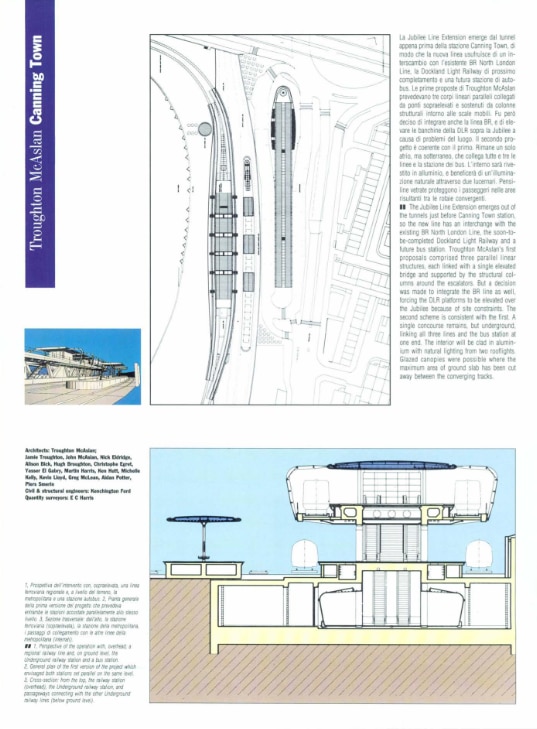 Canning Town
The Jubilee Line Extension emerges out of the tunnels just before Canning Town station, so the new line has an interchange with the existing BR North London Line, the soon-to-be-completed Dockland Light Railway and a future bus station. Troughton McAslan's first proposals comprised three parallel linear structures, each linked with a single elevated bridge and supported by the structural columns around the escalators. But a decision was made to integrate the BR line as well, forcing the DLR platforms to be elevated over the Jubilee because of site constraints. The second scheme is consistent with the first. A single concourse remains, but underground, linking all three lines and the bus station at one end. The interior will be clad in aluminium with natural lighting from two rooflights. Glazed canopies were possible where the maximum area of ground slab has been cut away between the converging tracks.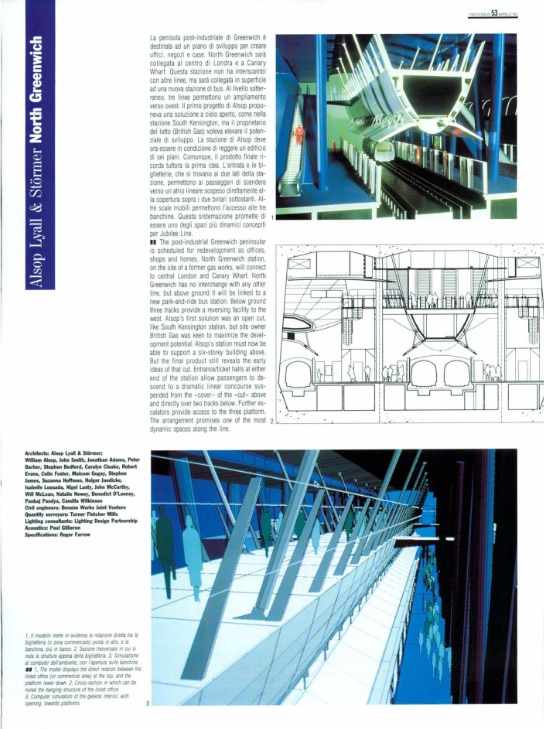 North Greenwich
The post-industrial Greenwich peninsular is scheduled for redevelopment as offices, shops and homes. North Greenwich station, on the site of a former gas works, will connect to central London and Canary Wharf. North Greenwich has no interchange with any other line, but above ground it will be linked to a new park-and-ride bus station. Below ground three tracks provide a reversing facility to the west. Alsop's first solution was an open cut, like South Kensington station, but site owner British Gas was keen to maximize the development potential. Alsop's station must now be able to support a six-storey building above. But the final product still reveals the early ideas of that cut. Entrance/ticket halls at either end of the station allow passengers to descend to a dramatic linear concourse suspended from the "cover" of the "cut" above and directly over two tracks below. Further escalators provide access to the three platform. The arrangement promises one of the most dynamic spaces along the line.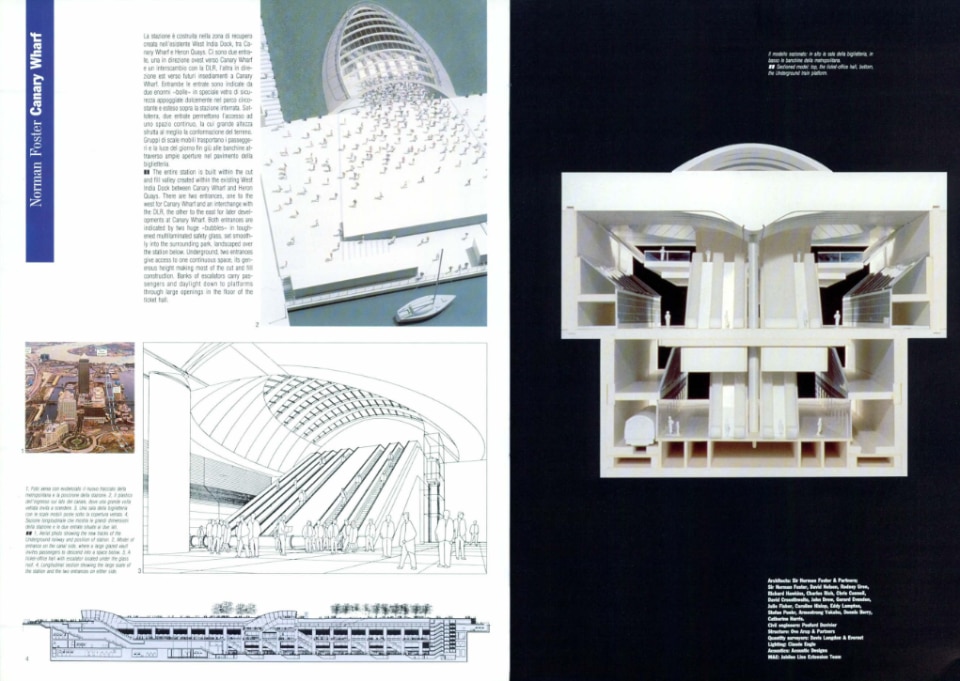 Canary Wharf
The entire station is built within the cut and fill valley created within the existing West India Dock between Canary Wharf and Heron Quays. There are two entrances, one to the west for Canary Wharf and an interchange with the DLR, the other to the east for later developments at Canary Wharf. Both entrances are indicated by two huge "bubbles" in toughened multilaminated safety glass, set smoothly into the surrounding park, landscaped over the station below. Underground, two entrances give access to one continuous space, its generous height making most of the cut and fill construction. Banks of escalators carry passengers and daylight down to platforms through large openings in the floor of the ticket hall.
Opening image: Canary Wharf Station. Photo by pio3 on AdobeStock