As Lisa Ponti wrote, it was a "difficult" exhibition, curated by Vittorio Fagone and accompanied by a monumental catalogue published by Mazzotta, that brought the Colombo brothers together for their affinity in research and creativity, but separated their professional activities. Of artist and then experimental designer Joe, was exposed the Nuclear Art of his beginnings and his "beautiful intelligent objects". Of Gianni Colombo were instead reconstructed the environments that resulted from his research on kinetic and programmed art that he carried out with his Gruppo T - where T represents the concept of Time - founded with Giovanni Anceschi, Davide Boriani and Gabriele De Vecchi in Milan in 1959 and joined the following year by Grazia Varisco.
Gianni Colombo worked on the possibilities of movement of the works of art, creating practical mobile and variable structures, perceptive experiments that produce unexpected and disorienting reactions. In the Bergamo retrospective of 1995, his "Spazio diagoniometrico" was reconstructed. It was a forest of tall and oscillating paper cones, a dynamic and habitable work. Only one object of the exhibition recounted one of the rare professional contacts of the Colombo family, who for many years had worked in "adjoining" studios: the Acrilica lamp, which was designed in 1962 for Oluce and won the gold medal at the XIII Triennial in Milan. In this lamp, the light it "C-shaped", as to remember the Colombo brothers.
Lisa Ponti, The Colombo brothers, from Domus 771, May 1995
A debt of gratitude is owed to Berga­mo, to the Accademia Carrara, and to Vittorio Fagone for the attention this exhibition brings to Milan, a strange city that creates a great deal but is unable to acknowledge its own works. It is a difficult show, for it is a retrospective 'without' the artist (and one cannot help but wonder, absurdly, what a magiv exhibition Joe and Gianni, who were masters of space, would have put together even in these once old rooms). Nevertheless, it is an original one: by allowing an epiphany of «the Colombos» the Dioscuri*, it sets design and art on their toes and stimulates their comparison: Leonardo walks here, before Gianni's models and Joe's combines.
And it provides a 'distant' point of view, for rather than bringing the two authors nearer in time, it moves them further away. From afar one can grasp slowness in Joe's forms, the slowness of the movement. They are un-sharp, un-dynamic shapes - not 'meteors', but round, rotating forms, like 'satellites' - spheres suspended in space beyond speed. Joe's furniture-mechanisms, such as his imaginative 'convertible' bed, move slowly, electrically controlled. The forms in Gianni's 'quadrants', too, move about slowly, as though on the wire. Even the paths through his un-balanced spaces are slow. Color is everywhere absent. Both brothers use mainly black and white, transparent and reflecting tones. Shadow is important for Gianni: the shadow that shifts slowly, taking its own time, within its field, indifferent to all external events. Its movement is repetition made breath, in silence. Light and shadow, «a repetition of the dawn over geometry».
The show does well to separate the Dioscuri (who in lite, for ten years, had studios in 'contiguous' spaces). Gianni is the younger brother who became the elder, in the poetic light of his critical and subtle art. Which is aptly de­scribed in terms of the «vitality of the negative». The irony of this «off-beat» companion of Boetti and Agnetti rests in the poverty of his means. «Optical delusions», says Tadini in the catalogue. He loved Buster Keaton, as Agnetti did; and like Agnetti, he nurtured deep doubts on the «substantial void» of space. Gianni's 'negative' exhibition is indeed thrilling, and it prevails, with its reconstructed «structualizations of space», over Joe's 'positive' show.
The latter is somehow incomplete: Joe the Nuclear painter is there, as are his beautiful intelligent objects; but the 'environments', the extraordinary «inhabitable landscape» that he invented and that immediately entered the life­style of his time, is missing (planning, producing, and living: a process as quick as lightning, in the sixties). Also missing (even in the catalogue, which aspires to «give evidence of Milan») is every trace of Joe's wonderful, enduring adventure with Domus, which for years was the first magazine to show the «fortunate young master», a proud pupil of Gio Ponti, to the world.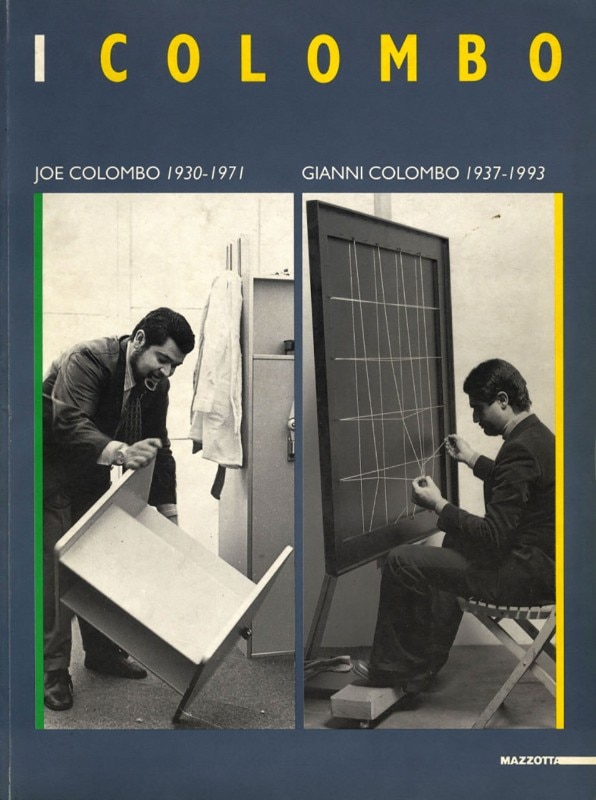 The catalogue, a monumental glossy block, is a polyphonic concert from which certain voices are noticeably absent. But it gives the reader some great gifts. The eyes glide smoothly over essays like those of Baj and Dangelo on the young Joe, who shared the cosmic enthusiasm of Fontana in the early fifties (is the 'bomb', which liberates new dimensions, the distant origin of Joe's famous 'curves'?). And there are several quick nocturnes on Joe as designer, by his first, audacious 'fabricators'. There is Fagone interviewing Gianni about Joe, an important text. And there is Milano, and Milani. Materials abounds on Gianni. Among the many essays, special mention must be made of Grazia Varisco's remarks on the unstable architecture of Gehry, which Gianni liked, and on the little cemetery in Tokyo, made of the «minimal, discreet signs of those so unmonumental monuments».
Are there symbolic portraits in this catalogue-album? The answer is yes: Joe pipe-in-hand beside Michael Caine, and Gianni's young head painted by Funi in a picture of 1961 (the Portrait with Statue).
Are there symbolic works? For Joe, the 'asymmetric' glass of 1964 might be one; for Joe and Gianni together, the only object they designed jointly - the 'acrylic' lamp of 1962 (winner of a special mention at the Triennale) - in which the light «follows the curve of the transparent metacrylate staff, bent in a «C» («the Colombos»); and for Gianni, the last of his 'environments', Diagoniometrie Space, 1992 - a 'forest' of tall, slowly oscillating paper funnels, created tor Hoffmann of Friedberg, and reconstructed here.
L.P.

* 1: Riccardo Barletta, I Dioscuri di Milano: design e ricerca dal nucleare al concettuale, in «Corriere della Sera», 28-2-1995.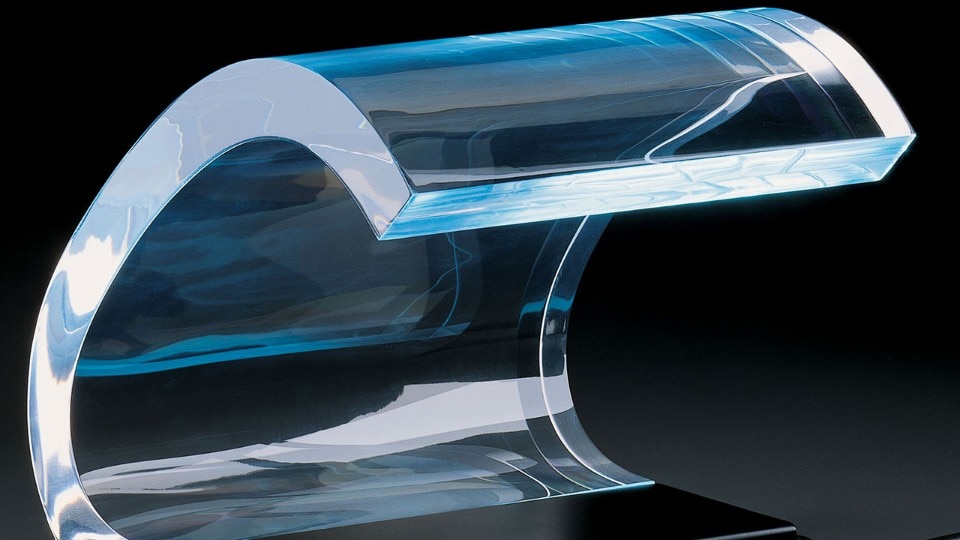 Opening Image: A view of the ehibition in Bergamo with recostruction of the "Spazio diagoniometrico fur Hans Poelzig", created by Gianni Colombo for the Galerie Hoffmann, Friedberg, 1992. From Domus 771, May 1995, internal page, Foto Salvatore Licitra.