Designed for Boffi in 1963, at the height of the economic boom, the Minikitchen monoblock perfectly captures the exuberance of modernity and the zeal for innovation and future that characterized Italian society in the early 1960s.
Only Joe Colombo could have conceived such a new "domestic robot on wheels". Born out of the influences of Pop Art, plastic culture, and the futuristic ideas of 1960s science fiction, Colombo, who often referred to himself as a "creator of the future environment", embodied the most Promethean and technological aspect of Italian design. Much like Pininfarina and Zanuso, he stood at the forefront of technological innovation and the era of mechanization but approached the challenge with an unmistakable and unique sense of visionary spirit.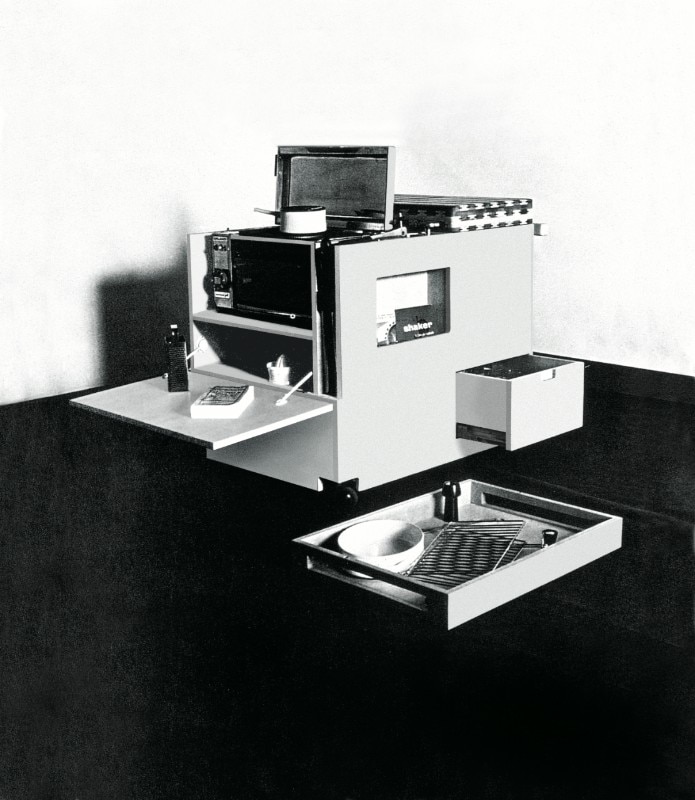 Made of a combination of wood and stainless steel, Minikitchen was conceived not just as a kitchen accessory, but as an integrated and functional synthesis of all the elements that define a kitchen space. In half a cubic meter, it combines all the essential amenities, including a refrigerator, an electric stove, drawers and containers for pots and dishes for six people. Imaginative, futuristic and utopian, Minikitchen has been interpreted by sociologists as a response to the need to save money and optimize living space, a necessity particularly prevalent in middle-class households. However, there are also those who delve into the theoretical tensions of such a design. It's inextricably linked to the monumental theme of compact living, and seeks to encapsulate the concepts of Le Corbusier's Machine à Habiter and the cockpit-like model characteristic of spacecraft used during the 1960s space exploration era.
As noted by Andrea Branzi, "the idea of integrating functions into specialized volumes responded more to idealistic impulses than to real production needs". Nevertheless, Minikitchen has somehow become a symbol of the widespread desire to "radically change not only the shape of furniture but the very concept of home, reimagining it beyond the confines of traditional furnishings". Joe Colombo is perhaps the clearest and most consistent interpreter of this desire and impulse. Through him and projects like Minikitchen, a fundamental inclination within Italian design to pioneer the new, to imagine scenarios not yet established and to anticipate evolving needs and desires, finds its highest expression.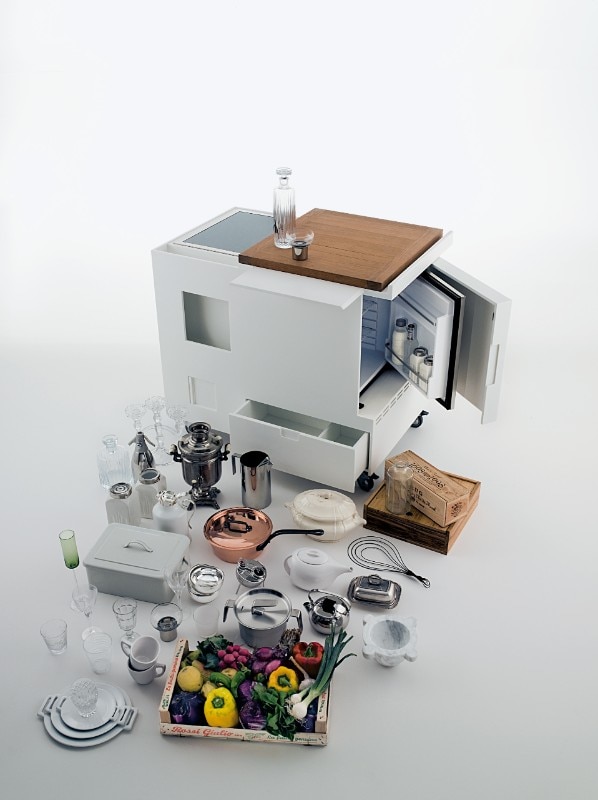 Furniture was now seen and experienced not simply as a matter of taste, prestige or status, but as an independent presence, detached from the environment it occupies. It has the ability to enter into a dialogue, not so much with the past and tradition, but with potential and the future. Was this too much for the prevailing aesthetic and functionalist norms of 1960s Italy? Perhaps yes. So much so that Joe Colombo liked to label his bold design concepts and unconventional performances with the somewhat teasing and provocative term "antidesign".