Very few types of cars are linked to a specific site and to a precise season of the year as tightly as the spiaggine, the Italian term adopted since the 1950s to identify beach cars. The site is clarified by the name itself: spiaggia is the beach, and spiaggina is an informal name for beach-goers' folding chairs. Spiaggine are to be used on the shore or near to it.
The bodywork's conformation quite graphically highlights their privileged season: in principle, the quintessential car for the summertime has no doors and no roof, as it is rather screened by August's stout high-pressures. In fact, the process of their design can be better described as one of subtraction of components, of reduction of surfaces and of a general simplification, both technical and conceptual.
Spiaggine were born in Italy in the 1950s as cars for happy few. Gifted coachbuilders (Boano, Ghia, Michelotti, Pininfarina) revisited the same FIAT models that were leading the nation's motorization, and realized one-off customizations for high-end customers. This practice started to spread abroad, for instance in England, where BMC's superminis served as bases.
This elitist connotation, though, was rapidly dismissed, as spiaggine turned into the car icon for the first truthfully mass age of seaside tourism. The quantity of available models and the production figures for each of them remained decidedly low, but the spiaggina became part of the popular imagery about holidays and open air living, tinged with hippie vibes, shared by many between the 1960s and the 1970s.
In 1968 Citroën launches the Méhari, which remains the most convincing interpretation ever offered of the spiaggina. The car was innovative in its shapes and materials, as its bodywork was entirely made of ABS. Almost 150 thousand Méhari were produced over 20 years, more than any competitors, and most importantly more than the Renault Rodéo, its most direct rival, on sale since 1970.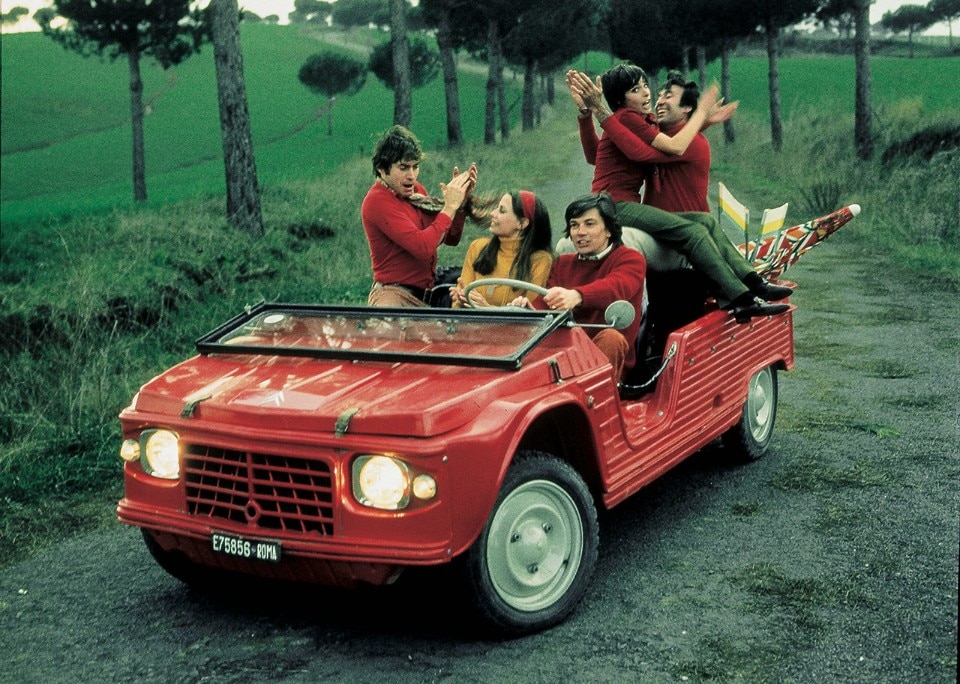 The closure of several coachbuilders, the implementation of stricter safety regulations and the overall turning of customers towards more "rational" products determined the progressive fading of the spiaggine craze already in the 1970s. And yet, in more recent years, several brands have put on the market models that continue their genealogy, more or less directly, and reinvent it as sporty (the Smart Crossblade, 2002), original but practical (the Citroën C3 Pluriel, 2003), retro (the FIAT 500 "Spiaggina '58", 2018) or electrical (the Volkwagen ID Buggy, 2019).
For today's spiaggine it is often impossible to access the pathways, the dunes and the shorelines that their predecessors once paced. 21st century cars cannot literally be beach cars anymore, which is just as well, but the possibility to import the seaside atmosphere on the dryland is as appealing as it was sixty years ago.