Luisa works as a cook in her restaurant. She is the mother of a very close family and her home becomes the place of choice for lively family gatherings every Sunday. 
The renovation project carried out by LoCa studio, architectural firm founded in 2008 by Daniel Lorenzo and Carlota Casanova in Barcelona, involves the living area on the ground floor and the staircase body of this four-storey villa.
The existing dark and claustrophobic staircase is replaced by a vertical connecting volume that becomes the heart of the house and the ordering element of the space. A metal mesh covers the outside of the volume, giving an image of lightness, whereas wooden slats cover the inside, conveying stability and warmth.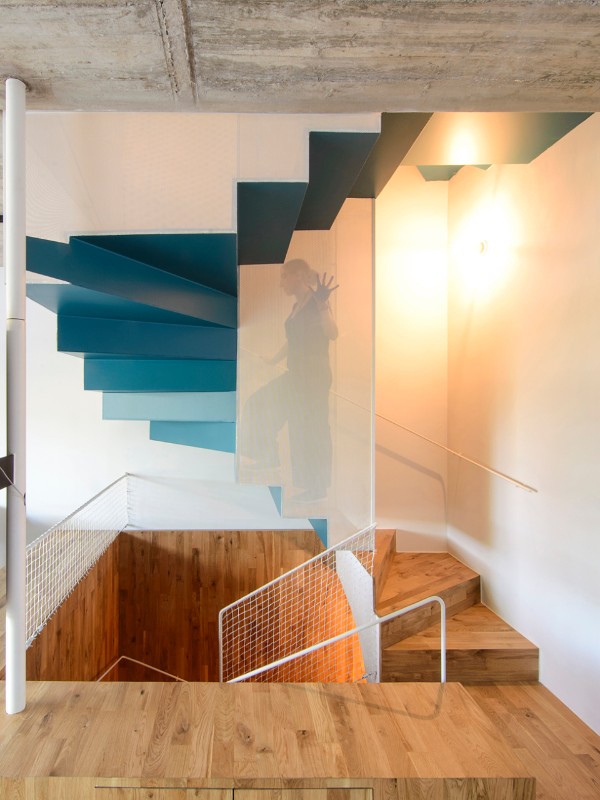 The space around the staircase, designed in detail and reinterpreted according to Luisa's needs, becomes bright, material and versatile in its uses.
The island kitchen at the entrance has a mobile worktop that magically disappears when unexpected visits turn up.
The continuous surfaces of the various materials - the white of the walls and furniture of the kitchen, the dosed colour of the furnishings, the concrete pavement of the kitchen floor and the raw concrete slabs and finally the wooden covering of the living room that rises on the table tops and the stairwell steps and walls - are masterly assembled and, in balance with the light, invite to a full experience of the living space.
Project:

Villa Luisa

Program:

house

Location:

Montgat, Barcelona

Architects:

Daniel Lorenzo, Carlota Casanova, Carmen Castañs (LoCa sudio)

Area:

80 mq

Completion:

2018