Domus proposes two interior design stories about some small and complex "interior cities". Here we start with a 30 sqm attic of an old building in Milan, renovated by untitled architecture. With transversal languages the young studio embodies a profoundly up-to-date way of approaching the project: the author's anonymity, opposite to the search for identity of (re)designed places.
In The Architecture of the City (Città Studi, 1966), his most popular essay, Aldo Rossi defined the city as a "multidimensional" entity, laying the foundations of a future attitude to break free from the traditional urban territory and translate urban codes at every scale and dimension of the project.
More than half a century after that change of perspective, today we have the same compressed conditions that increasingly characterise the inhabited spaces of great contemporary cities: spaces that are largely the result of transformations, rethinks and reuses that fuel this approach of designers and inhabitants, especially among the new generations.
Space as a scarce resource induces us to work between its folds, but also between the folds of time: architecture and furnishings are no longer conceived as separate entities, but as levels of an interrelated "multiverse". From a simple container for a collection of more or less coordinated objects, the house thus becomes an organic and stratified system, in which the uses and perceptions of spaces and objects establish multiple meanings.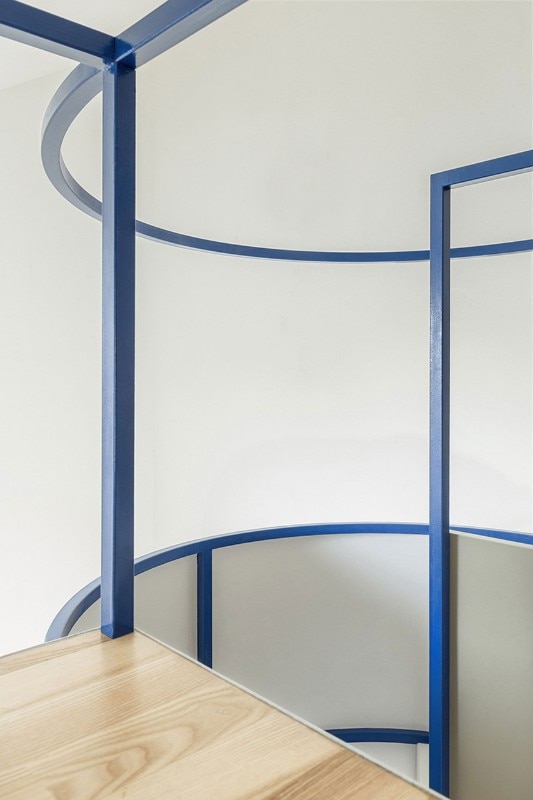 The renovation project by untitled architecture "multiplies" the perception of space through a cruciform system that defines four distinct areas (kitchen, bathroom, living and working spaces), which revolve around a central column in stainless steel. The mezzanine bedroom forms a single block with the bathroom below.
The house is therefore the result of an idea of modernity that, proceeding on its tracks in small steps and without presumptuous proclamations, invites to redefine the figure of the modern architect. And who knows, in a series of small steps, that a new Rossi's A Scientific Autobiography (anonymous and multi-dimensional, of course) is soon necessary.
Project:

house in via Ampère

Architects:

untitled architecture

Program:

apartment

Location:

Milan

Completion:

2019