Gijs Bakker has just turned 80, but you would never say it. His blue, kind and always smiling eyes move swiftly among the objects and people in the Cassina showroom, where we meet, and tell a good story of his vitality and omnivorous curiosity.
The Dutch master is one of the most influential and interesting protagonists of international design and, from the 1960s to today, has taught us a lot about design. And he is still doing so. 

In Dutch, design translates as "Vormgeven", which means creating forms with content. It is precisely this semantic view of design that characterizes Bakker's work and research. Design must be inextricably linked to its social, functional and productive aspects, must arise from a context, cross skills and knowledge, and must improve people's living conditions.
Nonetheless, Gijs Bakker has been among the first, with his wife Emmy van Leersum, to demonstrate that creative value takes priority over material value, and in doing so, he has undermined the materialistic logic of fields, such as jewelry, that have traditionally entrusted preciousness to materials only.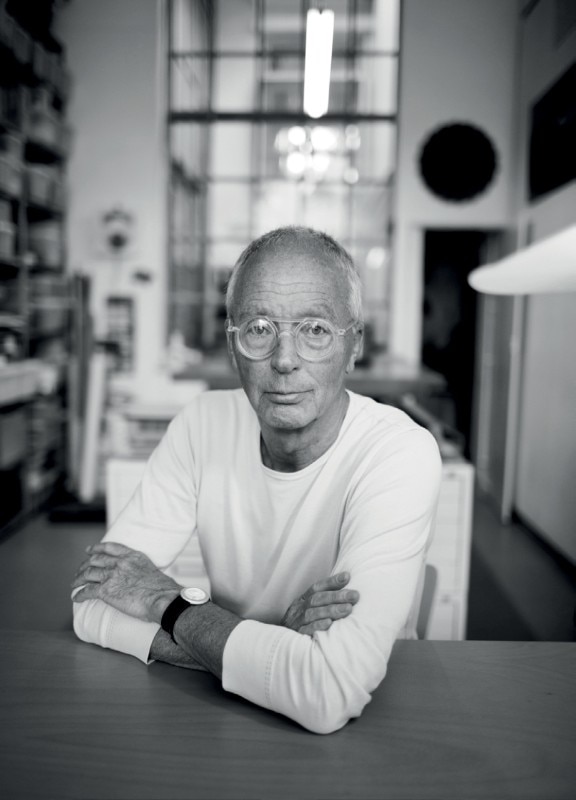 His Plexiglas and aluminum jewelry from the 1970s started contemporary jewelry, where the interaction with the body, the search for innovative materials and technologies and the uniqueness of creativity have in fact created a new perception of jewelry. This is why in 1996 he founded, with Marijke Vallanzasca, Chi ha Paura...? (Italian for 'who is afraid of?'), a collection of jewelry created by leading international designers – Marc Newson, Ron Arad, Konstantin Grcic, the Campana brothers, Martí Guixé, Rolf Sachs, Hannes Wettstein, to name but a few – who have combined the forms of jewelry with the methods of design. Jewelry that is surprising in terms of materials and concepts, provocative and at times disruptive, certainly never banal, that makes us reflect on the different meanings of contemporary jewelry.
Moreover, Gijs Bakker is the visionary founder of Droog Design, along with Renny Ramakers and DMD (Development Manufacturing and Distribution), in which he anticipated the intersection of design with art and artistic craftsmanship, producing limited series designed by emerging designers gathered in a collective.
The Dutch master marked a new path for contemporary design – breaking down some of its founding principles and determining the success of the Dutch school and its protagonists throughout the world – with Droog Design, in 1993, and Chi ha paura...?, in 1996. His multidisciplinary approach opened up glimpses into design methodology, far ahead of the monocular visions of the time, while his Calvinist vision of creativity applied to production processes created timeless masterpieces.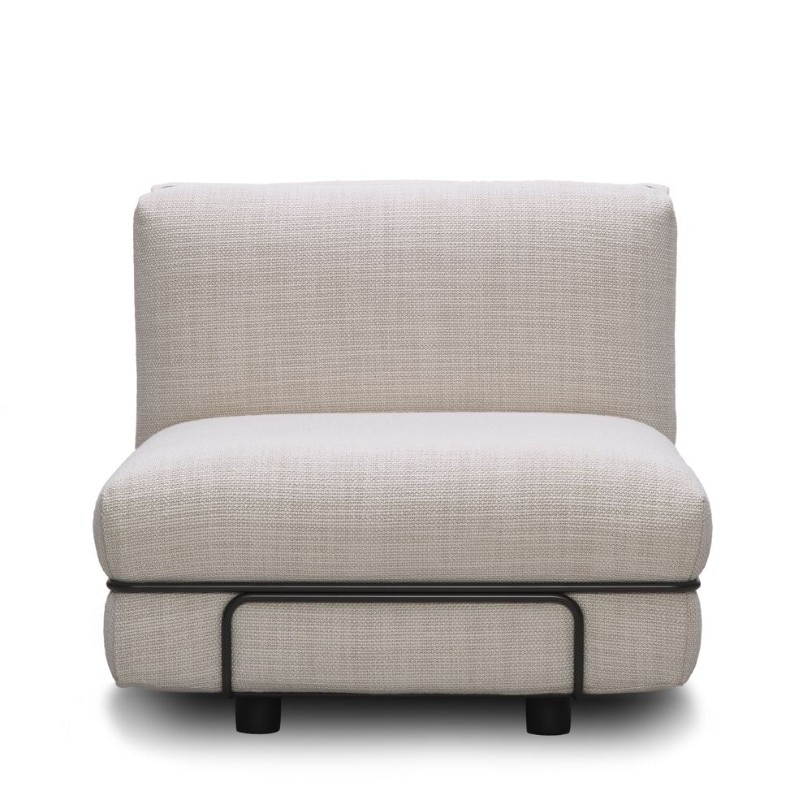 Among them is the GB Chair. Designed in 1972 as "a piece of foam bent at 90 degrees and then fixed to a metal frame", the famous armchair is the manifesto of comfort, so comfortable that it was coined as "The Levi's chair" like a pair of comfy jeans – but also of production efficiency. A cozy and elegant object, nomadic, flexible in its composition, simple in its production, perfectly interpreting the freedom and revolutionary aspirations of the young people of 1968. Time has not affected either the originality or the comfort of the GB Chair, proving that good design can win over fashion and its seasonality, and for this reason it has just been reissued by Karakter, a legendary Danish design company now part of the Cassina group.
Karakter has made of Rethink design one of its creative and sustainable pillars, and Gijs Bakker's GB Chair is a significant example, along with masterpieces by Achille and Pier Giacomo Castiglioni, Paul McCobb, Joe Colombo and Angelo Mangiarotti. 

According to Christian Elving, Karakter's CEO, "The GB Lounge is comfortable and casual, and as relevant today as in 1972. What intrigues me so much about Gijs Bakker and much of his design, is that he creates boldly original pieces, and at the same time manages to maintain a simplicity, which guarantees that the design is outspoken without being loud. The GB Lounge is a great example of this. With its simple design idea of a bent foam fixed to a metal frame, it has a very strong and modern design language, although conceived 50 years ago."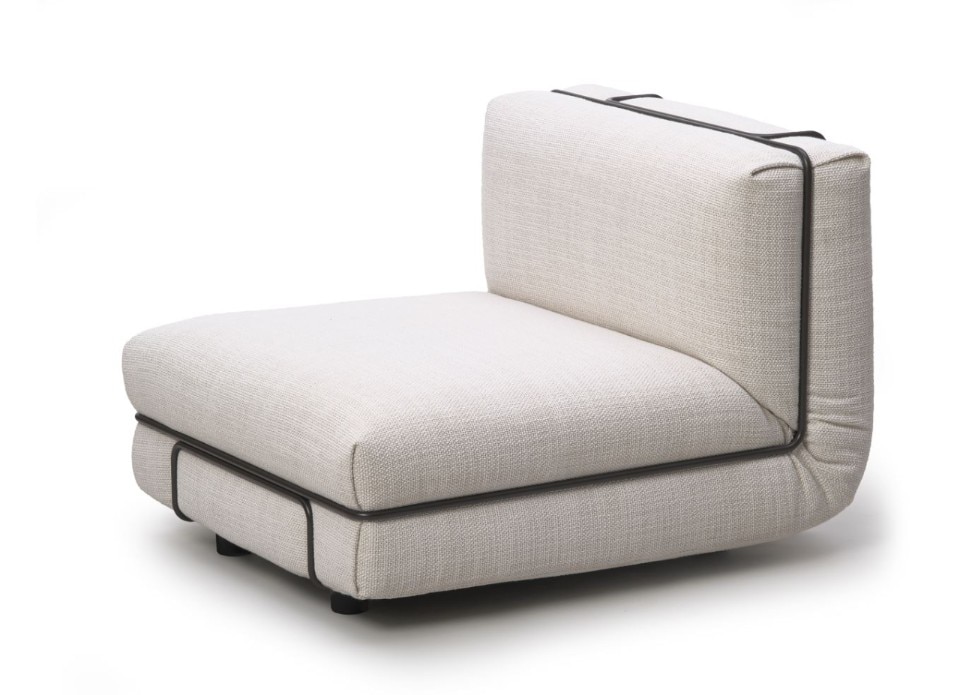 On the genesis of the GB Chair, we talk to Gijs Bakker.
In 1972 you designed the GB Chair, coined as the "The Levi's chair" for its enveloping comfort, "like a pair of loved jeans", in which you bended a piece of foam at 90 degrees and fixed it to a metal frame. An astonishing design! It was not only beautiful and comfortable but also very functional with its modules which can be easily customized, and brilliant in terms of design process and manufacturing. It was also the perfect sofa for the new people of the 70's, when the new society required new furniture and the GB Chair was the aesthetical and contextual response to a new need. 
Can you please tell us the concept generation of the GB Chair in 1972?
In 1972 right after the Sixties we wanted an easier and less formal life, we were the youth of the future! Traditional furniture didn't fit in, so, as designers, we should come up with new radical interiors and its furniture. In the 1960s, when we met up with friends we used to sit on cushions and when we got tired, we slowly moved to the wall. We were also rebelling against the bourgeoisie taste of fluffy sofas; we were looking for the new, the pure. Reading about a competition by British foam company Dunlop I made a scale prototype of a bend mattress kept in upright position by a metal frame. The frame was as minimal as possible. When Dutch company Castelijn saw the scale model they showed their interest, so it never went to London. To avoid any bourgeoisie taste I took blue jeans cotton, copied the orange color for the metal frame and the stitches and put a back-pocket on the backside of the chair where you could store your newspapers and magazines. The cotton was not suitable for furniture and the oil-crises doubled the price of the foam so it became end of story.
How has been the Karakter GB restyling process?
As Karakter is part of the Cassina family I had the luck to develop the renewed GB Lounge together with their technicians and could take advantage of their long history of perfect craftmanship and good design. It has been so interesting for me to produce the GB Chair fifty years later.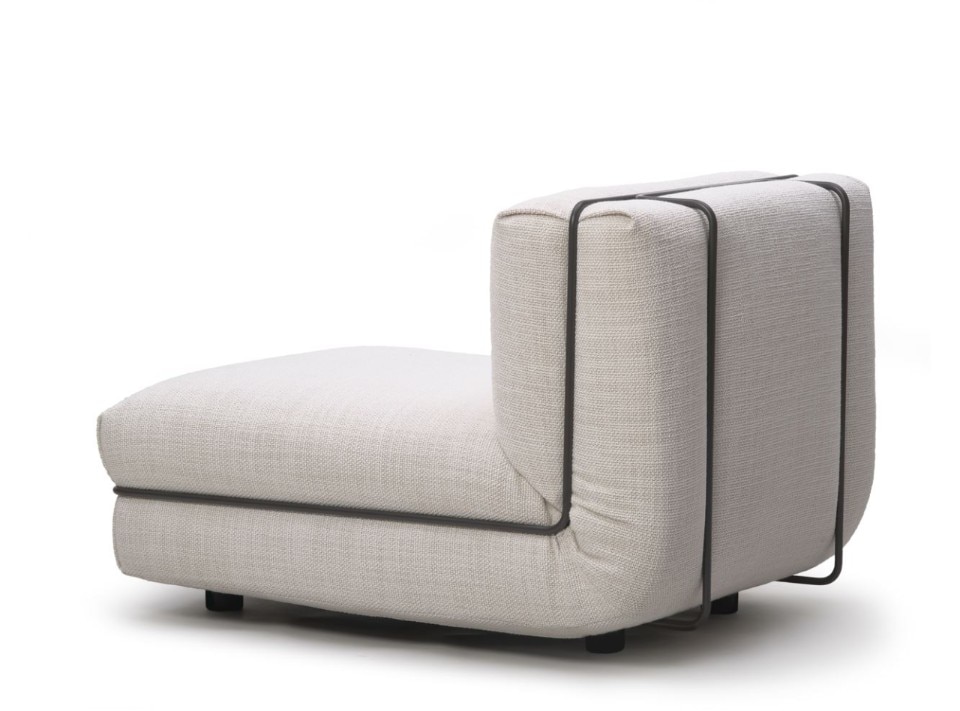 Would you ever say it is a 50 years old lady?
Definitely not. It is very contemporary in aesthetics and very coherent with today lifestyle, for these reasons it has been one of the most appreciated products at this Salone del Mobile, did you expect it? I strongly believe in this design. In 1972 I was unexperienced and spontaneous and naive, but now 50 years later I doubt more about my work if the quality is the best you can get. So, it was great to see all these positive reactions.
In 1972 you were a very well-known jewelry designer and multidisciplinarity was not the familiar attitude it is today. When have you started to look at design from a 360-degree perspective? Who were your inspirations? What were your objectives?
In jewelry I missed the contact with a bigger audience and found it in design. But I needed them both, the jewelry and the product design. They are basically the same thing: while the jewelry is made in a closed studio, and design cooperates with other disciplines. Two inspiring artists; Bruno Munari and Alexander Calder. They couldn't be more different!
Which works do you consider more relevant and why?
My 'Glasses' 1972 designed for Polaroid and never went into production so I make them by hand for myself and the 'Strip chair' 1974 and my 'Coffee-maker' designed in 1980 and never went into production. They demonstrated me the importance of entrepreneurs in design. 
Design requires a client and also research, knowledge and practice of materials, it was difficult to pass from silver to foam and back?
No, I learnt to work materials by hammering copper. In 1963, I hammered a brass container with a diameter of 50cm than I felt what material can do.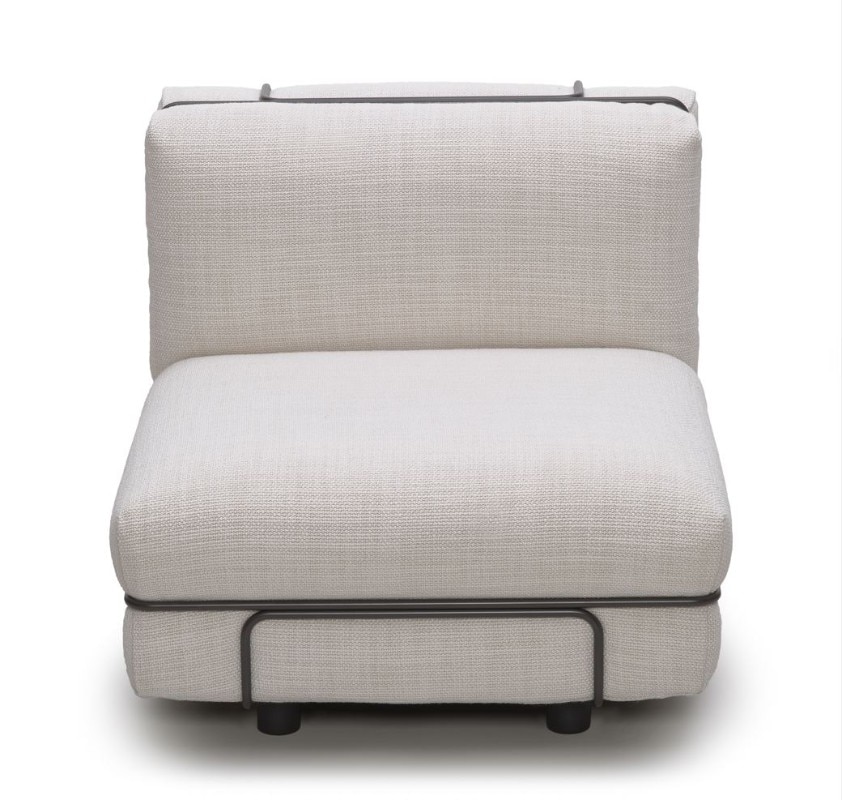 You have been investigating the relationship between craftmanship and design long before it became a fashionable phenomenon. How did it happen?
It started with my education in craft, I learned all the technics but when I made by hand a coffee service set in 1962, I hated the look of the hammered finish and by filing and sanding I got a 'modern' look and that's what I wanted.
You have always been a pioneer: in the 60's with Emmy van Leersum you changed the perception of jewelry, passing from the material economical value to the immaterial conceptual value. It was a revolution and the beginning of contemporary jewelry. How it was? How happened?
I simply didn't agree the way jewelry was developing, to much a niche, no contact with the world, no contact with the body and human being anymore that's how my 'Shadow Jewelry' in 1973 came to life and also the 'Profile on Emmy' in 74.
Another pioneering adventure was the one of the Droog design, you founded with Renny Ramakers in 1993, which were the pillars of Droog?
Design more as a mentality, an attitude towards society. Design that you could touch, care about and make you happy. I saw many of my students from Eindhoven dealing with these topics and thought that they could give a new impulse in Milan during the Salone to change people's mind about design and it worked. It was the beginning of Dutch Design, a title that became to life around 2000.
You turned 80 this year but nobody would say it. What is your secret?
Be curious, be open minded and do sports every day!
Alba Cappellieri – Politecnico di Milano