Being born near the world's most famous racing circuit can seal your fate. Gildo Pastor grew up among the streets and skyscrapers of Monte Carlo (which is for the most part owned by his maternal family), with the sound of engines constantly roaring in the background. As a result, Pastor got behind the wheel at a young age: in 1995 he flew to Finland and set an ice-speed record with a Bugatti EB110, but soon realised that helping others compete in those races would be even more exciting.

When in 2001 he got the chance to take over the French automotive manufacturer Venturi, he didn't think twice. "This well-known French company was having financials difficulties and was looking for a buyer," explains Pastor, "so I took over it and moved its headquarters to Monaco, a city that had already initiated a sustainable development policy. In short, it was the right place to develop this vision, as there had already been experiments with electric vehicles as early as 2001". 
Venturi cars are not designed to be commercialized, but over the years, in order to understand how to develop engines and batteries capable of operating in extreme conditions, they have been setting speed records in places with the harshest climates on earth. Gildo Pastor has always been interested in funding experimentation in the field of mobility, which is why he is now focusing on outer space. In fact, only a few weeks ago it was announced that Venturi is working on the production of a new generation of lunar rovers. "Living in space means moving through space," explains Pastor. "The future of space exploration depends above all on mobility. I've always wanted to design vehicles for other planets and this seemed like the right time to do it."
Once again, it's a matter of putting electric vehicles in extreme situations, as was the case at the start of the millennium with the Fétish, Venturi Automobiles' first electric model. "In 2004, the Fétish was the world's first electric sports car," recalls Pastor. "It was made entirely of carbon fibre and used the most advanced technology of the time, as well as aerospace innovation. At the dawn of the new millennium, Venturi used all its experience and mastery of cutting-edge technology to create a truly exceptional electric car that marked an era".

Embarking on this kind of venture requires working on several fronts - planning and designing, ensuring financial sustainability, and opening new markets. "In the beginning, the most difficult thing was planning, designing, and manufacturing a car that could be '3 in 1', that is, pleasing to the eye, powerful, and with a decent range," Pastor explains. "The difficulty lied in the size and weight of the battery. We started with this big constraint and designed the cars accordingly." 

Venturi Astrolab
Venturi Eclectic
Venturi Fétish
Venturi Volage
Venturi VBB
Voxan New Wattman
Venturi Astrolab
Venturi Eclectic
Venturi Fétish
Venturi Volage
Venturi VBB
Voxan New Wattman
And that's when they started breaking records. "We took part in various challenges to test and show the sustainable potential of electrical power. For example, the 'Shanghai to Paris', the 'Mission Africa' or the 'Antarctica', a race in which the electric vehicle had to withstand temperatures as low as -50 degrees. In 2016, Venturi's VBB-3 set a new world record of 549 km/h on the Bonneville salt lake in Utah, becoming the fastest electric vehicle in the world".
After Fétish, Venturi launched four more concept cars: Astrolab, Eclectic, Volage and America. All of these cars could also be driven on the road but were never commercialised. Venturi started working with the commercial automotive sector through partnerships, as in 2007, when PSA Peugeot Citroën chose Venturi to develop its first electric vehicles: Berlingo and Partner. Strategic partnerships have always been irresistible to entrepreneurs, and are the most effective way of delivering complex projects. 

"What I've always wanted to do is make things happen," says Pastor, "and at the same time, have fun. A symbolic example of my philosophy over the last 20 years is Voxan, our electric motorbike brand. On the one hand, I liked the idea of breaking world speed records, and on the other, I knew that Michelin was already preparing high-performance tyres for future electric sports bikes. So, I gave them the opportunity to get involved in the project and start with all the data they needed. This is my way of participating in the development of electric mobility. But I'm also thinking of Venturi's project Antarctica, the first electric vehicle for polar exploration, which I invested a lot in and which is now serving the scientific community of the Princess Elisabeth Antarctica Research Station in Antarctica, and I'm very happy about that. I am trying, within my means, to be useful to research."
After spending twenty years innovating in the field of electric vehicles and testing their performance on Earth, it's time for the Flex Rover by Venturi Astrolab, an all-American company for which Venturi is a strategic partner, to find mobility solutions capable of handling the extreme environmental conditions found on the Moon and Mars. "The main objective of Venturi Astrolab is to build a rover for NASA and SpaceX's upcoming lunar missions," explains Pastor. "As part of this partnership, engineers from Venturi Monaco, Venturi North America and Venturi Lab are developing batteries and materials that can withstand and operate at extremely low temperatures, solar panels, deformable wheels, electric vehicle control systems and the integration of human factors for planetary rovers. Through strategic partners overseas, Venturi Astrolab hopes to supply its vehicles to NASA."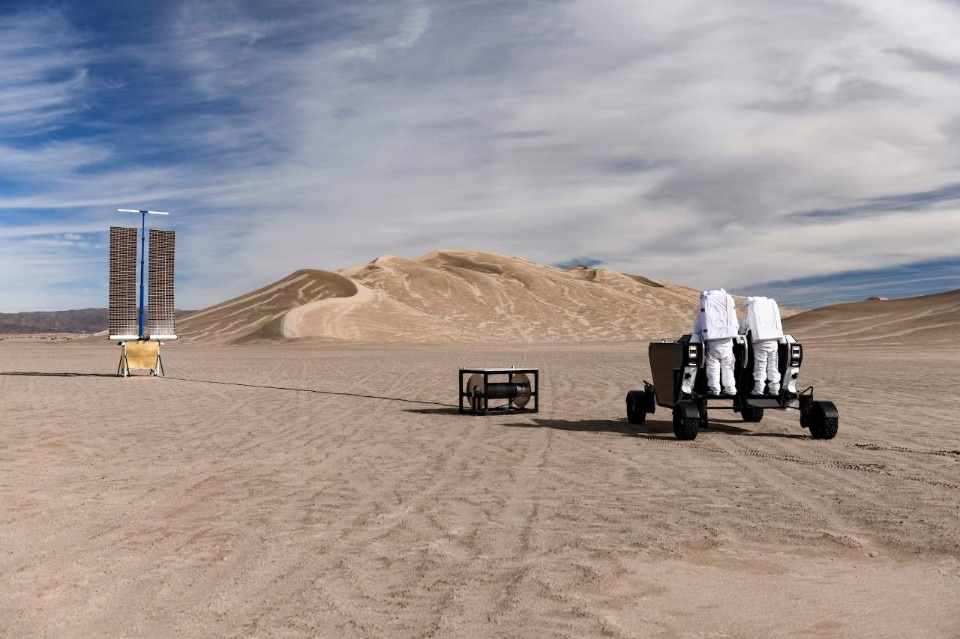 Of course, when it comes to space, for an investor it is not just about business – there is always a vision stemming from dreams and more personal ambitions. "Venturi's space activities cost infinitely more than those related to cars and motorbikes, so yes, to a certain extent we can talk about business in the traditional sense," says Gildo Pastor. "But everything I do is driven by passion and the desire to be useful to future generations. We can discover and learn a lot from studying other planets. I was only 2 years old when man set foot on the Moon. Of course, I don't remember that moment exactly, but for as long as I can remember, space adventure has always made me dream, in the strictest sense of the word. And I have always tried to turn my dreams into reality. Let's see if I can make it also this time."