This article was originally published on Domus 1055, March 2021

Both iconophile and iconoclast, with a devouring passion for icons from
the past, they twist and distort them, as with two of their most significant works, Melting Thonet and Melting Breuer: two iconic chairs – one made in series (Thonet No. 14) and the other epitomising Bauhaus (Wassily chair by Marcel Breuer) – subjected to almost expressionistic deformation. For the duo OrtaMiklos (the young designers Leo Orta and Victor Miklos Andersen), design is both performance and warfare, trinkets and a defunctionalised mishmash of contemporary cultures.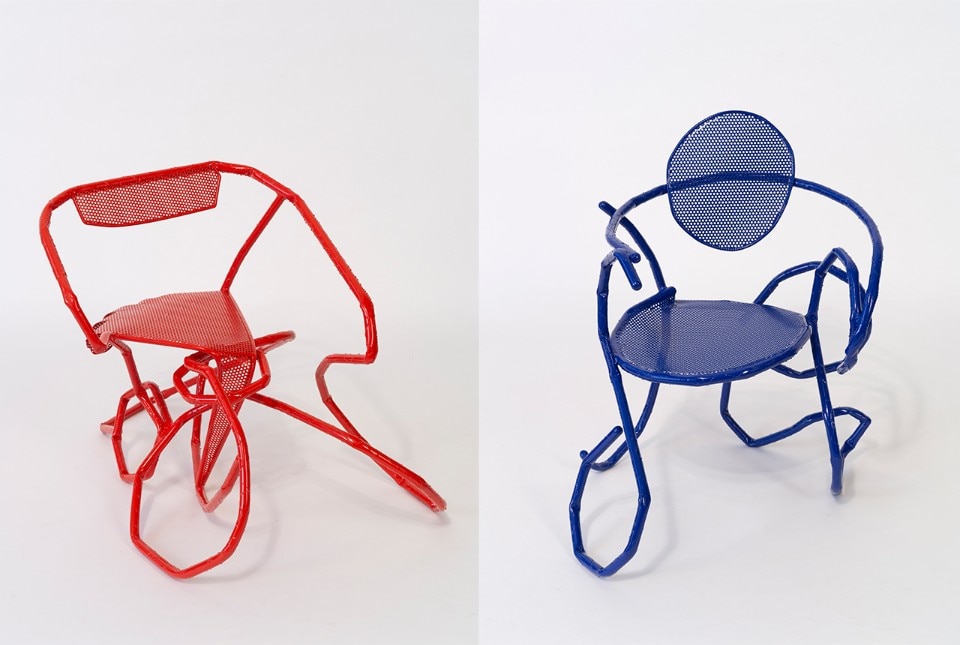 Their works evoke the language of graffiti as well as the masters of emotional design: one cannot help but recognise the influence of Gaetano Pesce or Verner Panton, or even the Campana brothers or the radical Italians, from Archizoom to Memphis and Alchimia. No concession to production in series or the fetish of functionalism. Shapeless shapes.
Experiments with materials. Driftings and creations of colour. Born in the digital age and raised in the era of information overload, Orta and Miklos have turned their practice into the computer in which they download and combine all the urgencies of the contemporary iconosphere.
In their performances they are always masked, with faces wrapped in nylon stockings deforming their features: the standard bearers of enigmatic and changing identity, they appear like industrious artisans or dangerous hijackers, mad scientists or models on the catwalk. Their videos are a savage pastiche of images taken from museums or off the streets, from the present or from the past, in a hybrid where Kim Kardashian coexists with Michelangelo's David.
Openingi image: Leo Orta (France, 1993) and Victor Miklos Andersen (Denmark, 1993) with the Plantasia Tree lamp, 189 x 85 x 90 cm, 2020 (FriedmanBenda).