Selected by five curators - Anniina Koivu, Jeffrey Bernett, Johanna Agerman Ross, Njusja de Gier, and Renee Merckx - for their ability to experiment with materials, form and color through operations on the border between industrial design and craftsmanship, 28 designers have created works made with Kvadrat's Febrik knitted fabric. The result was translated into a digital exhibition physically set up in Kvadrat's Danish showroom in Copenhagen: a collection of eclectic works that exploit the potential of the fabric and let the designer's personality emerge.
Conversation Series – Adam Goodrum (Australia)
For the Australian designer Adam Goodrum "The Knit! project provided the opportunity to investigate how the colour and dimensionality of knitted textiles can transform a product, like paint on canvas or clothes on a model." His project for the exhibition is called Conversation Series, a modular seating inspired by Febrik's range of textiles in their colour book format which he himself defines "a fanning concentration of colour that never fails to dazzle. The colour book upholstery forms the skin of a modular tête-à-tête sofa or Victorian-era 'love seat' collection where two or more seats are joined together in an undulating arrangement. This allows two people to have a quiet conversation (in keeping with Victorian modesty), side-by-side while viewing the back of the other person's seat and the rich spectrum of graduated coloured bands that snakes in repetition along the backrests".
If I Had Wings – Zaven (Italy)
The Italian duo Zaven, on the other hand, tells the genesis of the project conceived for the exhibition: "Mankind has always had the desire to fly, a desire that led them to imagine, draw and design various innovative machines. Following this dream ourself, we started to imagine different props to help realize this aspiration. It is not easy to fly without feathers, but flying is a state of mind, there is no high or low and in this oxymoron our project is placed. We focused on different ways to fly, taking inspiration from astronauts floating in space, airplanes soaring through the sky, and above all, animals, such as small flying squirrels gliding from tree to tree. The result is a series of utopian apparels or suits, that are designed understanding the possibilities offered by knitted textile, and how it can be used to simulate an inflated body, or stretching cloak, that reacts to the tension of the body against the force of gravity.
We identified the right accessories and details to give each element its uniqueness, which makes them surprising, sometimes out of context, and possibly, why not, funny. The result is a series of coloured garments with hooks, patches, zippers and cushions ready to be worn".

And with respect to the material used the designers explain that "Since flying is a dynamic gesture, we thought that it would have been interesting to take advantage of the stretching property of the knitted textiles, a versatile material that adapts to different bodies, situations and interactions.  As we always do in our process, we let the material and colours inspire the project, so, we selected three different fabrics from the collection, each one chosen precisely for its properties of movement and stretch. We looked into different fields such as sport and safety equipment, construction materials, the more traditional world of upholstery and theatrical costume and fashion design, to build our flying imaginary".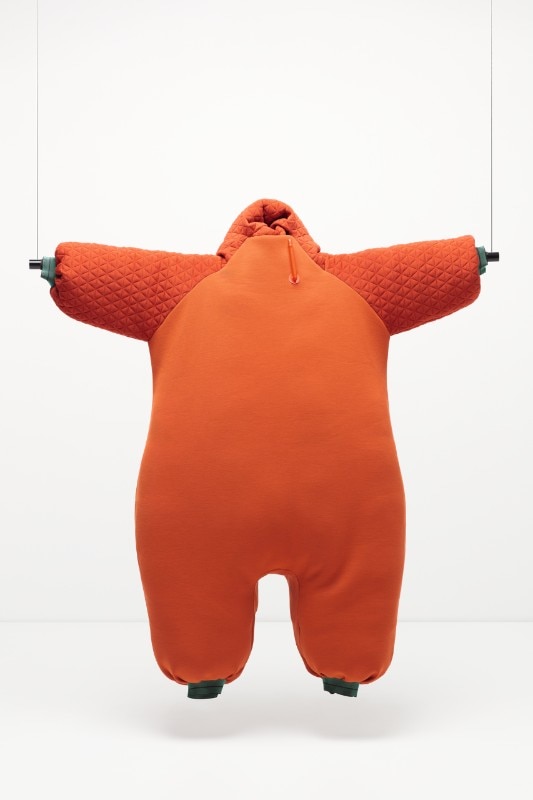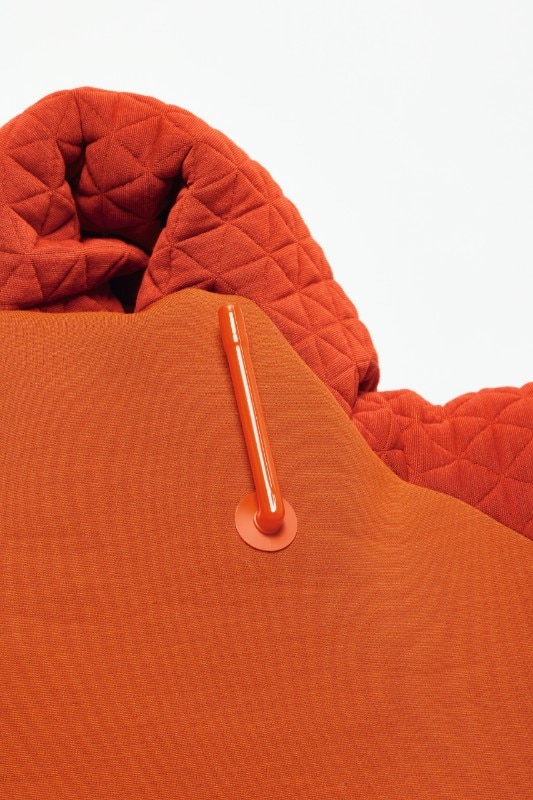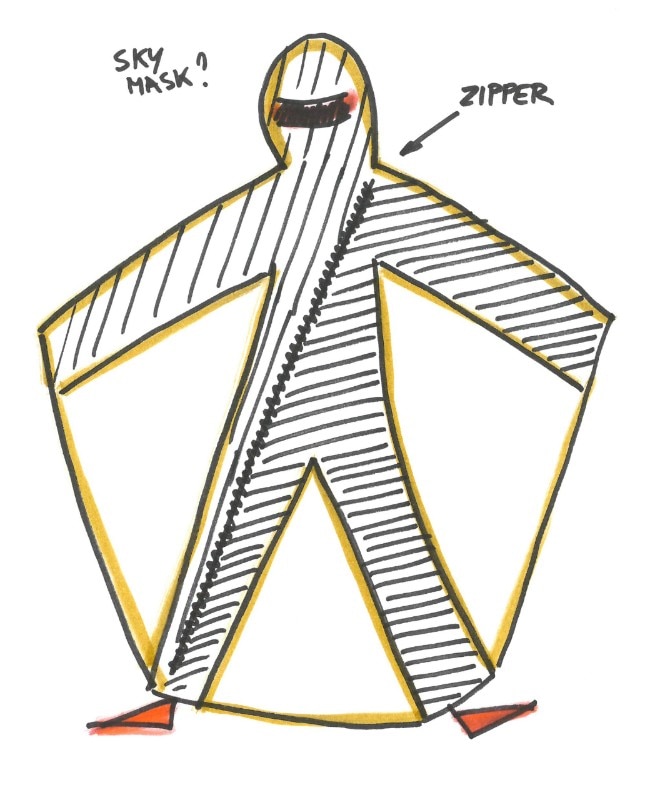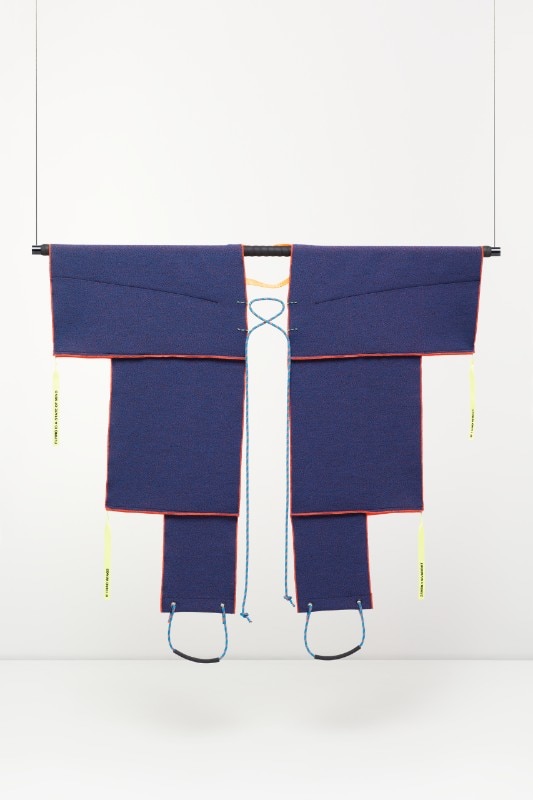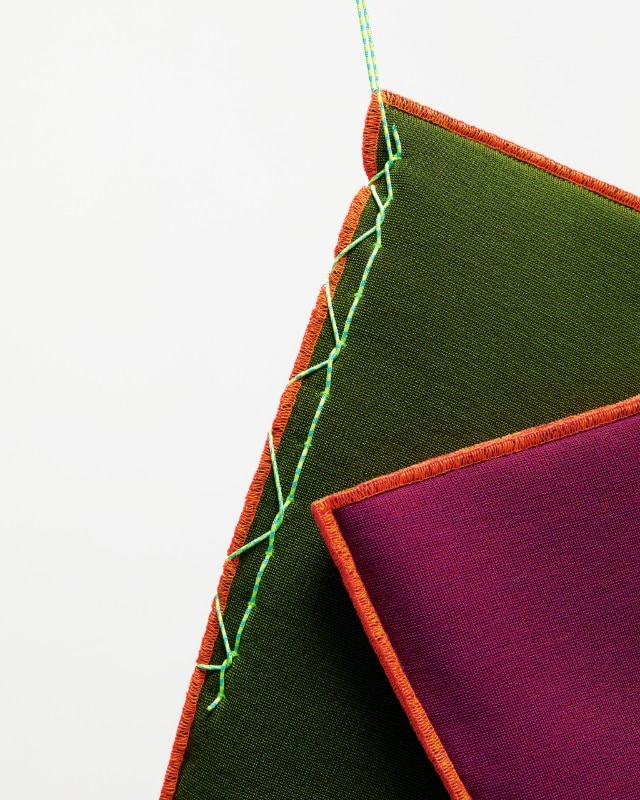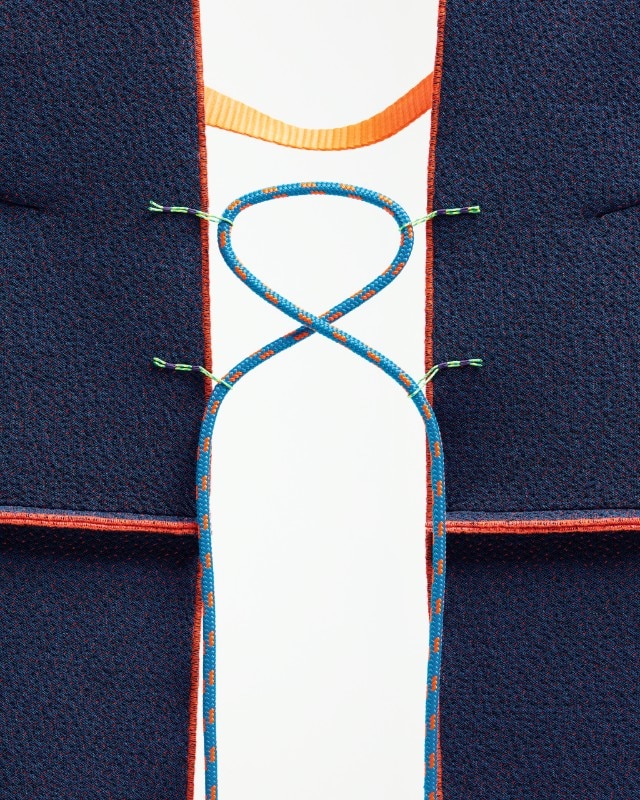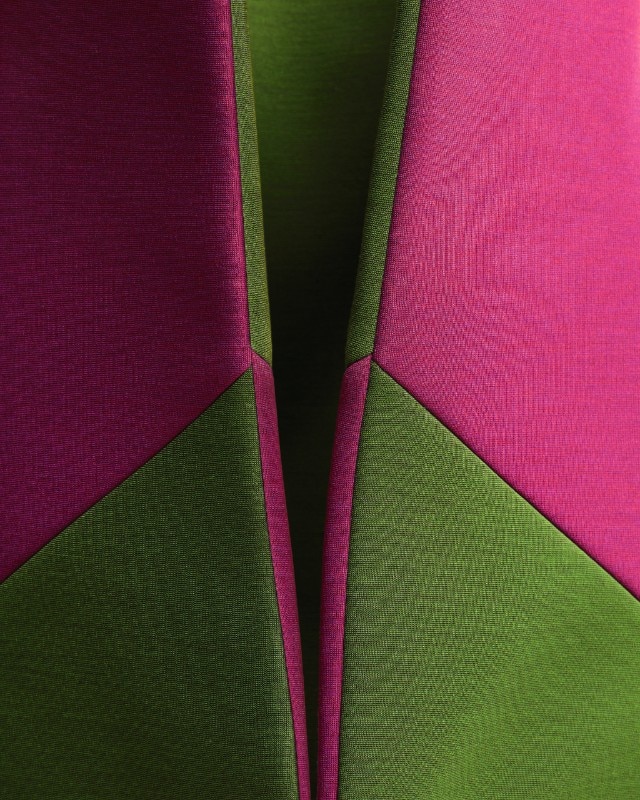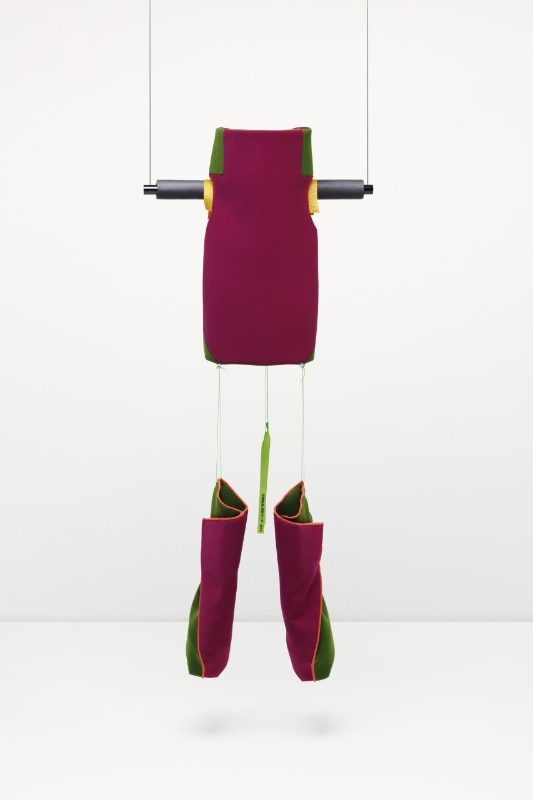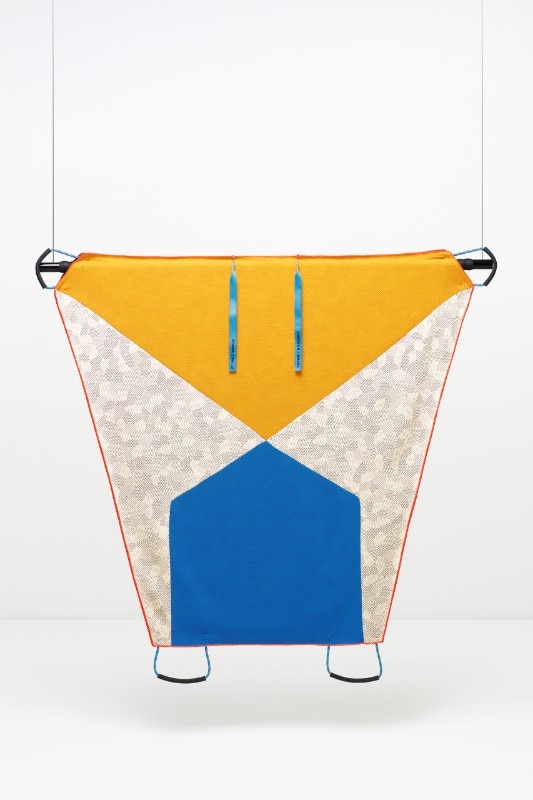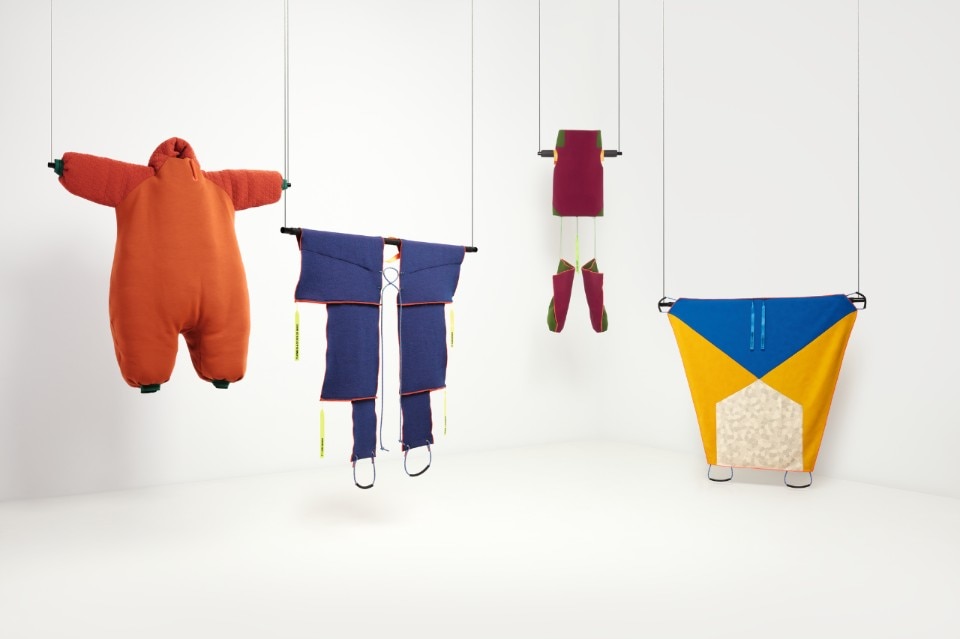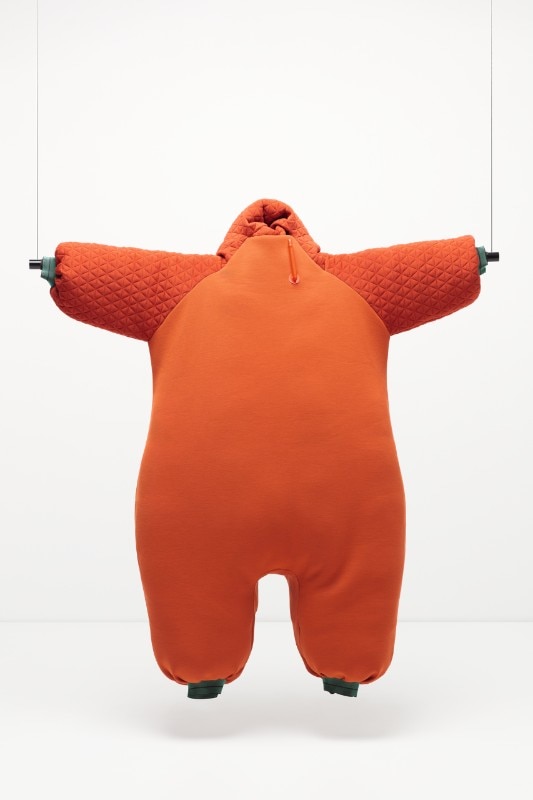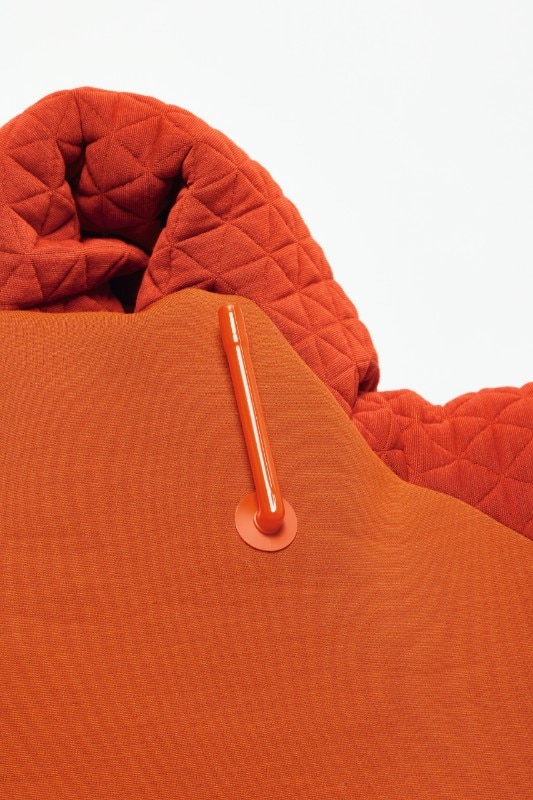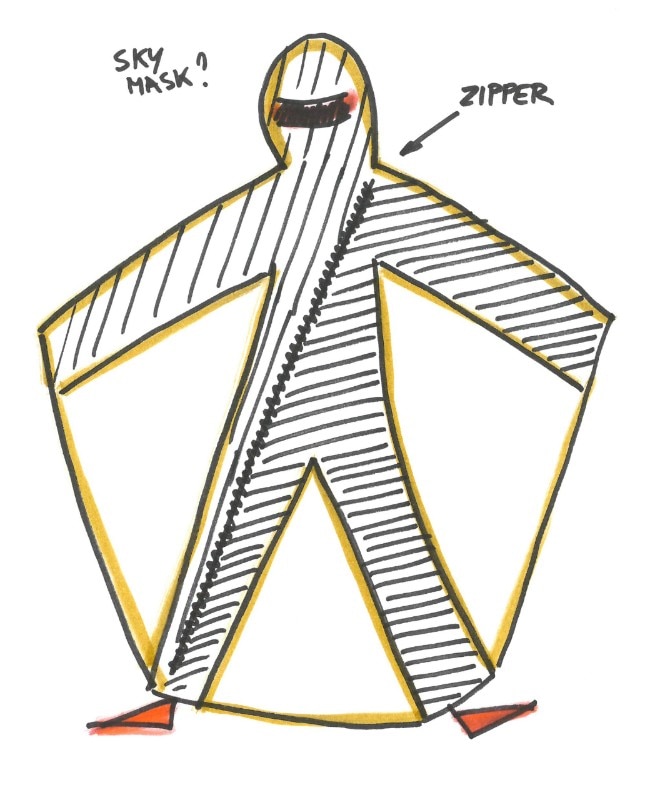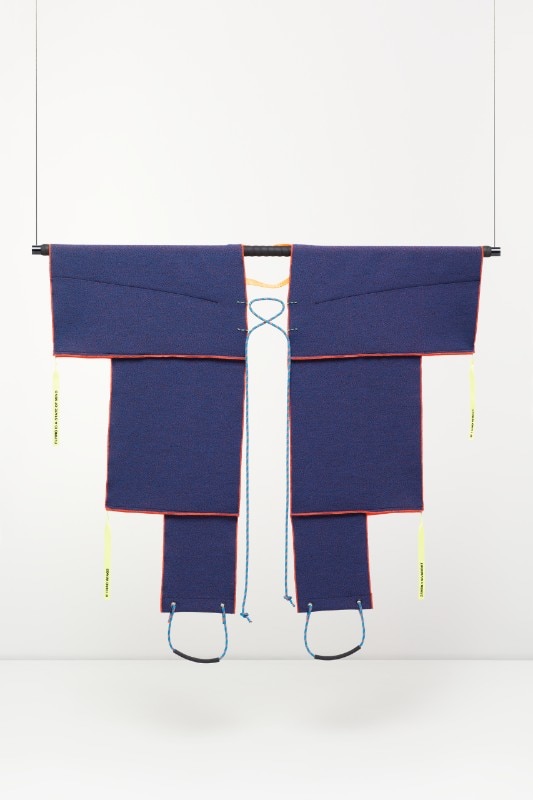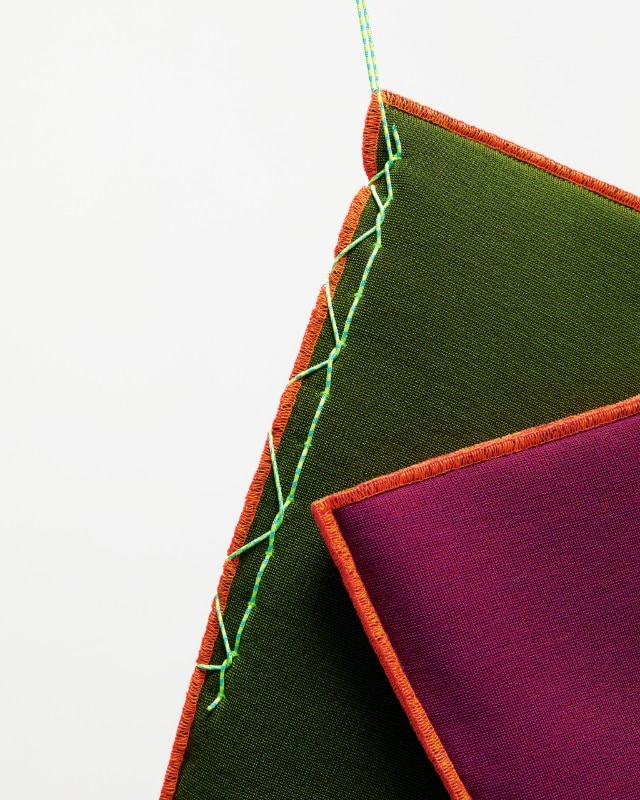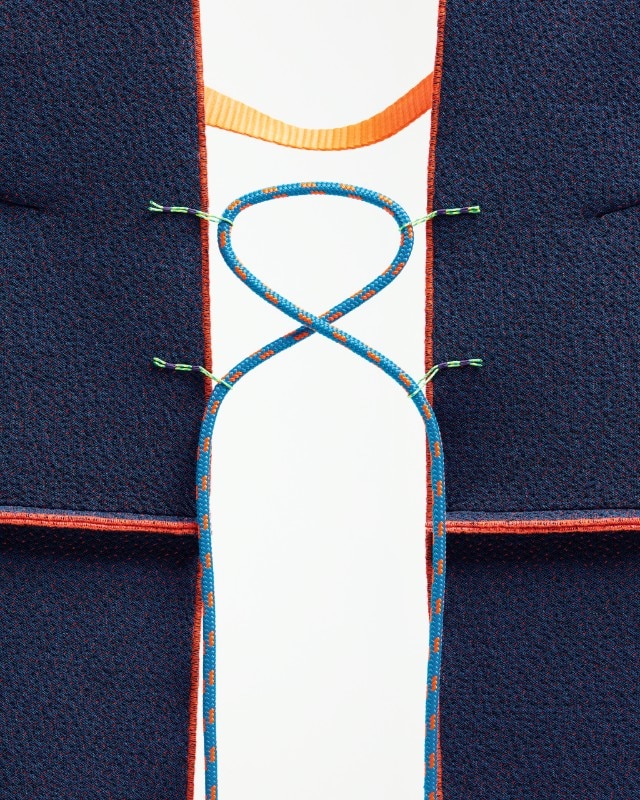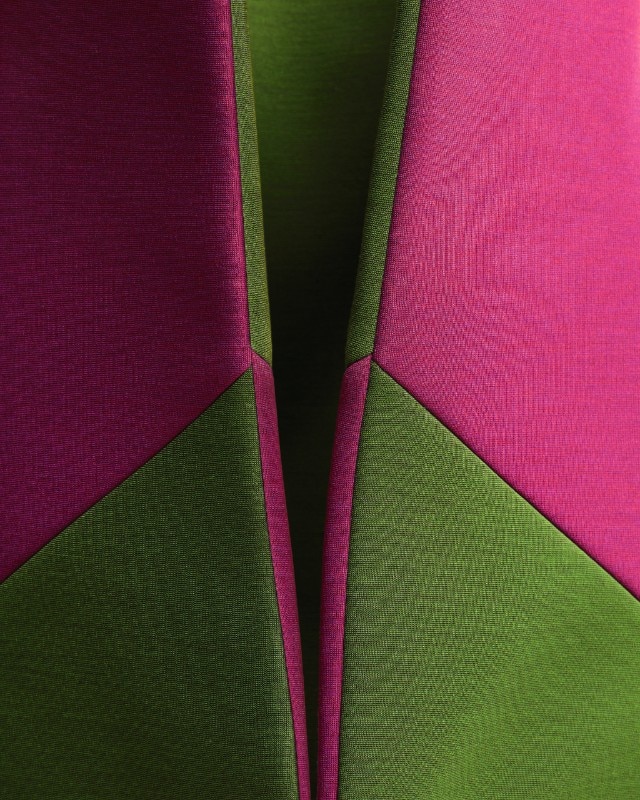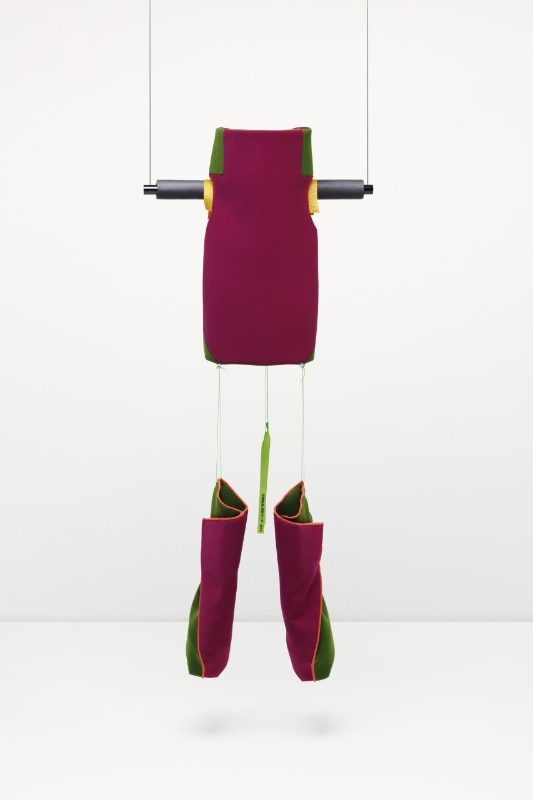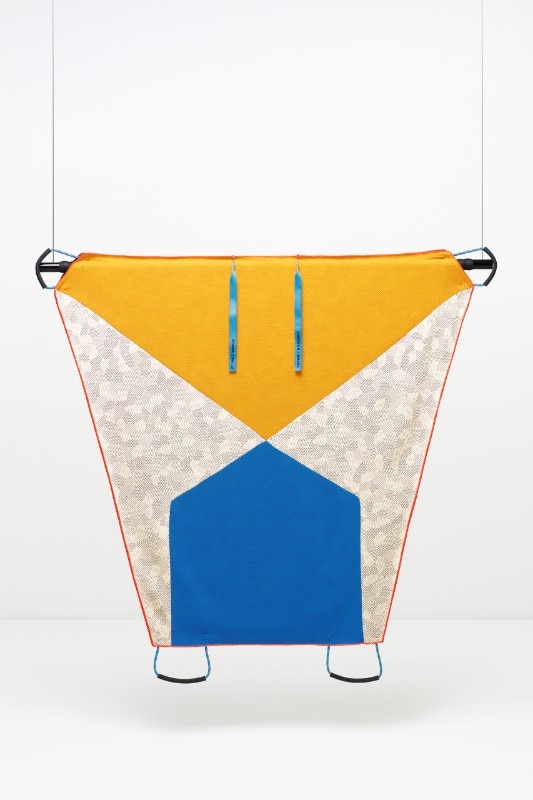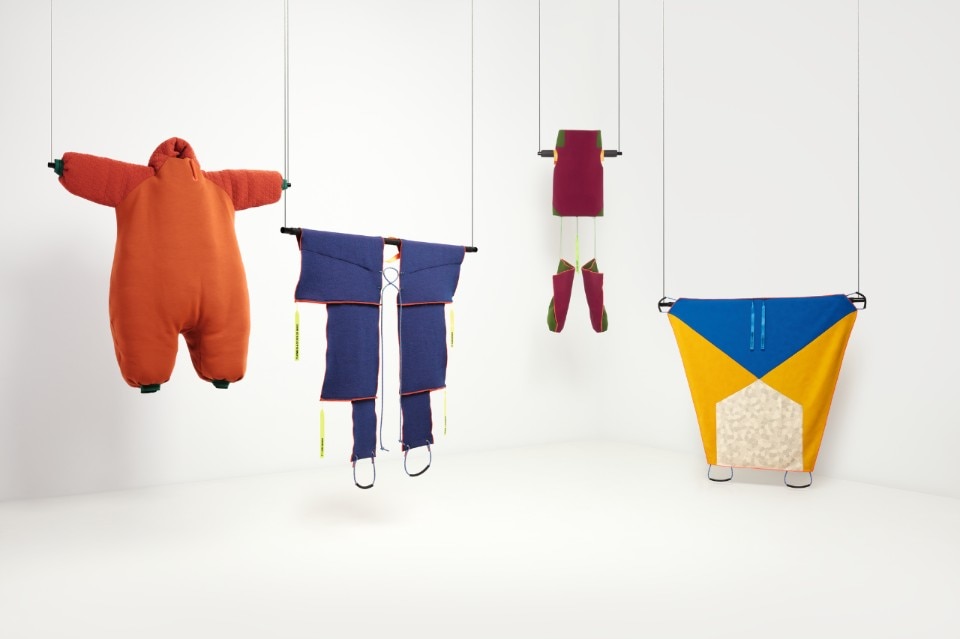 Dressed Up – Marie Sloth Rousing (Denmark)
Working in the intersection of fashion, installation, performance and street art, the work of the Danish designer Marie Sloth Rousing has proposed to investigate the limitations between clothing, object, and body. "When uniting a shirt for the human body and a cover for a chair, I create a new wearable, which is both able to dress a body, a chair, and even both at the same time. When uniting the chair cover and shirt, I seek to challenge our common understanding of the two, testing the balance and dominance between the human body and the object."
Living Room – Visibility (United States)
While Joseph Guerra and Sina Sohrab of the New York-based industrial design practice Visibility tell that  approaching this project they started by looking at the history of dining and seating in the Eastern world, specifically the Middle East. "Seating in these cultures is low, often on the floor, and arranged at the perimeter of a room". And they continue: "It's a style that has been embedded in the society from an early time, with practical and spiritual roots. Our piece is a re-interpretation of the family table in this context, we imagine it as a place where one might gather for tea, or to play cards. The color selections are informed by this history as well; the hues taken from the dominant colors of the regional textiles. The incorporation of these elements along the seating and soft table surface work to create a familial warmth, with a nod to the past and a look forward".

Jeffrey Bernett, founder of the design firm CDS, selected Ania Jaworska, Paola Sakr, Visibility, Ana Kraš and Objects of Common Interest.

Njusja de Gier, Senior Vice President of Branding and Communication at the Kvadrat Group, selected Elaine Yan Ling Ng / The Fabrick Lab, Studio Akane Moriyama, Adam Goodrum Studio, Marie Sloth Rousing, Benja Harney, Shigeki Fujishiro, Malmö Upcycling Service, Lim + Lu and Wataru Kumano.
Renee Merckx, creative director of the knitted textiles company Febrik, which she co-founded with her partner Jos Pelders in 2013, selected Studio Bertjan Pot, Raw Color, Studio Truly Truly and Léa Baert.
Johanna Agerman Ross, editor, curator and design historian, selected Ayzit Bostan, Bahraini — Danish, Faysal Tabbarah (Architecture + Other Things), Maria Blaisse and Bin Xu and Yinka Ilori.

Anniina Koivu, curator, consultant and teacher based between Milan and Lausanne, selected Julie Richoz, Zaven, Camille Blatrix and Joschua Brunn (Carmine Brown), Giulia Chéhab, Michel Charlot.