Designed in 1998, the Fiat Multipla reused the name  and tried to emulate the features of an earlier vehicle from the 50s - a rounded, somewhat futuristic minivan. In fact, the Multipla was a minivan that provided a very roomy passenger compartment. But it didn't look like any other minivan. The main novelty was inside: the four-meter long car had two rows of three seats, breaking away from the traditional five-seater cars.
Fiat Multipla and Roberto Giolito
Fiat Multipla
Fiat Multipla
Fiat Multipla
Drawings of the Fiat Multipla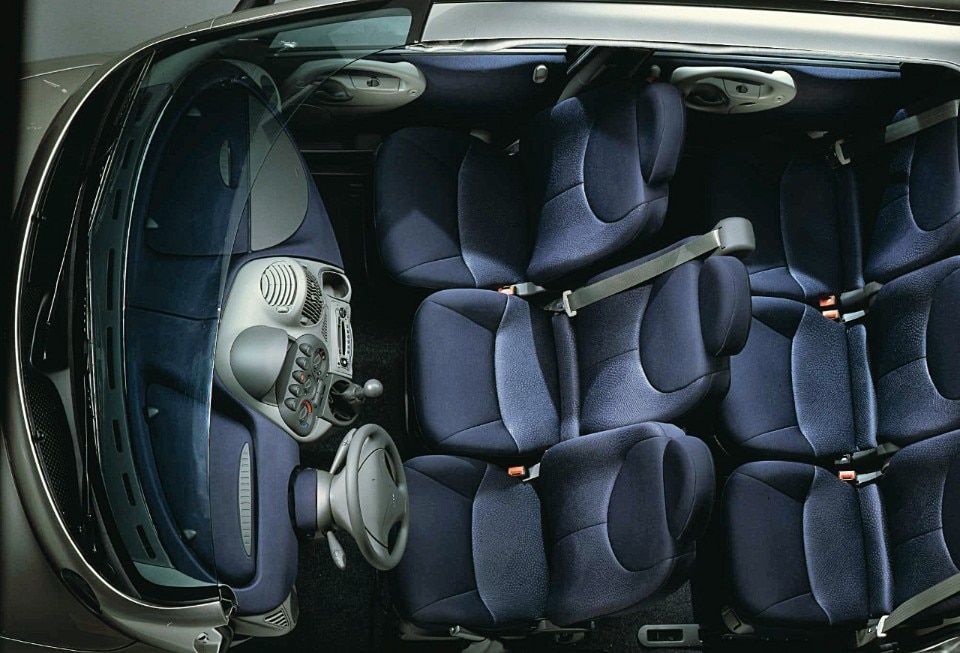 Fiat Multipla, interiors
Fiat Multipla ad campaign
Fiat Multipla
Fiat Multipla
Fiat Multipla
Fiat Multipla, pubblicità
According to critics and the general public, the Multipla was simply ugly, but the Museum of Modern Art (MoMa) decided to employ a more optimistic adjective: the Multipla was "different".
The Fiat Multipla was displayed together with the Toyota Prius, the GM EV1 and the Honda VV at the MoMa in New York during its "Different Roads" exhibition in 1999. The "flexible" interior design of the car, with its clever and adaptable interior, earned it a prominent place in the exhibition.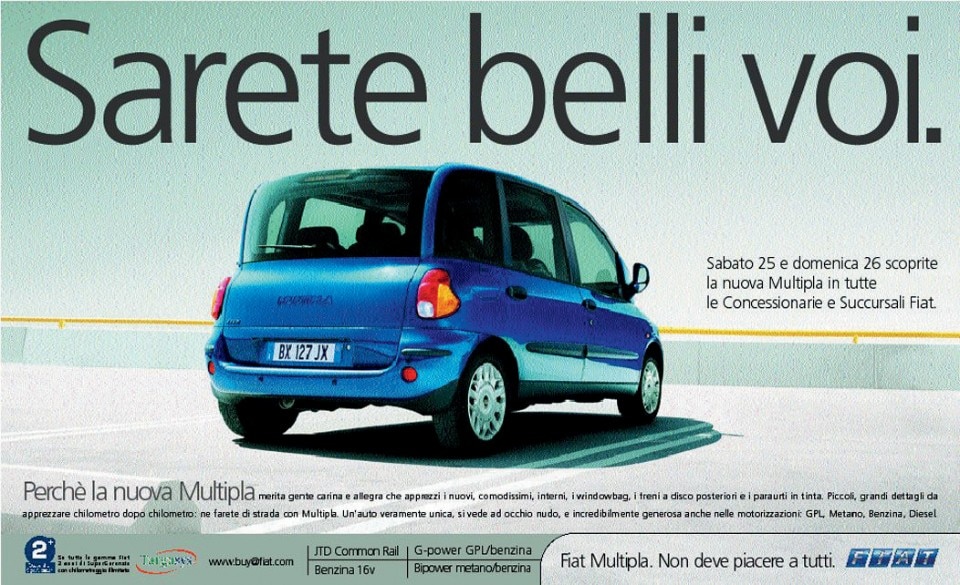 However, its bizarre exterior design was still hard to appreciate. Its designer, Roberto Giolito, also used to joke about it. Not to mention the advertising! When the car was first launched, many rather irreverent ads appeared, such as "As if you were beautiful!", "What are you looking at?", and "I wonder what he has been drinking". Long story short, that combination of ridiculously rounded and playful shapes interrupted by large windows was hard to appreciate. Not to mention the spotlights on the step at the base of the windshield.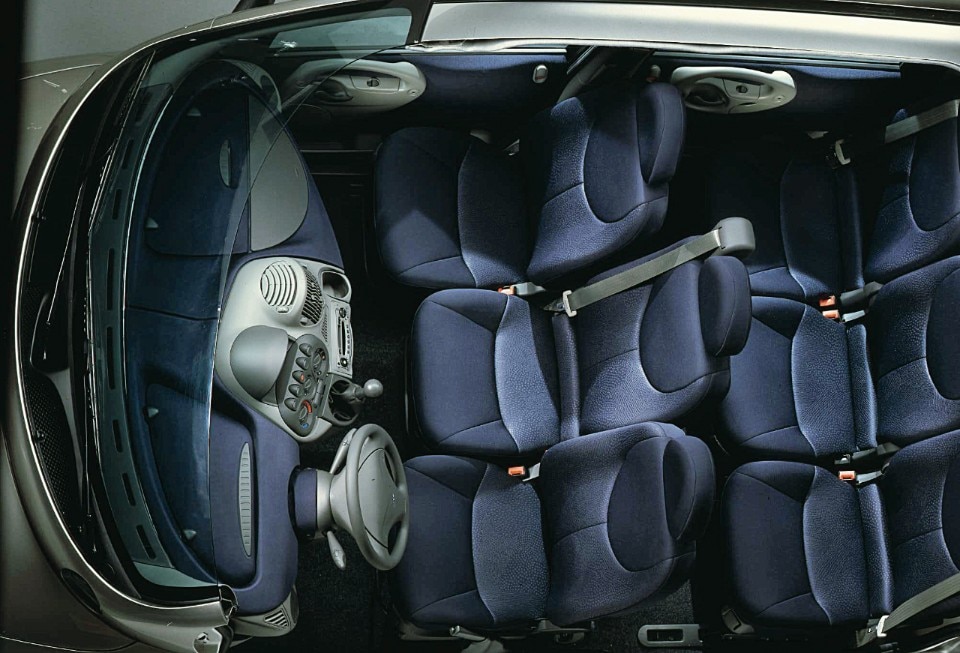 Everything in the Multipla, however, was dictated by functionality, and only few did not agree with that. Those who had driven it in everyday situations, maybe to take the children on holiday or to carry large and heavy loads from one side of the city to the other, were amazed by this ugly but clever car. The biggest setback was when Time included the Fiat Multipla among the "50 worst cars of all time". But fans can take some comfort from that: in fact, among the models mentioned, there were also the Ford Model T, the Hummer H2, the Trabant and the De Lorean DMC-12, bizarre masterpieces that you can't help but love.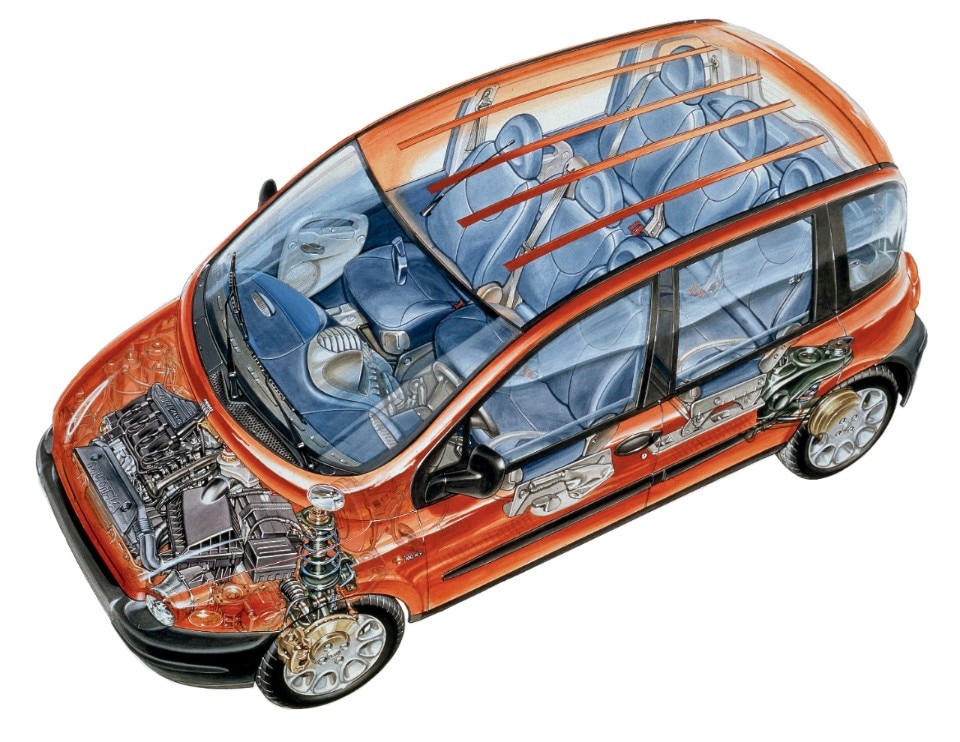 Photo courtesy Quattroruote/Editoriale Domus