For 15 years the French musician Xavier Thomas, aka Debruit, has been touring the world and, like an anthropologist, he uses music as a means of knowledge and connection between cultures. In 2016 he was struck by Kinshasa's "sound of the street" and with some local artists he founded Kokoko!, a group combining traditional Congolese and electronic music.
The collective has manufactured its musical instruments from waste materials: bottles and cans serve as xylophones and percussion, typewriters are connected to tambourines to create other rhythmic elements, old cables attached to scrap wood produce vibrant bass lines and old electronic components are reassembled as rudimentary amplifiers. To these Debruit adds its vintage analogue instrumentation, like a true nerd of electronic music, to mix the rhythms of the Congolese rumba with western sounds.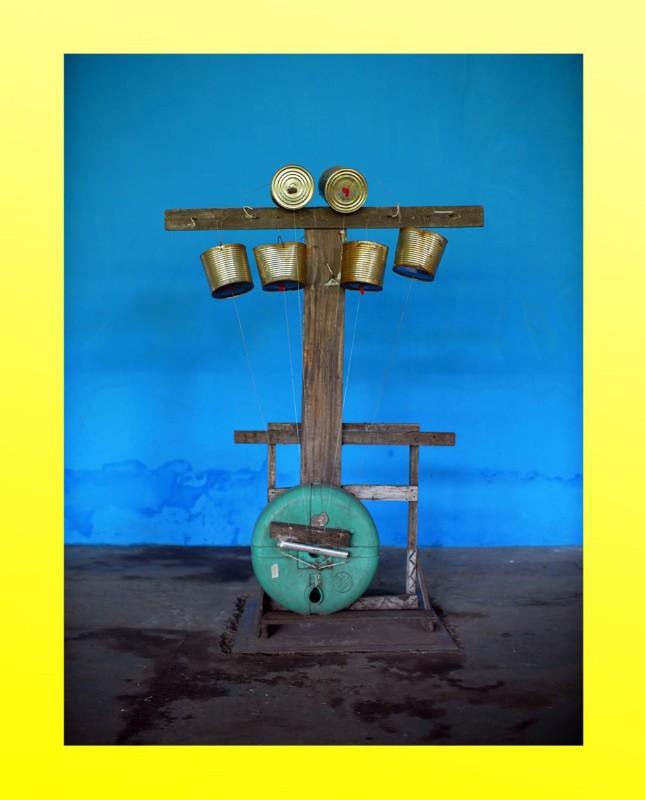 The music of Kokoko! is the antidote to the studied and perfect – or, as it is often said, plastic – music of the major music labels. Their instruments can be considered true design objects, which against industrial and mass production propose a DIY approach based on reuse.
After several singles and EP's, the group released their first album entitled Fongola, which will soon be presented in Italy at the Ortigia Sound System Festival (OSS). The festival will be an opportunity to see them perform with their colorful suits, probably inspired by those of Devo but in post-colonial style.
From 24 to 28 July 2019, OSS will bring music and cultures from all over the world to Sicily, at the same time showing the best of the island to the international public. The festival is conceived as a unique experience in which the arts are blended with the everyday life of the island of Ortigia, the historic centre of Syracuse, and its coastal landscape.
It is no coincidence that among the participating artists – Giorgio Moroder, Neon Indian, Yussef Dayes, Jerusalem in my Heart... – stands out the name of Virgil Abloh, designer and artist who in this context will explore through music the urban culture that inspires his work.
It is from music that OSS overcomes the cultural barriers that conservative politicians trace out in defence of traditions, lifestyles and forms of expression that they consider pure and inviolable. With the enthusiasm of the encounter, the hybridization of sounds and the alliance of bodies, the festival gives a joyful response that is already an instrument of transformation.