"My creations are meant to bring mankind closer to the universe", maintained Gabriella Crespi (1922-2017). Milanese by birth, but from the very beginning a citizen of the world, a multifaceted and lively creative mind, a year on from her death she is celebrated through a project which has the enthusiastic support of her daughter Elisabetta: a book which speaks of her adventurous life, made up of luxury and success, but also marked by a drastic change in events when her mother abandoned everything to follower her maestro in India. Published by Odoya, the book is written by Pierluigi Masini, the last journalist to have met her before her death on 14 February of last year. As well as presenting the work of an unusual artistic career, Masini aims to retrace the dreams and events from the life of this charismatic character, with an extraordinary voice and inner strength.
Tell me about the first time you met Gabriella Crespi    
Pierluigi Masini: We need to define the term "meet". The first of three meetings that I had in person with her was on 27 October 2016, in her Milan home. But the truth is that I already knew her from her work, I had read of her return to Milan after 20 years spent in India. I had found the catalogue of her exhibition at Palazzo Reale, in 2011. It was a great challenge for me to be able to meet her in person. I had also interviewed her in September, but unfortunately only via questions and answers sent via email. Her last summer was problematic for her, as she was 94 years old. That interview immediately created a particular bond between us. She was a woman who had made silence a way of life years ago, but this did not mean that she didn't communicate. Quite the contrary. She gave off an incredible amount of energy. I remember her sitting in an armchair beneath the large portrait of Babaji, still beautiful and solemn in the sun, with her elegant Indian-style clothes and her long hair.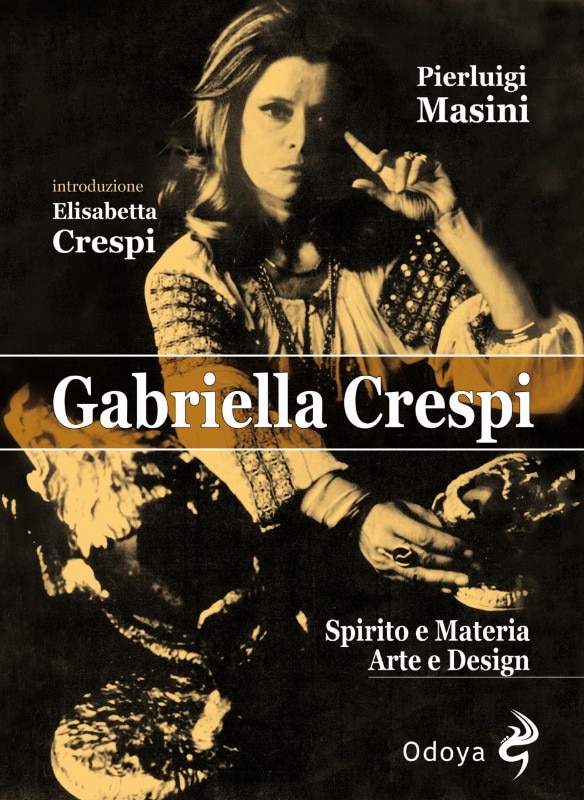 You were the last journalist to meet her. What exactly did you talk about?
The third and final meeting was on 22 December 2016. Less than two months before she died. In the meantime, I had also read her spiritual diary and this had shown me a further part of her life, which had been made up of a combination of many things. She had worked as an artist and a designer, her research had been dictated by a profound spirituality, and the thoughts and poetry that she left us - all brought together for the first time in the book - are an integral part of her way of life. We spoke very little, she had a delicate voice, almost child-like. I remember that she looked at me from behind large dark glasses, and she wore the smile of a great master who is aware. Then suddenly I saw her start to beat out a rhythm on her knees with her hands, as she sat there in the armchair, absorbed, and her legs also followed a rhythm, maybe the sacred Indian music she loved to listen to. There were things that she didn't tell me because she had already said them through the way she lived, all one needed to do was put it all together. This is what I have tried to do with my book.  
This book is the result of a collaboration with her daughter, Elisabetta, who now runs the archive. How did this collaboration come about?
The collaboration developed immediately in a very beautiful and sincere manner. Then, over the months that it took to bring together all the pieces of the life of Gabriella Crespi, a complicity emerged that still continues today, and which unites us. Elisabetta, with incredible generosity, gave me access to a huge amount of first-hand material, a lot of which had never before been seen. Then she followed the writing of the book step by step, enriching it through a relationship characterised by extensive reciprocal respect and esteem.
How would you define the work of this artist, and what part does it play in the particular historical context in which she lived?
Gabriella Crespi was a wonderful voice that stood out from the mainstream. This was due to her nature, her choices, her inspiration. She was always far from the others. She didn't follow mass production, she chose limited production made with almost manic precision by her artisans. No International Furniture Fair, no collective rituals. But not even one word published on her by Domus, certainly not while Gio Ponti was the editor. She was simply herself. An entrepreneur in the world of inaccessible luxury, proud to never be confused with others, true to her self-exploration which led her to listen to the energy of the cosmos, but also a member of the international jet-set. A unique character who, with the Plurimi series, created archetypes, items of furniture which, quite simply, had never existed before.
What is the most interesting anecdote that you shared? 
In reality, none. She was no fan of anecdotes, I don't think she even liked talking about herself. But the book is full of curiosities, collected through her daughter Betty, and found by searching through her notes. A goldmine of information, from her meeting with the wife of the owner of Tiffany in 1963, which paved the way for her success in America, to her vip connections on the Costa Smeralda; from her relationship with the maison Christian Dior, where she sold her pieces, to her friendship with Stella McCartney.
How did you approach the theme of her change of life? At the age of 65 she abandoned everything to follow her maestro. What is your opinion of this event?
In order to understand what leads a successful woman who has an atelier in Monte Napoleone and another in Palazzo Cenci in Rome to abandon everything, grab her sleeping bag and go to India for 20 years, one needs to examine Gabriella Crespi's most secret depths. Since she was a young woman, she had physically experienced moments of unexplainable anguish and pain which, only 50 years later, through her relationship with her spiritual guide, she managed to understand. In the end, she found herself, she retraced who she was in her previous life, she prayed, she meditated, and she came to the point where she examined her soul. And she finally recognised herself.
What is the current perception of such a particular character?    
My impression is that Gabriella Crespi is a person to be understood and recognised. She is very much appreciated in America and France. She is highly sought after in auctions throughout the world, where her works fetch very high prices. She is loved by collectors such as Elisabeth Arden, Gunther Sachs and Lenny Kravitz. Despite this, she finally entered the Milan Triennale with two works as part of the exhibition "W. Women in Italian Design" only a few months before her death. And one of her Eclipse pieces is currently present as part of the exhibition under way on icons of Italian design.
Book title:

Gabriella Crespi. Spirito e Materia Arte e Design

Author:

Pierluigi Masini

Publisher:

Odoya edizioni

Pages:

266

Price:

18 euro

Year of publication:

May 2018