There is a common idea that each culture creates its own specific practices and products. Reversing the equation allows us to re-examine until which extent the products we consume everyday can end up creating a specific design culture. "Design Anatomy", the most recent exhibition at 21_21 Design Sight in Tokyo, opens a dialogue around this question by introducing "a method for seeing the world through familiar objects".
As much as architecture employs the section as a representing tool to understand spatial qualities, human anatomy employs dissection on the body as a research methodology. Taku Satoh, director of the show has already been working with the concept of "design anatomy" since 2001, applying it to diverse industrial products in contemporary culture to decode their specific design qualities. His method can be described as an exhaustive examination from outside to inside of all the details involved in the design of everyday products, allowing him to decompose and recompose its parts and relationships.
"Dissecting" as Satoh refers, unveils hidden aspects of design, production and distribution of specific mass produced goods, elevating the ordinary into the status of extra-ordinary. More specifically, the exhibition revolves around dissecting five products of Meiji Holdings Co., a Japanese company whose core business is related to food. The director chose to examine products that enable the visitor to easily relate with goods that are already inserted in popular culture and social memory. Hence, goods such as biscuits covered with chocolate, yogurt, icecream, a chocolate bar and milk are researched in high detail.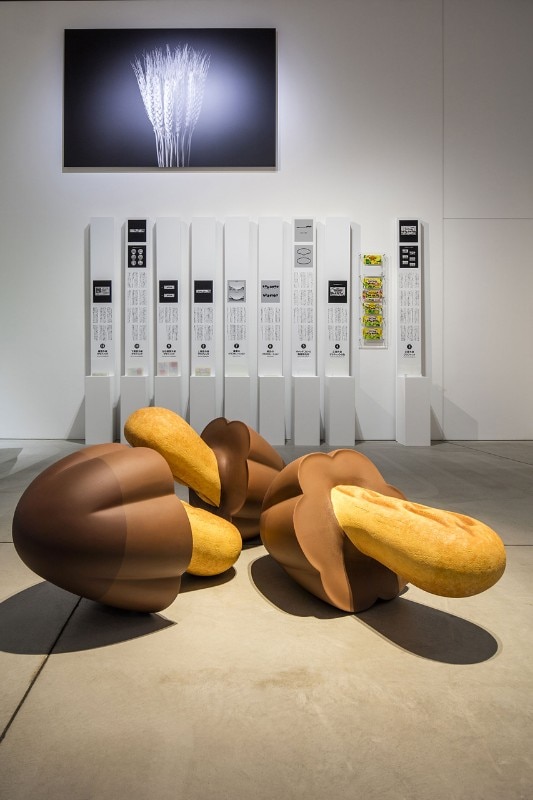 The access hall introduces the design anatomy project and its methodological approach along with some of the first dissections to products that Satoh has previously undertaken. Items such as a disposable camera, the skull of a popular doll or the fabric of one of Issey Miyake's A-POC cloths are displayed and analyzed either in micro or macro scales. Sato breaks his method into four stages: fundamentals, diagrams, deciphering and researching, each of them necessary to follow the next part of the exhibition where he examines specific products.
From here the show devotes the rest of it to break down not only design components of the five forementioned products, but to render a complete story about each one of them; from aspects concerning the organic nature and production of the five milk-derived products, to others related to packaging design and historical positioning in popular culture.
The first room presents in high detail only one product, a biscuit covered in chocolate in the shape of a mushroom popularly known as "Kinoko-no-yama". The second and largest room continues with the other four, following strictly the dissectional method proposed by the director. Along with different facts, historical data and over-sized reproductions of each selected good, Satoh invited other creators to collaborate in order to bring not only informative material but a more ludic experience for the audience. Graphic designer Takeo Nakao for instance, presents through infographics a deep analysis of the website of the company. Motion director Takuya Hosogane, created a dot printing machine based on the production code used on the back label of a chocolate bar. Others as Syunichi Suge depicts through miniature models the complex network of people involved around the production of the five goods, from people growing the materials to people working in factories and delivering them. The exhibition finalizes introducing other dissections of products by students from Musashino Art University, where Satoh taught design anatomy as part of their educational program. 
Satoh aims to capture design as a way of seeing things, acknowledging a strong visual sense embedded in the world "design". Moreover, he also acknowledges the "engineering of design" beyond shapes and colors. Hence he also paid keen attention in his product examinations to other variables such as flavors and textures, claiming that this is also part of their engineered design.  
While the show essentially shares similar features with previous exhibitions in the venue related to design, it is substantially different in the sense that it can lead the visitor through an obsessive and meticulous process of analysis of each of the shown products. Nevertheless, the exhibition ends up widening the discourse about design in everyday products to all public, or as better expressed by Satoh, "familiar objects are the gateway to the universe". Still the question remains open; if culture creates products, what kind of culture is being created by contemporary products?

until 22 January 2017
Design Anatomy
21_21 Design Sight
9-7-6 Akasaka, Minato-ku, Tokyo
Curator : Taku Satoh