Once again Passionswege, the design pilgrimage of the Vienna Design Week, brings young designers to work in strict collaboration with the most historical stores and companies of the Austrian capital.

Among other things, this year Passionswege presented a performance by duo Bertille & Mathieu (Bertille Laguet, Lyon 1988 et Mathieu Rohrer 1989, Vaud) at the Lobmeyr store. The master glazer Josef Lobmeyr opened his first shop in Vienna almost 200 years ago and since then the brand has established a tradition of innovative collaborations with exceptional artists during the years.
Since 2000 Lobmeyr is in its sixth generation as a family business and Leonid Rath, together with Andreas and Johannes, have grown the international sales activities, focus on co-operations with a new generation of designers and take good care of their treasure.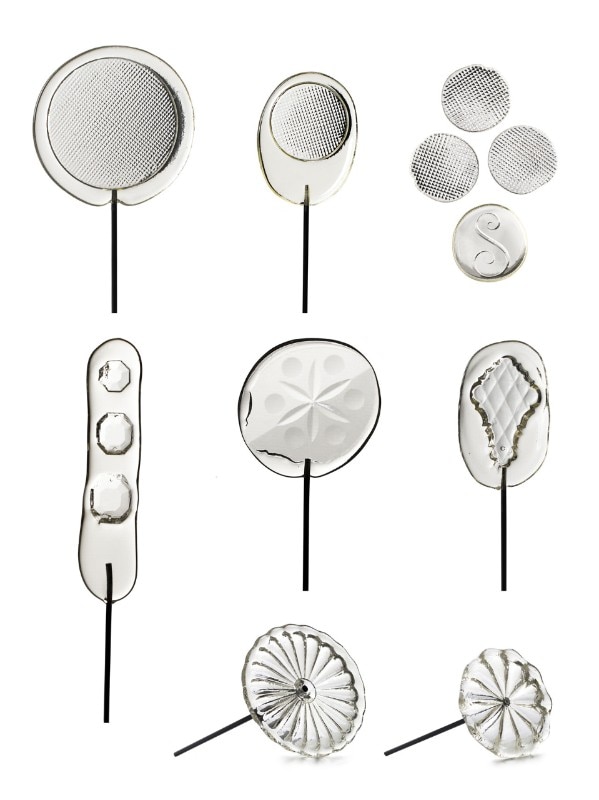 Inspired by the repertoire of forms available at the company archives – that this year welcome its 200th anniversary – we see chandelier pendants reshaped as lollipop and the Lobmeyr parent company on Kärn-tnerstrasse being transformed into a contemporary candyland, an experimental sweet factory showroom became a real laboratory to experiment a peculiar combination of sweet and crystals.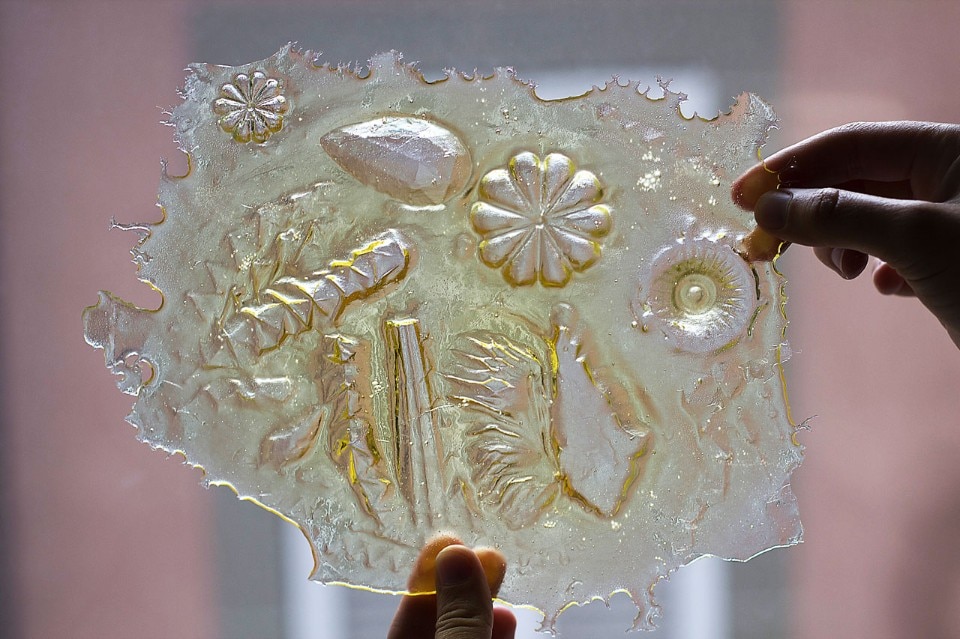 Graduated at the ECAL and working in Lausanne, the young French-Swiss duo Bertille & Mathieu brought a smile to visitors by producing handcraft pieces in eatable sugar from old traditional stamps, here used as tools and footprints (whisky, wine and liquor glasses of the Loos series, elements of various chandeliers, from baroque to art deco, bowls engraved with initials) for lollipops and candies – the second ones are not for eating thought.

The young couple seems to have clear in mind the long lasting philosophy within their design, meaning that rather than fetching for an industrial aesthetic, they "assume with honesty that trace left by the hand's passage sign of a human being production."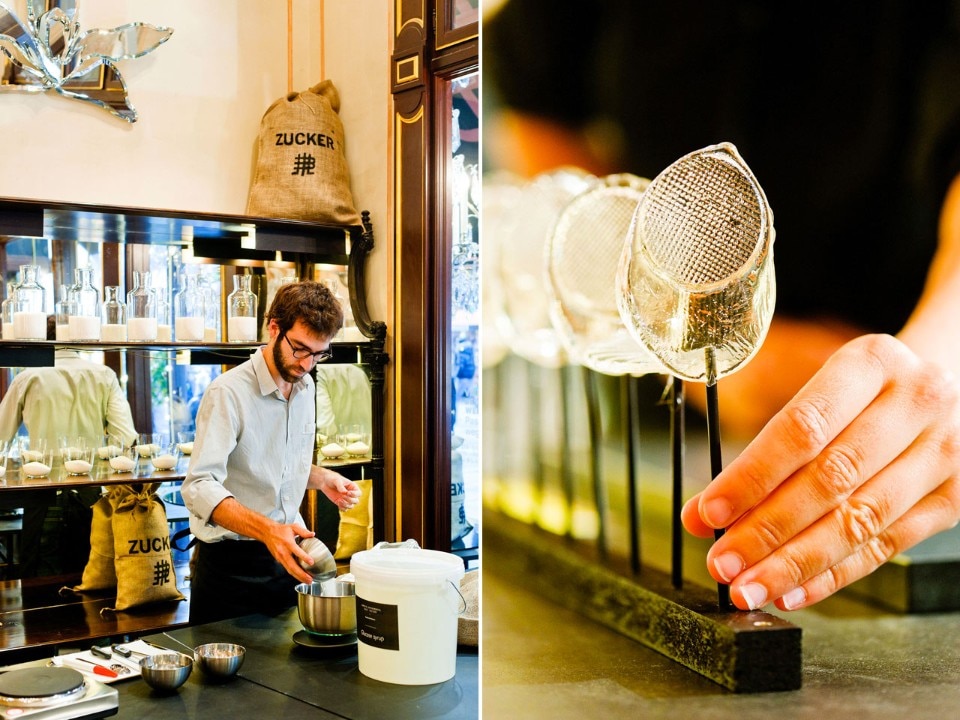 Domus: How this project with Lobmeyr was born and why lollipops?
Bertille & Mathieu: We have been invited by Passionwege to collaborate with Lobmeyr in occasion of the design festival and create something that will be shown in their showroom. The starting point of our idea was the similarity between the process of making crystal and making candies. Both start with sand, melt with the heat, become transparent and can be blown, moulded or shaped. An other point was that we wanted to find a way to highlight Lobmeyr works without talking directly neither about how long their products need to be engraved nor how expensive they are. We opted for a very direct and accessible way to make the experience of their precision and we built a sweet factory in which we produce in direct sugar lollipops using crystal pieces as stamps and imprints.  Finally lollies are sold for 1 Euro and are at the same time the most accessible Lobmeyr experience and an ephemeral luxury pleasure.  Our wish was to open the door to people that would usually not come into this kind of shop and offer them a not too elitist perspective on the amazing Lobmeyr collections.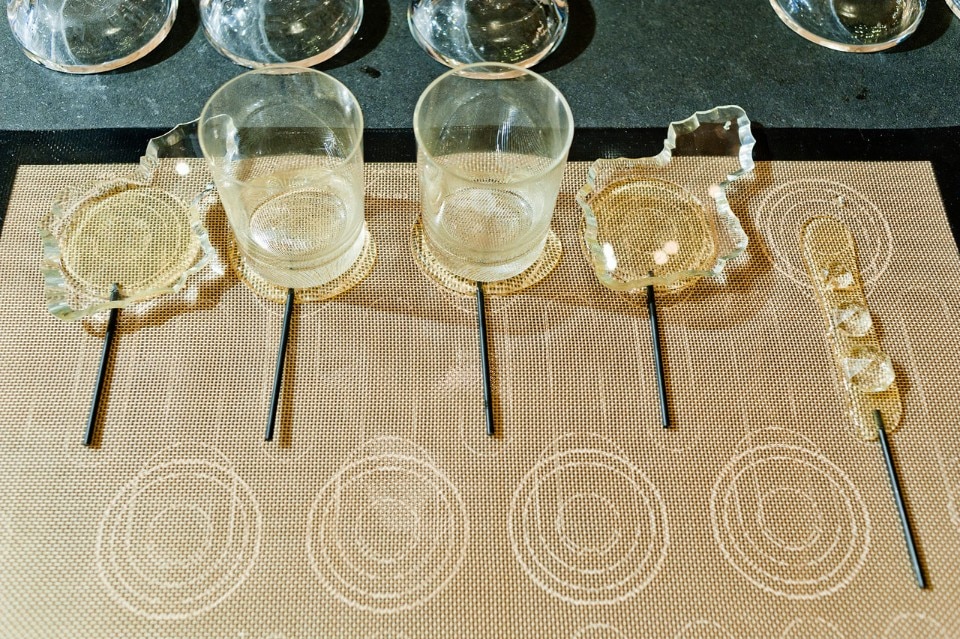 Domus: Speaking about your work: how do you get your first creative impulse for a project, ex. walking, reading, dreaming?
Bertille & Mathieu: We normally start with an extended discussion which can last several hours and several coffees. We don't make any sketches but just talk about but mostly around the topic and impulses come at the unexpected intersections of ideas.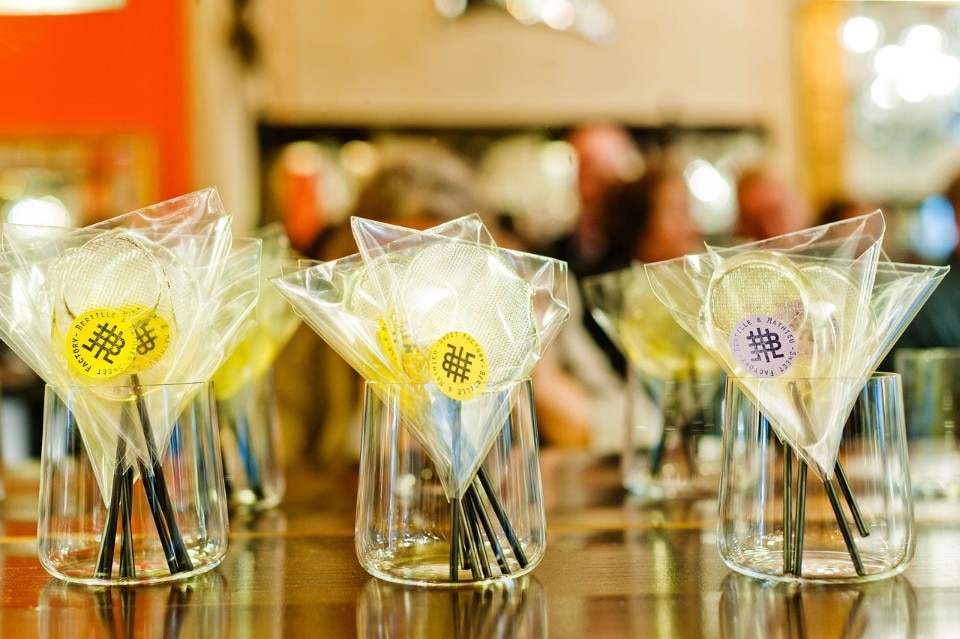 Domus: How do you physically represent your early idea of a project: drawing on a notebook, bringing together materials, making a written note?
Bertille & Mathieu: Drawing is generally what we do, but to illustrate ideas with volume we often use existing objects as raw materials and put them together or change their position, etc. What could be dangerous and interesting at the same time: depending the objects we use, they can be visually too strong and influence the project.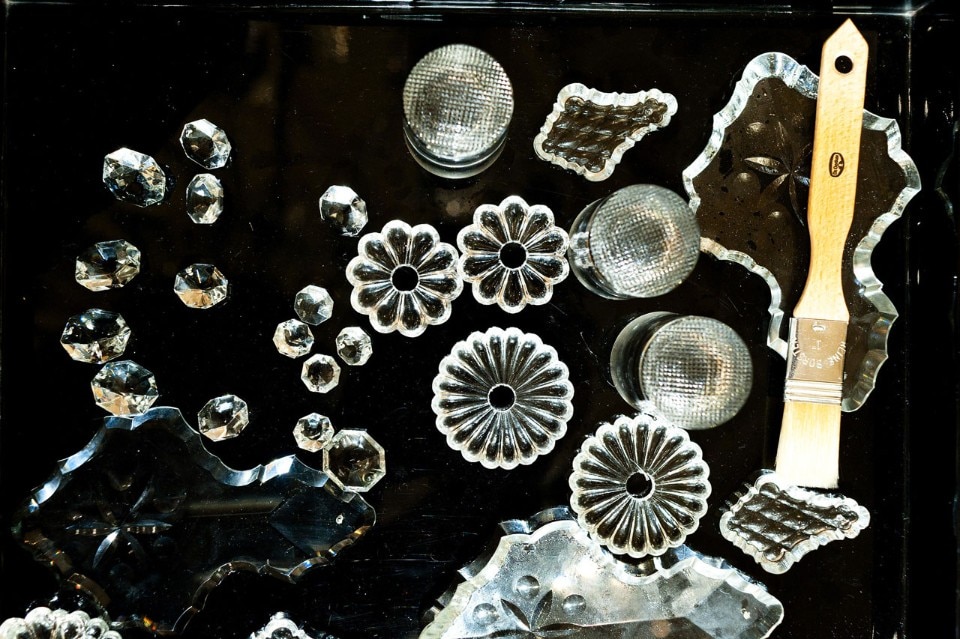 Domus: What's your earliest design memory?
Bertille Laguet: When I was 4, I was building huts under my parents Marcel Brauer chairs Cesca. I used two chairs back to back and put a bed sheet on them.
Domus: Which object epitomizes or represents design par excellence?
Bertille & Mathieu: Let's say the Thonet Chair N°14. This is a pretty aged reference but still relevant and contemporary. It was such a radical and modern vision for the mid 19th century, but also very influenced by the aesthetic of this period, when the concept of design as we know it today did not exist. The chair is a brilliant balance between function, simplicity, industrial vision, use the best of a material without being too rational and keep this poetic elegance that stimulates imagination and continues to match with our environment 150 years after.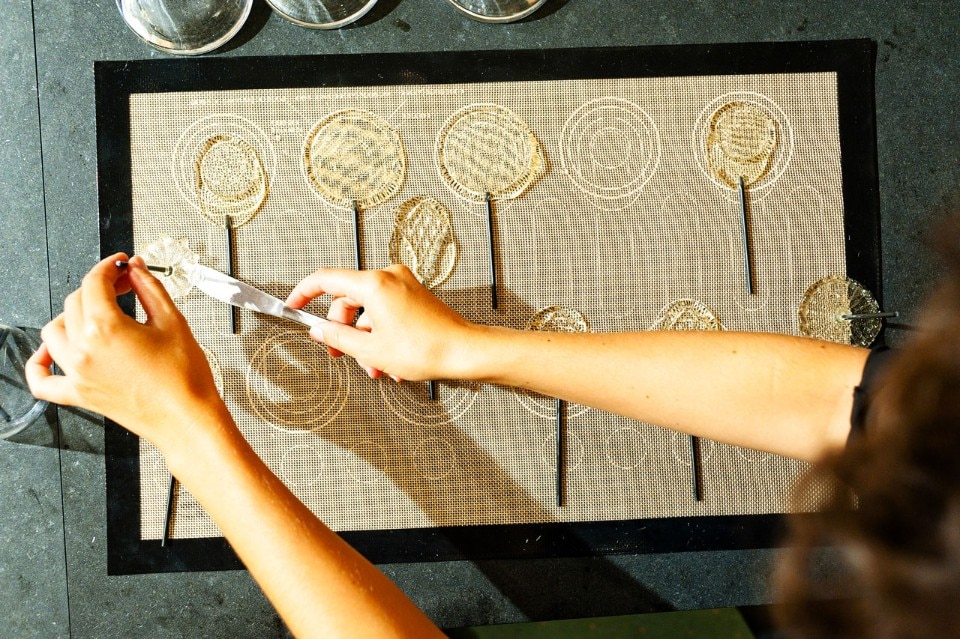 Domus: Which object is the most necessary for mankind?
Bertille & Mathieu: A sheet of paper. Because with sheets of paper we can make books and books are able to remember for ages the human's stories (good and bad) and tell them to the next.
Domus: Do you think the history of design has to be taken into consideration when creating a new product or you prefer to look to the future than to the past?
Bertille & Mathieu: The past should always be taken into consideration because we know it unlike the future. We know what has worked and what seems has been a mistake. But of course something that didn't work in the past could work now or in the future. So instead of running headlong into the future, we try to have our two feet firmly anchored in the present and be inspired by the existing while keeping an passionate but critical eye on the past and a curious but clever eye on the future.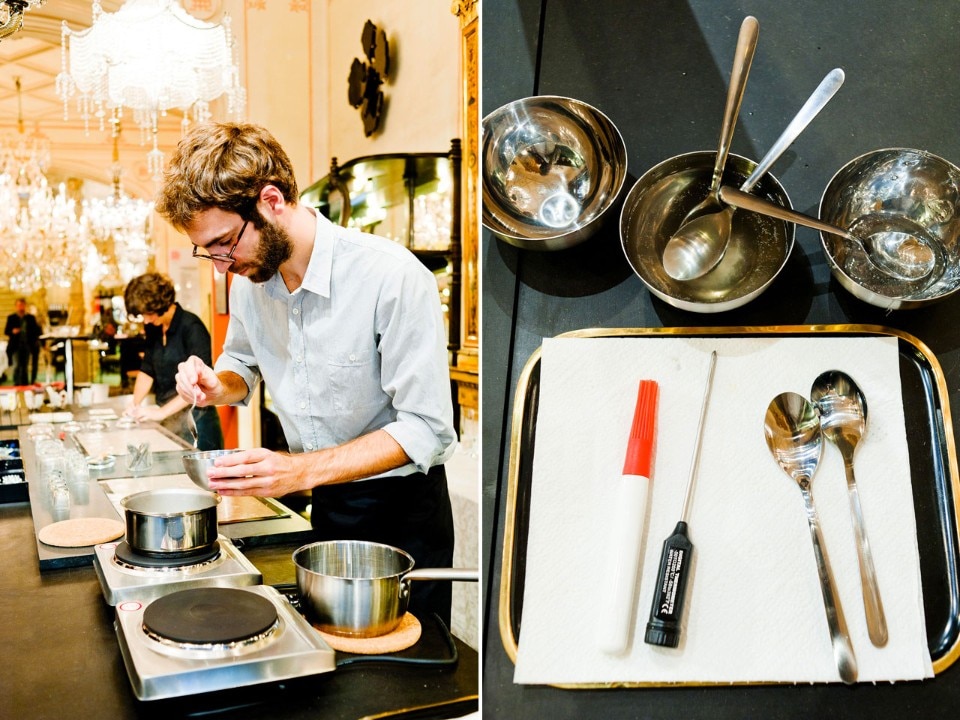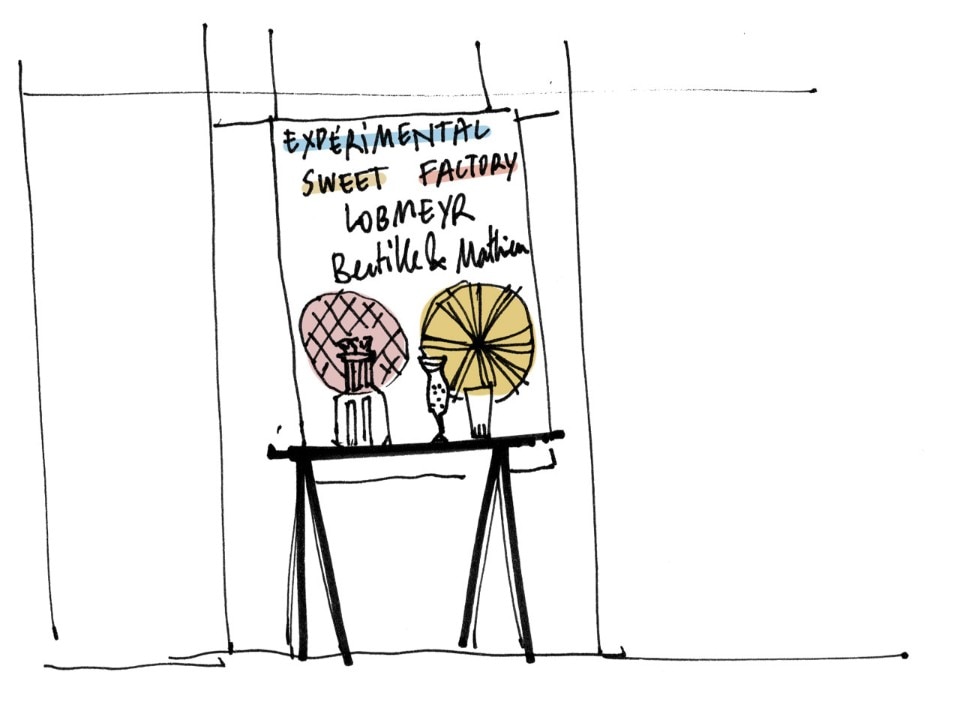 Passionswege 2013: the performance by Bertille & Mathieu at J. & L. Lobmeyr. Photo © Kramar / Fischka.com
Passionswege 2013: the performance by Bertille & Mathieu at J. & L. Lobmeyr. Photo © Kramar / Fischka.com
Passionswege 2013: the performance by Bertille & Mathieu at J. & L. Lobmeyr. Photo © Kramar / Fischka.com
Passionswege 2013: the performance by Bertille & Mathieu at J. & L. Lobmeyr. Photo © Kramar / Fischka.com
Passionswege 2013: the performance by Bertille & Mathieu at J. & L. Lobmeyr. Photo © Kramar / Fischka.com
Passionswege 2013: the performance by Bertille & Mathieu at J. & L. Lobmeyr. Photo © Kramar / Fischka.com
Passionswege 2013: the performance by Bertille & Mathieu at J. & L. Lobmeyr. Photo © Kramar / Fischka.com
Passionswege 2013: the performance by Bertille & Mathieu at J. & L. Lobmeyr. Photo © Kramar / Fischka.com
Passionswege 2013: the performance by Bertille & Mathieu at J. & L. Lobmeyr. Photo © Kramar / Fischka.com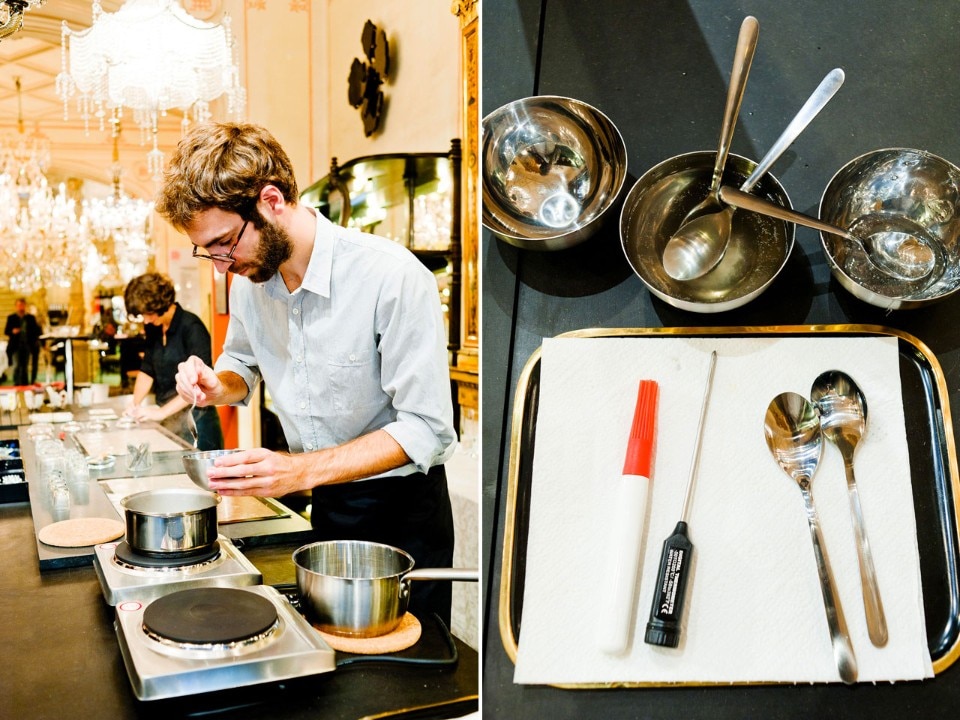 Passionswege 2013: the performance by Bertille & Mathieu at J. & L. Lobmeyr. Photo © Kramar / Fischka.com
Passionswege 2013: the performance by Bertille & Mathieu at J. & L. Lobmeyr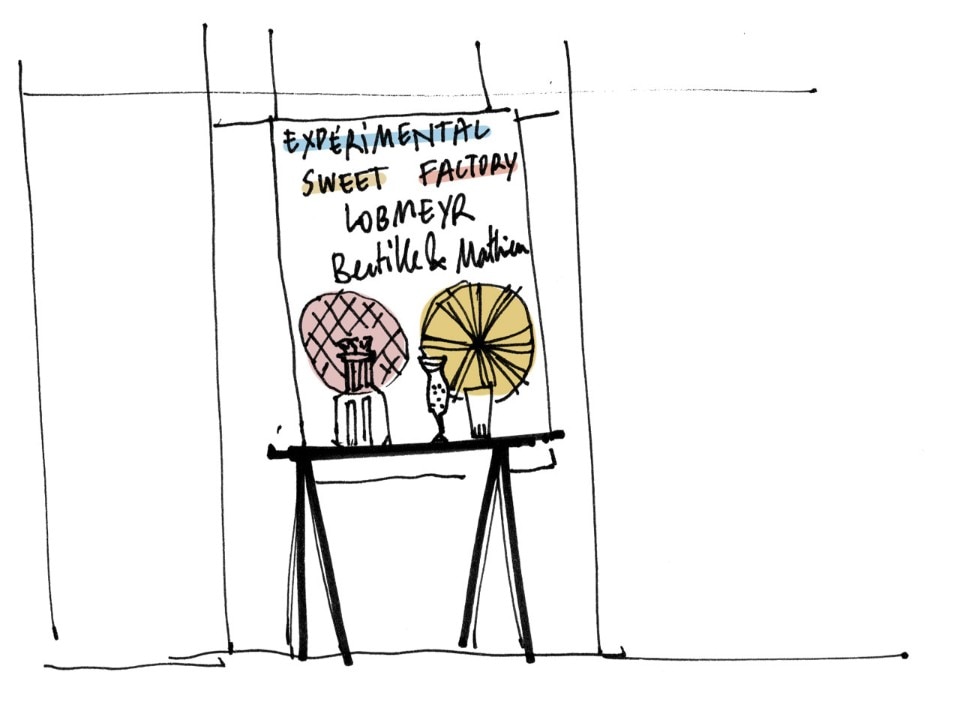 Passionswege 2013: the performance by Bertille & Mathieu at J. & L. Lobmeyr