To be presented at the upcoming Salone del Mobile 2013, Raphia, the new chair designed by Lucidi Pevere Design Studio for Casamania, has a dual nature expressed by its two diverse components: cane (rattan and wicker), which points back to an ancient, artisanal tradition; and metal, which represents industrial production in the strictest sense. Left to its natural colour, cane is nevertheless the chair's true protagonist, while metal, despite its diverse, contrasting hues, maintains a supporting role. As with the innovative concrete Boiacca table, presented last year during the same event, Raphia shows that materials research is at the core of the work process of the Milan-based design studio.

Elena Sommariva: How did Raphia and the collaboration with Casamania come about?
Lucidi Pevere Design Studio: Our first encounter with Casamania was at the Salone del Mobile in Milan last year. It was there that we had an opportunity to chat with the company and to explain our approach to design and our perspective on industrial production. The company was looking for products that could represent the brand, with a particular focus on investment and costs. A few months later, we presented some design ideas. Of these, Raphia was the one that grabbed the company's attention most of all.
What are the main materials and techniques used and why?
Raphia is a design with a dual, contrasting nature, specifically expressed by the two materials used in its manufacture. On the one hand, there's cane (rattan and wicker), which points back to an ancient tradition — almost always handed down in a family — and the artisan knowledge arrived at in past decades. On the other, there's metal, which represents industrial production in the strict sense. The design idea was to draw attention to these two sides of the chair as much as possible, highlighting them using colour and function. The cane has been left in as natural a state as possible: it is the main focus of the design and its curvature creates the comfort of the chair. The metal, although it stands out because of the contrasting colours, has a secondary role: it sets the guidelines for the fastening of the wicker and gives structure to the whole.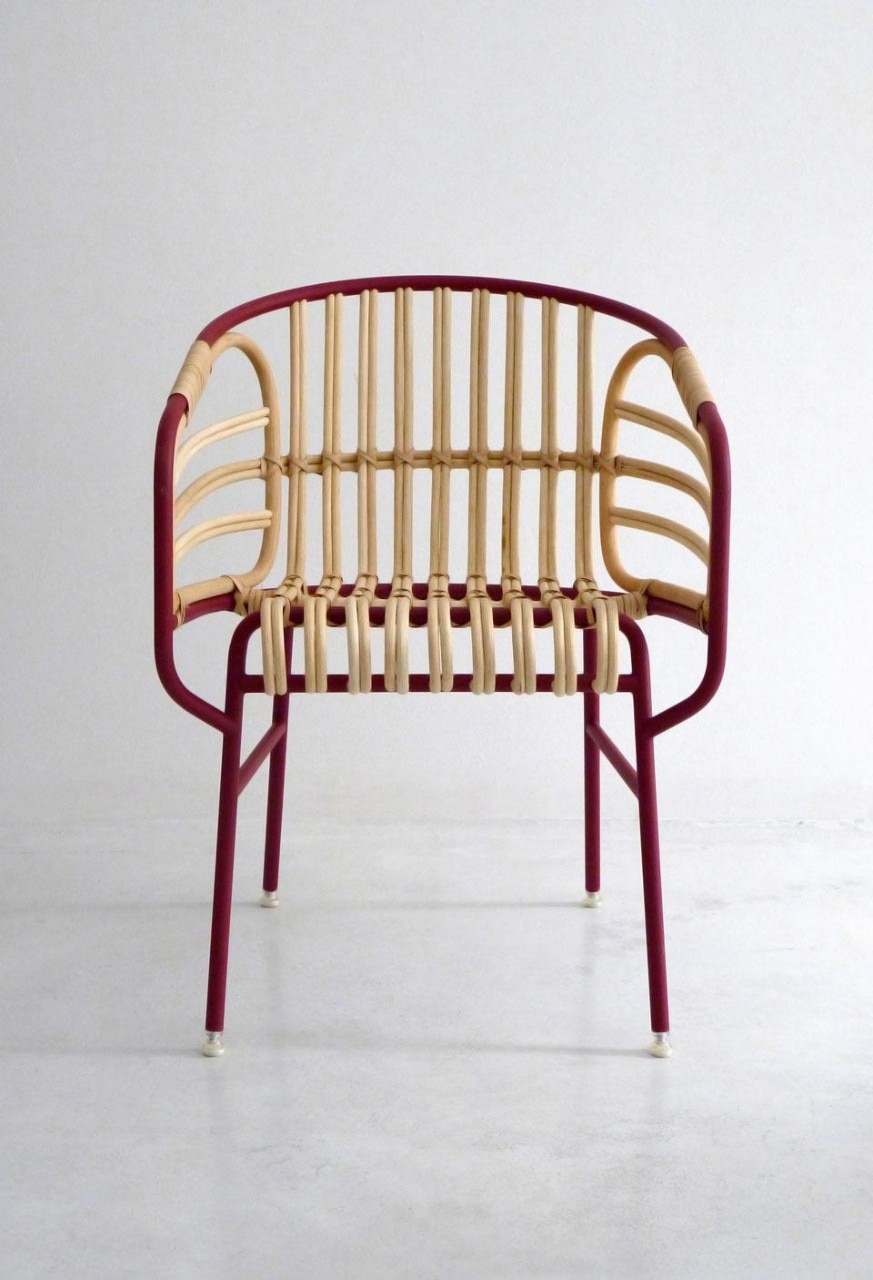 What steps did you take in realising the design? How important was collaboration with the artisans/company workers?
First, we produced sketches and designs: we had a strong idea of how the structure, the general lines and the arm attachments should be, but it was less clear to us how the cane could be meshed with these. When tackling a new material, listening to and talking with artisans, and having an understanding of the limits and technological opportunities, become the first design tools. We needed to ask for their advice and to deepen our understanding of such aspects as the thicknesses and the relative mechanical resistance of the cane, the different bindings, aesthetic ligatures, traditional forms of manufacture and the differences between the semi-finished variants: rattan, wicker, and so on. Compared to similar previous projects, we encountered a new problem: fixing a natural material which is never uniform in terms of consistency and structure to another — metal — which can be perfectly calibrated and industrialised.
With the help of the experience of the artisans, Guerrino and his wife, we took the cane and its distinctive technical features as a starting point and then adapted the metal structure, which in this sense acted as a framework around which we could develop the chair. Once we had established the architecture of the object as a whole, we focused more on the details, such as the armrests and the aesthetic X-shaped ligature on the back etc., which had a connection with the past.
With each new design and material that we develop, we take home a wealth of knowledge that is hugely valuable for our work and so we aim to pass it on in a simple way to those who buy our product. This wealth of knowledge about Raphia we owe to Guerrino and his wife.
With each new design and material that we develop, we take home a wealth of knowledge that is hugely valuable for our work and so we aim to pass it on in a simple way to those who buy our product. This wealth of knowledge about Raphia we owe to Guerrino and his wife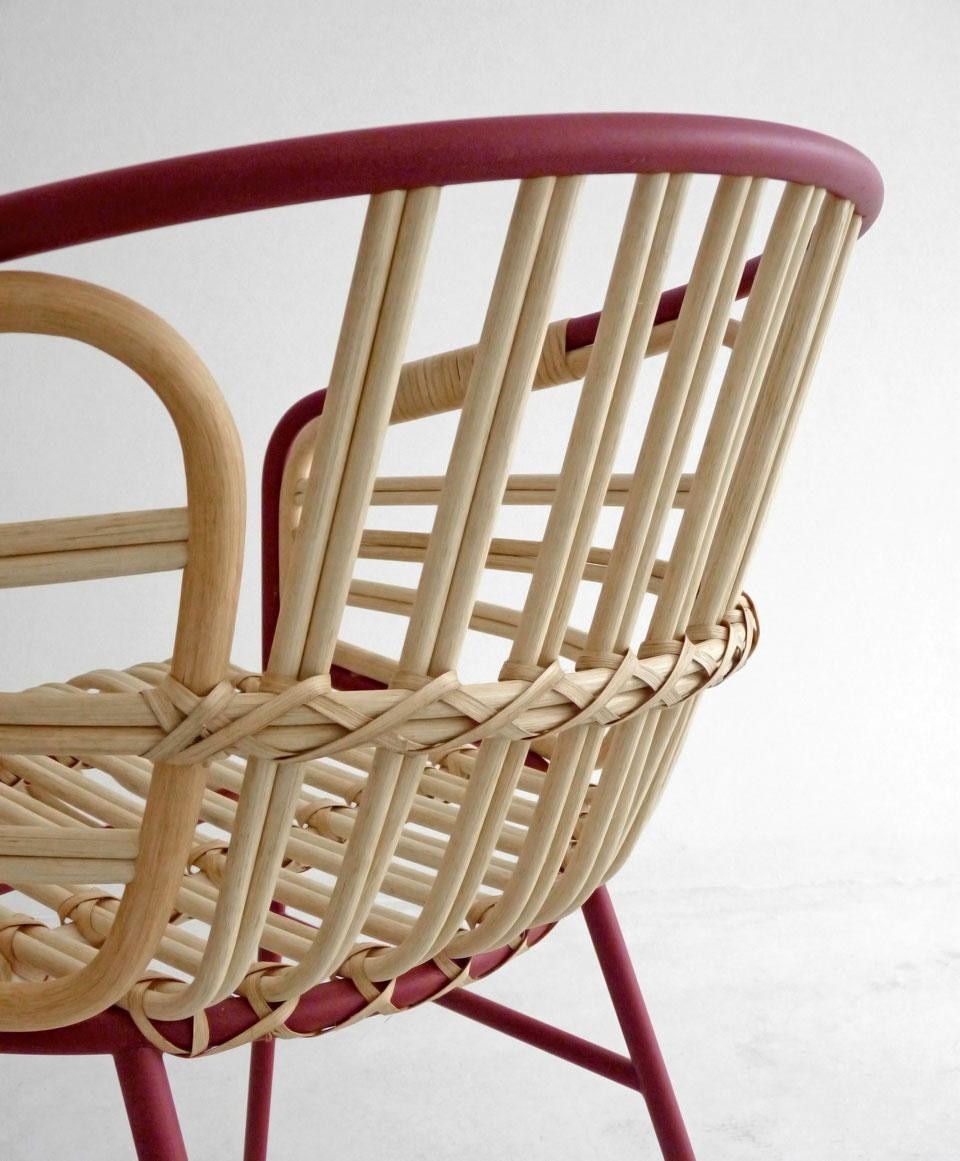 Taking your other designs into account as well — I'm thinking of the Boiacca concrete table — it seems to me that experimentation with materials has a central role in your work. Could we say that, in some cases, it's the point of departure? Was it, for example, in this project?
Materials are definitely one the main points of departure in our work. We started from concrete with Aplomb and Boiacca and from spun glass with the Macramè table collection for Fiam. Not least, there was Brass and Crafts for Woka, which combined traditional metals such as brass and copper with fabrics and was made on the occasion of Vienna Design Week. It's been the same with Raphia. We had been looking at wicker for a long time; it's a fascinating material which, historically, has been skilfully used by the great names in design but which today has been devalued and almost completely supplanted by objects mass-produced using fake interwoven cane. Our design objective was twofold: first, to put wicker at the centre of a design, following up on Italian artisan production of the material, which today sadly has almost disappeared; and second, to create an object in a contemporary language that was a good representation of our approach to materials and to technology in general - and all in a design that did not require a large investment and could be kept within a certain budget.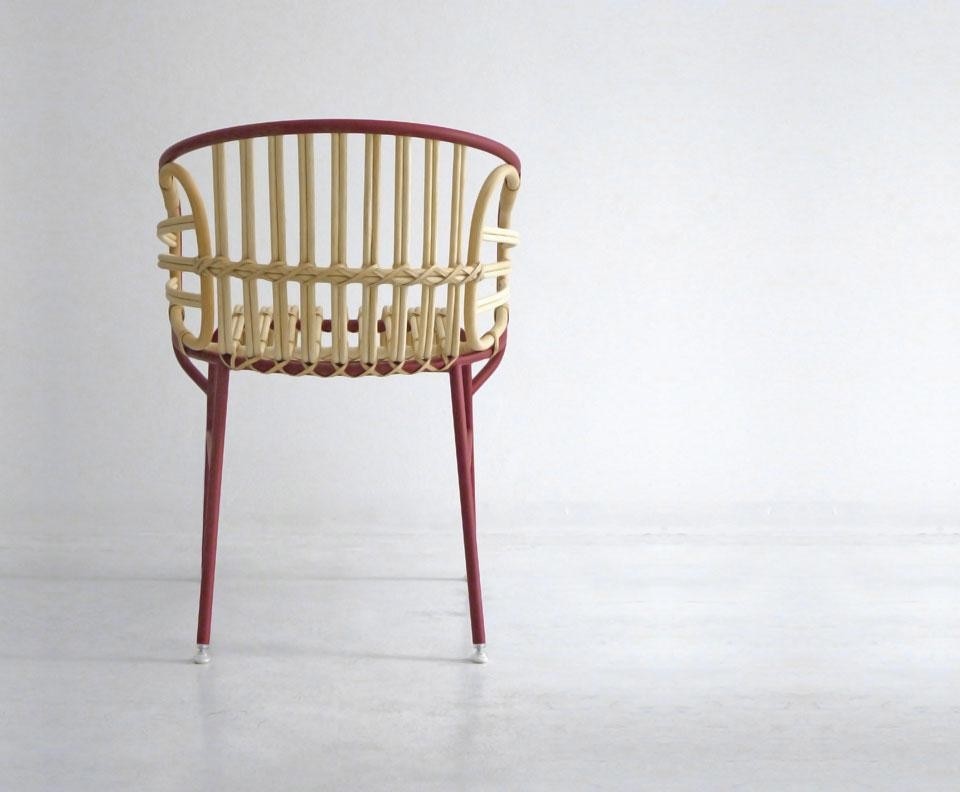 After seeing them in the production of furniture, objects, rooms, a car and even an entire house, what do you think of the possibilities offered today by 3D printing? Are we on the verge of a new industrial revolution? How will the work of the designer change and, specifically, how will it change will change for you?
These new systems of production began life only a few years ago but they have been developed with impressive speed, making possible the creation of "manufactured" objects in a way that only four or five years ago would have been unthinkable. For this reason, we think that even if today it offers no competition in terms of quality, cost, uniformity and volume compared with mass production, the industry will soon take account of these new technologies and the self-production culture. It is a form of organised production that starts from the bottom and that can count on a constantly evolving range of support.
From the idea to the search for investment, from digital production to logistics: everything is becoming more fluid, de-structured and shared. It can only change today's businesses and consequently our work as designers. It's even more difficult to understand how, and how far, things will change: for the moment we are watching and waiting to take advantage of the new opportunities as they appear from around the corner.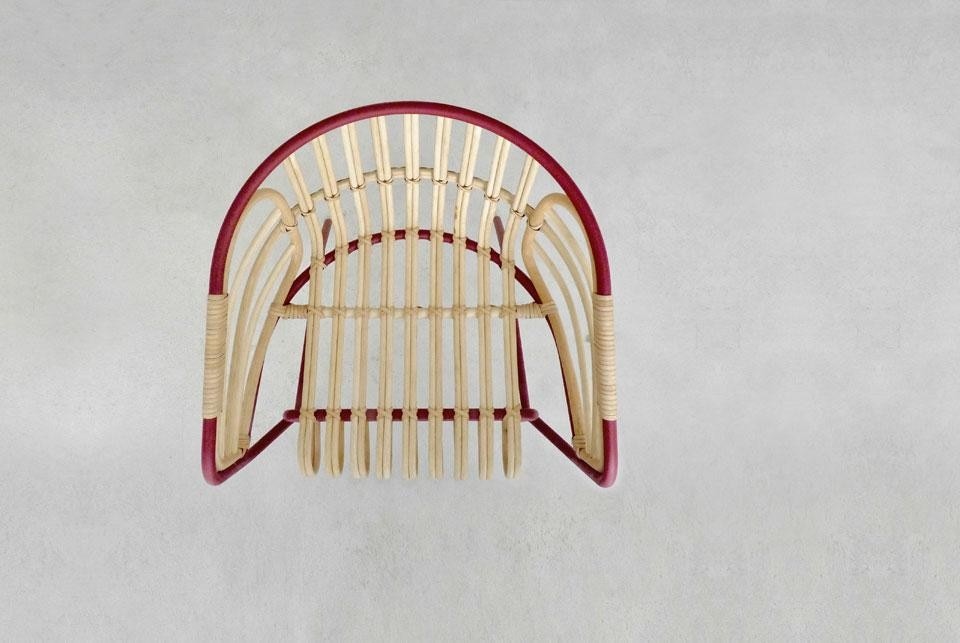 Another tool that is changing the world of design is the phenomenon of open-source or crowd-funding (such as Arduino and Kickstarter): do we risk making design banal? Or is it a way of helping talent to emerge, or those who already have a market?
A good idea remains a good idea despite everything. There are truly interesting and well designed projects that are better than many products shown at trade fairs by high-level companies. We're talking about tools: the real software is the culture behind each design. The web is, by its nature, very democratic and is bound to help someone who has really has a winning idea to emerge.