Alan Fletcher (1931 - 2006) is one of the most influential figures of graphic design after the Second World War, and perhaps the one who turned design into a way of life, to be practiced with wit, by combining clarity and rigour with clever inspiration. During his long career, Fletcher never lost his attitude, and managed to prove that a message can become a powerful vehicle that is, at the same time, accessible to a wider audience thanks to the primacy of the idea and irony over virtuosity.
I'm quite broad about ideas: putting certain colors together could be an idea. But every job has to have an idea. Otherwise it would be like a novelist trying to write a book about something without really saying anything.
Fletcher was born in 1931 in Kenya, where his father worked as a civil servant, and he returned to England with his family when he was five years old. He developed a passion for drawing at a very young age, and since he was very skeptical of the rapid rise of computers, he never abandoned pen and paper. He enrolled at university in 1949, and he studied at the most progressive schools, such as the Hammersmith College of Art and Building, the Central School of Art and the Royal College of the Arts. During these years, Fletcher not only had the opportunity to get to know London's extraordinary art scene, but also to build strong relationships with those who later became some of his strongest partners in many professional activities, like Colin Forbes and Theo Crosby.
The "Beware of Wet Paint" Cover
Covers for Penguin Books made during the years of Fletcher/Forbes/Gill
John Cage, 1993
Illustration by Alan Fletcher
Illustration by Alan Fletcher
Reuters logo
Poster for Pirelli
A poster against pollution for the Naples '99 foundation in 1984
The cover of the book "Graphic design: visual comparisons" published by Fletcher, Forbes and Gill in 1963.
Advertising for Pirelli on London buses in 1962
Fletcher came to the US in 1956, thanks to a scholarship for the Yale School of Architecture and Design. Here, the young graphic designer had the opportunity to get in touch with great mentors such as Paul Rand, Josef Albers and Alvin Eisenman, who gave him his first IBM and Container Corporation freelance jobs. Fletcher's American experience, which he describes as a scintillating and optimistic break from the provincialism and dullness of post-war Great Britain, was also marked by many other exciting encounters, including the one with Leo Lionni, who commissioned him to design a cover for Fortune magazine in 1958, and the one with Saul Bass in Los Angeles. The demands of the corporate world in a growing economy, the rise of pop culture and the elegant interpretation of Swiss design in New York left an indelible mark on all the works that Fletcher carried out.
When he returned to England in 1959, shortly after London had become "the Swinging City", Fletcher reunited with his fellow students, and founded the design studio Fletcher/Forbes/Gill in 1962, which became Fletcher/Forbes/Crosby after Gill's departure. The studio went on to become Pentagram in 1972, with Kenneth Grange and Mervyn Kurlansky as founding partners. Pentagram, which still remains one of the most significant incubators for graphic design the world over, was one of the first studios to be founded on the premise of collaborative interdisciplinary designers working in close collaboration with their clients.
Our thesis is that any one visual problem has an infinite number of solutions; that many are valid; that solutions ought to derive from subject matter; that the designer should have no preconceived graphic style.
Many of Fletcher's projects represent major milestones in the history of twentieth-century graphic design. The historic collaboration with Penguin dates back to the very first projects of Fletcher/Forbes/Gill: on this occasion Fletcher designed some covers that helped the publishing house to become a modern icon of the Anglo-Saxon culture.
For Pirelli, with which he came into contact during a brief stay in Milan with his wife Paola, Fletcher designed one of the first posters with a curved lettering that illustrated the grip of a tyre, which was a very difficult result to achieve, either by a photographic or digital machine. Again for Pirelli, he designed an ironic banner for a double-decker bus, so that the heads and shoulders of the passengers would each be bottomed with a pair of Pirelli-slipper wearing legs.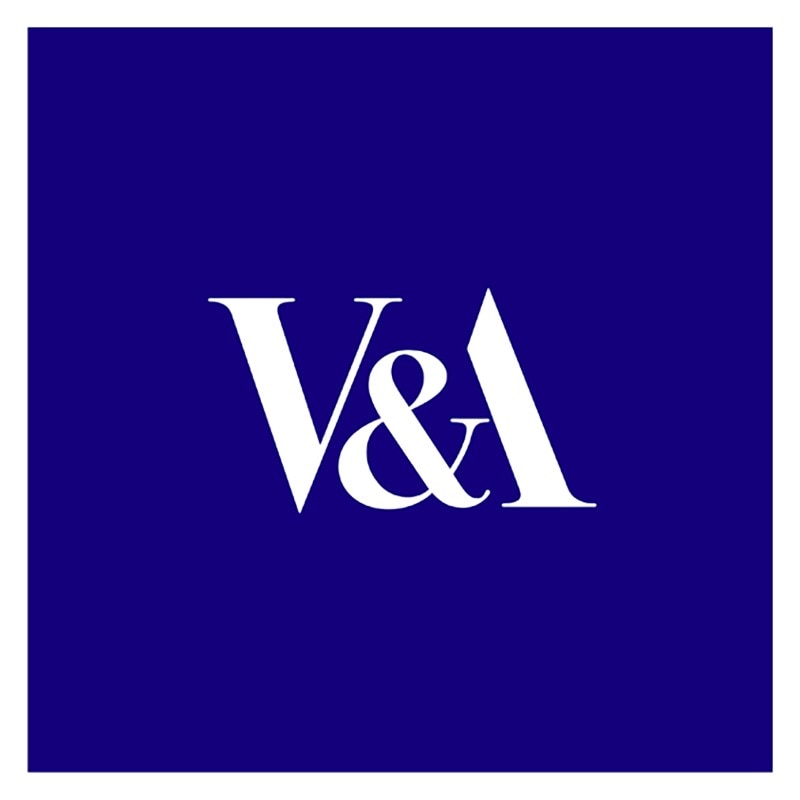 For Reuters, Fletcher designed another iconic logotype, which reminds of the holes punched out of the tickertape originally used to transmit information. The Victoria & Albert Museum logo that he designed in 1990 remains one of his most famous works. It was conceived as a definitive logo meant to replace the many sub-brands linked to the different sections and activities of the London museum. It's set in Bodoni, and it consists of only three letters: the letter A, which is missing its left leg, is elegantly linked to the letter E. This distinguished, memorable and timeless logo is still being used today.
In 1992, Fletcher decided to leave the studio in order to continue his personal research from his home in Notting Hill, supported by his daughter Raffaella. This represented a period of research in the field of design and graphic design, and collaborations for carefully selected commercial projects that gave him time to focus on two important editorial contributions that have now become some of the greatest masterpieces of design. Both published by Phaidon, of which Fletcher was the artistic director, Beware Wet Paint (1994) and The Art of Looking Sideways (2001) are respectively a monograph on his work and a heavy compendium of anecdotes, quotes, and images on which he worked for over eighteen years. The Art of Looking Sideways, in particular, is considered a seminal contribution to the exploration of the relationship between words and visual communication, in which, by following the mantra "we don't think in words", Fletcher showed that we should resist the temptation to equate thinking with language, because when it comes to communication, images are much stronger that words.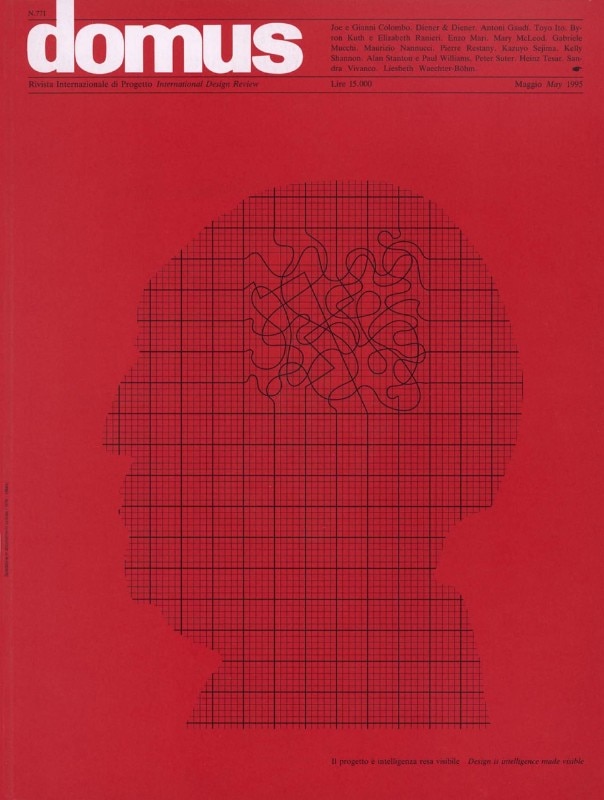 Fletcher's collaboration with Domus dates back to this period; Vittorio Magnago Lampugnani, who had become director of Domus in 1992, commissioned the English graphic designer to design the covers from January 1994. Fletcher's subtle irony reinterprets famous icons of the history of design (for example he created a collage of a Charles Eames chair) and examines some of the issues that nature and design must deal with.
Among the many awards he received throughout his career, Fletcher received the honor of Senior Fellow of the Royal College of Art, which welcomed him as a "design magician" during the ceremony. In 1993 he was awarded the Prince Philip Prize for the Designer of the Year, and In 2006, the London Design Museum inaugurated a retrospective exhibition called "Alan Fletcher: Fifty years of graphic work (and play); Fletcher was given the opportunity to supervise the exhibition, but he never got the chance to visit it, because he sadly passed away two months before its opening.
You are taught to talk, read and write, but no one seems to teach you how to perceive
Life period:

1931 - 2006

Professional role:

graphic designer, illustrator