When she moved to Prague at the end of the 2010s to study Future Design at the local college, Alessandra Vuillermin didn't find the city of Kafka very stimulating. She had no friends there and making new ones seemed more difficult than in Milan, her hometown; overall, there was not much to do. And the climate was cruel – "freezing cold", she defines it. So, she locked herself up at home. With a precise mission. She had seen the render of a girl that looked like a photo. And Vuillermin, who grew up on video games, experiencing the first epiphany of her young life in front of Final Fantasy and its characters - "they were so realistic, but they did crazy things", she explains – decided she wanted to try and do that too. She started studying. On Instagram, mostly: she selected the things she liked, read the names of the most used programs in the captions, followed Q&As. She made her first render and posted it on social media. At the time she had 500 followers. She received the same number of likes, if not more. That day, somehow, her digital replica, Hardmetacore, was born.
Hardmetacore, Green blinding envyness
Hardmetacore, Green blinding envyness
Hardmetacore, Green blinding envyness
Hardmetacore, Green blinding envyness
Hardmetacore, Green blinding envyness
Hardmetacore, Green blinding envyness
"Maybe this is my kind of stuff, I thought", Vuillermin recalls. We met in the centre of Milan, below the Velasca Tower, undergoing restoration and wrapped in a trompe d'oeil depicting it in detail. Only later, when we said goodbye a few hundred metres away, after a long, three hours' conversation, did I realise that perhaps BBPR's skyscraper, wrapped in its replica, was the best place to meet Vuillermin/Harmetacore, because her art is fundamentally about digitally replicating herself and sharing it. That first render was de facto a self-portrait. Like everything that came later.
Because at the heart of Hardmetacore is Alessandra Vuillermin, herself. "I am a special character", she admits. She has an angel's face and vampire teeth; very black hair shaved at the side and no eyebrows. One eye is slightly lazy, but imperceptibly so. On her knuckles, the runes of Alucard, the character from the anime - also a vampire story - Hellsing Ultimate. She says Marilyn Manson is one of her role models: he was the inspiration for her dissertation. "Today you go to Gucci and you find people like me", she says in her precise and very serious Italian, sometimes combined with some Milanese slang or words from video gaming or the digital world (like change, merge, or glitch). "But I've been like this since I was sixteen and used to go to Vetra (meeting place par excellence for punks, goths and counter-cultures in Milan, Ed.)", she explains, smiling.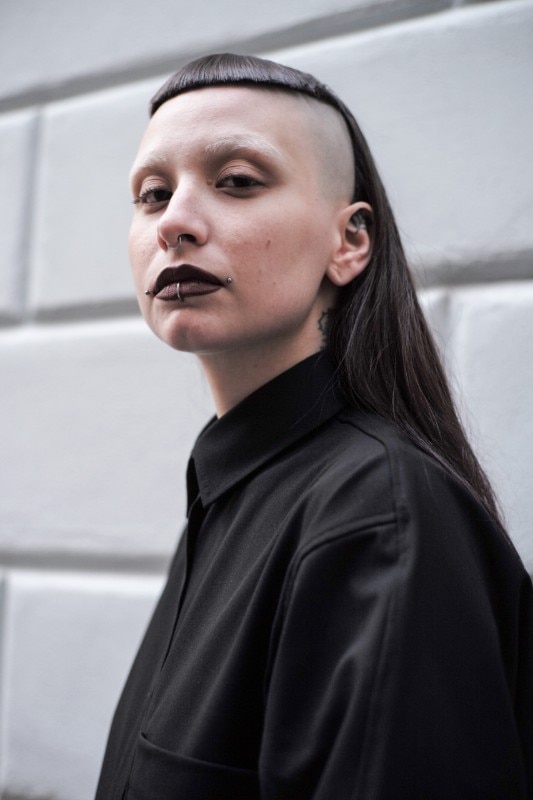 The demonic girls that populate @hardmetacore are a reflection of Alessandra Vuillermin - psychedelic, very colourful, and very digital. Basically, all her work derives from a model she bought on a platform, exported from there, adapted to her features, and then replicated in a sample book. Like Stormtroopers in Star Wars, they are all an army of clones. With the only difference that they're only virtual. The textures, which Vuillermin explains she always does by hand - many rely on presets - and proportions change. But all the characters come from the same laboratory, only to take on different clothes, just like the replicants in Westworld. "Everyone is part of the same family". Whoever commissions something from her, will have a piece of her. "Maybe with eyebrows", she laughs. Why not: after all, she explains to me, "we're all the same, but we're all different".
"I am an artist". This is how Alessandra Vuillermin defines herself, more than a designer. Her work does not go unnoticed, she explains, and usually people either like it or "think it's sh*t", as she puts it. She proudly waves the screen of her phone showing the registration of Hardmetacore Ltd among British companies. She tells me that for her "the customer is always right", that she hates excessively friendly relationships at work, and believes that good press, in her job, is everything. "I try to be nice and polite to everyone". A stronghold of professionalism that stands to protect the Mina Harker who lives in the heart of the castle.
Watery Vampire
Watery Vampire
Before Prague, there was London, but above all a lot of grey area. At the time, Vuillermin had just graduated from NABA, where she studied graphics and art direction. The plan was to launch herself into the world of zines. But it was just that, an idea. "My stuff worked, but it was clear there was something missing", she says, pointing out that at the time she had no maturity from a visual point of view. "I told myself, I'm not going to earn a living with this stuff". And before Prague, there was the experience in a fashion company, the feeling of being paid too little for what her work was worth, "and the problem of having a man twice my age as my boss, who sometimes treated me badly and sometimes flirted with me. A classic in Italy (but not only). And it still goes on today: "Being a woman in this field bothers people", explains the artist, referring to the sphere of those who work in the digital world, to the army of youtubers, twitchers and those who gravitate towards the world of gaming. Nerdiness updated to the years of TikTok, in short. She tells me some stories and that until recently she didn't want to show her face. So much so that everyone assumed she was a man. "On Instagram they would write to me 'you're so good bro'", she laughs.
In Prague, Alessandra Vuillermin set herself the goal of learning the art of 3D within a year - "I always follow a goal in my life: that was the one I had at that moment", she explains. And after a dozen months she started producing things she liked. She returned to Milan, joined a digital artists' collective on Discord, which later she left because it had become a toxic environment. She was number 101, today there are at least 3000 members. A sign that the "scene" has exploded. Brands are starting to contact her via Instagram to offer her work. Mostly fashion - The Attico, Casio, Adriana Hotcouture, and a project for Gucciwith Cormio. But there are also record companies and private individuals, sometimes singers who want their own digital avatar. Hardmetacore has become a small phenomenon. It won the digital cover of Vogue Talent.
Vuillermin was one of the six artists chosen by Dr. Martens for a project with posters all over Milan. For the brand she created a work that is "pink and black like me", she explains, with the boot set in a landscape of mushrooms and bubbles and three female figures climbing on top of it - naked at first, but she knew she would be asked to dress them. "I wanted to try". In the background, the snake. She worked on it for a month and a half. At the launch, the reunion happened: Alessandra Vuillermin introduced herself to the public as Hardmetacore. From that point on, they are officially the same person. 
It was Dr. Martens' PR agency, The Hub, that put us in touch. After an initial email exchange, I meet Alessandra Vuillermin in person on a grey Tuesday afternoon in October, in the shadow of the Velasca Tower, as mentioned above. As we introduced ourselves, we gave each other a fist bump. She was wearing the tote bag from the Dr. Martens project. She had asked me to delay the appointment by half an hour, apologising several times: "Work is work, it's not professional to be late". The reason for the delay was a punch in the stomach, which she explained to me when we met: she was coming straight from the funeral of an ex-boyfriend of hers, who died instantly in a motorbike accident. He was 26 years old. "We didn't speak often anymore, but we cared about each other", she tells me. On Instagram, she dedicated an artwork to him featuring a digital coffin suspended in a field of purple flowers, filled with flowers that are also purple, with Billie Eilish's Everybody Dies in the background, which starts with the words: "Everybody dies, surprise, surprise". On the side of the coffin we read "With love, Metacore". You can only really see it in the third and final image. It's heartbreaking.
Wandering through the streets of the centre, like in a bubble suspended in time, Vuillermin ends up talking about life and death as people who have known each other forever would in a dusky afternoon. About obscurities, insecurities, the struggle for mental balance. About the present, about her current boyfriend whom she wants to marry. About her past: "I have wonderful parents, but things happen in life", she says at one point. Like a vampire, she seems to have lived a thousand lives, despite being only 25. Vuillermin tells me about the esoteric tattoos on her arm – "but I don't believe in anything", she explains - and about her childhood spent with nannies - "my parents were very busy". Of the book she was given as a child about the vampire of Bomarzo, which she still remembers. Of her father who introduced her to Akira, to cyberpunk. And to video games. "I live with my computer, I sleep with it", says Vuillermin, and her life seems to be really on the cusp between the digital and the physical world, between simulation and reality, between the original and the replica, a splinter of the metaverse that incarnated itself in Milan and from there conquered the insta-sphere. As if she was living inside Matrix, or Snowcrash, the cult cyberpunk novel with which the American writer Neal Stephenson introduced the very concept of metaverse that inspired her nom de plume. There, the main character is called Hiro Protagonist, which sounds like 'hero protagonist'.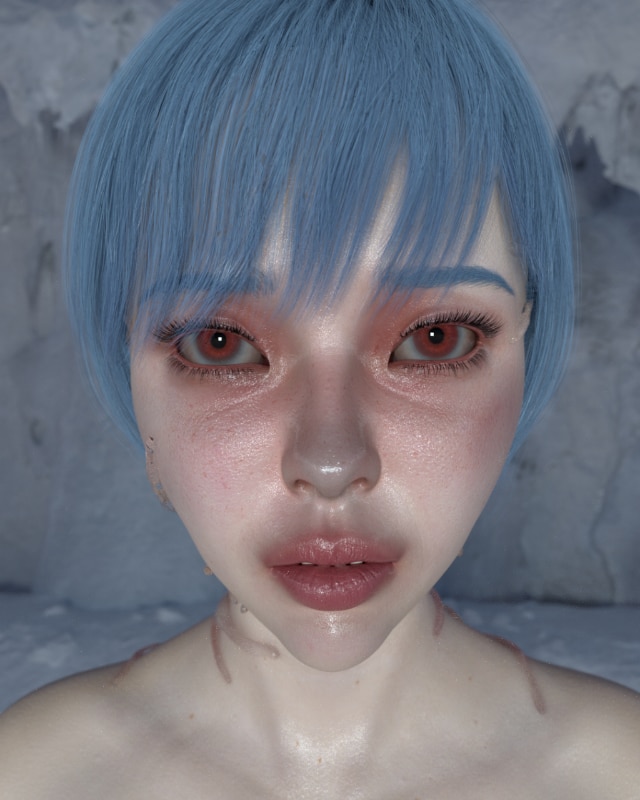 "Life is like a video game", she explains to me as we say goodbye, "you have a primary mission, and the side ones. Only, you only have one life point, when you die you don't come back". And when I ask her how she is playing, and if she is happy with her game, Alessandra Vuillermin replies with the smile of someone who has known the answer for some time: "I play hardcore in life", she smiles. "What about you?"