A multi-level maze, an underground that never stops, an empty karaoke, bizarre characters extrapolated from the banality of our everyday life. Mike's Maze is the new video game artist Fabiano Speziari is developing for The Sandbox, a metaverse in which, by means of three-dimensional pixels called "voxels", it is possible to create videogames, artistic experiences and digital museums.
Mike's Maze differs from a conventional video game. It does not only offer an interactive and artistic amusement, but directly calls into question the user's inner experience. The structure explored by the user is built on several levels, accessible from the bottom to the top: an engaging climb, at times stressful, complex, never banal or predictable. Wandering through narrow corridors and rooms that are as familiar as they are alienating, users ideally embark on a journey of growth and confrontation to redeem their soul.
It is no coincidence that the path starts in a deserted basement and continues through dystopian scenarios, weirdly related to everyday life.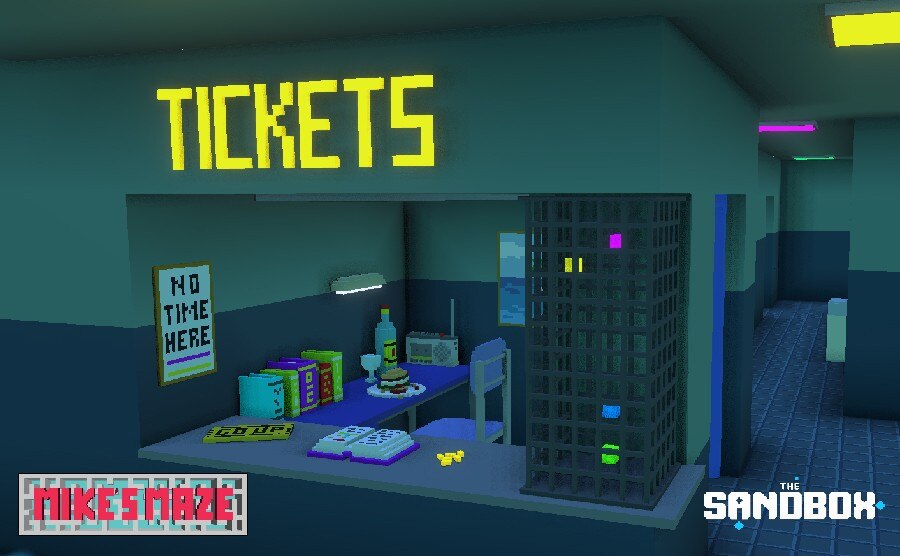 Each floor is conceived as a labyrinth, an escape room whose way out must be sought by dialoguing with other characters and interacting with objects.
The desire to investigate and test the various declinations of the human soul in the present time has always distinguished Speziari's work. After  graduating in design, he worked as industrial designer, experimenting with different materials and techniques, while continuing his career as an artist. "The making of this game brings together different aspects of my work and experiences over time", he explains. "My background relates to the technical field; for almost 15 years, I worked as an industrial designer, acquiring a method that led me to work with technical and precise methodologies. In a way, I have always found myself divided between the rationalism of Le Corbusier, the Bauhaus, and the Simpsons, as a renowned example of pop art. All these contrasting influences led me to conceptualise and then create well-defined and complex worlds and structures that are also colourful and fun".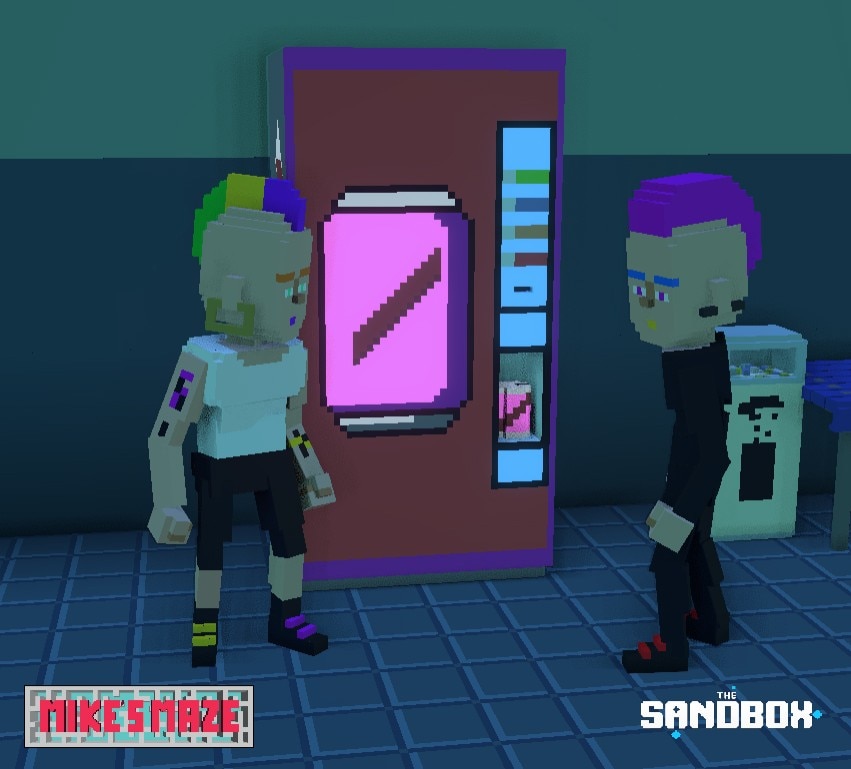 Over the years, Speziari has created works revealing a fascination with the natural world and an analytical attention to the digital one. Trees, natural forms and resin creatures have accompanied him throughout his career evolving into veritable agglomerations and living modules, the so-called "clods", criticising urban environments and the massification of contemporary society. "My clods represent bits of our planet destroyed by human greed and now floating in the void; the inhabitants themselves are random. They represent the survivors of destruction, trying to rebuild a new life on a new clod". A tragicomic and dystopian perspective often characterises the visualisation of these parallel worlds, resulting in a critical and urgent reflection on reality.
"When looking at a clod, it is essential to go beyond the first impression. I want to investigate the human soul and its deviations, obsessions and eccentricities. It is important to look carefully at my clods in order to grasp these nuances. Mike's Maze reflects this long-term research. It is a journey through various levels, starting from the bottom and reaching the top, in search of some sort of redemption, which may never be achieved".
Mike's Maze gives the users access to a digital work of art in which they can move, reflect and change their minds. Speziari personally supervised the creation of all the assets, each of which corresponds to an NFT.

Serena Tabacchi, head of publishing for The Sandbox and co-founder of MoCDA, Museum of Contemporary Digital Art, collaborated on the game's storytelling: "The project was born as a hybrid hovering between art and the universe of gaming, which at this moment in history is taking on new forms", Tabacchi explains. "The Sandbox itself is difficult to define; it is a metaverse, a game, an exhibition and creative space that offers multiple possibilities and keeps changing, accessible to artists and to the general public. I have known Fabiano for a long time because I was fascinated by his "clods", colourful ecosystems dispersed in space. The idea with Mike's Maze is to bring the absurdity of his previous works into familiar environments such as a prison, the flat of a wealthy person, a kindergarten, spaces in dialogue with our psyche. In Mike's Maze art is alive, it is possible to dive into it, to alter it".
The Sandbox metaverse will offer artists, enthusiasts or curious users the opportunity to experiment, create and exhibit their works, and make video games; Mike's Maze will be among the first video games to be released on the platform.
"Before the advent of NFTs, for many artists it was complicated to work and certify their work digitally. In a way, NFTs have helped us make something that was previously unthinkable", Speziari comments. Any object designed for Mike's Maze will become an NFT and will be available for purchase, just like a work of art. "In this way an artist could, for example, create the game and on another 'land' open a virtual gallery or atelier", he explains. "Although many people are sceptical, I have only seen the opportunities and possibilities offered by this new frontier; today I only work in this virtual dimension".