Saype is the contraction of the words say and peace, and it is the nom de guerre chosen by Guillaume Legros, a France-born, Switzerland-raised artist who made it in the Forbes 30 under 30 Europe Art & Culture list. He'sknown for the giant sustainable land art works that he paints on grass. The project that will keep him busy until 2024, which shows gigantic hands that shake and hold each other, is called Beyond Walls and it's a global art work that will involve 5 continents and more than 30 cities, after starting from the Champ de Mars in Paris, at the foot of the Eiffel Tower. "The greatest human chain in history" wants to bring art back to its responsibility, as Saype explains: "I deeply believe that only by staying together humanity can face the greatest challenges of our time".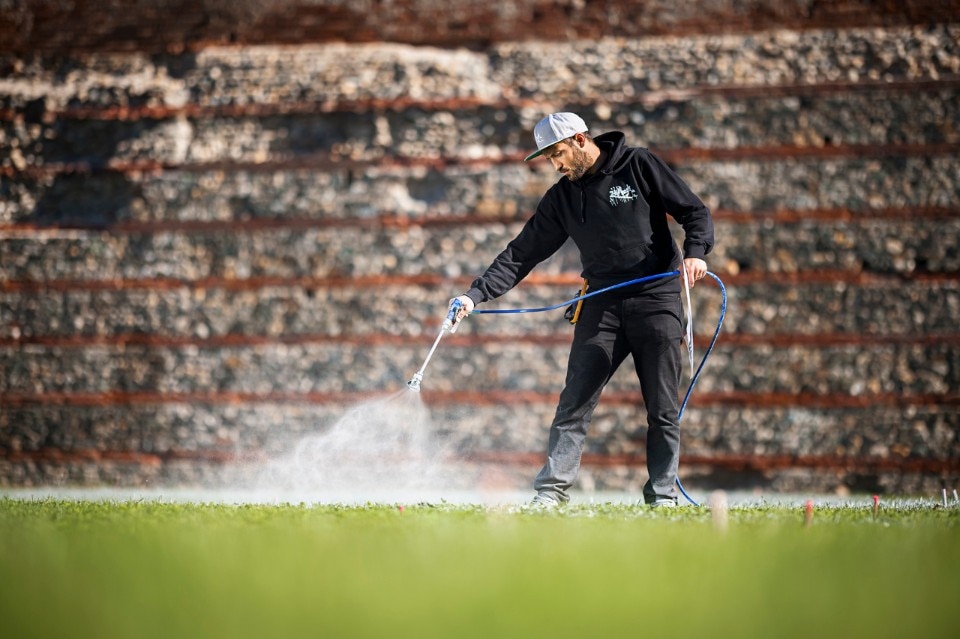 The last stage in chronological order – the seventh installation of the work –  will take place in the Archeological Park of Turin, which is one of the most attentive cities to the 2030 agenda for sustainable development, with the support of Lavazza and in collaboration with the Royal Museums, which have organized the artist's first solo show. And it is in one of the rooms of the Sabauda Gallery, next to the huge photos of the hands he has painted so far between Africa and Europe, that I meet the artist, at the beginning of October, a few hundred meters from his most recent completed work in Turin. He's wearing a hat and a T-shirt with the Saype logo on it, just like the whole team of people working with him. They're all childhood friends, plus a photographer. "Photography is important," Saype points out, and smiles. Seeing him with his crew makes me think of many Italian trappers, more or less his age, who travel the road to success bringing their lifelong friends along with them.
Why did you decide to do a piece of work made of hands?
Hands are a universal symbol. Through the hands, we see the story of a person.
In the case of the work in Turin, a tattoo stands out.
The tattoo, in which there is the floral element of the laurel, comes from the idea of making the ancient, symbolized by ancient Rome, dialogue with the modern.
We got used to the fact that the arts that speak to many are music, or, if anything, Netflix. But then, you bring your gigantic works of art to the city center, and they're full of meaning.
 I think that art is interesting when it is not for an elite. When I go to a contemporary art museum, I get bored. Everything is always so conceptual. If I want to bust my balls thinking about concepts, I can buy a philosophy book. What touches me, is a work that makes itself understood. I am more sensitive to older art, which is more figurative, because you don't need to make big speeches to understand it. When we manage to move something with art, with my art, we have won, the goal is achieved.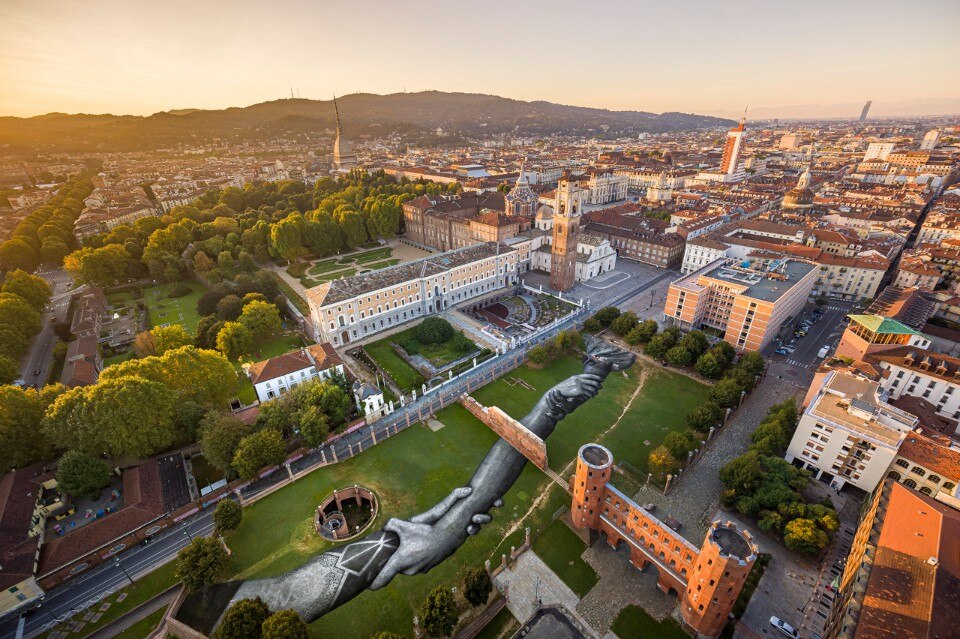 Aren't you afraid of the density of a project that lasts five years?
I'm working on three at the same time, so no, I'm not (he smiles).
Where does the grass painting technique come from?
It took years of research to minimize my impact. I use chalk for white, charcoal for black and casein, a milk protein, to make the paint stick to the grass.
Your foot murals are huge.
To make them, I use an archaic technique. I put a sort of grid on a sketch which is then placed on the ground by putting a small stick every 4 meters. This allows me to work even in the biggest spaces.
How do you paint?
An assistant relentlessly prepares the painting, a mixture of pigments. A rather large compressor, with a sixty-meter pipe, applies pressure to the paint. I start sketching, I go from the lightest colour to the darkest, and that's it.

Have you always painted on grass?
No, I started with graffiti when I was 14 years old. Then, in 2012, I started with grass. It took three years to perfect the technique.
I guess it wasn't easy. Moneywise, too.
At that time, I was also working in an art gallery, in an atelier, doing many different things. I did several exhibitions at fairs in Paris, London, Berlin. This allowed me to cover the costs, which were enormous.
No drones, then?
The drone is used only to take pictures of the finished work.
How long will the work last?
It depends on how quickly the grass grows. Which in turn depends on the weather and the season. In this case, the park will be open to the public and many people will step on it. I think a couple of weeks and it will be gone.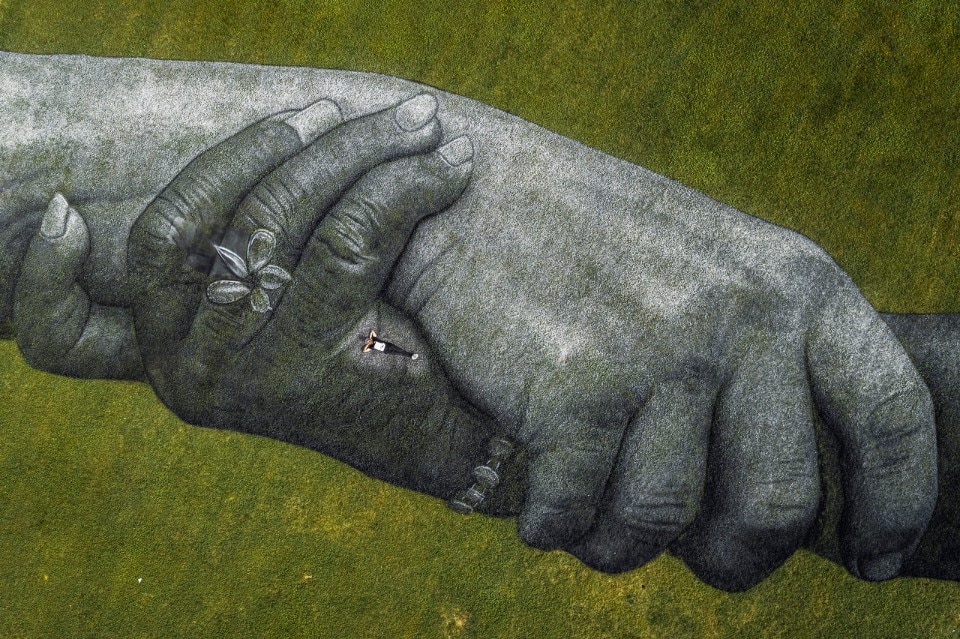 Only two weeks. Is there any sense, then?
There is a sense for everything. I first got the idea when I was reading a lot of Buddhist literature, where they say that everything is constantly evolving and when we fixate on something that remains static, well, that's where suffering is created. We are dedicated to continuous development.
I guess that this affects your work in general, not only in this case.
When I paint, I see a philosophical act in it, comparable to my existence. And my existence is also ephemeral, like everyone else's. Our life is destined to become only a trace of our passage in this world.
Artist:

Saype

Work:

Beyond Walls

Where:

Turin, Archaeological Park Porta Palatina and Royal Museums

Year:

2020