Renown for his austere 1961 Walking Man, perceived by the contemporaries as a monument to the unbending spirit of Auschwitz victims and almost a sacred statue, Alberto Giacometti carried interest in the phenomenon of human suffering throughout his life. Meanwhile, its sexual undertones, linked to the writings of Marquis de Sade, the XVIIIth c. French novelist who gave his name to the sadism, remain largely unknown. "In the artist's texts, de Sade is mentioned on multiple occasions", explain Christian Alandete and Serena Bucalo-Mussely, curators of the "Cruels objets du désir" show in the Giacometti Institute.
Swiss sculptor's affection for the scenes of violence emerged when he was a teenager and grew throughout the years: in 1913, at the age of 12, he was making drawings of St. Sebastian's martyrdom, his diary of 1923 contains a sketch of an undressed man on his knees talking to a priest on the verge of execution, and in 1931 there's a naked woman strangled from her back by a gigantic Fantômas-like maniac. In the early 1930s, Giacometti's passion for sadism comes out in public. "Yesterday, I read Sade, which fascinates me a lot", once wrote Giacometti to his close friend, surrealist poet André Breton, around whom in an informal "sadist circle" were congregated Georges Bataille, André Masson, Luis Buñuel and Salvador Dalí.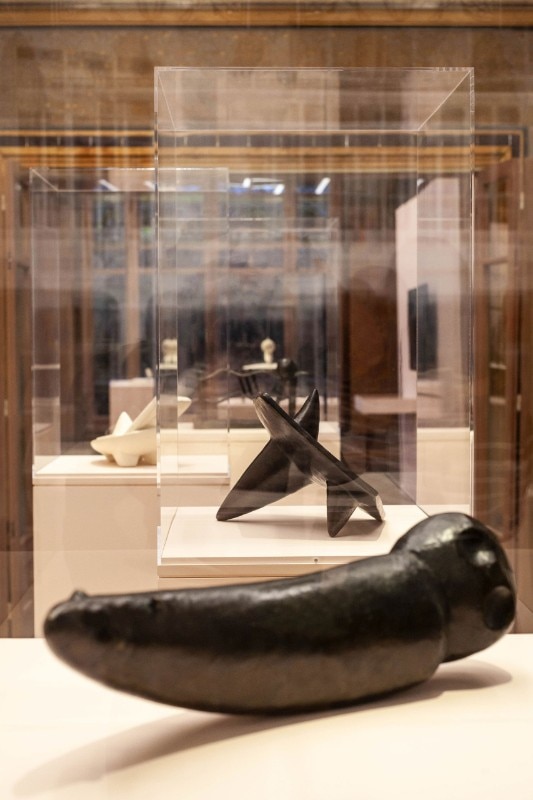 Across the Parisian bohème of that time, the Marquis' name serves as a password. Reunited under the title Objets mobiles et muets, a dozen of Giacometti's semi-abstract bronze 1931 sculptures – far less wild than his diary sketches, though – are impregnated with the violent and fetishist imagery. One of them evoke copulating mantises – insects trying to kill each other after sex, another looks like a riding crop or a cricket bat, and the third reminds us of a fat eel or just a phallus.
In 1932, continuing his reflection on the pleasures of pain, Giacometti carved an amputated hand from wood, as well as made a little painting of Medieval torture cellar. And hereof, the subject of sadism evaporates from his practice. Giacometti's disappointment with eccentric escapades of surrealism gets stronger, he starts - for the first time since the early 1920s, when he moved to Paris from Geneva - sculpting human faces and finally cuts his ties with Breton in 1935. From this metamorphosis a new, much more tempered and sober Giacometti was born. 
Exhibition title:

Cruel objects of desire – Giacometti/Sade

Curated by:

Christian Alandete and Serena Bucalo-Mussely

Museum:

Giacometti Institute

Address:

5 Rue Victor Schoelcher, Paris

Opening dates:

21 November 2019 – 9 February 2020