The whole world keeps facing the climate emergency. Many, too many territories have been devastated by drastic waves of bad weather: floods, tornadoes, while the entire scientific community keeps calling loudly for institutions to take action as soon as possible.
Bad weather continues to hit Italy and let us not forget the great wave that swept over Emilia-Romagna. A rich, flat, flourishing land, but above all a land of art. The homeland of great artists such as Lavinia Fontana, Annibale Carracci, Elisabetta Sirani or Giovanni Francesco Barbieri better known as Guercino.
Today, Emilia-Romagna is the land of agribusiness, of Motor Valley: Ferrari, Lamborghini. While once its primacy was undoubtedly artistic. In the second half of the 19th century, Antonio Boldini's son wanted to follow his father's footsteps. Every day he copied the ancient paintings on display at the Palazzo dei Diamanti: Il Garofalo, Dosso Dossi, Cosmè Tura, and Ercole de' Roberti. 
Young Giovanni Boldini's exercises, which were inspired by fellow 'primitive' artists, as they were called, were not surprising. In fact, copying was the most popular educational medium. It was his father, however, who was his first teacher. Antonio sensed his son's abilities and decided to teach him the basic techniques of painting.
The young Boldini left Ferrara and chose Florence. In fact, he became a regular visitor of the Caffè Michelangiolo along with Giovanni Fattori, Telemaco Signorini and Silvestro Lega.  Anna Maria Brizio, Italian art historian and academic (1902-1982) called Boldini – during his close connection with the Macchiaioli (a group of Italian artists) – "authentic and one of the greatest". For Boldini the effort to create macchia – literally 'spot' – would have been improbable, art critic Renato Barilli warned. The first economic satisfactions came to the young Boldini by portraying English residents of Florence.
In an 1867 review, Telemaco Signorini wrote: "Portraits have been made so far following a single principle, that is, they had to have a united background as much as possible in order to create contrast and not interfere with the head of the person portrayed; a ridiculous precept, and Mr. Boldini says so with his portraits that have for a background what the studio contains, paintings, prints and other objects attached to the wall, without this generating excessive contrast with the head of the person portrayed". Thus, even Florence became far too narrow, a city of too constrained artistic dictates.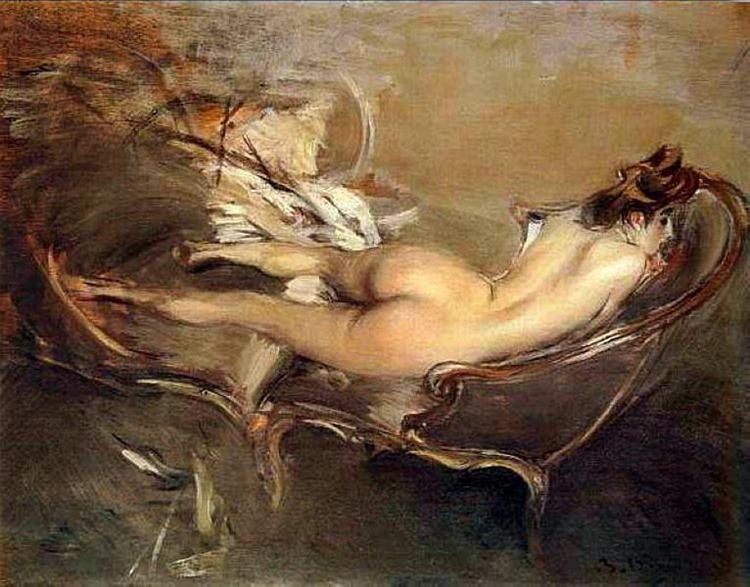 He decided to move to London to follow the foreign clients he had met in Florence. The moment was well chosen – England was experiencing a period of prosperity after Napoleon I had been overthrown, and the Pre-Raphaelites felt they were in charge of ruling it. No testimony ascertains the Ferrara artist's closeness to them, to that painting so romantic and distant from reality that it somehow conflicted with his artistic pursuits. A new move, a new destination. Boldini chose Paris, where he soon met that upper middle class, both French and American aristocracy. He found welcome at Place Pigalle, and like the Caffè Michelangiolo, he chose a crossroads of artists who awaited him daily at the Café de la Nouvelle Athènes.
He befriended Degas, who considered him the 'demon of painting', and from that city began his career as an artist of the Belle Époque.
Dense mixtures, fast, long, and vibrant brushstrokes that separate figures and surfaces, all in keeping with the aestheticism he chased, where paintings were freed from existential contingencies through an aristocratic detachment and a relevance conferred by feminine and exterior apparencies. Indeed, it was women who were the absolute protagonists of his portraits. Women who were bourgeois, sensual and full of personality such as the portrait of Mademoiselle de Gillespie, Lady Biarritz.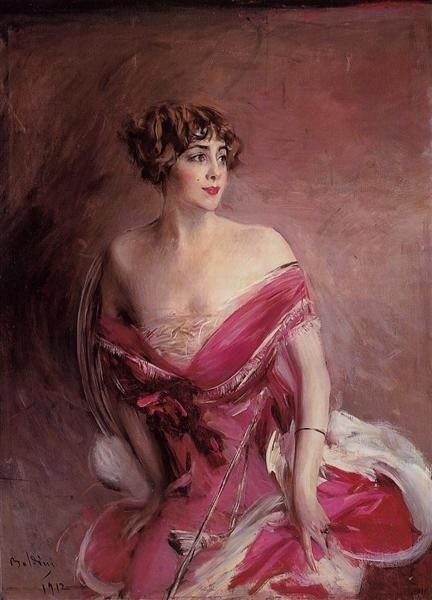 The woman seems to be running away from a room, no details in the background to let us know where she is, but the perception of movement is defined by her robes. She pulls up her long pink gown, the sound of taffetas is perceptible. She is haughty, beautiful, confident. The dress, very low-cut, falls to her shoulders, uncovering more of her bust. No matter what. She goes.
His nudes astonish and overwhelm. In 1930, in his full artistic maturity, Boldini painted a work that recalls the pose of the Venus of Urbino by Titian or Olympia by Édouard Manet: Reclining Nude. A chaise longue hosts the woman's body, the colors are very intense, warm, quick black brushstrokes alternate with red ones, so large and penetrating that they appear like spots. Sinuous is the woman, disenchanted and uninvolved in the moment thus indicating a stolen, almost unwanted, private occasion, in fact it seems that the woman is looking at someone else or something else. The black stockings and barely noticeable bracelet are the only accessories the woman is wearing. Naked. Undressed. Fair. For the Ferrara artist, the nude represented an interweaving of cultural relations, research and dissemination of the classical conception, a simulacrum of the beautiful.
He painted splendid still lifes, views, especially of Venice, but his great love always remained the portrait.
Boldini's fame gave great prestige to his city, his nation, and the Parisian Belle Époque – which flourished among theaters, cafes, and boulevards – was represented exclusively by a group of Italians led by Giovanni Boldini himself: Giuseppe De Nittis, Vittorio Matteo Corcos, Antonio Mancini, and Federico Zandomeneghi. A deep bond was the one between Ferrara and Giovanni – a city that educated him and pushed him away, a Renaissance cradle crucial to his artistic growth.
Gertrude Stein – American writer, poet, collector, and patron – stated: "When the times have located the values in their proper place, Boldini will be regarded as the greatest painter of the last century". 
Giovanni Boldini Museum
In the center of Ferrara, at Corso Porta Mare 9, just across the street from the well-known Palazzo dei Diamanti, the Giovanni Boldini Museum was established in 1935: the largest public collection of the Ferrara master's works. About sixty paintings and a thousand drawings, engravings, watercolors, and many personal objects from his studio and Parisian home. In the former Palazzo Bevilacqua – built in the 16th century and commissioned by Onofrio Bevilacqua – today the palace is better known as Palazzo Massari, due to the more recent acquisition by the Massari counts. Three important civic museum institutions are located right there: the Museo dell'Ottocento, the Filippo De Pisis Museum of Modern and Contemporary Art, and, of course, the Giovanni Boldini Museum.
The palace also houses the largest public park in the city of Ferrara, within the city walls, designed by Ferrara architect Luigi Bertelli.
Opening image: Giovanni Boldini, Portrait of Mlle de Gillespie - La Dame de Biarritz, 1912