"I am interested in what is real, the water below one's feet on Lake Iseo or the sound of the wind tormenting the kilometres of fabric that we used to cover Central Park". Christo broke the rules of the world of art with large-scale installations. An artist-architect who has dressed and undressed the entire world, creating the ephemeral and always focusing on reality.
In a letter from 1958, the artist wrote: "Beauty, science and art always triumph". Always. These were incredible projects that never failed to surprise, move or enchant the spectator. Everything was created and studied, without ever seeking to lead the work to express an absolute truth. There was no explanation, interpretation or analysis. A form of dense materiality lent weight and sense to the final image, places and buildings where the visible seemed discontinuous and interrupted; strong and majestic, yet at the same time fragile, illusory and ephemeral. "I do not want to examine my work from a political, literary or religious viewpoint. My work is an entity in itself. If we like, it is politics itself. Do you have any idea what it took to get permission to wrap the Reichstag? To convince Mr. Kohl and the entire Bundestag? To force them to vote on something that did not yet exist, if not as an idea? This is a true political dimension, not an illustration of politics, but pure political vision". A precise strategist and a mad dreamer, one half of a duo, the opposite of one: Christo and Jeanne-Claude.
They met in Paris; he came from Bulgaria and she came from Morocco, and it was the city of love that saw the realisation of one of their first projects. It was 1962, and in Rue Visconti, a small narrow city street, they built the Wall of Oil Barrels. A barricade consisting of 89 metal barrels, a iron curtain that deliberately represented and protested against the building of the Berlin wall. Albeit for just eight hours, the work made a tangible change to the lives of the inhabitants that wanted to pass through. It created tension, instability and confusion. These were exactly the sensations that the artists wanted to provoke. Theirs was a veritable social protest, echoing Pellizza da Volpedo, Angelo Morbelli or, remaining closer to home, Gustave Courbet. This was a mere prelude to a life and story that saw them together, planning, creating, fighting, building and dismantling works and monuments, all with the sole aim of surprising, of creating wonder, astonishment and amazement.
The artists presented perfect a perfectly packaged gift containing something that we were all familiar with, wrapped in a carefully chosen fabric that served as an ornament, as a work in itself. At times the material was iridescent, such as that chosen for Lake Iseo; a kind of nylon, made to order for the artist, which transformed with the water and humidity, shifting from yellow to gold, and even towards red, changing continuously hour after hour according to the light and the weather, at times creating a golden effect on the lake; a contemporary Manet who, instead of painting the Rouen Cathedral series, allows the spectator to participate directly, leading them both emotionally and literally into the work. They took possession of reality through an extraordinary number of projects where figures, places, skies and landscapes became the subjects of their "canvases". Architecture was transformed. The users became the authors, observing from a stage and feeling themselves observed, and the architecture, which had been originally created to contain something or someone, became the content through the idea of these two artists.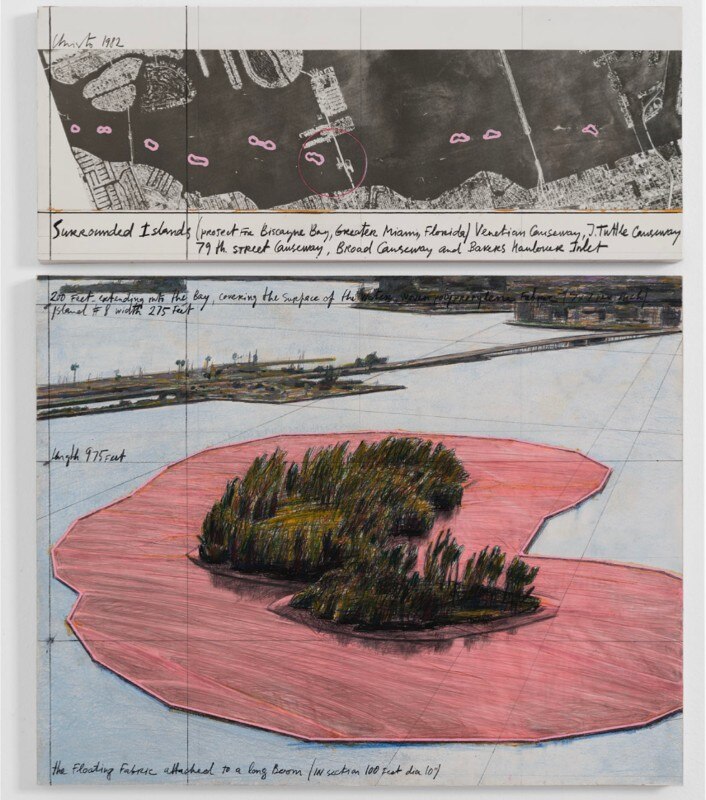 The market went wild. His prints, his copies, his projects, large illustrated drawings presented through a fusion of technology and painting, began to be drawn into an absurd whirlwind of requests, offers and demand that, at times, he was unable to respond to. From accessible quotations to prices that at auction exceeded six figures. The more his works amazed on the street, the more auction houses and galleries sought out and welcomed his "preparatory sketches", which were then presented to collectors. Perfectly studied numbers, letters, topographic maps, sketches and colours render these graphic works extremely fascinating, contemporary grisailles that allowed the artist to modulate his ideas and his figurative elements. These were his dreams presented on paper, framed and hung on walls. The ephemeral that remains: a collector's dream. A magniloquent yet futile language, perhaps even brusque and little inclined to materiality, yet absolutely brilliant, born from grandiose images that words were perhaps unable to express. A man who let himself be led by immense forces that he apparently had no control over, even though he himself was the source.
Opening image: Christo, Little Bay, 1970. Image originariamente published on Domus 483