From under the cover of a forest canopy, a peculiar cacophony of carousel chimes, pig squeals, and error alerts greeted guests as they arrived for the 25th Annual Watermill Center Summer Benefit & Auction. Yet, as they proceeded through a sequence of woodland paths, gun-shots could be heard in the distance. The unsettling noise could later be identified as Stephen Shanabrook's Assaulted Landscape with Splattered Rivers and No Place to Hide: a performance in which a masked gunman discharged paintballs within a clear cage enclosure.
Any regular visitor to this secluded yet rollicking cultural venue – covering over 6,000 square meters of sweeping lawns, gravel terraces, and a carefully designed building – are accustomed to Robert Wilson's particular strain of shock value. At one past benefit, naked performers were hoisted on towering ledges and covered in a blood-like liquid. Other years have seen the likes of fire-breathers, a large Butt-Plug, and a Jenny Holzer wall installation reading "She Outwits Him, She Outlives Him." Works presented at Watermill teeter on the dangerous and perverse, but are inherently visceral and captivating. With past concerts by Laurie Anderson, Philip Glass, Paul Simon, CocoRosie, and Rufus Wainwright, music seems to tie everything together.
In between the bacchanal jingles and jolting gunfire of this year's aptly titled Time Bomb benefit, were the bangs, falls, stomps of over 30 performances and site-specific installations. While one performer dug her own grave – Davide Balliano's I'll wait for you at the rise of the morning star – the inhabitants of a stark white interior could be observed through a series of peepholes – Domestic Science by Baboo Liao, Adrian Damian, and Mariano Marquez. Other works incorporated V.R., motion sensors, video, light, fur, string, and musical instruments. The corporeal qualities of flailing legs were evident in Lonely by Hrafnhildur Aranardóttir (Shoplifter), as was the gesticulating embrace portrayed in Carlos Vela-Prado's Basium video installation. Certain pieces were reprised from previous years, such as the 2012 Blow it! by Hee Ran Lee –  a large inflated bubble that explodes when reaching full capacity–and Osgemeos' 2005 Giant – an colorfully iridescent mural covering the main building's facade. However playful and celebratory, the overall tableau hinted at an ominously dark undertone; an unavoidable reflection of our time. 
After making their way through the grounds-wide paracour of performance and installation, guests were able to enjoy cocktails and bid on a silent auction – featuring donated works by Keith Harring, Roy Lichtenstein, Miya Ando, Kembra Pfahler, and Nan Goldin. Mounted by Wilson for the past 25-years, this annual benefit gala has become the cornerstone of the Hamptons social calendar but also as a revered highlight on the often saturated art world circuit. A Moroccan-style dinner was served in honor of the late Pierre Bergé; one of Wilson's early supporters. With help from Simon de Pury, gaveling a live auction, the evening raised a whooping $2.2 million.
©lovis ostenrik
With little to no public funding for the arts in the United States, the Watermill Center relies on this annual event to bring in crucial capital that keeps its rich programming afloat throughout the year: month-long artist residencies, local education outreach initiatives, and a robust lecture series. The benefit also provides young talents with an opportunity to showcase their work. Many have come from far flung reaches of the globe to participate in the annual summer programme. They spend 5 weeks immersed in a community comprised of dancers, directors, dramaturges, scenographers, architects, and artists. For the past quarter century, Wilson has found respite at Watermill. It provides him with a short but reflective break from an endless schedule of productions that keeps him in constant travel. Working closely with participants and collaborators, he workshops new performance-based, curatorial, and design projects.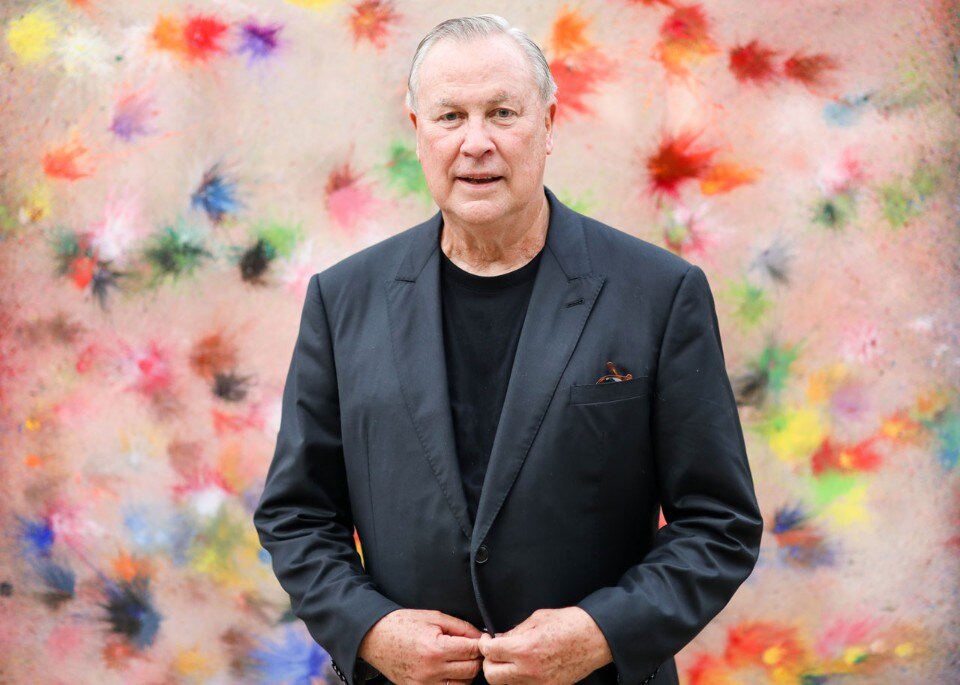 A measure of this transdisciplinary approach, the center has had a come-as-you-are policy since unofficially beginning in 1993. It officially opened in 2006. People of different backgrounds, ages, and levels of aptitude, are welcome. In the past 25 years, thousands of creative talents have passed through Watermill's doors to hone their professional and life skills. Many have forged lasting partnerships beyond its confines. Though Wilson's legacy is embodied in the center's architecture, vast collection of over 5,000 material culture artifacts (featured in Domus), and practicing ethos, it's not his shrine. The founder firmly believes that Watermill is a platform for others to develop their own work; not do what he has done.