It was about time for some Leon Golub, with all his immensity and searingly human graveness. Under the curatorship of Germano Celant, the Fondazione Prada is hosting a Golub exhibition his in Milan. First, there are 22 spectacular acrylics on linen canvases, large as murals. Then, there are 60 photographs printed on a transparent kind of film called DuraClear, also very big, like the width of open arms. This American painter was born in Chicago in 1922 and died in New York in 2004. In his art, he clung to the things of the world, the things of a world out of joint, and placed them in the least rose-tinted light he could find. With epic magnitude, he reveals their most terrible aspects, their tragedies and horrors. Golub received a bachelor's degree in art history from the University of Chicago in 1942. He attended the School of the Art Institute of Chicago from 1947 to 1949. As a young adult in the 1940s, he sensed the war raging in all the world's countries and seas. He knew war was a thing of all ages and all places – yesterday it was in Vietnam and Cambodia; the day before yesterday in Babylonia; today in Syria, Afghanistan and 29 African countries. This is what he painted incessantly.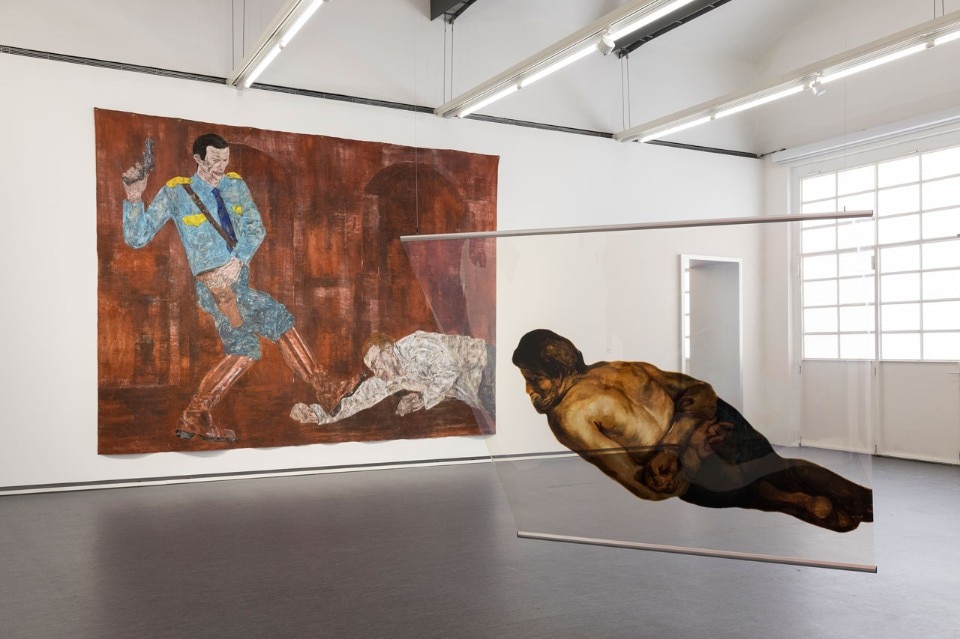 In Golub's paintings, humanity is never in good health. It is vacuous and mean. His narrative inventions are succinct and concentrated. His characters are disfigured, rigid, stiff, grounded in Greek antiquity and pieced together like a collage of journalistic newspaper pictures and photographs.
Faces are livid, chests are flagellated, bodies wounded. Fists are raised; hands clutch cudgels or guns. The battles are not glorious. The uniforms are tattered. The policemen are persecutors; the soldiers are mercenaries. The victims are naked, tied up, hooded, defenceless. They stand out in front of wide-open, solid backgrounds that are squalid in their silence and opacity. These detach the figures from the story. There is no trace of a horizon. The backgrounds have the tepid colour of the linen canvas, which is often lacerated and distressed. Sometimes they are painted bright red or purplish; once in a while, they are yellow or blue. They remind you of skies split open in 14th-century paintings, martyr scenes where flat colour fields take up a great share of the canvas, where the air between the floggers and the troubled one is sticky and still. In the poem Fra Lippo Lippi (1855) by the English poet Robert Browning, the Church instructs the real-life painter Filippo Lippi to "Paint the soul, never mind the legs and arms!" Golub paints arms toting rifles and massive legs sheathed in gleaming studded boots. The paint is not oily, but dry and acrylic, further emaciated by energetic scraping. The signature is almost always in the lower right corner, only "Golub," all uppercase.
The fingers of autumn are rapping on the windows of the city. Fog sucks up the landscape. On days like these, you feel like looking at powerful, well-defined images. The 24-karat gold tower at the Fondazione Prada is paled by the milky sky. A raincoated man with patent-leather shoes rapidly covers the last metres separating him from the entrance. Rain starts spitting down lightly. In the exhibition complex's freshly opened bookshop, a small-scale reproduction of the 19,000-square-metre Fondazione Prada premises is on display, clearly showing all 7 pre-existing buildings from the early 1900s that were part of the former distillery, plus the 3 new buildings, changed in their perspectival relations. Cleaning women are hurriedly sponging them down with wet cloths. The blond gold-leaf tower is now shining radiantly under the fluorescent lights. I ask a passing dark-uniformed gallery assistant for directions to the Golub exhibition. He points what seems like an enormous index finger at the two low-rise buildings to the north and south on the model. He waves it like a windshield-wiper from one to the other, saying, "But I'd suggest you start with the north."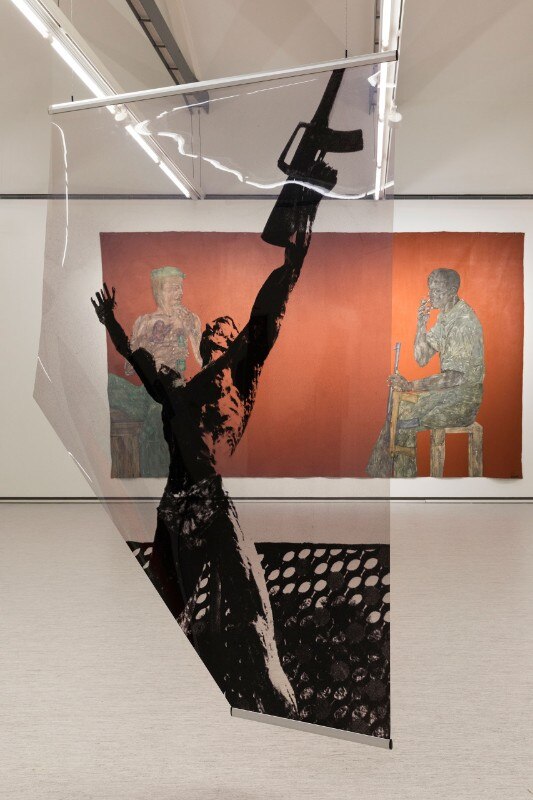 The experience to be had at Galleria Nord, with its meagre number of paintings, is like a full immersion into the giant body of a translucent jellyfish made out of work on DuraClear. Here there are 5 of the 8 series that the artist presented in Europe and the United States between 1991 and 1999: Worldwide (1991, 16 elements), An Incident (1992, 9 elements), Violence Report/Prisoners (1993, 12 elements), Sanguinary (1996, 7 elements) and Partisans (1999, 11 elements). A sign on the door reads, "This exhibition includes representations of violent situations that may disturb or offend some visitors." Like in a huge bathtub, these spectral silkscreened pictures are suspended in mid-air from aluminium rods. The subjects are most diverse: the head of a Greek warrior next to one of Nelson Rockefeller. All are black and white except for a few that are tinged blood red. They float and converse in the margins of human reason. If you try to take photos of them with your cell phone, squeeze yourself into a corner in order to get as much as you can into the shot. There is always a pair of shoes (the patent-leather ones of the above-mentioned gentleman, for example), a head of curly hair or an arm entering onto the scene due to the play of transparencies, which layers living flesh over the photo of a cadaver or an execution. Although it is impossible to comprehend the cruelty of these pictures, we are inevitably included.
"It's not political art, but rather an expression of popular revulsion," Golub once said. In truth, you exit Galleria Nord not so disturbed or offended as you were warned you might be, but well prepared for the big bash of paintings at Galleria Sud. (The north building shows only 2 enormous paintings; they're from the series Vietnam, 1974, and Riot, 1987). The south building shows the brutal Interrogation I (1980-81) and Interrogation III (1981), where you see two soldiers of fortune torturing first a man and then a woman, both nude and bound. He is hanging upside down by his feet; she is on the floor with her knees bent and genitals splayed. There are the better-known military series Napalm (late 1960s-early 1970s) and Mercenaries (mid-1970s). Having ingested those too, you attain a state of emotional armistice. Yes, Golub is a realist, and this exhibition insists on reminding us of it; he does not distil the forms or take away the vigour of their political and social message like the neo-abstractionists and informalists did. (This is why there was more consensus and media exaltation given to the latter than to the former.) His realism has war and torture inside, yet also the bodies of Greek sculpture, plus bodies taken from pornographic and sadomasochistic magazines. This is where its seduction lies. In January 1990, Rosetta Brooks, a contributor to Artforum magazine, writes the following: "If his paintings don't trigger the conventional 'shock' reaction from the viewer on first glance, maybe that's because they are not typically shocking media imagery; we feel as we've seen these images before – but where, we are not sure. His work has always been preoccupied with unrecorded acts of censorship, thus asserting a far more powerful connection with total recall than any conventional demand for 'freedom of information' rhetorically implies." For this reason, the blow dealt by his art never arrives head-on, and does not easily wear off.
Golub cannot be traced back only to the Chicago art scene. Vice versa, Chicago after World War II was not just Leon Golub. First of all, there was his contemporary Horace Clifford Westermann (1922-1981), an anti-aircraft gunner and acrobat from Los Angeles. After the war, Westermann enrolled in the School of the Art Institute of Chicago in 1947 to study Applied Art. He became a refined sculptor, making hallucinatory and seemingly playful assemblages, mostly in wood. Many are reminiscent of coffins. They are actually a bitter comment on the imperialistic, existentialist and psychological destructiveness of man. Fifty-three of his sculptures, all made between the 1950s and 1980s, and twenty ink drawings and watercolours on paper occupy the entire first floor of the Prada building called Podium della Fondazione.
On the floor beneath it, we find a whole circle of artists agglutinated by movements (the Imagists, the Hairy Who, and others). They have been grouped here under the title "Famous Artists from Chicago, 1965–1975". In that decade, they made work of wild-eyed and grotesque figuration – a good 133 pieces of it are on display. These two juicy expositions with their copious amount of artwork are visitable along with the Leon Golub show until 15 January 2018.
Exhibition titles:

"Leon Golub", "H. C. Westermann" and "Famous Artists from Chicago. 1965-1975"

Opening dates:

20 October 2017 – 15 January 2018

Curator:

Germano Celant

Venue:

Fondazione Prada

Address:

Largo Isarco 2, Milan