With concert halls, recording studios, restaurants, kiosks, and different types of ludic spaces, among which a club, Holzmarkt 25 is a vivid cultural site managed by local cooperatives. Overlooking the waters of the Spree, it was once a lumber port until the division of Germany. Abandoned place until the reunification, it became one of Berlin's nightlife hotspots with the arrival of Bar25, one of the most famous clubs on the techno scene, made famous by the movie Berling Calling.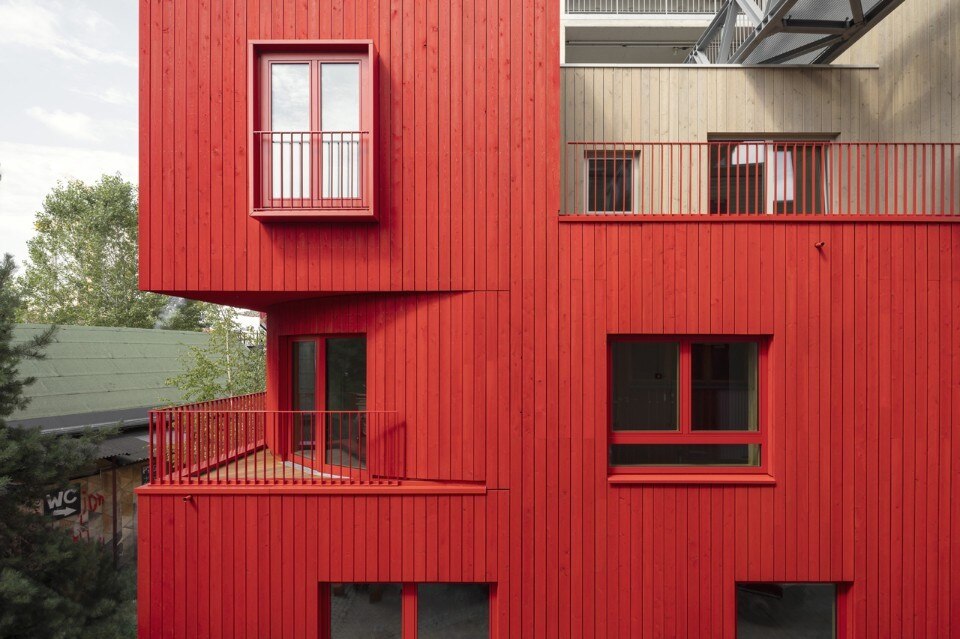 Today, the Holzmarkt appears as a micro-village made of progressive additions that seem not to find a comprehensive scheme. Analogously, the new building fits easily in this improvised, and perhaps provisional, mosaic with a structure entirely made of timber that envisions a metaphoric bridge with the historical vocation of the area. The color, the volumetric articulation, and the slight shift from the near concrete-made body reinforce the sense of autonomy compared to the whole.
Haus2+ is a small building that integrates this community with spaces for a bakery, a tattoo atelier, a physiotherapist, and offices. This friendly parasite, as Office ParkScheerbarth addresses it, exploits an adjacent stairwell, the basement as a floor slab, and the district heating station as the primary energy source, all elements already existing at the moment of construction. Since the carpentries, slats, and panels are all screwed instead of glued, all the components can be disassembled and reused with the relative facility, in coherence with the tenets of the circular economy that also featured the origins of this old lumber port.