If this year's Biennale investigates the 'fundamentals' of architecture, it also flirts with radicalism – that of Italy in the 1960s and 70s and possibly even that of today (if there is any).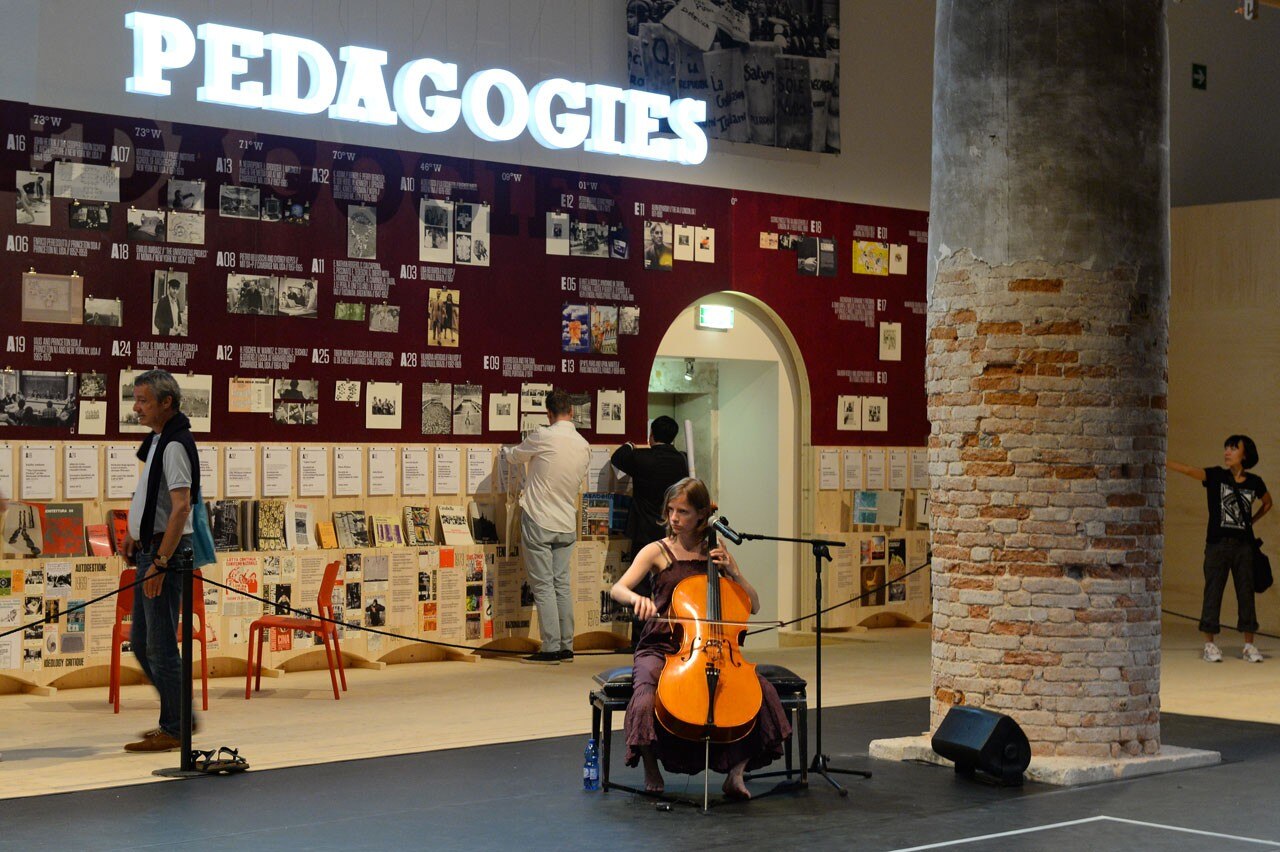 On June 7 and 8, OMA and the Biennale launched the first of a long series of weekend specials – 21 events exploring a variety of themes such as the avant-garde, transmedial storytelling, nightlife, sacred spaces, domestic changes, the mediation of the social and the urban and decolonisation to name just a few. Transient yet integral parts of the "Monditalia" exhibition, the weekend specials will occupy spaces in the Corderie dell'Arsenale, thus animating the monumental space of the gallery. Very different, both in their format and approach, the "Radical Pedagogies: Action-Reaction-Interaction" and "Towards a New Avant-Garde" events shared a common interest for radicalism, looking at its history and questioning its actuality.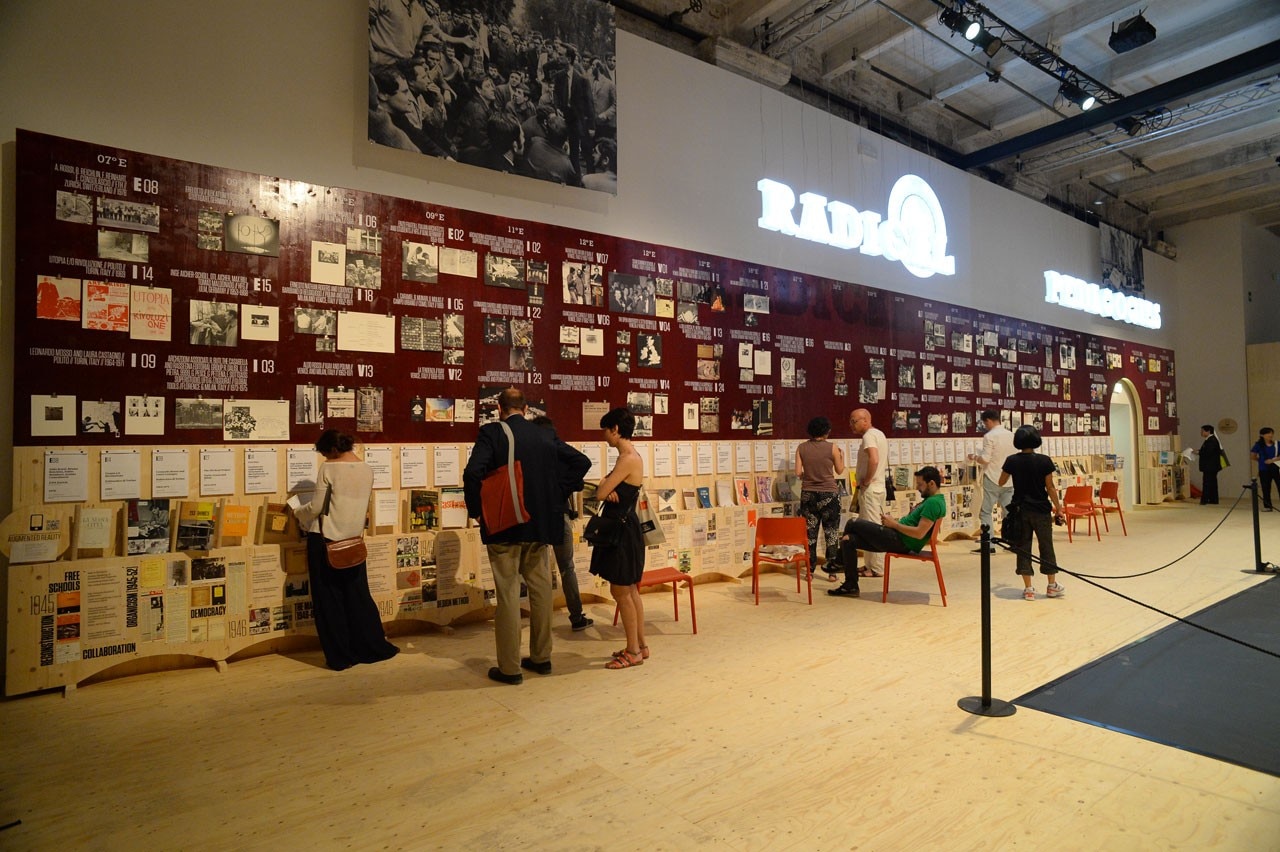 "Stay Radical" was the motto of the second event, as suggested by beautifully designed pamphlets and bags specially produce for the Biennale. But what is radicalism and what does the term mean in today's condition? Moreover, why has the term recently ascended to such a level of trendiness and particularly at this Biennale? Echoing the theme of Koolhaas's Biennale, radical can be defined as something that relates to or affects the fundamental nature of something; it is far-reaching or thorough. Yet, it also signifies a departure from tradition; something both innovative and progressive. And this summarises well enough what the 14. International Architecture Exhibition seeks to achieve: Going back to the roots of architecture, of modernity, of Italy and the whole of western civilisation, in order to propose a new format for an institution that appeared deadly unproductive since its flamboyant beginning in 1980.
Led by Princeton University professor Beatriz Colomina, together with Britt Eversole, Ignacio G. Galán, Evangelos Kotsioris, Anna-Maria Meister and Federica Vannucchi, the "Radical Pedagogies" research project explores a series of pedagogical experiments that played a crucial role in shaping architectural discourse and practice in the second half of the twentieth century. It is a colossal work of collecting, gathering, assembling and finally displaying the research of these five Princeton PhD candidates and of 48 other scholars that have worked on 65 case studies distributed over 15 countries and each associated with three to seven hashtags.

Having started already in 2010, "Radical Pedagogies" has now taken a further step with a circa 90 sqm display – now commonly referred to as "the Radical Pedagogies wall"– part of "Monditalia" and an associated event thought as a sort of living manifestation of the display. Collaborative research is Colomina's modus operandi - we have seen it before with other endeavours such as "Clip, Stamp, Fold: The Radical Architecture of Little Magazines, 196X to 197X" or "Playboy Architecture, 1953-1979". As she reminded us on 7 June, collaboration can take the form of a book, an exhibition, and here a public and open seminar. The premises behind the 'Radical Pedagogies' project is the hypothesis that, if in the 1960s and 1970s there was radical design it was also because the educational system was radical. Yet Colomina insists: "Radical Pedagogies" is not an oxymoron; it traces the path from subversion to institutionalisation, looking not just at pedagogy in the school, but in the streets as well.

If the "Radical Pedagogies" project is extremely rich and was enthusiastically received by the first visitors of the Biennale (it also received a special mention from the Biennale's awards jury), the June 7 event was too long (over two hours) and did not always achieve its ambition of constructing "a forum of exchange, inviting protagonists from different generations and countries to reflect on the experiments of radical architectural pedagogy and even revise them." A rather huge and rigid table gathered a series of usual suspect: From Luca Molinari to Stefano Boeri, William Menking, Alessandra Ponte, Marco De Michelis, Gianni Pettena, and Paolo Deganello.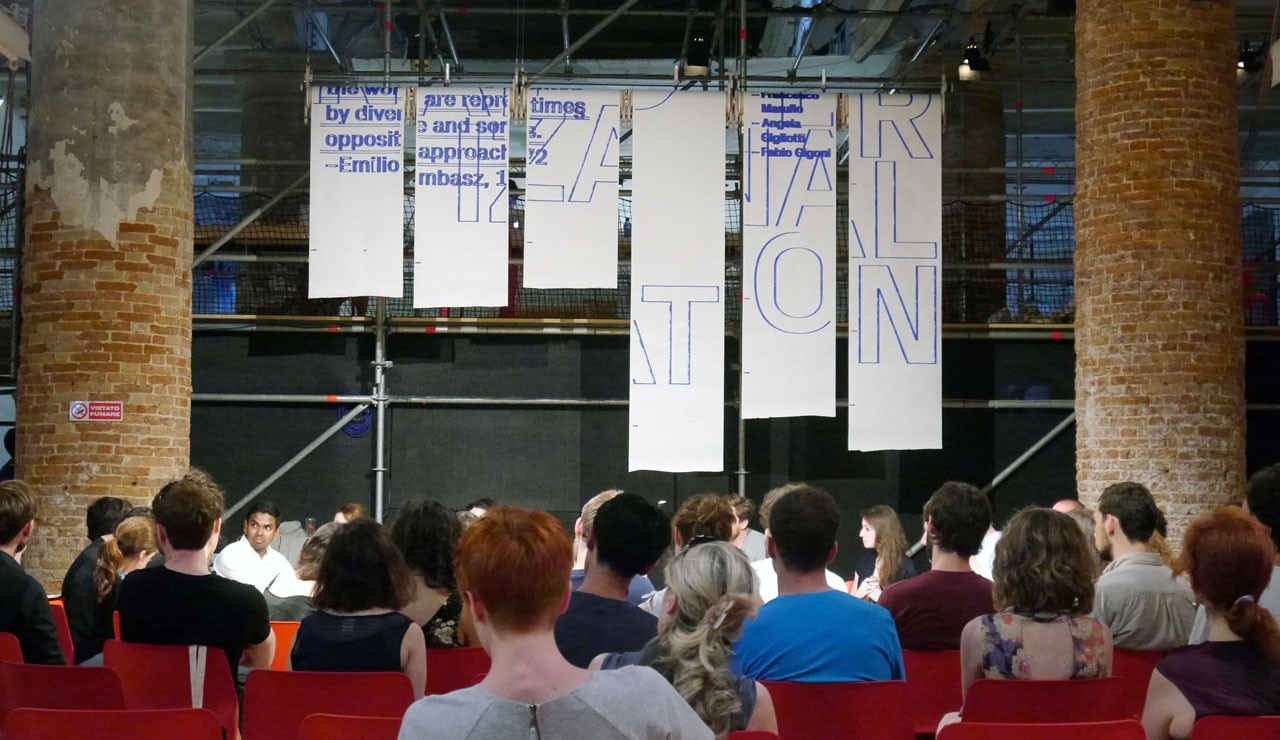 Each of them offered an interesting insight yet it was all too much, each saying too little and with very few interactions between these different contributions as well as between the intervention and the physicality of the adjacent exhibition wall. The only representatives of a younger generation were Joseph Grima and Gabriele Mastrigli – the later offered a brilliant intervention calling for more attention to architectural education outside of institutions insisting on the critical pedagogical role of the network.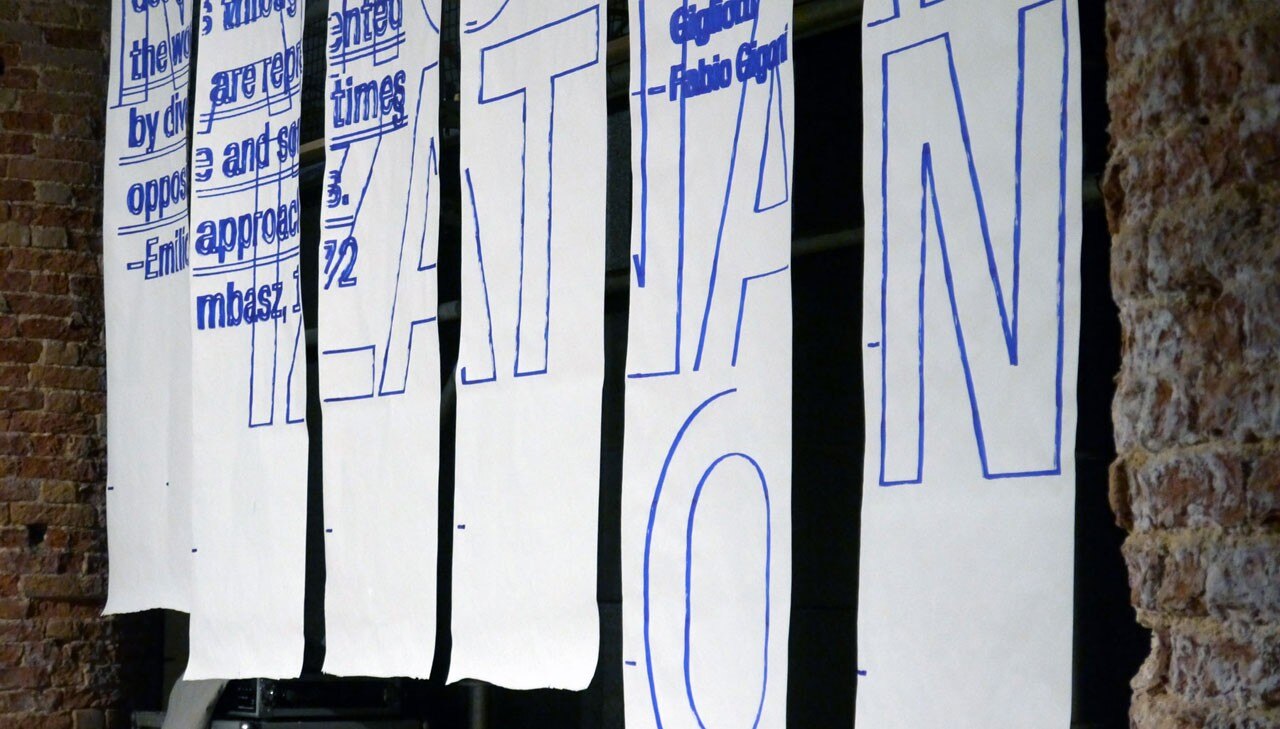 "Radical Pedagogies"'s little brother, "Towards a New Avant-Garde", an event organised by Superscript – Vera Sacchetti, Avinash Rajagopal, Molly Heintz, with Catharine Rossi and Rossella Ferorelli – took place on Sunday 8 June. The gathering was animated by a live-edited installation made of 18 open-source printer, designed by Brussels-based architecture firm DevSpace and French-Swiss interaction designer Thibault Brevet. Much fresher and more informal, the event gathered an infinity of virtually unknown figures of the new generation, some which were also part of the "Monditalia" contributors (such as Teresa Cos, Federica Vannucchi, Ignacio G. Galán and Anna-Maria Meister, Marco Ferrari, Brendan Cormier, Tamar Shafrir, Angela Gigliotti and Fabio Gigone). An interesting – even if not always groundbreaking discussion emerged.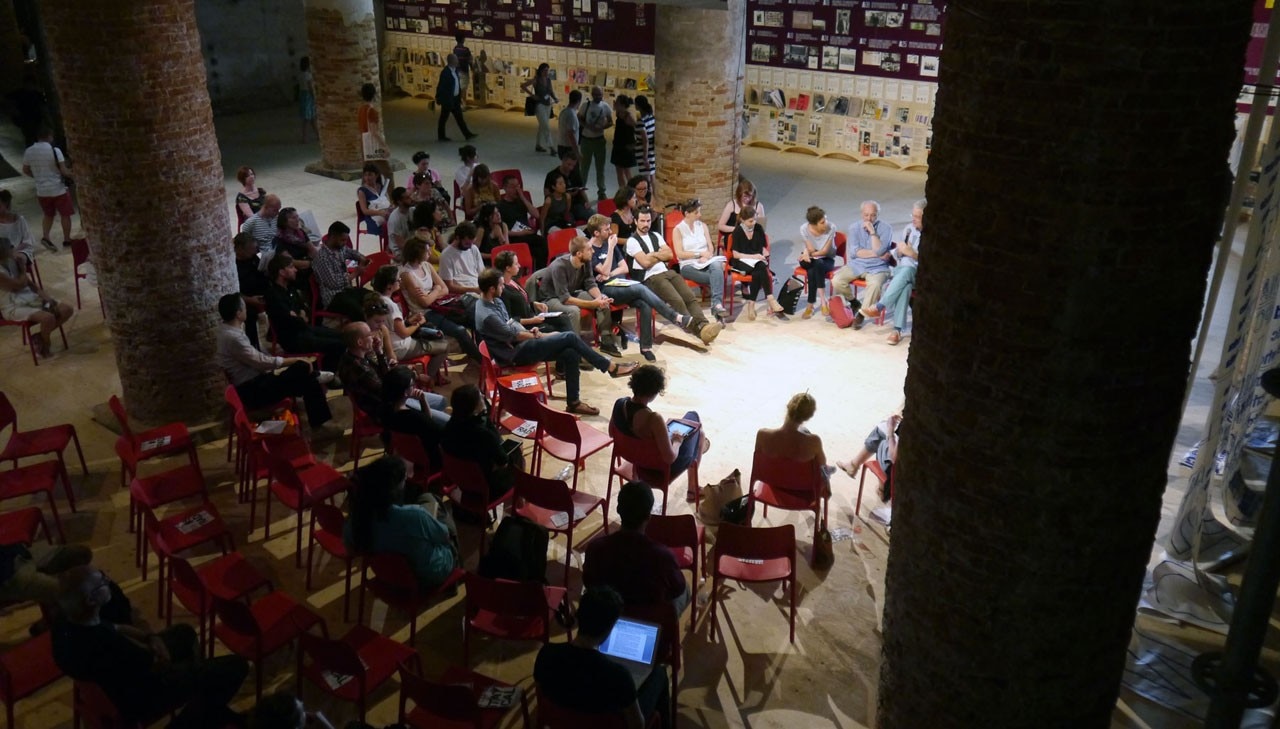 "Internationalisation", "Collective Action" and "Economics" where the three poles of the discussion. Authoriality, voluntary exile (or rather exhodus as the Koolhaasien generation like to call their condition), identity, network, connection, conversation, generation, validation, and value emerged as key words of that afternoon. And as cliché as it might sound, for many it was the occasion of meeting those with whom they have been interacting albeit virtually for some time already. The last word was given to Ippolito Pestellini, "Monditalia"'s curator, exhibition designer and grand manitou: "If there is a way to stay radical today," Pestellini declared "it is to convince companies to participate in something that is not only economical, but cultural."

Between Saturday 7 and Sunday 8 June, the Corderie acted as a living theatre modulated by the rhythm of passer-bys and an impromptu public. During those two days it appeared as if "Monditalia" had won his bet: to create, inside the space of the exhibition, a polyphony made of exchanges, content and negotiation. This alone offered a beautiful spectacle that despite not floating in the Laguna, reveals much of an early 21st century poetic. The generation gap between one event and the other was clearly palpable. But inspired by the documents haunting the "Radical Pedagogies" wall much can be expected from the energy that emanated from the "New Avant-Garde" event. This is to be continued.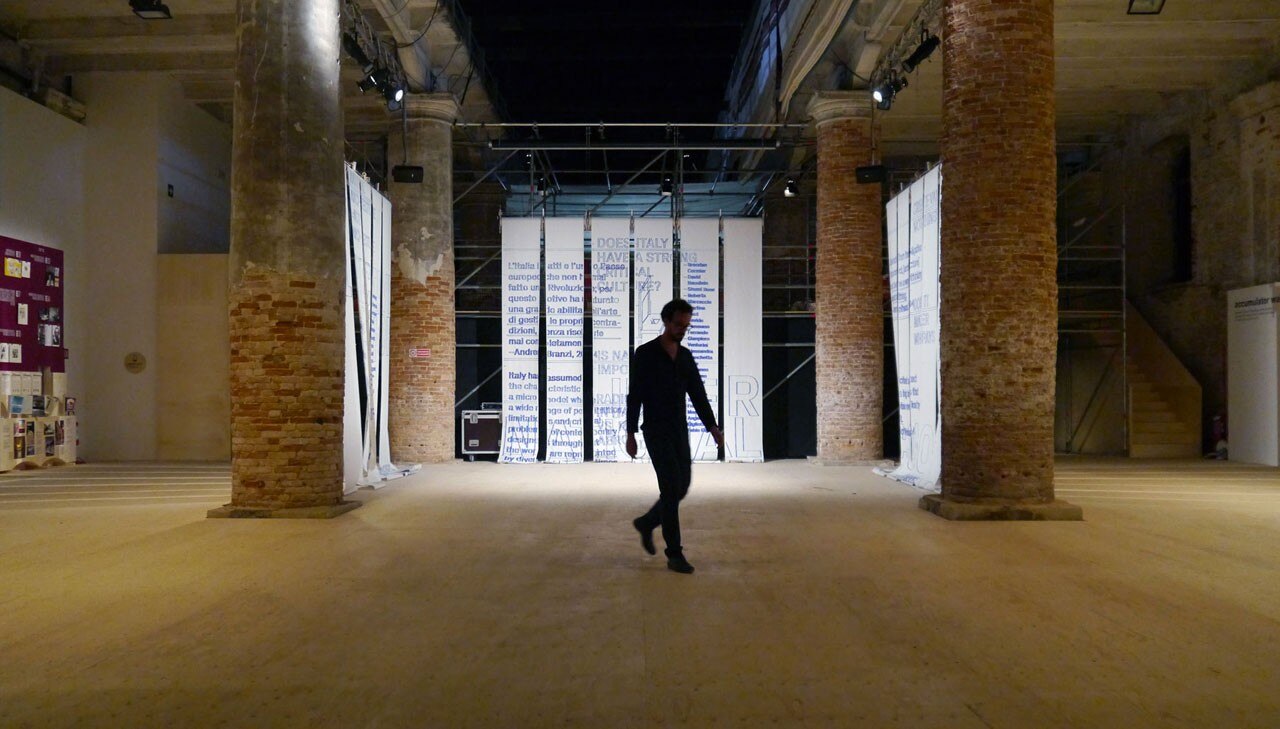 7 June – 26 October 2014
Weekend Specials
Biennale di Venezia, Corderie dell'Arsenale