Talking about the cloud is easy. Our data is not stored in physical memories scattered in between our homes and offices, in hard disks left on the desk or in a drawer, in diligently labeled memory cards. But they are stored somewhere. Thinking they are stored in clouds is just an illusion. Our data rest in physical data centers, sometimes in remote places, other times somewhere closer than we would imagine.
Walking down the hallways of the Elmec data center in Brunello, about fifty kilometers north-west of Milan, feels like a stroll in the data clouds. These hallways lead to immaculate rooms with suspended cables and the subtle buzzing of machines fills the space. "It was entirely designed and built by an engineering group" explains Andrea Fiori, Elmec's Delivery Operations Director, as if it was some kind of disclaimer but with obvious pride at the same time. Fiori explains to us that the cubicles that contain the machines are called "closets." There are 70 closets in each room. Overall, the data of ten thousand servers and of many major Italian companies are stored in the data center.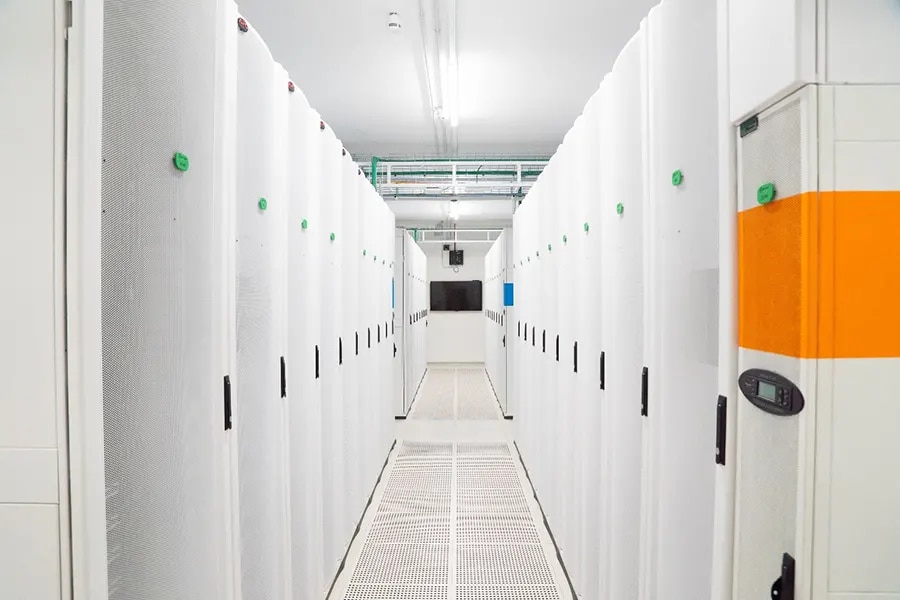 Elmec was established in 1971 in Varese. The name has nothing to do with the initials of the two founders, Clemente Ballerio and Cesare Corti, as was often the case for Italian companies established in that time period. Elmec is the abbreviation of elaborazione meccanografica, "automatic data processing," a storage system from half a century ago, when IT was still a pioneer. Today, the company counts about 700 employees and is steadily growing – in the past year, it grew by 7% and is now divided into an additional four departments: IT, digital security, solar energy, and 3D printing, with data management still being the pillar of the business.
Even though it has several locations in Italy and one in Switzerland, Elmec's headquarters are in Brunello. Throughout the years, the headquarters have been expanding more and more, creating a small town on both sides of a road that crosses the countryside dotted with industrial buildings and ends under highway of the lakes.
The data center dates back to 2015, when the owners bought an industrial lot where there was a steel factory that had a crucial component: an electric tower. A crucial element because a data center can never turn off, ever. The machines also need to be constantly cooled down, and that's where the center's position comes in: it is located near the mountains, in an area where the air is cool, and the server rooms face north.
Elmec campus in Brunello is made of five overall modern buildings, named from B1 (Workplace Hub) to B5 (Innovation Hub), and hosts a rather young workforce. Elmec's flexibility started even before Covid, in a period when we all started to question what a workplace could be, especially for an office far from the city center where there are no nearby or accessible services, like restaurants, bars and cafés, gyms or even a park.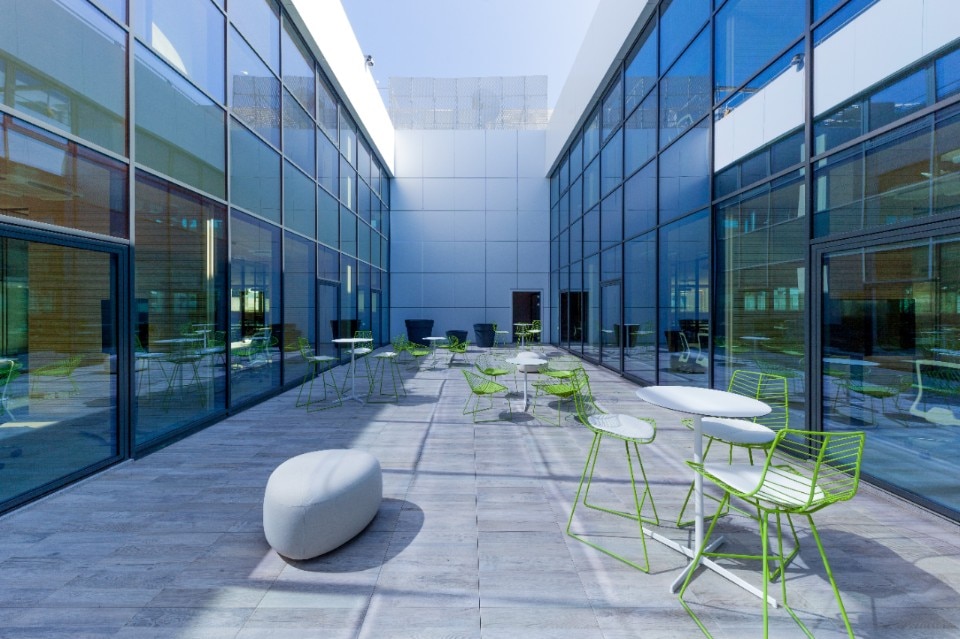 Xania Bellinzani, Corporate Marketing Communications, explains that Elmec's proposal is to offer an office that is "the best place to work even remotely." In order to make commutes easier, the company installed charging spots for electric cars in the parking lot, a "bike to work" service, and what people inside the company call "blablaelmec," a carpooling service. All this is facilitated by the fact that the company itself can make every aspect of work remote thanks to its incredible IT assets.
We explore some of the places dedicated to the employees: a cobbler, a tailor, a dry-cleaners, and a second-hand market where you can find a big range refurbished laptops and tablets. And then, there is even a fully equipped and high-tech gym, with a digital training system that recognizes who is using the machine and tracks their progress.
When entering, in the middle of the day, a group of smiling young people is training. It's a scene that looks like it is right out of a tv show on Silicon Valley and that almost makes us wonder if Elmec hired some cameos for the Domus visit. But this just proves that this place, which emulates those big tech campuses like the ones in the Californian suburbs, does really attract people. There's an essential truth behind the myth of the American campus, which turned cubicles we all imagine smelling like cafeteria food and dirty socks into the dream of an endless spring break for all ages – and that truth lays in the importance of creating a community around the workplace.
It is something that can't be achieved in a day, but brick by brick, through the implementation of choices thought-out about the space, a precise work philosophy, and, why not, a thorough understanding of the targeted age-group. And that target, here, is young, very young. Bellinzani says that "We can always work remotely." A freedom that today is the minimum requirement if a company wants to attract millennials and Gen Z. Then adds, "Then, maybe, we come to Elmec just for a bite."
And it is in fact the restaurant that is the newest big space opened at Elmec. The one in charge of it was Sergio Bosetti, former Karlsberg Plant Manager, who came to Brunello six years ago for the construction of the data center which he defines as the flagship of the headquarters. He explains that the new challenge was to create an appealing place that would definitely "attract Elmec people."
The final result is a space initially designed as a restaurant but that became a multipurpose venue, an authentic operation room whose design points out even more that "it would have been a pity to have such a handy and beautiful space and only use it for food." So, on one side, there are three food islands – healthy, tasty, traditional cuisine – and a pizza restaurant, while on the other side there are small rooms that can be used for meetings, one of the largest LG screens out there, and an outdoor area where you can dine during the warm season.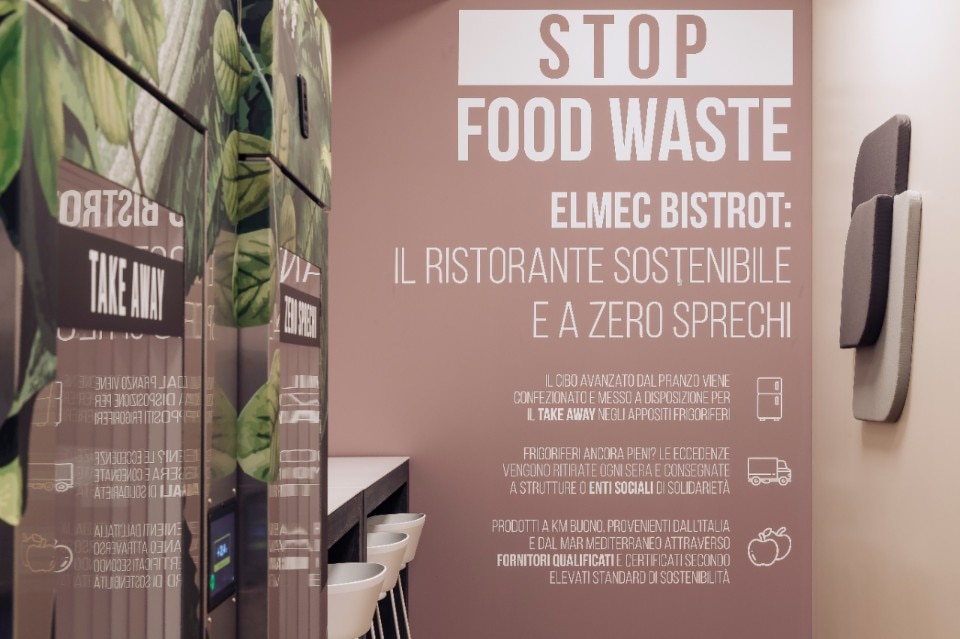 Even in the restaurant the tech component is key, just like in the rest of the company. Everything was developed internally by Elmec, and external companies were contracted only for the facility system and the kitchens; kitchens that here work in cloud and where a "good local" menu is prepared daily. Not only Elmec pays attention to healthy meals, but also to reducing waste. In fact, since employees often don't have time to cook their meals, three take-away and zero-waste smart fridges were installed from which workers can store their lunch leftovers from work and take them home later, making their life easier.
"Here, you bring your lunchbox from work, not to work" concludes Bosetti smiling while looking at the vast dining area, stressing once again the fact that this is a company that rethought the concept of what a workplace usually is and became what a workplace is supposed to be − the best place to work from.
All photos by Stefano Anzini were provided by Elmec Informatica