Steinway Street is a major shopping road running through the neighborhood of Astoria, in Queens, New York. In the early 1870s, on a four-hundred-acre site, William Steinway established in Astoria a factory and a village, where to house his employees; but the piano manufacturer was not the only arts-related company based in the area. Over 100 silent movies, including Animal Crackers, but also Martin Scorsese's Goodfellas and the most recent Irishman, and Brian De Palma's Carlito's Way were shot here, in Kaufman Astoria Studios (originally Paramount Studios), as well as Sesame Street, Orange is the new Black, and many other TV shows. In conjunction with Silverstein Properties and BedRock Real Estate Partners, Kaufman Astoria Studios have channeled $2 billion in private investment to renovate a five-block area at the intersection of Steinway Street and 35th Avenue, in the southern part of Astoria, adjacent to studios and other cultural assets, like the Museum of Moving Image and Frank Sinatra School of the Arts. The renovation project, dubbed Innovation QNS, is curated by New York architecture firm ODA and includes 2,700 units of mixed income housing, about a quarter of which will be permanently affordable, plus 450,000 square foot for retail space, small businesses and creative industries. But the key aspect of the project, as explained to Domus by ODA founder Eran Chen, is opening to the public 25% of the entire ground-level private space. Usually, this area would be destined to retail stores. "We told the developer that this was what the neighborhood needed". And that the value would be created later, on top of that.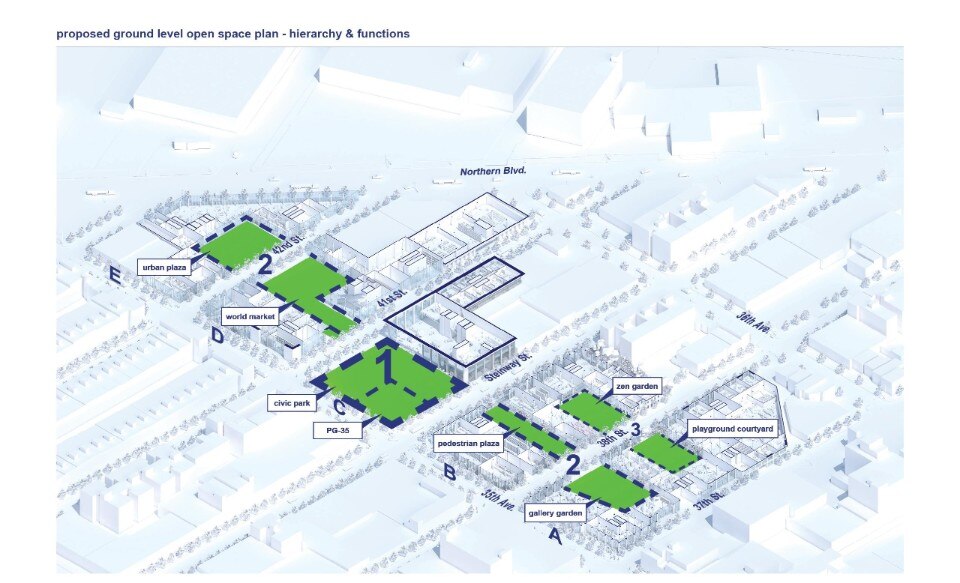 "This is a radical idea", points out Chen, adding that every participant to the project found it radical: developers, city planning, the local community. "At the beginning, we were the weird people who proposed something that doesn't exist", but then, he says, "everybody started to realize the potential and the value", and when the pandemic came, "the project looked like what everybody was looking for at the moment".
Such a radical approach is not so far from what ODA has recently proposed for Manhattan in Beyond the Street, the concept of a "new typography of inner courtyards that break up a typical NYC block and expands the public realm", envisioned in a video set in the Flower District: the neighborhood, that "over the past few decades has lost his charm", was a pedestrian-filled market area, that gave way "to car traffic and empty storefronts". For Eran Chen, that I meet along with ODA SVP Alexandra Polier in a meeting room at the firm's headquarters in Manhattan, not so far from the Flower District itself – it's their last days here, soon they'll move to a new, larger space in TriBeCa –, "the value that was given to the ground floor has distinguished the ability to live in democratic space" – where democratic space is, of course, a graceful way to define the streets of New York, and those of Manhattan, in particular. The issue is that the neighborhoods where that code was created "have lost their charme", he explains, as he rhetorically asks why anybody would live "in such an exclusive place" if nothing happens on the ground floor, stressing that "if every corner of a block is Gucci, if every restaurant is Michelin-starred", then that"s a shopping street for tourists, not a neighborhood to live in. "The artists have left, the soul is left, there's no music, there's no culture". Long story short, Mr Chen is saying that we have to refound the way we design cities from its base, and it's not metaphorical.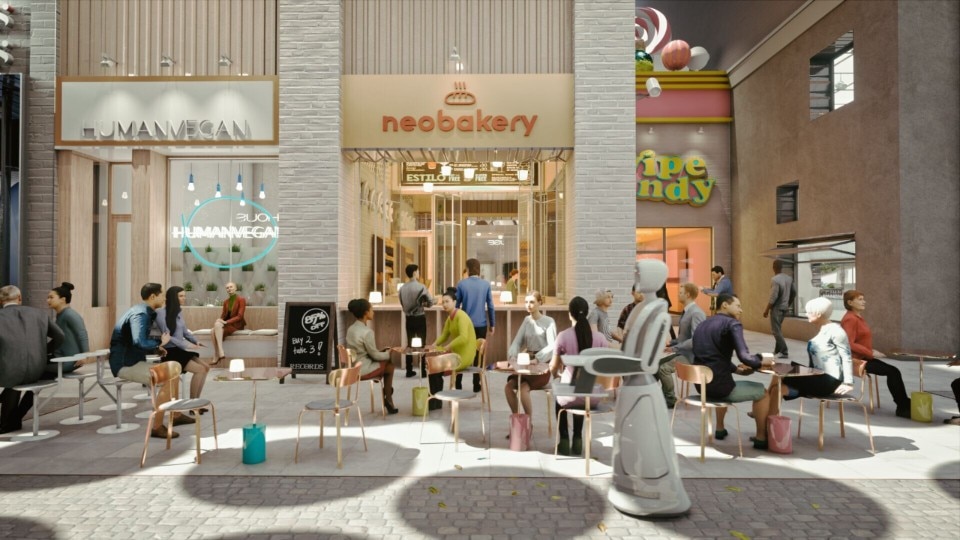 Eran Chen looks energetic and optimistic, charismatic, and transmits the distinctiveself-confidence of those with the gift of a visionary spirit; not only an architect, but a contemporary entrepreneur,With a keen analytical sense for problem solving; under many traits, and also because of a vague physical resemblance, he reminds a bit of Tony Stark as the character is portrayed by Robert Downey Jr's in the Avengers movies. As an architect working in New York City, he is lucky, he says, "because we can examine the big questions of cities in general in this island"; the then defines the City "as the epic of all cities", a small island that became overly densified, "and desired by the rest of the world", a place that allowed itself to be dynamic, because the private sector drives it. "People with money from all over the world came here with initiative and changed the form of the city consistently". And now the pandemic, "a terrible thing, because people die" on one side, on the other hand has given new opportunities. "Because it puts all of us in the same position to look at the right things".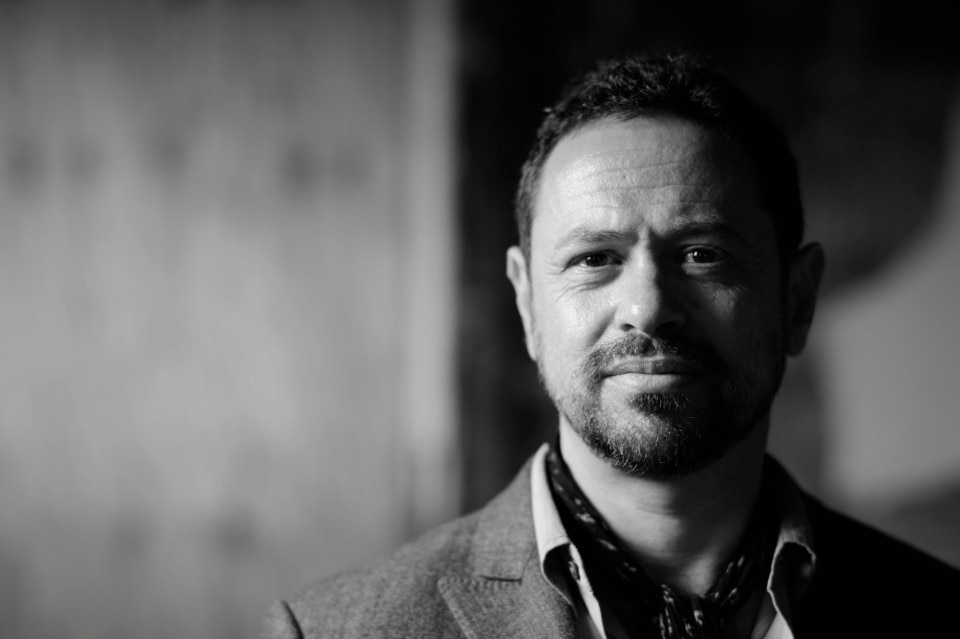 Eran Chen shows me some renders that illustrate how Innovation QNS will be on a gigantic screen, and some pictures of the site today, occupied by parking lots, one-story industrial and commercial buildings, and vacant spaces. The design part of the project followed a long filed research. "We mapped the needs of the neighborhood. There's a shortage of health care and educational facility, especially higher education and after school programs". He shows me slides detailing the survey conducted in the area, and how it was translated into the project with different facilities, "not just a park", but a variegated space where various initiatives are expected to take place, side by side with commercial activities: the idea of having both the market and the plaza in this renovation project is essential for Chen, who cites as an example of community life his visits to Abbiategrasso, a small town near Milan where his wife was born, and where it's normal – even for a New Yorker! – to greet everyone, to talk with everyone.
"Communities are very used to fight against the same issues: height, density, parking noise", and that's fine, according to Eran Chen, but for the architect, you can get much more than that. "We can create parks, we can create community facilities, we can we can create plazas", he says. And the Astoria project could be a scheme for more upcoming. "If we are programming correctly, and we shape it correctly, we create value on top again, then we can flip the entire perception" he says. "What we're proposing is to forget for a second the typical retail at the ground floor, let's create more gathering spaces. Let's program the ground floor in a much more diverse, affordable way, with community facilities, urban agriculture, spaces for artists. And then this will become the coolest place to be".
Construction of Innovation QNS will begin in 2023, with a first activation in 2025. In a few years, we'll be able to tell if such an ambitious master plan has succeeded in aggregating a community from nothing, building culture and vibrant interaction where today there is only a parking lot, an electronics store, a time-worn movie theater, and little else. All of this, in a half-deserted area of a neighborhood, Astoria, that is now known mostly for its food scene, and not for incredible new music production and concerts, or hip galleries, or street art, or avant-garde clubbing, all of which are things that you can easily find in Brooklyn or Manhattan, but not here. At least, not yet: what if Eran Chen, the Tony Stark of architecture, has found the infinity stone to turn all this upside down?
All images courtesy of ODA