In the first days of March, there was a great flurry of activity at the Waag Society Fablab in Amsterdam, where a group of 12 designers based in The Netherlands were invited to participate in experimentation with a new resin. Seeking to expand the prospects for design practice, eachset to work with the same quantity of material and an oven—the essential elements at the base of Ricette in resina naturale (or Natural Resin
Recipes), a collection of design objects that will be presented in Milan during the Furniture Fair under the aegis of Alessandro Mendini's Milano Makers association. The driving force behind the project is Carmine Deganello, who with Antonio Luchinelli has developed a new thermoplastic resin made with a range of natural ingredients. The innovative material is set to open up new production horizons within the design community, while stirring up important questions that may prompt design to interrogate the role of production itself.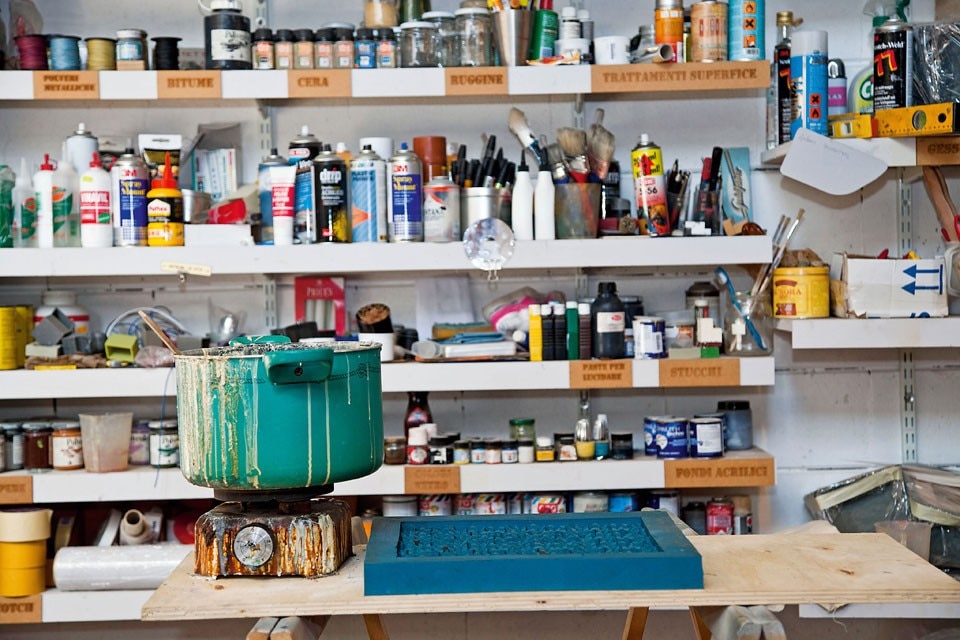 In accordance with Milano Makers' highly collaborative mindset, "Ricette in resina naturale" is a collective initiative, set in motion by Deganello together with Peter Van Kester. The spirit of the project, it seems, is as easy-going as the material itself, which adapts to almost any experiment and requires nothing more than a well-equipped kitchen-like set-up. "It's like inviting people to a dinner," Deganello explains, "during which
everybody produces and shares their food."
    Primarily because the resin contains no synthetic or toxic components, it is proposed as a sustainable alternative to existing thermoplastics in their wide-ranging applications. Furthermore, the resin is entirely renewable, which not only introduces the possibility of completely eliminating waste from the manufacturing process, but also potentially enables the objects produced to return to their raw-material state. In the bestcase scenario, such a material would smooth out the common distinction between product and waste, as well as rendering the production process reversible — in a course from waste back to product — without necessarily having industrial means or knowledge of production.
    While the introduction of plastics radically increased the freedom of design and its potential for limitless serial production, one might say that the qualities of this natural resin now offer design the chance to go beyond mere plasticity oriented towards mass production, and instead permeate into a self-made society where the outlines of the product and the position of its maker dissolve into a more fluent economy of objects.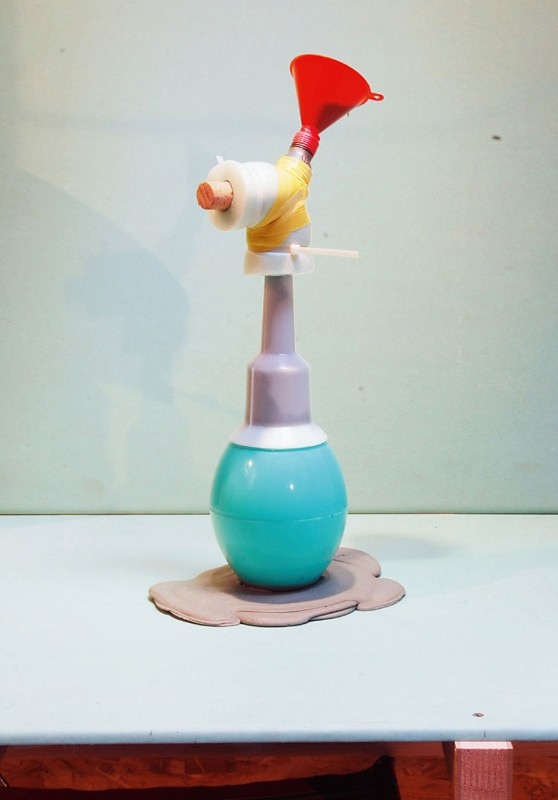 Along these lines, the young Dutch designer Sander Wassink has proposed The Bricoleur of Modernity, processing the resin in combination with standard parts that are readily available from any hardware store. By reconsidering those parts as a resource rather than as finished products, the distinction between their materiality and their function becomes more blurred, allowing for a poetic expression to emerge out of the most ordinary bits and pieces of mass production. "I'm looking for an industrial aesthetic of smart, beautiful connections," he says. In his use of the resin, Wassink playfully re-articulates industrial standards, moving towards an economy of unfinished objects, rather than one in which all objects are destined to become obsolete.
    During the two-day workshop with Deganello and Luchinelli, other designers exploited the resin's material qualities in combination with simple, low-cost moulding techniques. Jorrit Taekema, for example, transferred the grain of a raw wooden mould onto the surface of the plastic, while Sjoerd Jonkers worked with economical and easy-toassemble cardboard moulds that potentially allow products to be created at home.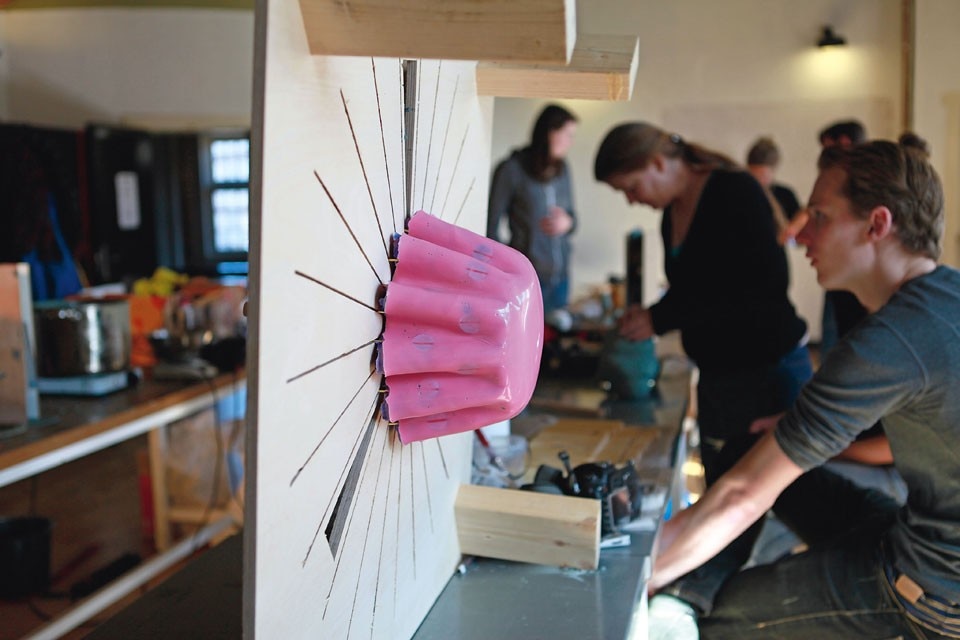 Keeping in mind that the resin is very easy to process, such low-tech approaches also mean that the mould and the object can essentially switch places, challenging the predominant position of the factory and its economy. By considering the mould as the product and bringing it into the home, the role of the designer and the industrial producer may eventually revolve around facilitating the mere possibility of objects, without actually having to produce the finished item. In Roel Huisman's vision, for instance, one adjustable mould could serve to make an entire set of tableware, produced and recycled in the kitchen.
    New materials generally need to satisfy certain standards in term of durability, but here one wonders if this particular material's impermanence is of far greater value to the resulting products, but also to the way that design can help to sustain our material needs. In such a projection, efficiency seems to make way for what is most effective, surrendering the unshakeable position of mass manufacturing for a more open and distributed form of production. "The project is basically one big question mark," Deganello admits, "but we're just beginning, and we need to be free to experiment."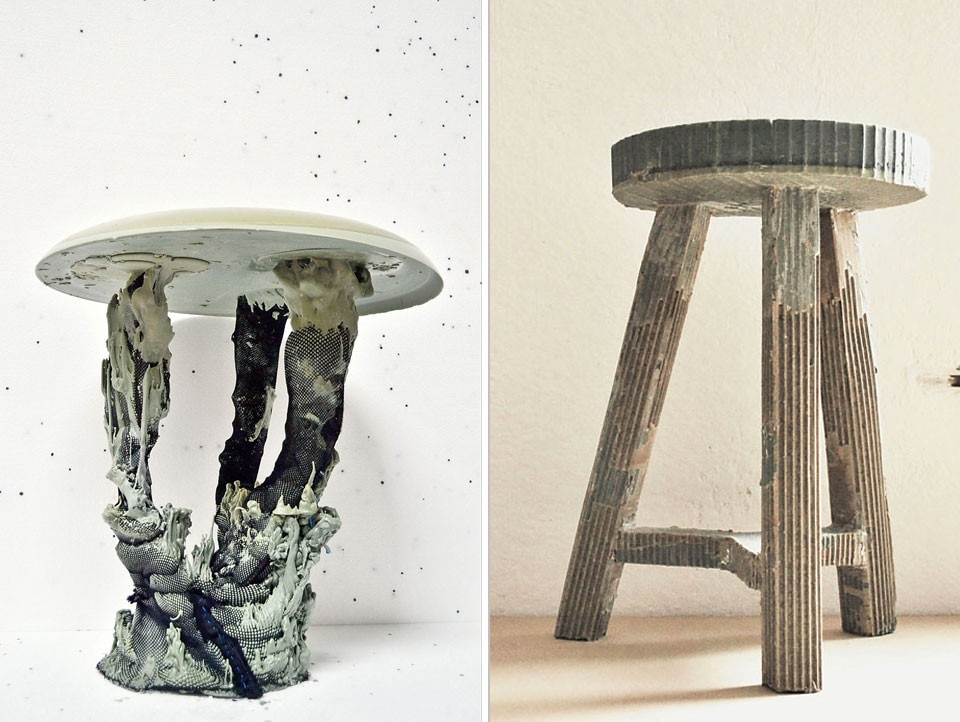 Clearly, the resin may not only serve as an alternative to other plastics. Because it is such an undemanding material, it has the potential to bring about a thorough reassessment in serial production. Industry would thus be brought out of its economic impasse and into a techno-creative force field in which it becomes accessible as a tool.
"It's a provocation!" Carmine Deganello confirms. This spring, one may hope that "Ricette in resina naturale" will not only showcase ways to design and produce with this new resin, but also inspire the design community to participate in the critical discourse that needs to surround such experiments.
The key issue is whether the role of the designer may take a radical turn, accepting that once the experiment is over, the production of objects might no longer be in his or her hands, and that society can reclaim the power to decide which reality to construct. In this possible future of a society of amateurs, the real experiment will be ongoing, and design will venture in a new direction — one that makes no promises for the future of its past achievements, but rather is as malleable as this resinous material. In anticipation of such scenarios becoming reality, we can visit the former Officine Ansaldo in Milan to see
the explorative results produced by the Dutch designers and the two Italian project leaders. Their work has led to the production of the first limited edition of design objects to use this special resin, and visitors to Ricette in resine naturale will also be able to participate in some on-site material experiments of their own.