In a small site of about 37 square metres, located in Nada, Hyogo prefecture, Japanese architecture studio FujiwaraMuro Architects has completed a single family house that ingeniously captures daylight through a series of specific openings.

Located in a downtown residential area, the building contrasts with its direct surroundings, featuring simple geometric lines and a wooden façade. This continuous wooden surface connects all floors inside the house, which are animated by a series of double ceiling heights and different floor levels. A central atrium connects and articulates the interior space, while a system of wooden shelfs allows for ample storage space.

The kitchen and living spaces are located in the first floor, while a lower floor harbours a garage and storage room. The bedrooms are located in the building's top floor, and allow access — through a series of independent staircases — to a luminous attic.

Through a series of slatted tables, stairwell and skylights, the architects have allowed daylight to reach all corners of the house. "Three-dimensional gaps and holes in the visual field eliminate any sense of a two-dimensional spatial narrowness, or sensation of being fenced in," conclude architects Shintaro Fujiwara and Yoshio Muro.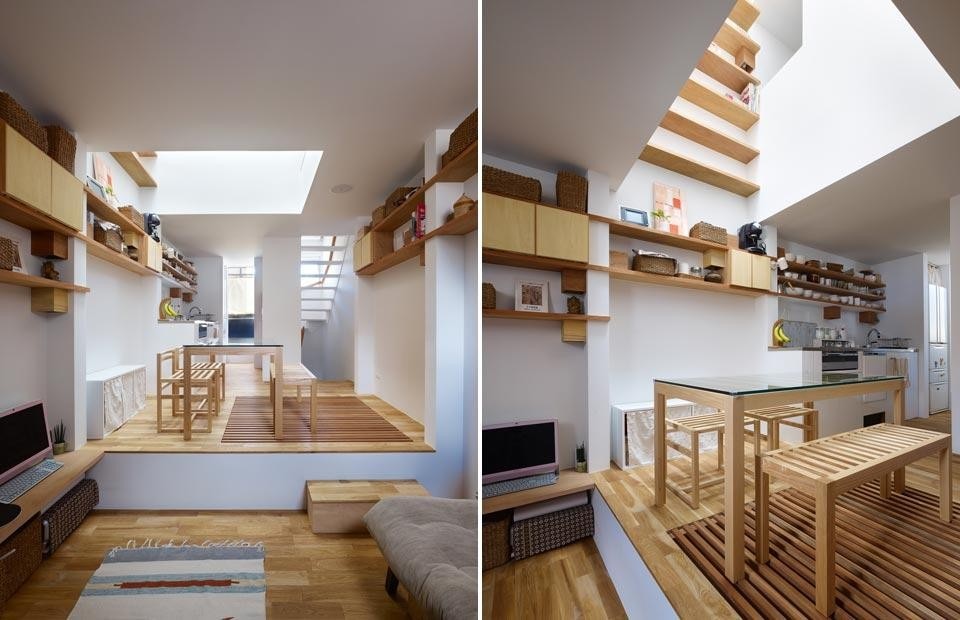 FujiwaraMuro Architects: House in Nada
Architects: Fujiwaramuro Architects (Shintaro Fujiwara, Yoshio Muro)
Location: Nada, Hyogo, Japan
Program: single family house
Site area: 36,95 square metres
Built area: 22,13 square metres
Total floor area: 63,33 square metres
Structure: wood
Completion: 2012