Oslo-based architecture studio Reiulf Ramstad Arkitekter has recently completed Selvika, a beach access ramp commissioned by the Norwegian road administration for the city of Havøysund, which seeks to highlight the experience of walking from the roadside down to the beach, in what is a striking natural location.

Located in the extreme north of Norway, in a landscape almost lunar in its barren and inhospitable beauty, the facility should be completely self-sustainable in terms of power input and waste output. "The general notion was to create a human detail in the vastness of the landscape that is as timeless as the landscape itself," state the architects, "and that brings attention to the relationship between the duration of experiences and the hugeness of the spatial circumstance."

The architect's main concern was to slow down this movement and make the path itself a means of refocusing the experiential mode: a measured, restrained approach that creates awareness.

The monolithic structure in concrete is developed with a clear geometric strategy based on a study of organic circular organisms. The project contains a series of various functions such as parking, bike shed, public toilets, benches, open kitchen and fireplace.
Instead of a more traditional a dual solution with staircase and ramp, usually adopted for universal accessibility, the architects assumed the ramp as the common entryway, developing it into the integral character of the project. In order to create the reductive motion, the ramp had to be very long, and thus the winding river of the path prolongs the approach to the beach, opening up new perspectives and experiences for the visitor.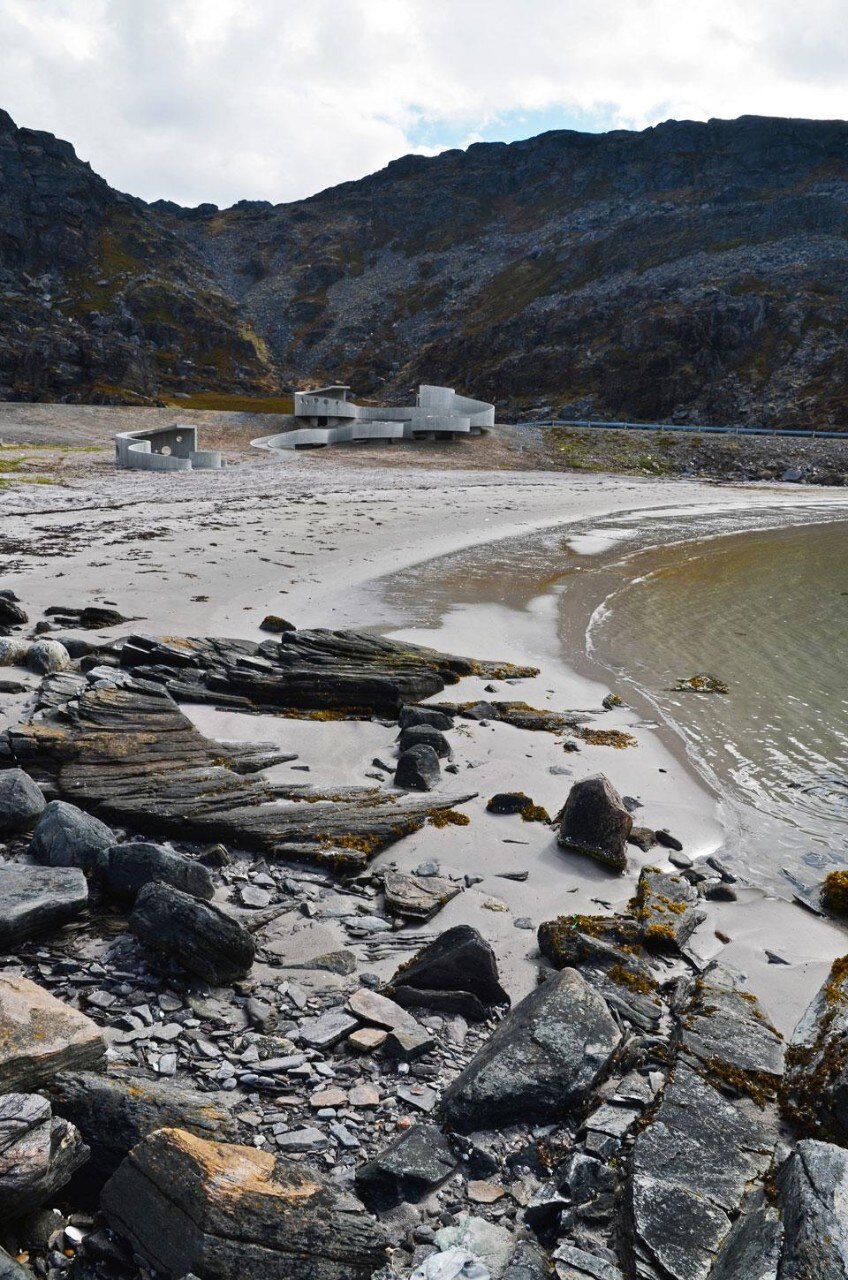 Reiulf Ramstad Arkitekter: Selvika beach access ramp
Location: Havøysund, Finnmark, Norway
Program: Architectonic multipurpose landscape structure
Client: Norwegian public roads administration
Size: Landscape area 10,000 square metres
Commission type: Direct Commission (2007)
Status: Completed
Year: 2012