Cutlery is a clear symptom of (lack of) social belonging if it is used inappropriately. Placed on the plate in a certain way, it gives the waiters unequivocal signals about our appetite and the enjoyment of eaten dishes. At the table, it should be laid out according to a real etiquette. However, we do not care about it, preferring a casual table setting that rewards closeness and conviviality by sacrificing the etiquette itself.
Therefore, a great ritual envelops this everyday object, which in its most baroque expressions mobilises an almost perverse propensity for specialization. The hugest cutlery sets reach up to 18 pieces, even though they are used in a restricted and generic form, generally limited to just three pieces, in "real" life.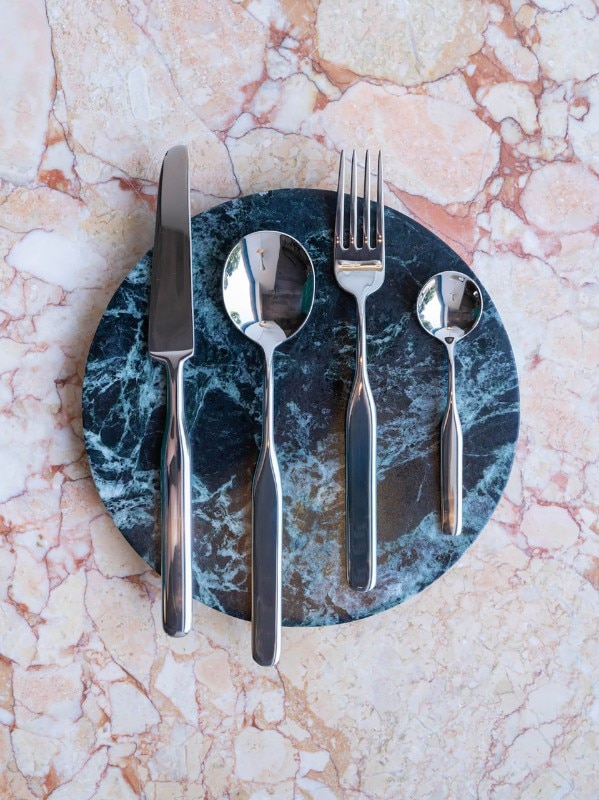 Despite all these rules, the use of cutlery is a fairly recent habit, especially the fork. Appeared just before the year 1000 and banned by Pope Innocent III as a lust, it became established in Italy from the 14th century onwards, before crossing over to France through Catherine de' Medici. The nobility, even the Sun King, preferred to eat food with their hands, refusing the use of a tool that imposed controlled gestures and seemed to distance them from a more immediate and carnal relationship with food.
In recent years, the trend in tableware has become increasingly spontaneous and light, more sensitive to quality than to the number of pieces on display. The indestructible and easy to clean steel has replaced silver as the material of choice for tables all over the world. The cult of the democratisation of everyday life has imposed itself as an inclination to "good form", while having fun experimenting with unexpected morphologies or embracing new sustainable materials capable of adapting to a use of cutlery that does not necessarily require the compresence of the table.
A purchase we make in a thoughtful way, cutlery is a long-lasting and, at least in the Western world, indispensable part of our everyday lives. In a world obsessed with the prominence of food, not even the most innovative forms of food design, or the new packaging of food delivery, or even the bad habits of a meal emptied of sociality by confinement, seem destined to deprive us of their role as partners and mediators.
Opening image: Fjord Teak Flatware, Jens Quistgaard, Dansk International Designs, 1953