John Hoke has a tough job: envisioning the future of sport. Along with his team of over 1000 designers, Nike's Chief Design Officer designs hundreds of apparel and footwear styles each year. That includes the Tokyo Olympics Team USA Medal Kits, a set of products that the American athletes will wear during the medal ceremonies. The kits are quintessential to Nike's goal of designing inclusive footwear and sportswear "by innovating and designing with impact" but in no way sacrificing quality and performance. In his interview with Domus, Hoke elaborates on this objective, explaining how the "form follows function" design adage has expanded to encompass sustainability, circularity, and inclusiveness.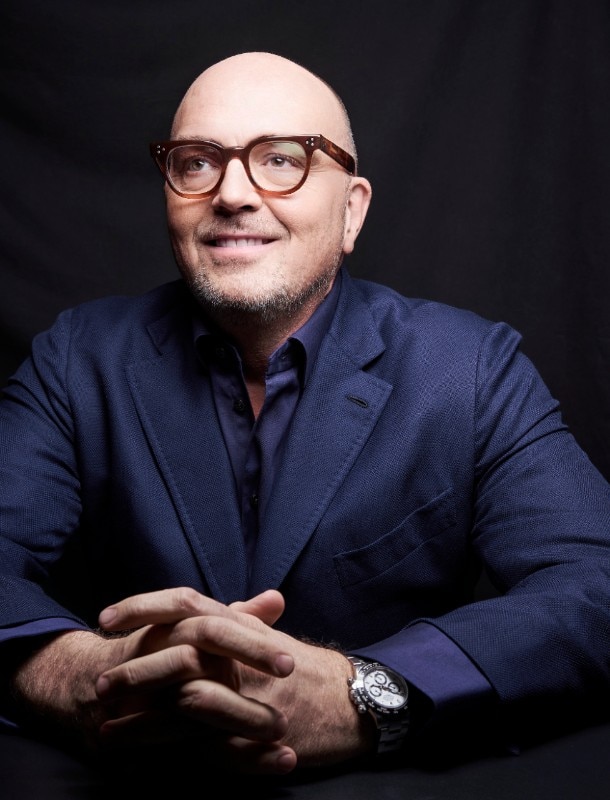 Domus: At the Tokyo Olympics, you're introducing a number of innovative products. If you had to choose just one to be remembered 20 years from now, which one would it be? 
John Hoke: That is a hard question. So many to choose from. There's two that I'm thinking of that are bookends to the theory and practice of what Nike design is known for. 

One is the AlphaFly Next% 2, which is a running product that marathoners will use. We announced the AlphaFly 18 months ago at our future forum, hopefully heading into the 2020 games. In the 18 months that we had idle waiting for the Olympics, we didn't stop. We went back to the product, and we improved the way that the foam set works, the way that the airbag works, the way that the knit upper works. Now it's even more precise, more performance-based and backed by science, giving an even bigger edge and advantage to the athlete.

I picked that because I think that we'll look back to that as a breakthrough product that took the ambition of the athletes to a new level, trying to push and break a boundary like the two-hour marathon. And we didn't just give that to the elite athlete, but we distributed that to anybody who runs in races. That product has changed and brought excitement to the racing community. I think we'll look back at that as a hallmark breakthrough product. 

And the second product would be? 
So that's a performance-based solution. The other bookend is the shoe that we've just completed for the medal stand kit, and that shoe is the Nike Glide Flyease. What we've done in the months between the pandemic and the delay of the games is that we decided to move off of the Space-Hippie model.
We want to celebrate the Olympics and Paralympics with the idea of hands-free easy entry footwear. It's important because it combines performance with sustainability. It's the Space Hippie 2.0, 3.0, 4.0. It adds accessibility, easy entry, easy exit. It's easy to close, easy to contain. The idea is to use innovation and design to invite more people to do sports and use the medal stand moment to signal and symbolize the best of athletes, inviting even more people to participate through products that are easy to use.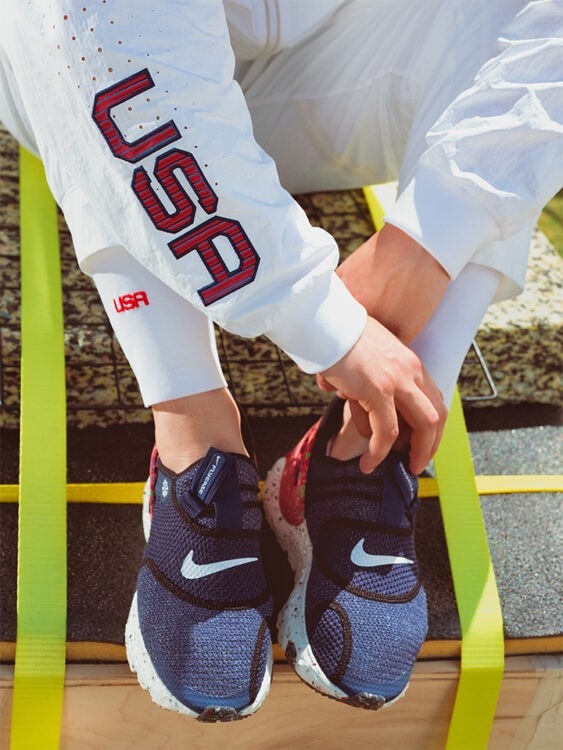 You mentioned sustainability. How do you approach this topic, and in which way are you integrating it into your design process? 
When I was a young designer, there was a design adage that was pretty powerful and pretty prevalent, and that's "form follows function", right? In a way the marriage of beauty and utility alone created a great design. Obviously, there are other emotional components, aesthetics compositions, et cetera. Where Nike is going is far more interesting, and it is to have form and function follow the ecological footprint. What I mean is that beauty and utility now must also respond contextually to responsibility and sustainability and eventually circularity.
How does that translates into a product or a product line?
In some cases, more sustainable products could have felt like there had been a compromise, that they are not as good. Our job as a company is to move to zero impact but also have zero compromises. Nobody wants to buy a product that's not good just because it's sustainable. With the Space Hippie one of the things that we were really pushing to do was to introduce a new vocabulary and to introduce something that at the time was avant-garde. It was very different for Nike. It was a raw expression of the product. 
The color was more muted. The finishing details were refined, but still left raw. And so there was a charm and an elegance to the way that we solved this problem. And I know for a fact, that's what attracted a lot of the consumers into this space. In many ways, one of the roles of companies like Nike is to really progress the conversation and the dialogue around design, utility, and sustainability. Thanks to the Space Hippie that vocabulary, that theory, and that mindset are finding their way across all of our product lines. We're meaningfully changing and evolving the aesthetic of our company. The charm of these products is different, but most importantly, it is in no way a compromise.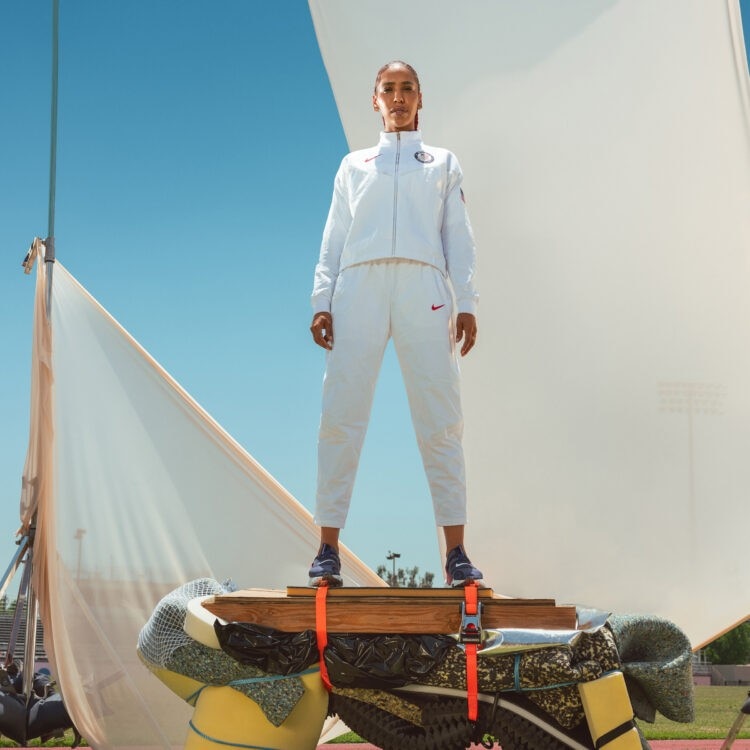 Another element that you're exploring with your design is inclusiveness. How do you create a product that's good both for the elite athlete, Olympian or Paralympian, and the regular person?
We view the Olympics and the Paralympics as an invitation to create amazing products that meet the ambition of the athletes who spent a good chunk of their life getting ready for these moments. This becomes a point of inspiration and innovation, to show the world what's possible. I really enjoy that challenge. There is as always a spectrum of solutions that Nike creates helping athletes to break world records and win gold medals, and also breaking through the barriers. Helping athletes achieve what's possible is a bit like Nasa going to the moon. If we obsess over the details at the elite athletes level, those learnings can cascade all the way down to the everyday athlete.
That's pretty spectacular. This wide spectrum lets us apply the innovations in technologies required to bring more people into sports and give more people a glimpse of the power of sports. As a design organization, we like to say that if you have a body, you're an athlete, literally. So our audience is everybody. And we seek to include everybody in the world of sports because we know how powerful sports can be to help people find their potential. It doesn't matter if it's the elite athletes or the first-time athlete.
In other words, just do it.
Right. The point is that we are not discriminating against anybody: we're creating for every and all athletes. It, it doesn't matter their ability, their ambition, their body type, their style. We are a company that is possessed with the progression of potential through sport. We will meet any athlete wherever they are, and we hope that we'll be able to help them achieve and find their own greatness. That, to me, is one of the greatest gifts that Nike can give to its audiences.