This article was originally published in Domus 1050, October 2020.
I attended my first Salone del Mobile in September 1979. I had seen design magazine reports that showed interesting projects by Italian designers with exotic names – Vico Magistretti, Achille Castiglioni, Enzo Mari, Ettore Sottsass, Mario Bellini, Angelo Mangiarotti and others – and these reports spoke of the Salone. I soon understood this was the forum for the profession I was aiming to join. In those days, I travelled mostly by train or by Dan Air (the easyJet of its day) though it was far less easy. Money was also complicated; it was either cash which risked being lost or stolen, or traveller's cheques which were inconvenient.
Arriving in Milan, I would spend most of the first day looking for a hotel. I walked around inspecting rooms until I came upon Hotel Nuovo, with the subtitle Aperto tutta la notte ("Open all night"). It's still there in Piazza Beccaria opposite the police headquarters, and well placed between the Duomo and Piazza San Babila. It was affordable and I was shown a good room on the piano nobile with windows opening onto a small balcony, where I dined on pizza and beer most evenings before heading out to the openings. I had very few contacts, but meeting anyone was not so easy anyway as it needed precise agreement on a place and time in advance, and there was no way to make contact if late.
The collective mood at the end of the 1970s seemed to me to be one of impasse, the quest for expression of logical thinking having reached the end of its road. At design school, teachers were still pushing for a functional aesthetic, although I was more interested in objects expressing an atmospheric and poetic one. I don't remember what was shown at the early Salone I visited, but it was not a fertile period and the only ones seemingly enjoying themselves were the wilder Studio Alchimia collective, who were I think the first to disrupt the calm waters of the furniture world. And, a little later, the more calculated Memphis. The creative lead of Alchimia was Alessandro Mendini (who was also the Domus editor at the time), while Sottsass led Memphis. The Alchimia aesthetic seemed to be a modern take on Vorticism, proposing furniture as a backdrop to a more dynamic way of life. The Alchimia events were rather discrete compared to the Memphis openings, which were almost certainly the first big Salone event in town, with crowds of people pressing to get in.
I remember the mixed emotion of realising simultaneously that the rule book of design had been torn up and that I disagreed with the approach that proposed to replace it. It was clearly a major new force in design but not one I was drawn to. Among the exhibits, I thought Andrea Branzi's Century sofa (which may have been shown in the second year of Memphis) was a more interesting blend of rational thought and something more poetic. It looked like an upholstered bench with an armrest which rested on wheels and could be moved along the seat, and it represented something I was trying to achieve: a more poetic expression of function. I think it probably encouraged me to go ahead with my Thinking Man's Chair. There was too much expression for me in the other Memphis pieces, like music played too loudly. The benefit was that I returned to art college with more belief in doing things my way, and not so willing to accept that design had to comply with the old rules.
There were other events and openings in town which took place in the background. I remember the lavish Tecno parties on Via Monte Napoleone, Danese showroom exhibitions, Zeus, the Plastic club, Nicola Guiducci the DJ, Raman Schlemmer and Tito Pastore (Fiorucci's art director). There was, as there is now and then, a sub-current of change. In 1983 I thought of giving up my studies at the Royal College of Art in London and moving to Milan. I visited the studios of Sottsass, George Sowden and Andrea Branzi with a thin portfolio of work looking for a job. Branzi told me he'd give me some work if I moved to Milan, but it was a vague offer and I didn't have the money to make it happen. A year later James Irvine –who was a year a head of meat the RCA and a close friend ‒ got a job in Milan through Paolo Viti, the art director at Olivetti.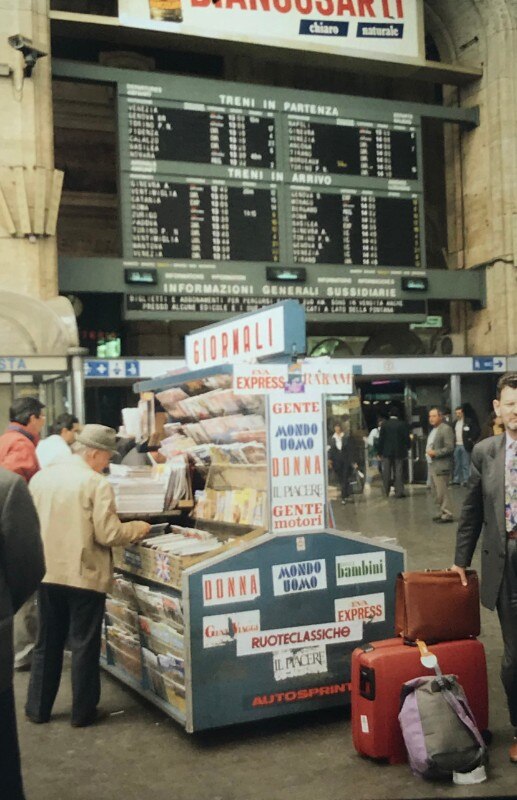 That brought me much closer to Milan. From then on I had a place to stay, and through James I got to meet people in Milan. The studios working for Olivetti at that time were those of Ettore Sottsass, Michele De Lucchi, George Sowden and Mario Bellini, and among their teams were a circle of designers including James Irvine, Simon Morgan, Geert Koster, Nick Bewick, Ferruccio Laviani and a wider circle of friends including Nathalie Du Pasquier and Mathilde Bretillot. There was a bar on Via Pontaccio that George favoured where we often met for a drink, and later on Bar Jamaica, which stayed open late, before James discovered Bar Basso. One of these early Salones, I went to Milan with the name of an architect-journalist Bepi Maggiore on a piece of paper, given to me by my Italian girlfriend who had heard of him through a friend. It wasn't much to go on, but one evening there was a party at the old Varesine Luna Park, and I found myself talking to a group of people. I took out the piece of paper and asked if anyone knew Bepi, and one of the group was Bepi. I went to meet him a few days later to show him my work and he invited me to join him and a few friends who were driving to Hungary via Vienna for a design meeting called "Rastlos", organised by the Viennese architects Eichinger oder Knechtl. Marco Zanuso Jr kindly offered me a lift and we drove all day to Vienna. Massimo Iosa Ghini was also one of the other participants. On that trip I met a network of designers from all over Europe, including Andreas Brandolini, which consequently resulted in me living in Berlin in 1984. Milan, particularly during the Salone, has this ability to connect people, and in my case it gave me my first break in the design world.