Through a tunnel-like series of rooms, painted a saturated shade of pink, is how visitors gain entry to Camp: Notes on Fashion, the Costume Institute's highly anticipated annual Spring exhibition, which opens to the public today. This first half of the exhibition unpacks the etymology and history of camp, and defines the elusive term to offer viewers a contextual apparatus for examining it in relation to high fashion, the raison d'être of the exhibition.
The introductory wall text informs, "fashion is one of the most enduring conduits of the camp sensibility" – an idea that curator Andrew Bolton (with Karen Van Godtsenhoven and Amanda Garfinkel) materialises for the public through the display of menswear and womenswear high fashion examples produced in the 'fashion capitals' of the West (many of which made coincidently this year) – which we have come to know as the bread and butter of Costume Institute. This year, the curators make good use of the museum's extensive collection by interspersing sculpture, painting, photography and drawings from the 17th century to the present among the clothes, totalling about 250 objects.
We enter the exhibition from the past, in the royal courts of Versailles (or "camp Eden"). But this is a transhistorical past, that has us jumping between various historical moments and 1980s-to-present day fashions: for one, a Karl Lagerfeld for Chanel 1987 ensemble imitating princely garb juxtaposes portraits of the sartorially flamboyant Louis XIV and Philippe I. The fashion examples in this first section thus single out instances when designers circled back and drew on camp iconography well established in art and fashion. Linking these examples is the male form, from 17th-century body posturing (se camper) to the homoerotic, neoclassical 19th-century beau idéal, illustrated by a Thomas Eakins photograph and, one century later, Vivienne Westwood nude stockings with a fig leaf at the crotch, and imagery by Hal Fischer and Robert Mapplethorpe.

The exhibition's immersive soundtrack adds another conflicting, chronological layer to visitors' visual journey, merging the luminous rendition of Judy Garland's "Somewhere Over the Rainbow" with narration by Rupert Everett (whose theatrical work connects closely to Oscar Wilde).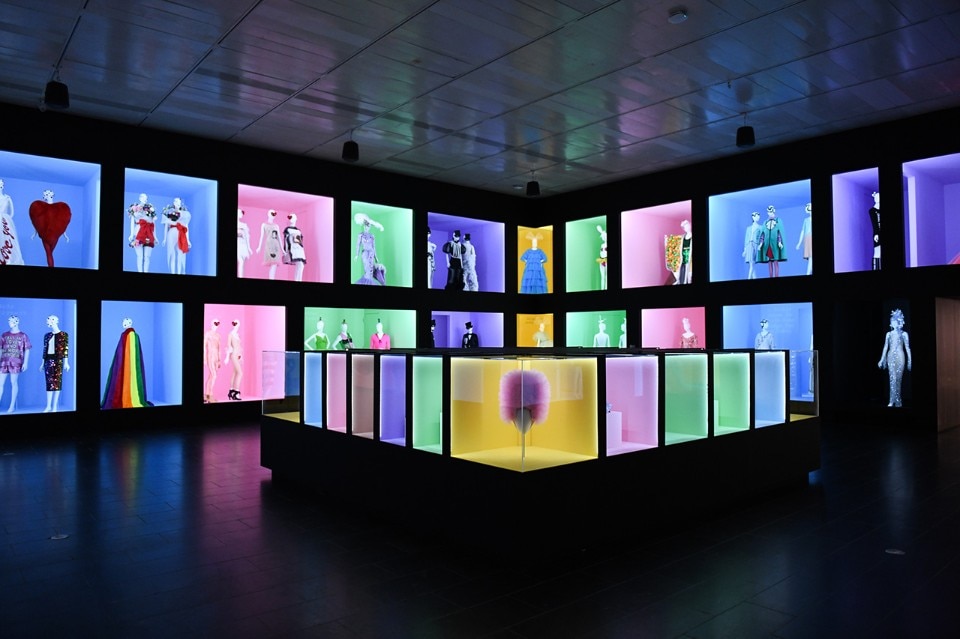 Wilde occupies a central place in one corridor, as we move into the 19th century, when camp becomes part of a coded language in queer subcultures of England and North America. The covert nature of camp is experienced spatially in section one's claustrophobic exhibition design and read as literary metaphor. Tropes like that of the effeminate aristocrat and dandy, are mediated not only in visual materials (including photographs of the cross-dressing duo Fanny and Stella) but in literary examples and other texts such as J. Redding Ware's 1909 dictionary, Passing English of the Victorian Era.
It is, of course, Susan Sontag's 1964 essay Notes on Camp that provides the exhibition's conceptual framework for the aesthetic of camp, endowing it with the characteristics irony, humour, parody, pastiche, artifice, theatricality and exaggeration. In the Sontagian gallery, camp is laid out structurally as a set of definitions, with her text paired alongside material examples, ranging from a self-portrait of Andy Warhol, an Emile Gallé cabinet to a plumed Balenciaga frock from 1965-66, while up above a scrolling crawl "typed" her essay to the sound of the typewriter.
According to curators, this text, written as it was during a moment of activism and increasing liberalism, did much to bring camp to the mainstream.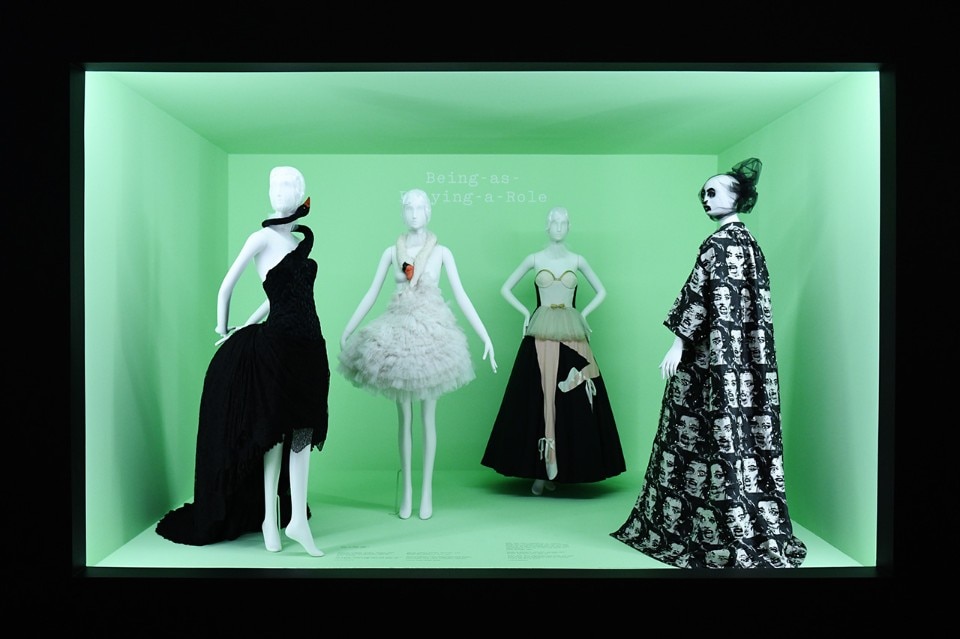 This is signalled in the exhibition's final room through visual and audio cues: the pink tunnel turns into an enormous space in a plethora of deep pastels, and the secretive whisper to a "cacophony of voices" – in reference both to the number of designers represented and the quotations that are read aloud and written out next to clothing items. These quotations elucidate the "theme" of each lit-up, jewel-toned box that houses fashion from the 1980s to present, as varied as Jeremy Scott's irreverent Pop creations for Moschino and Giambattista Valli's dramatically tiered tulle gowns. Stacked in two rows and lining the walls, the boxed displays are meant to dazzle (this sometimes is meant very literally, seen in the sparkling suit and bouffant worn by Liberace) as we've come to expect from today's many Instagram-purposed blockbuster fashion exhibitions, not least those of the Costume Institute. 

 Dazzle and shock it should, but missing as usual were real life camp examples drawn from beyond the bubble of high fashion, as the word "culture" mentioned emptily in the introductory wall text implied. However, one extract from that text, stating the "exhibition raises more questions than it answers," is certainly true. Camp: Notes on Fashion is a meaty, thought-provoking show that will extend past the museum's walls.
Exhibition:

Camp: Notes on Fashion

Curators:

Andrew Bolton, Karen Van Godtsenhoven, Amanda Garfinkel

Location:

The Metropolitan Museum, New York

Opening dates:

9 May - 8 September 2019