First, he studied at the Politecnico di Milano, then he moved to Japan, and today he's living in Hong Kong. The life of designer Andrea Ponti, born in 1985, is a long link between Italy and Asia. Since founding Ponti Design Studio in 2013 in Hong Kong, he has worked on industrial design projects for companies such as Panasonic, Philips, Samsonite, Oppo, and won coveted design prizes (iF Design Awards, Red Dot Design Awards and Good Design Awards. In our interview, he reveals what it means to combine the Italian and Asian spirit in an ever-evolving field such as industrial design, particularly in regard to technological products. And above all, what changes he expects to see in Hong Kong, which today is going through a troubled period, frayed by the protests, China's response and the consequences of the Coronavirus pandemic.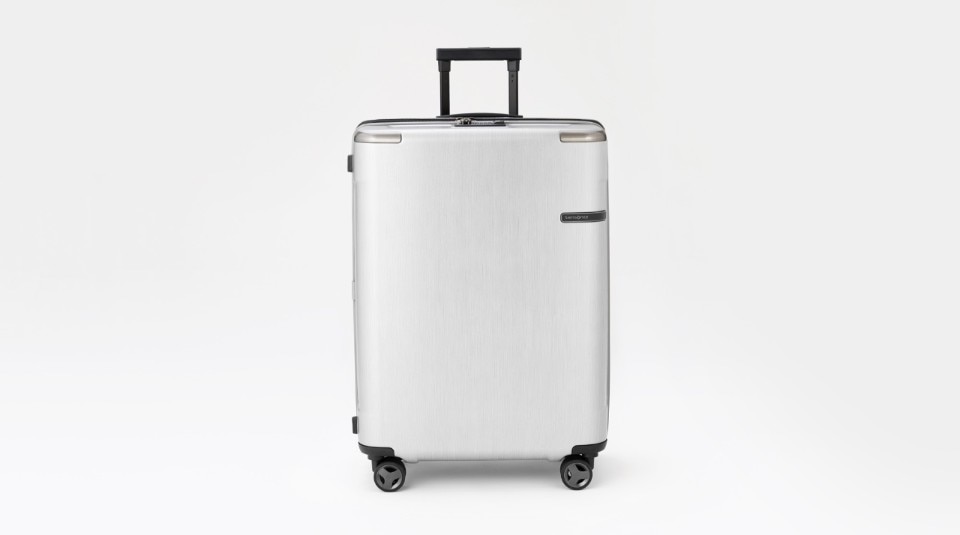 When did you decide to open a studio in Hong Kong, and why?
In 2012 I lived in Kyoto and worked for the studio of designer Junzo Yamashita. I had won the first prize in an international competition organized by LG, and after spending almost seven years in Japan, it was time for me to get back in the game and take the next step, so I chose Hong Kong.
The experience in Kyoto taught me a lot: I learned to draw starting from elementary geometric shapes and using natural materials such as bamboo, ceramics, washi paper, and urushi lacquer. All this while working in close contact with local craftsmen, and talking with them exclusively in Japanese. 
After a few years, while thinking about going back to self-employment and designing industrial products, I started to explore the relationship between design and technology. Here in Hong Kong, I found an extremely dynamic and multicultural environment, where I could fully express my design language. Today, the studio is located in Sheung Wan, an extremely vibrant area with an informal atmosphere, a few steps from Central (the financial district) on Hong Kong Island.
What does it mean for you to work on the industrial design of a technological product in 2020?
The projects of Ponti Design Studio always combine the technological component with a sophisticated formal language. The results are products like the Matrix PowerWatch, a smartwatch that can be powered by the body heat of its wearer, and therefore does not need to be recharged. It has been a revolution in the field of wearables and watches. Or Samsonite Evoa, a line of suitcases in which the material itself is innovative. Scratch-resistant polycarbonate, extremely light and resistant, with a matt brushed finish. It immediately became a best seller in Asia thanks to its modern and elegant design.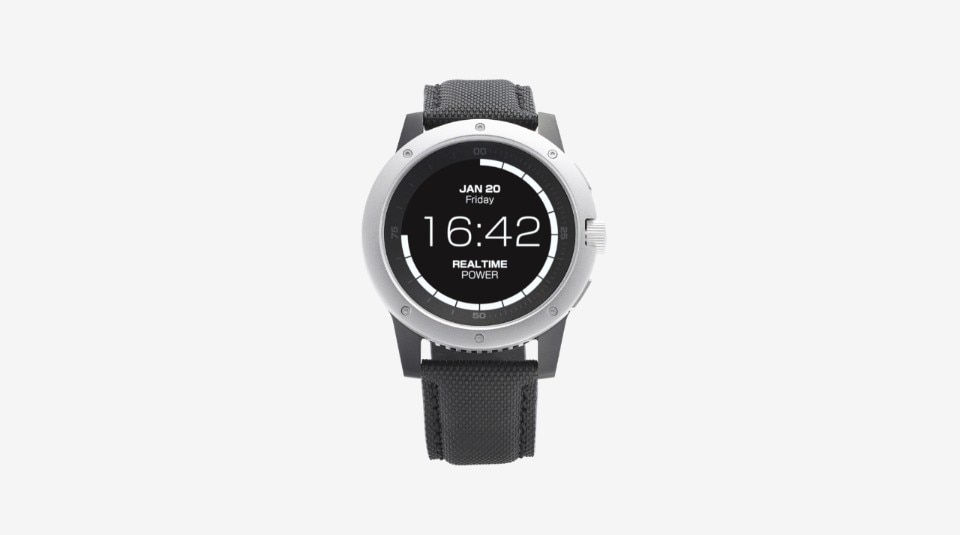 How has the design industry changed in Asia since you started working in the field?
Interest in design has grown significantly in recent years, not only in Hong Kong but all over Asia. The local design community is very active and new art and design centers like West Kowloon Cultural District, M+, Tai Kwun and PMQ did not exist until a few years ago. Cities like Shanghai, Bangkok, Taipei and Seoul have also become extremely vibrant cultural hubs. Italian design, as well as Japanese design, are highly appreciated and constantly evolving.
How important is the legacy of Italian design in your work and how important is the Asian influence?
I left Italy after my university years, about 15 years ago. My experience at the Politecnico di Milano was fundamental, but having never worked in Italy I grew up observing projects and designers from all over the world. Despite this, I think that in my work there is a strong Italian identity, which goes far beyond the concept of form or style. As a studio, we take a lot of inspiration from Italian design, in particular from the 60s and 70s, but we have chosen a deliberately more minimal and universal language, perhaps more Asian. This is aimed at meeting an extremely varied and international clientele, but it also has to do with the type of products we design. Part of our success is precisely due to the fact that we have managed to combine these two languages, Italian and Asian, especially Japanese, to create something hybrid, unique and universal. Every product we design has a strong bond with Italy and with Japan and Asia as well.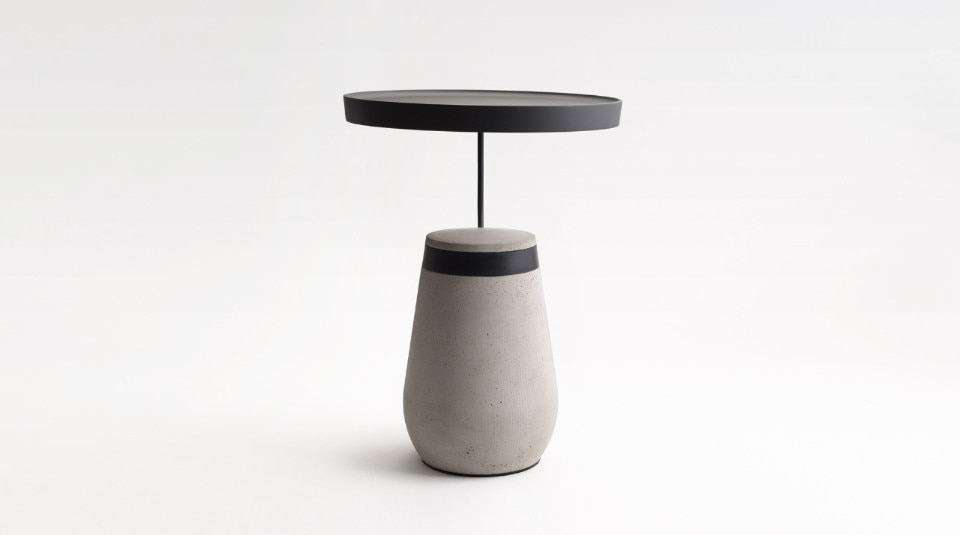 First Japan, then Hong Kong: what has changed in a designer's life, moving from Japanese to Cantonese and, more broadly, Chinese culture?
In Japan I had the opportunity to refine my design language by working in close contact with a design world very different from the Italian one. It was almost a parallel world. The bond with this country is still very strong, and I was lucky enough to marry a Japanese woman who follows me and supports me in every project. 
In Hong Kong I discovered the more pragmatic side of design. Being close to the place where industrial production takes place (Shenzhen and the Guangdong province in Southern China) is definitely a great advantage, especially when you are working on technological and high-end products, where being able to follow the development and production phase allows you to have full control over the final product. 
I chose Hong Kong for many reasons. Perhaps the most important one is how easy it is to get in touch with new people, to be able to discuss any new project (we speak and work almost exclusively in English). And also the strategic position, and the charm of such a modern and multicultural city.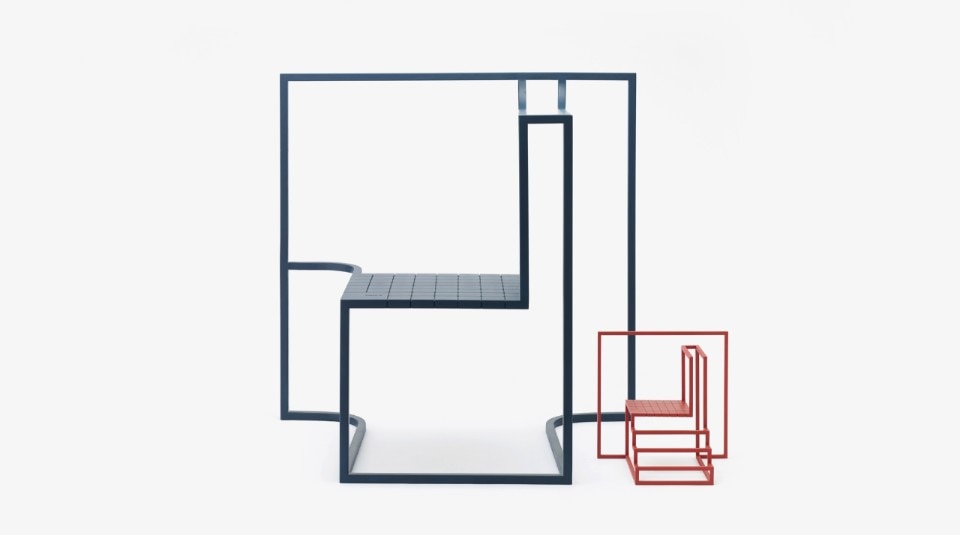 Do you think this will still hold true after the measures taken by the Chinese government to contain the protests, such as the new national security law?
I think design is a universal language that goes far beyond political and ideological differences. We have always tried not to take a side, but to be neutral and impartial in our judgments. 
However, this unstable situation has caused various inconveniences and has had a negative impact on our turnover over the last year. Many projects have been postponed or even cancelled, and even the Hong Kong Design Week (BODW 2019) could not be held. As the tension seemed to ease, the pandemic made the situation even more complicated. The new national security law should have no impact on our personal and professional life. Although it is an uncertain period and the tension is still quite high, we are optimistic and focused on 2021 to put the events of the past year behind us.
Will Hong Kong's strategic role as a bridge city between the West and China also remain unchanged?
I think Hong Kong's strategic position is not in question, let alone its culture and spirit. On the contrary, I think that a new critical and creative spirit can emerge from complicated periods, such as the one we are experiencing right now. This forced pause, due to the pandemic, was the right opportunity to take a breath of fresh air and rethink the production system. I'm sure Hong Kong will stand up and reaffirm its centrality in the international design scene.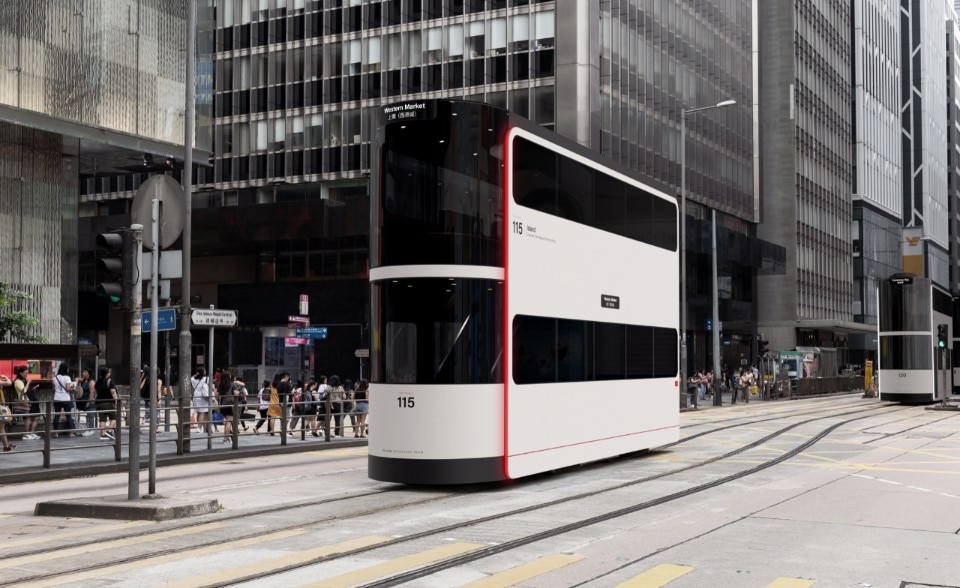 How has what you call "the spirit of Hong Kong" affected your work?
Hong Kong is a daily source of inspiration. We have created several products that explore particular aspects of the city and its culture. 
Kanban, for example, is a steel and concrete side table inspired by the busy streets of Kowloon. The product has an asymmetrical structure inspired by the large neon signs of the city. Or Shadows in the Windows (Salone del Mobile 2017, Superstudio) a series of abstract seats that tell the theme of urban density through a metaphor. 
We recently presented Island (also featured on Domus), the concept of a driverless, double-decker tram designed for the city of Hong Kong in the post-Covid era. The name Island derives from the particular design of the interior, in which large circular 'island' seats encourage social distancing: passengers sit in a radial pattern, facing outwards as not to breathe in the direction of other travellers. 
Island is a concept that deals with different aspects of design, from the product to the urban landscape. It represents the spirit of the city of Hong Kong, always looking to the future, and offers a new idea of public transport in which the concept of physical distancing is already outdated. 
It is a wide-ranging project that spans from industrial design to the urban landscape, addressing a whole series of extremely topical issues such as the integration of new technologies in the world of transport, the need to rethink common spaces and aggregation, the need to restart tourism and the economy. 

Then there are other projects in which this spirit is less visible, but always present. I think there is a bit of Italy, Japan and Hong Kong in all the products we design.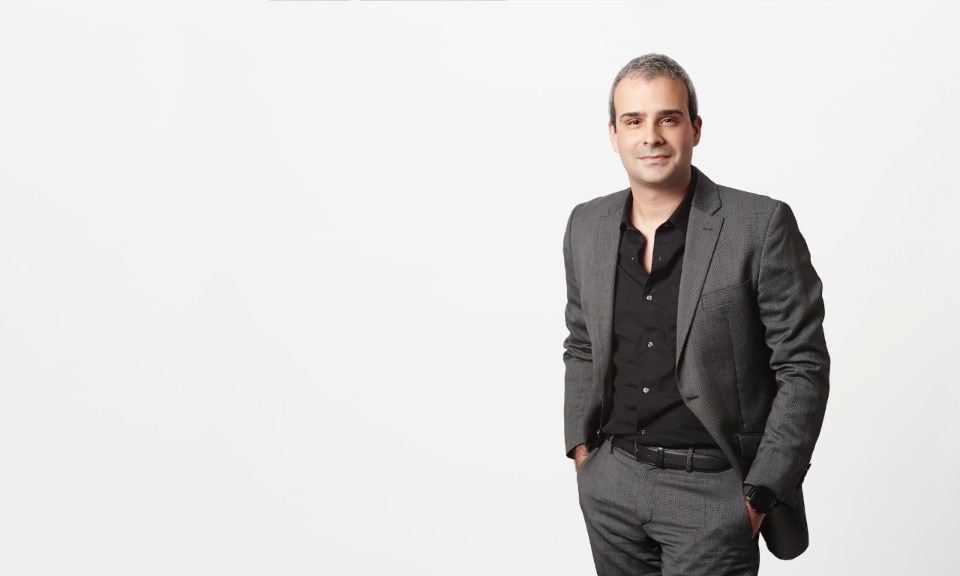 How did you experience the first phase of the pandemic, and what effect did it have on your work?
The pandemic brought changes in our daily habits, in Hong Kong as well as in the rest of the world. We have not experienced a real lockdown like in Italy, but we are currently facing a third wave of infections. The political situation has had a much smaller impact on our daily lives. 
As a studio, we have redirected most of our resources into the creation of new products that can help deal with the emergency caused by COVID-19. We are very active in this field, and we are receiving a lot of requests during this period. Industrial design can really make a difference and allow us to get back to normality as quickly as possible. We are currently developing several robots for the decontamination of public places such as trains, hotels, schools and hospitals, and also products for the prevention, diagnosis and treatment of the virus.