"Everyone wants to own the end of the world," reads the first line of Don DeLillo's recent tale Zero K (2016). It is a prelude to a scenario of contemporary conditions teetering on the edge between reality and the near future.

The American author describes long halls of screens showing scenes of violence and catastrophe: floods, fires, tornadoes, self-immolation, mass migrations and plagues. These are worlds manipulated by scientists and futurologists; they introduce us to the Anthropocene, a name for our current, human-influenced geological epoch. The story is about humans seeking to dominate not only the environment, but also their own life by means of cryonics, a medical method of freezing and preserving the human body, an attempt to escape and control the inevitable and imminent end.
Many designers seem to frequent this scenario with proposals that resonate with the prophetic words of Victor Papanek, "Design must become an innovative, highly creative, cross-disciplinary tool responsive to the true needs of men. It must be more research oriented, and we must stop defiling the earth itself with poorly designed objects and structures." (1971)
Shahar Livne, Metamorphism. © Design Academy Eindhoven. Photo Ronald Smits
Shahar Livne, Metamorphism. © Design Academy Eindhoven. Photo Ronald Smits
Shahar Livne, Metamorphism. © Design Academy Eindhoven. Photo Ronald Smits
Shahar Livne, Metamorphism. © Design Academy Eindhoven. Photo Ronald Smits
The Israeli designer Shahar Livne took up this invitation in her pamphlet Metamorphism – Will we mine plastics in the future? (2017) Climate change, deforestation and the spread of pollutants are inevitably threatening the existence of natural materials such as wood and autochthonous stone, and related knowledge and techniques are destined to disappear. At the same time, materials that are the result of environmental contamination are emerging, and man-made materials such as plastic are proliferating in our surroundings. Livne's project speculates that plastic might have use as a new material for crafts. In the not-too-far future, she says, plastic will no longer be produced as a petroleum derivate, but extracted from nature. This would make design become a tool for maintaining a constant relation with the world's complex and continuously changing circumstances, where knowledge takes on major value. The complexity generated by the blurring of borders will define the space of the designer's role, especially between cultural and social space, and between economic value and speculation-driven value. Studies like the one by Livne are a stimulus to see an opportunity in all this to overturn a situation in which the loss of references seems to have become an excuse for our attitude of impotence and resignation.
In 2016, the London-based design firm Studio Swine created the Fordlandia collection of furniture and lighting, inspired by Henry Ford's failed utopian initiative to build a factory city deep in the Amazon rainforest. Founded in 1920, the settlement was meant to supply the Ford company with natural rubber. Streets, houses and schools were constructed around the factory. The industrialist wanted Fordlandia to be an ideal city, and devised a strict system of rules that governed inhabitants' behaviour. After a number of revolts against the oppressive code, the factory city was abandoned and left to be reclaimed by nature in the 1940s. For its Fordlandia collection, the Studio Swine duo used a pre-synthetic plastic called Ebonite, which is made from locally produced vulcanised rubber, sulphur and linseed oil, yielding a very hard material. The name derives from its original use as an artificial substitute for ebony. Thanks to its durability and sheen, it is an ideal alternative to the tropical wood used traditionally for furniture production in Brazil. Swine's Fordlandia items pioneer the idea of design as a tool that can help us understand what type of economic and productive scenarios can be configured in the future. The road to travel could be not trying to minimise our impact on the environment, but transforming the consequences we have already produced.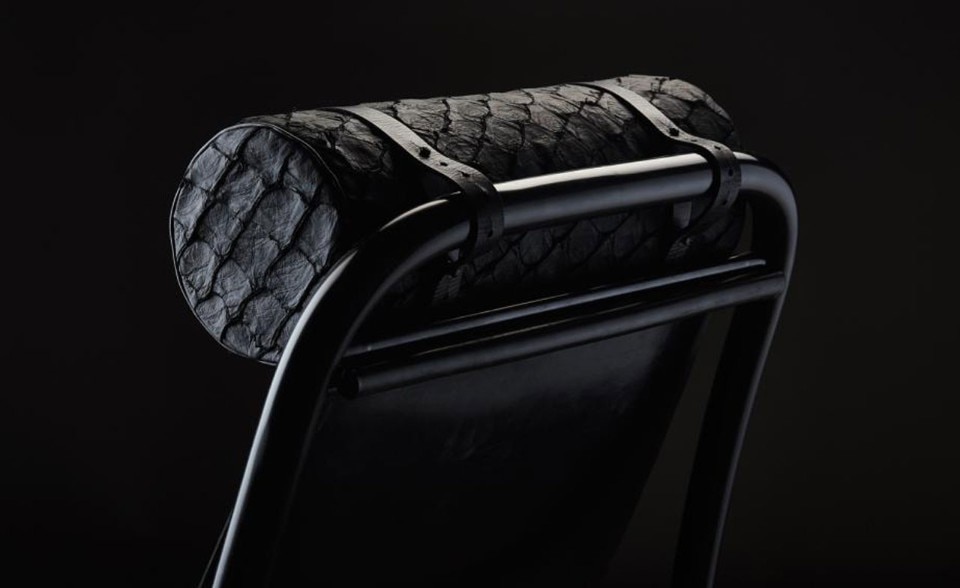 During the 2017 Milan Design Week, the Subalterno 1 gallery in Lambrate hosted the exhibition "Anthropocene" organised by Stefano Maffei and Marcello Pirovano. A small but convincing selection of designs by Massimiliano Adami, Carlo Contin, Lorenzo Damiani, Gionata Gatto and Nucleo was on display. In his introductory text, Maffei writes how experimental knowledge is necessary in the Anthropocene, because recognising our failure is no longer enough. We need to act in order to modify the status quo. This call to action attunes the Italian design world to an international debate that is already extensively endorsing contents essential to defining new spaces of action for designers. We must not only push in the direction of a comprehensive and shared widening of design's terrain, but also look beyond objects to understand the systems of ethics, economics and politics that produce them.
In the same context, we wish to mention Studio Formafantasma with its seminal research on natural polymers, used for its Botanica collection; Maurizio Montalti/Officina Corpuscoli with his Growing Design initiative; Francesco Faccin and his Honey Factory; and Giovanni Innella and Gionata Gatto with their Geomerce project.
The 22nd Triennale di Milano event– to be held in 2019 under the curatorship of Paola Antonelli – will be called "Broken Nature". It has been announced as an occasion for intense reflection and in-depth analysis of this issue. The projects presented will illustrate the concept of design as a window that opens onto a precarious and complicated operational landscape. The idea is that design is not limited to taking a passive snapshot of the existing circumstances, but can contribute to determining real, possible transformation.