Despite the 19th year of the largest Czech design festival, Designblok, was shut down two days before its official closing, due to the heavy wind which destroyed the roof of the fairground, the festival was again an energized showcase of Czech and international design scene. Divided into the three main sections, including Openstudio for independent designers, Superstudio for established and new brands and Art House, devoted to more experimental artistic installations, the festival shows how Czech design emancipated itself throughout the last 10 years. Czech design scene is growing fast and whole new generation of recent graduates and even students starts to present its work. Have a look on ten of the most promising young design studios, currently working in Prague.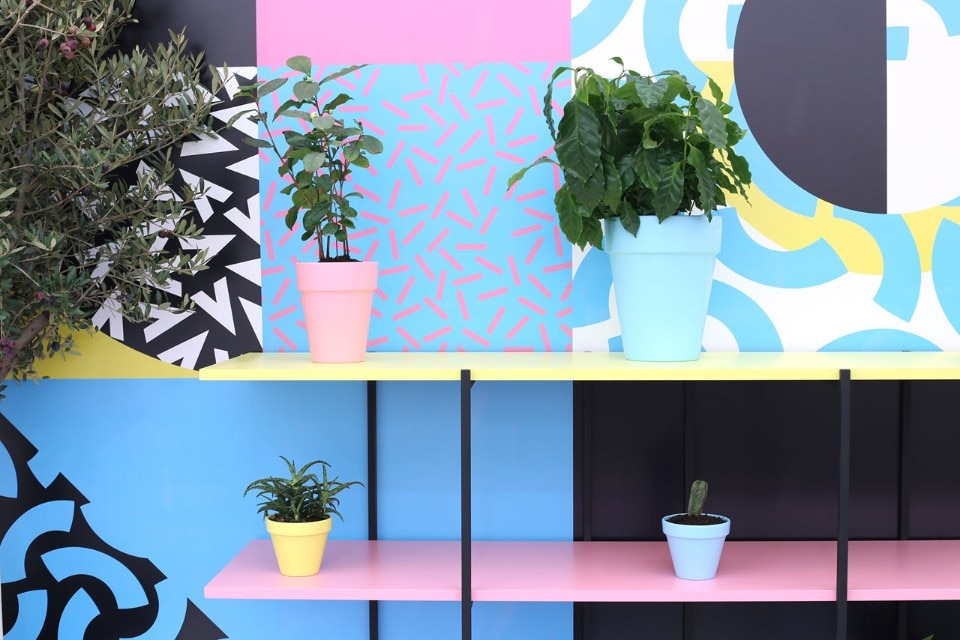 Herrmann Coufal
Eduard Herrmann and Matěj Coufal made up a dynamic design duo that has been recently awarded as a Discovery of the year of the Czech Grand Design award. Currently, these two young designers have shown themselves in a good light again and presented a prototype collection Spaghetti, including two coat hangers that transform the prosaic inspiration of classic Italian pasta into the expressive interior objects made of bent tubes. The design, created in their own production, also echoes the design ingenuity of Castiglioni's Parentesi lamp. 
Aman Original
Young furniture brand Aman Original's booth was based on the contrast between pure white space on one side and "neo-postmodern" wild décor on the other. The installation was also combined with Haenke project, focused on plants, to expose simple furniture together in a harmonious plant installation. Elementary storage systems and tables were designed by designer and craftsman behind the project Jakub Vávra in a wide variety of monochrome and multicolored designs.
Markéta Držmíšková and Petr Hák
The award for the best prototype of this year's Designblok went to creative couple Markéta Držmíšková and Petr Hák who, in their strikingly colorful installation of blue and orange shades, exhibited a brand new Torque lighting collection. The dominant of the series is a hanging chandelier, reminiscent of a kind of levitating space module, composed of several segments of hand-blown crystal. Ever changing rainbow iridescent effect of the glass reminds the natural visuality of soap bubbles.
Palma de Alma
Two graduates from K.O.V. studio (Jewelry Studio) at UMPRUM in Prague, Magdaléna Vojteková and Viktorie Prokopová, launched their new venture Palma de Alma and debuted its first Riviera collection of accessory at Designblok. Inspired by their personal travels and time spent at the sea, they designed a collection of beach essentials, including slippers, towels, swim plates and bats. Motives of the palm and water are featured on all the objects, which are defined by subtle pastel colors and 1980s look. 
Untitled Collective
Consisted of students of UMPRUM in Prague Bonifác Beneš, Cyril Dunděra, Ondřej Lalák and Jan Večerek, The Untitled Collective is a brand new design studio of friends, working in the field of product and furniture design. Their debut collection called Residuum includes massive ash wood table and bench, made of simple rectangular elements to create a modest everyday-like furniture pieces with the precise attention to details and craft. The sand-cast aluminum bowls were also on display.
Superior Objects
An interesting collaboration between graphic designer and typographer Vojtěch Říha and ceramic designer Matěj Polách resulted in the collection of vessels and ceramic objects called Superior Objects. The duo translated the entire alphabet into the practical products of circular shapes. The individual letters were visually rotated to achieve the final shape in the material. The duo also introduced new color versions of some of these spatial letters.   
Lukáš Novák
Last year Glass Studio graduate Lukáš Novák continued his research in the traditional techniques of Venetian mirrors, which updated to the new contemporary consumer culture. Precisely cut elaborate forms of Just Winners mirror translates traditional morphology to the contemporary sport iconography of car races and football teams. His collection of Ultra Fragile vases uses the strong typography to apply into the melted glass by special metal stylus.    
My dvě
Working mainly with wood, My dvě studio was founded by Monika Matějková and Veronika Watzková, both studied at UMPRUM in Prague. They are focused on designing and producing refined small objects balancing on the edge of children's play and adult's imagination. After several collection of wooden figures and building sets, they came up with the personalized collection of  totemic figures called Zahumny, inspired by mythology of Czech fairytales. 
Filip Mirbauer a Pavla Boháčová
Minimum collection is the collaborative effort of Filip Mirbauer and Pavla Boháčová. They designed a series of products, based on the minimal use of formal elements to achieve forms, as simple as possible. The collection includes children crane and set of toys, connecting cork with stainless steel and soft upholstery. Mirbauer and Boháčová also showed collection of hanging lights Levitate, which are suspended from above by using magnets. 
-P3L1-
Libor Sošták and his partner in work and life Petra Sošťáková, working under the name of -P3L1-,  presented their collection of vessels called Ruins. It consists of different vases composed of several various parts, which are made by different procedures (manual modeling, 3D printing, rubber casting). The parts are then united with one material - cast stoneware. These stoneware shapes were are then subject to erosion, which determines the overall shape and structure of the final objects.
Event title:

Designblok Prague International Design Festival

Opening dates:

26 – 30 October 2017

Exhibition venues:

Superstudio, Openstudio and Art House