"Pinned Up" at the Stedelijk museum in Amsterdam is the first large solo exhibition by Marcel Wanders, a Dutch designer known for products containing unexpected material expression and eccentric interiors.
Recognised as one of Holland's most famous designers, Wanders first came to the public's attention in 1996 with his Knotted Chair – a combination of hi-tech materials and a traditional macramé weave – which became a symbol of Dutch Design of that period, partly thanks to the backing of Droog Design.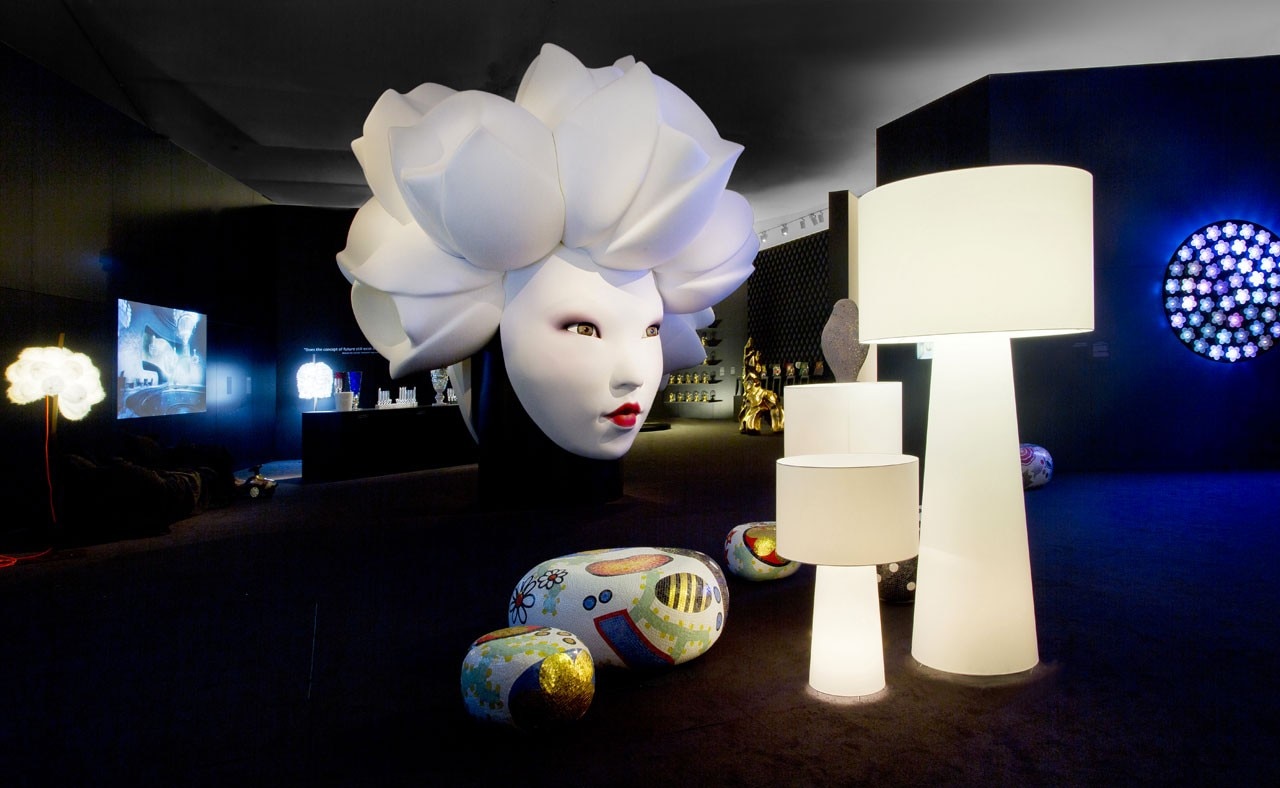 The exhibition is split into three different zones: a black central area, a white one that develops like a peripheral route around it and a third lounge zone. This division expresses the dualism of the designer and a production that features diversity and discovery.

When visiting on the opening day, Wanders explained to me that bipolarity has accompanied his personal career and development as an individual and a designer. "We have divided the exhibition into two hemispheres, left and right;" he told me, "we try to show one side of the analytical world in the rational, educational white zone; it is a positive area that brings beauty into people's lives. Another way of looking at the same world, however," continues the designer "reveals a universe where things are less rational, a place of dreams and perhaps doubts, a place that can sometimes be sad and painful. These two worlds are both important and present in my life."
The exhibition route begins with a forked junction where visitors are asked to make a choice, starting with light or darkness, almost as if unconsciously splitting the public into dreamers and thinkers.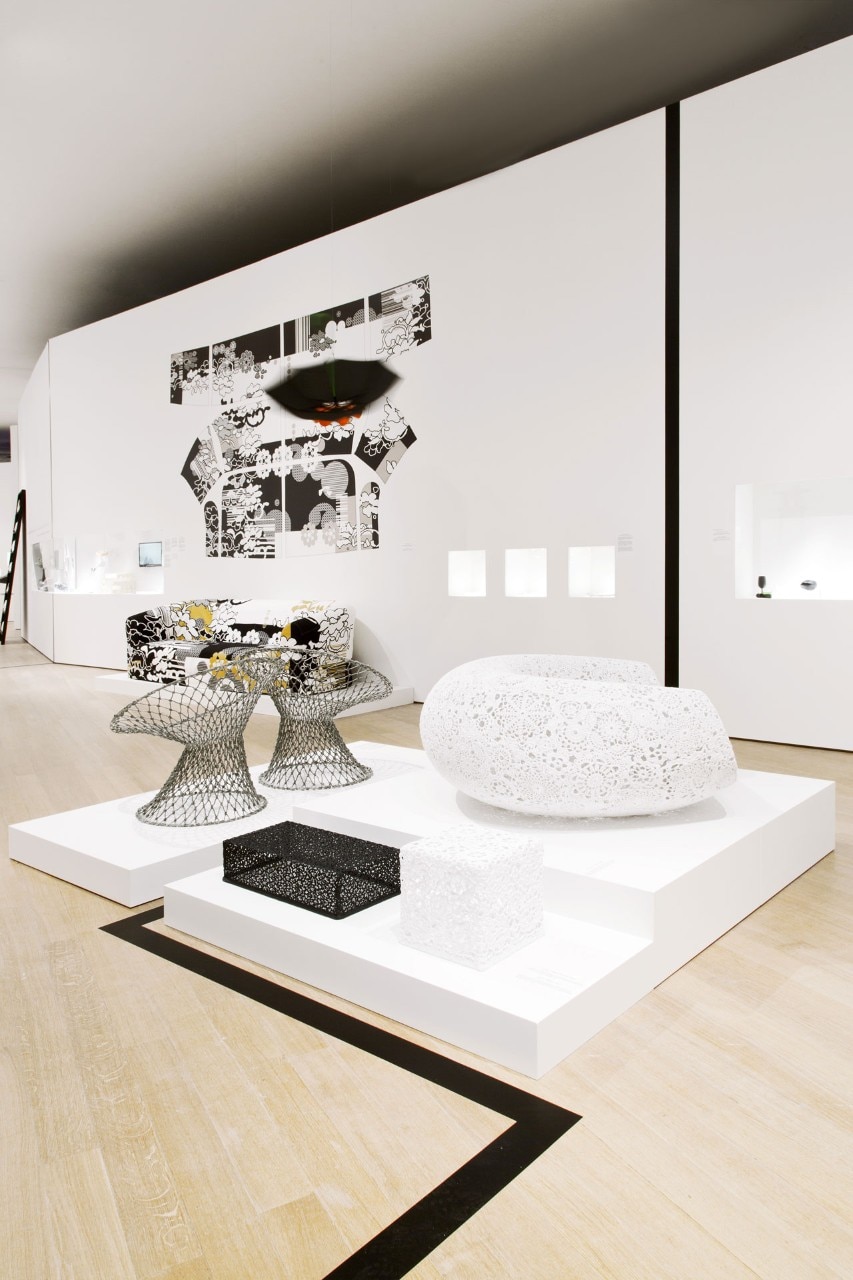 The white zone, in turn, is divided into ten themes, including crafts, narrative, innovation, archetypes and a change in scale. Here, arranged in a traditional linear display are classics such as the Knotted Chair, the Egg Vase, the Zeppelin lamp and the Lace Table, as too bolder experiments such as the Airborne Snotty Vases, printed in 3D and based on virtual models of mucus produced by sneezes.

Contrasting with this luminous space and almost like a showroom, the black zone introduces visitors to more personal and experimental works, shown in grander and more theatrical settings. Here there is a clear intention to create an immersive space, like an underwater journey, with mysterious objects such as lamps worn by half-naked women (three static performances for the opening), gigantic revolving heads and an abstract and perhaps slightly invasive sound landscape.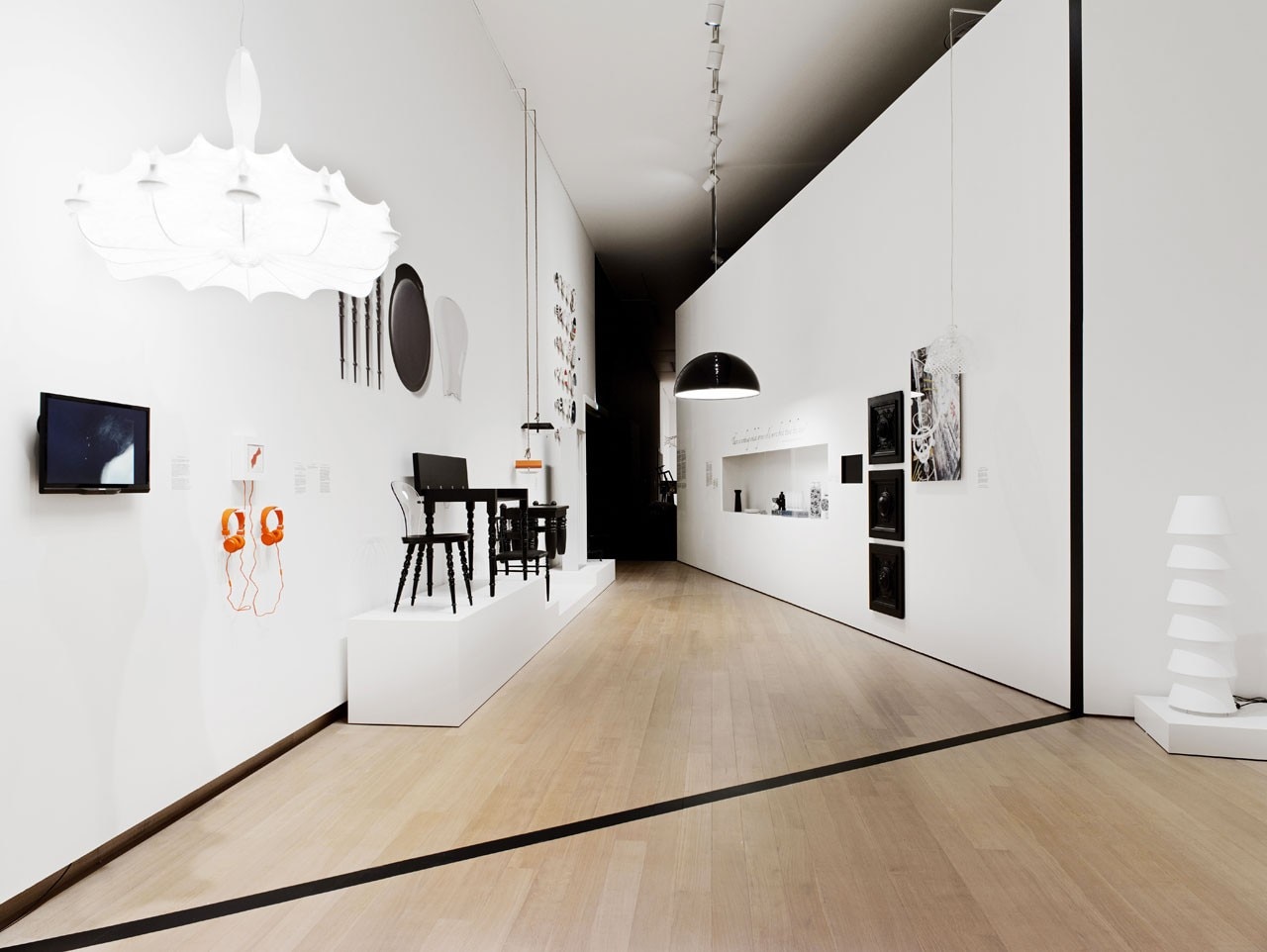 This zone also features more technological works such as the Wallflower Bouquet and Virtual Interiors, a series of seven dynamic pictures presented for the first time and representing imaginary digital environments, enriched with some Wanders pieces, in certain cases never put into production.

The last zone, the lounge area, finally offers visitors an opportunity to discover catalogues and advertising campaigns linked to Wanders work as a creative director and highlighting some of his partnerships with other big names in the sector such as Jasper Morrison and the Moooi brand, of which he is a cofounder.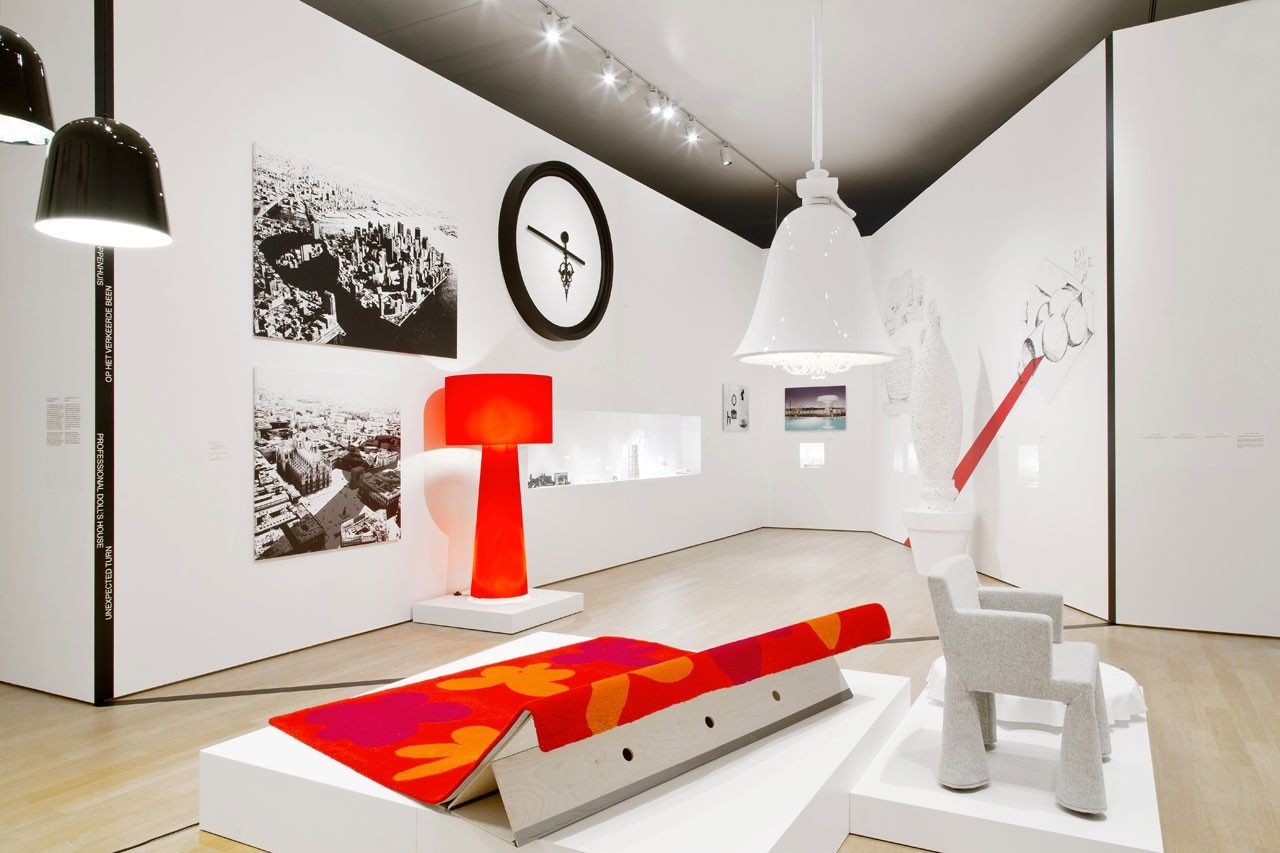 "Pinned Up" showcases 25 years of Marcel Wanders' work; the designer sees the event as a milestone, the end of one chapter and the start of a journey in a new direction. "I have looked hard at my past for the last two years because of this exhibition", Wanders tells us, "and I think it is a very important time for me; after it I shall have to break away from some things. In ten years' time, I shall probably find myself dividing our designs into those that came before this event and those that came after it."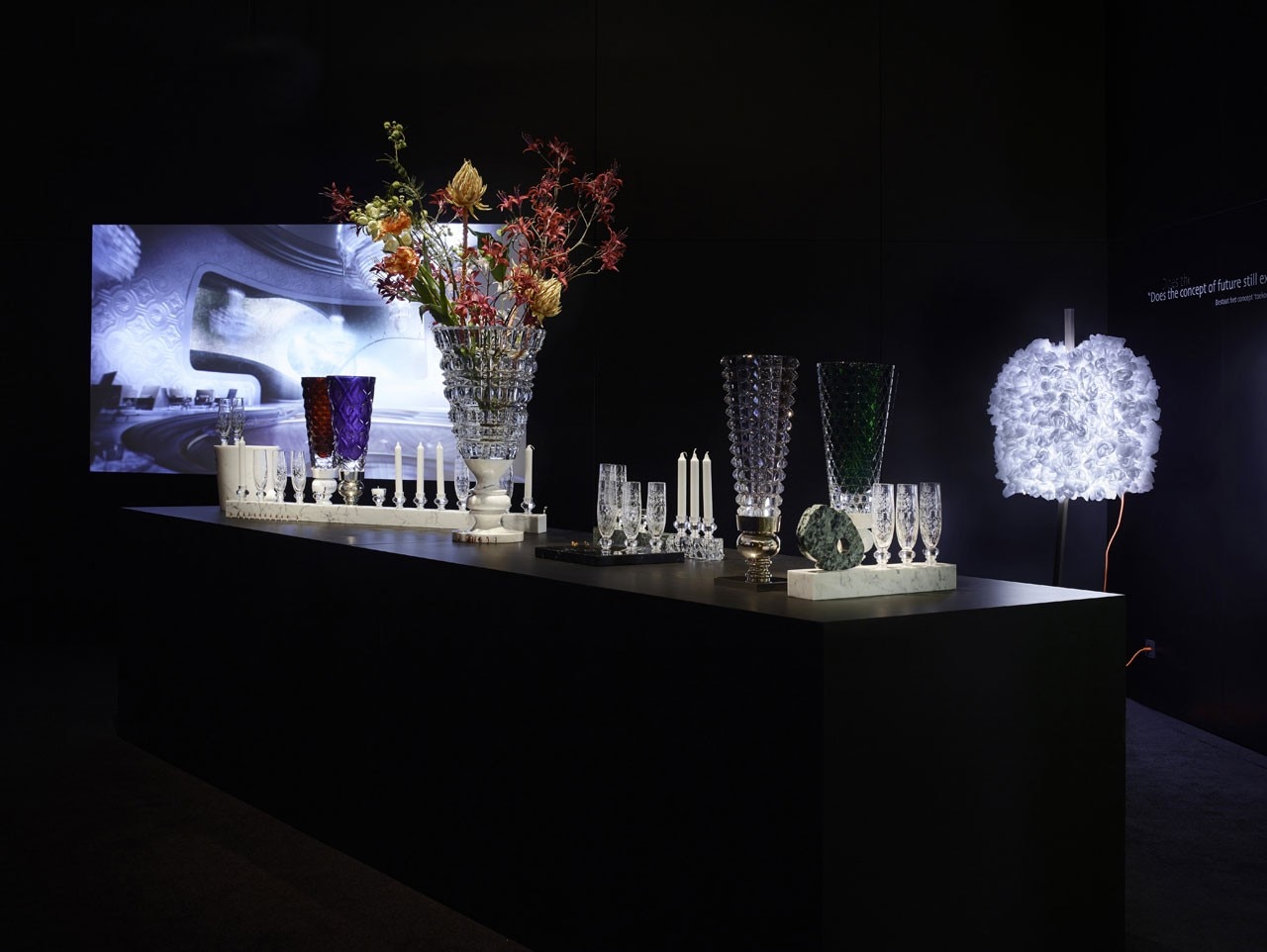 The exhibition occupies the basement of the new Stedelijk extension and symbolises the huge variety in his work, from experimental materials and craft techniques abounding with decoration to sculptures that are off the scale. The Wanders studio created the exhibition design, which is why perhaps we expected more imposing and previously unseen scenarios.

We struggled to find a common thread in so much diversity but Marcel reassured us, confessing that he and where his curiosity has taken him are the leitmotiv of this story. It is interesting to observe from this itinerary that, despite the commercial success of some of his interiors, Wanders has not abandoned the search for materials or his ironic approach to product design. The exhibition route does, however, leave visitors thirsty for a better grasp of the process behind these experiments, in an attempt to understand craft and material aspects little explored in the exhibition.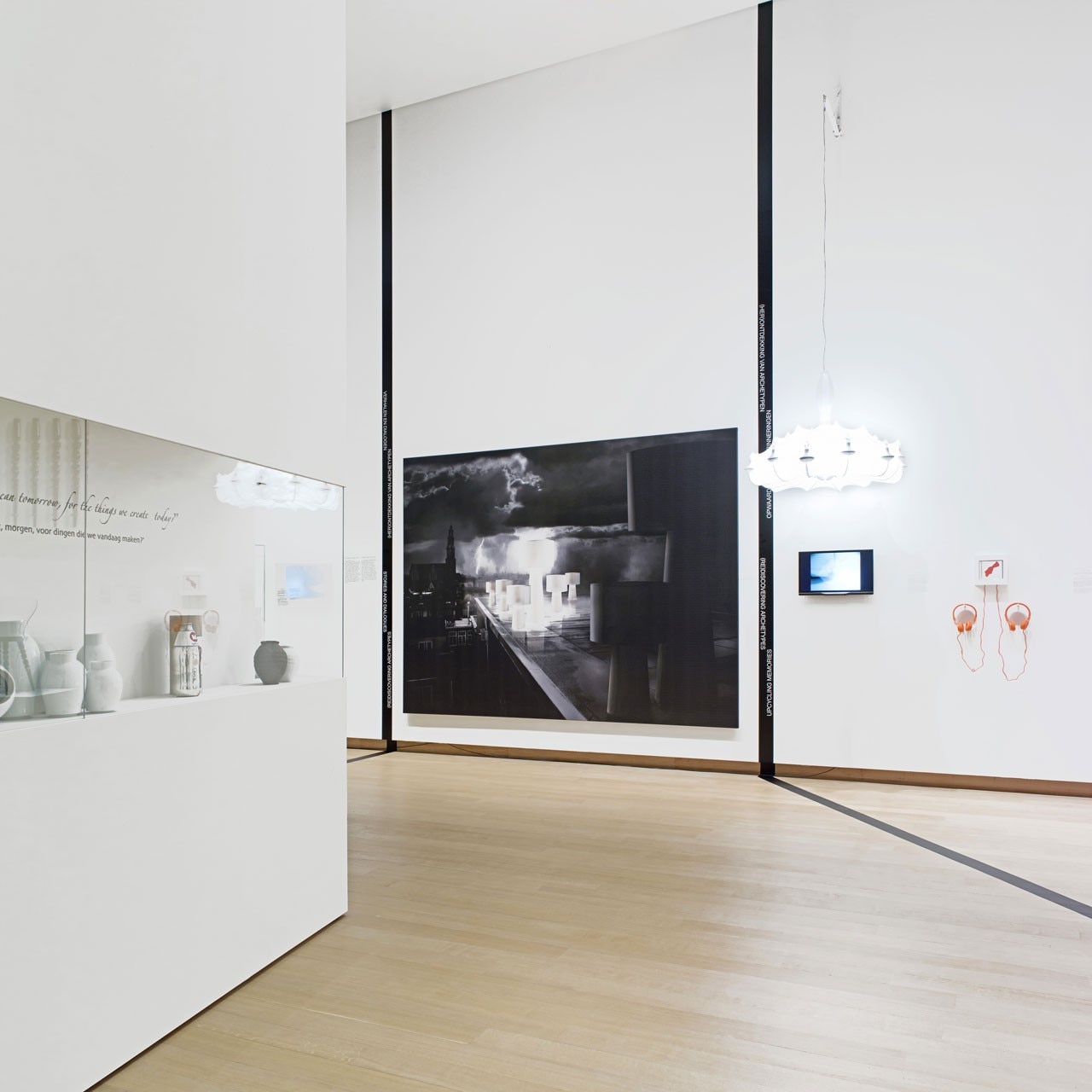 As well as being the largest exhibition on Marcel Wanders, "Pinned Up" marks a return to design for the Stedelijk which, since it recently reopened in September 2012, has focused mostly on the art world. Curated by Ingeborg de Roode, "Pinned Up" is the fruit of ten years' collaboration and remains open to the public until 15 June 2014.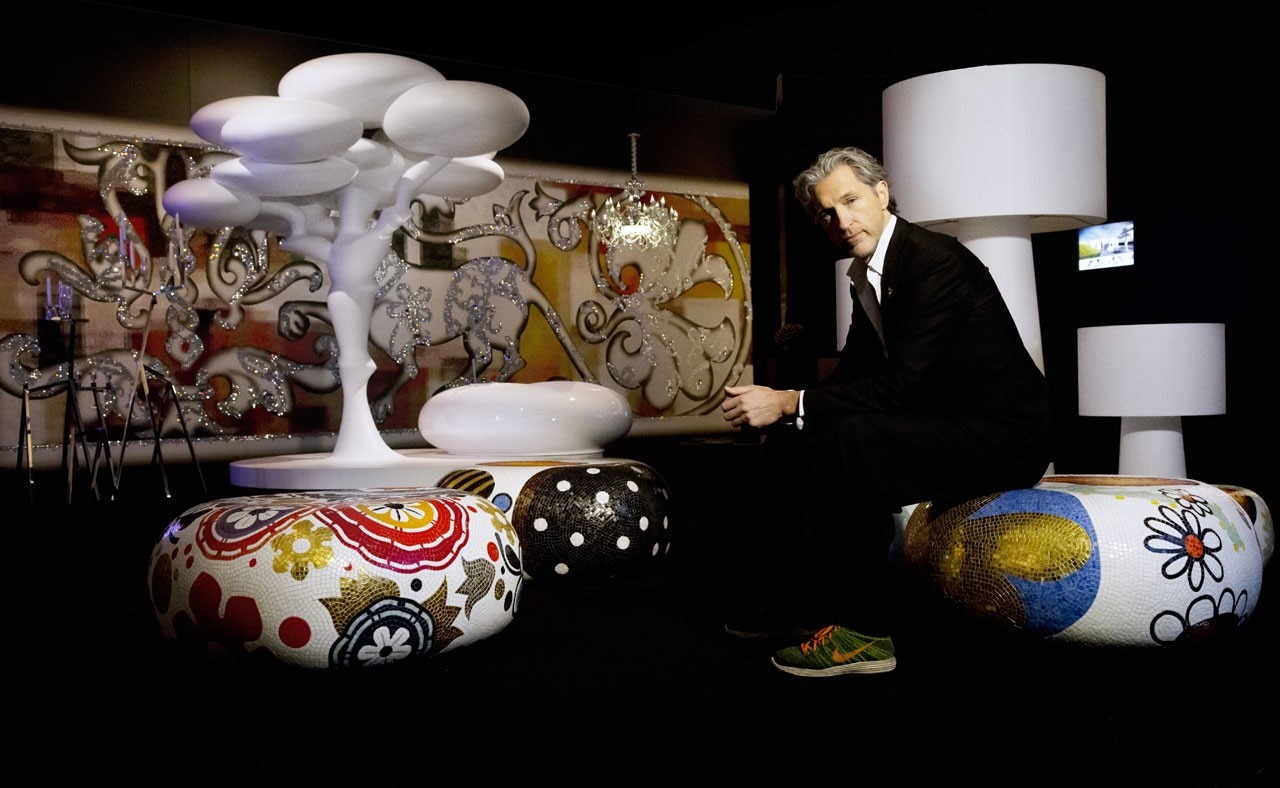 Until 15 June 2014
Pinned Up: 25 Years of Design
Stedelijk Museum
Museumplein 10, Amsterdam