London-based designers Anthony Dunne and Fiona Raby have been speculating on the consequences of technological advance since the early 1990s.  In their role as designers, writers and educators at the Royal College of Art, the duo have been pioneers of critical design, creating objects and imagining scenarios that make us think twice about the future of today's technologies.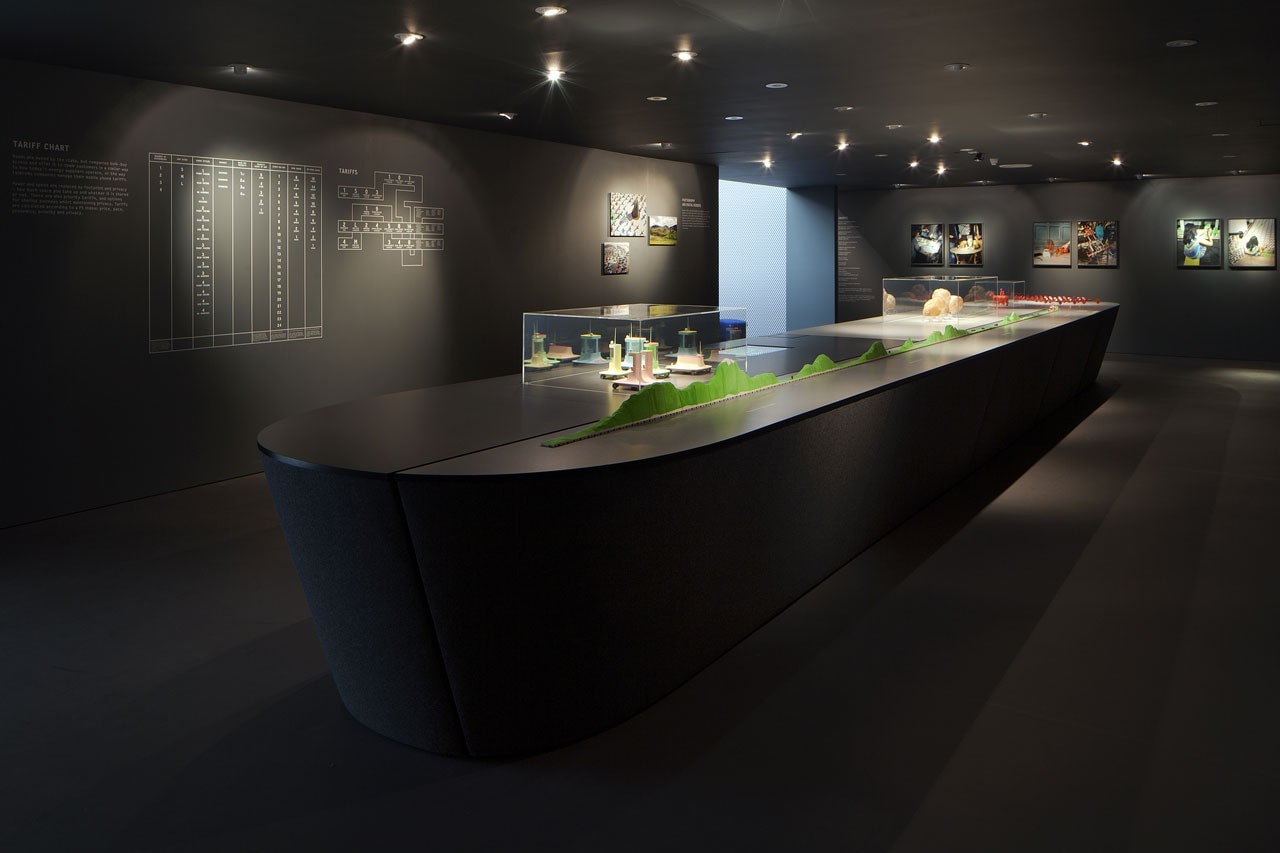 Their latest vision is currently on view in "United Micro Kingdoms (UmK): A Design Fiction" at London's Design Museum.  Located in a small room on the Museum's top floor, the exhibition depicts an unspecified future in which England has been divided into four "micro kingdoms": Digitarian; Commune-nuclearist; Anarcho-evolutionist; and Bioliberal. With their own political ethos, economic system and way of life, the kingdoms have been conceived as glimpses into potential futures for our own society that allow us to debate their desirability.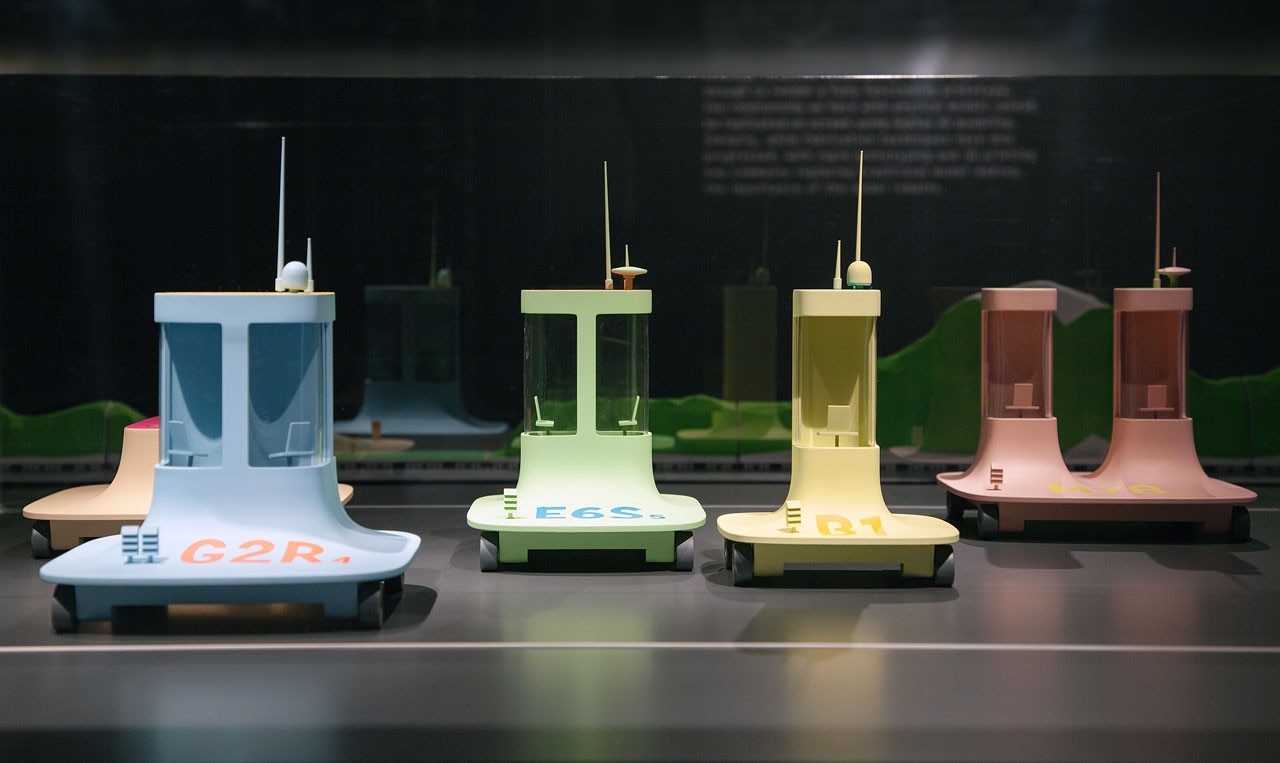 This fictional scenario has been illustrated by a series of texts, films, visual representations and objects that characterise the designers' interdisciplinary and multimedia approach. At the centre of the exhibition is a large table occupied by models of the four fictional transport systems that the designers have chosen to represent each society, positioned according to their geographical location. Occupying the Eastern corner are the Digitarians, who have taken today's diet of digital technology and market forces to an extreme end. Computer-controlled Digicars, based on emerging self-driving electric vehicles, transport the kingdom's consumer-citizens at a variety of speeds, routes and comfort levels determined by a complex tariff system that tracks their every move. These pastel and neon confections have a simultaneously threatening and cutely retro air, containing a deliberate ambiguity towards the depicted scenarios that is found throughout the exhibition.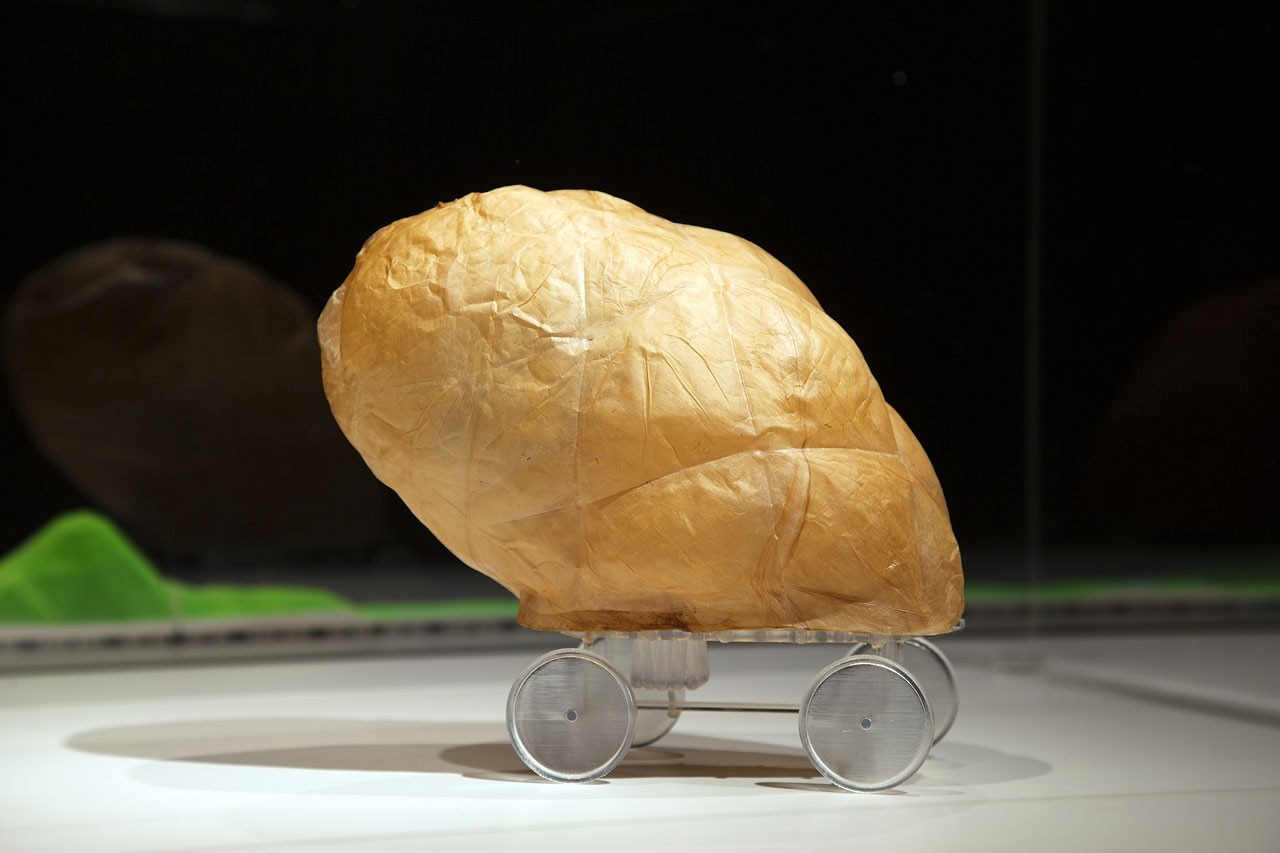 To the West are the Bioliberals. They are similarly technological, but theirs is a biological rather than digital society, made up of farmers, cooks and gardeners who grown everything from the food they eat to the cars they drive — slow and smelly vehicles that prioritise the organic over reaching your destination on time. Equally embracing nature are the Anarcho-evolutionists; a radical society in which the body is the focus of technological experimentation. Located in a Northern wilderness, this is a world of creatures such as the hox (horse and ox), and the cyclist, whose Olympian-sized thighs enable them to move around on the multi-person Very Large Bike (VLB), the transport of choice in this car-free society.
Contemporary technological anxieties are most evident with the Communo-nuclearists. Their survival is guaranteed by an endless supply of nuclear energy, but its unpopularity and hazardous nature has confined their society to a continuously moving nuclear-powered train that cuts through the country's middle. This 3-kilometre-long landscape contains every modern convenience, including a bird watching tower whose inhabitants survey a nature they will never encounter.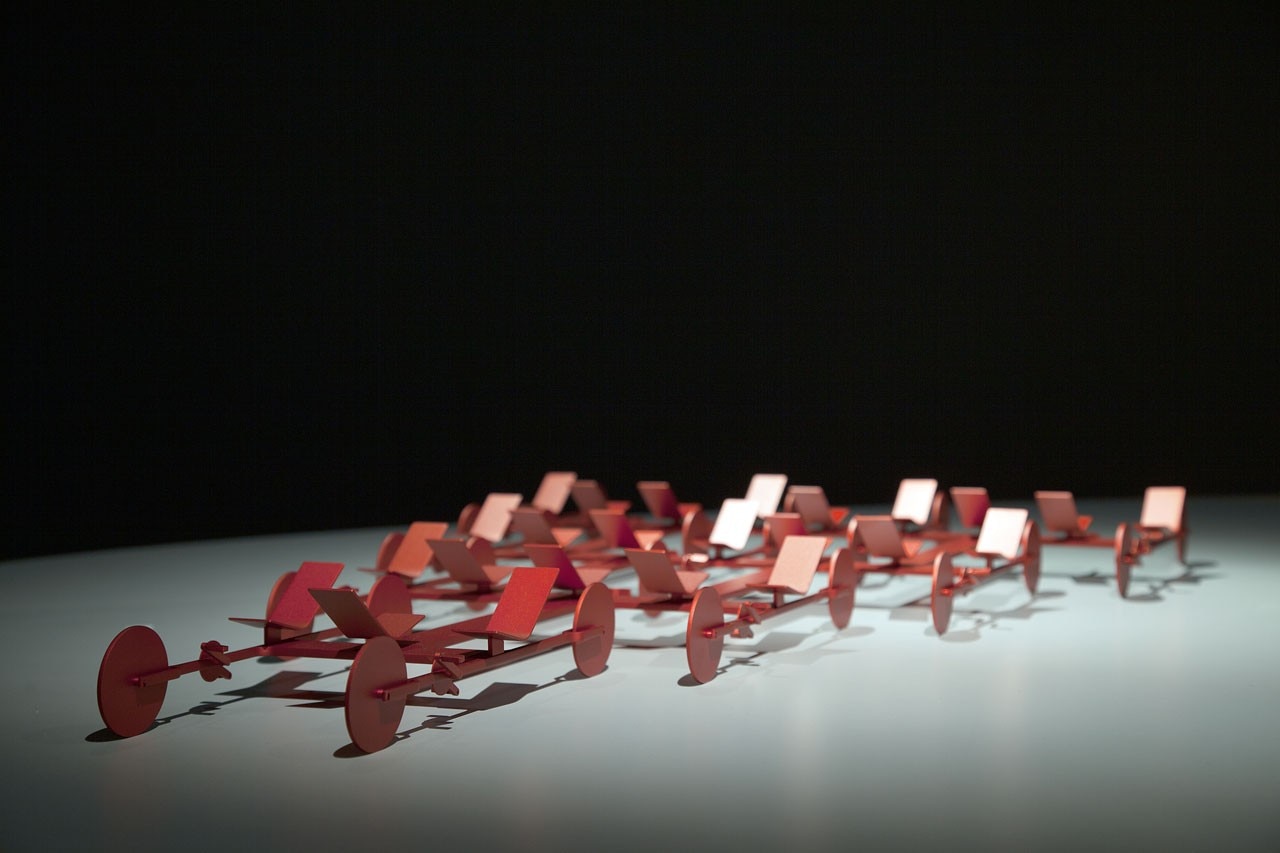 Accompanying this fictional scenario is an examination of the methods involved in its creation. Alongside a reading room contains examples of the texts that inform the designers' work, from JG Ballard's dystopian fiction to Sternberg Press' Solution series of geopolitical alternatives, are photographs documenting the making of the Bioliberal cars and wall panels that reveal the centrality of models in their approach more generally. While these insights could be seen to jar with the exhibition's installation-led nature, they reveal a surprisingly traditional side to the designers' approach, one that pulls it back to a more recognisable, and accessible, design language.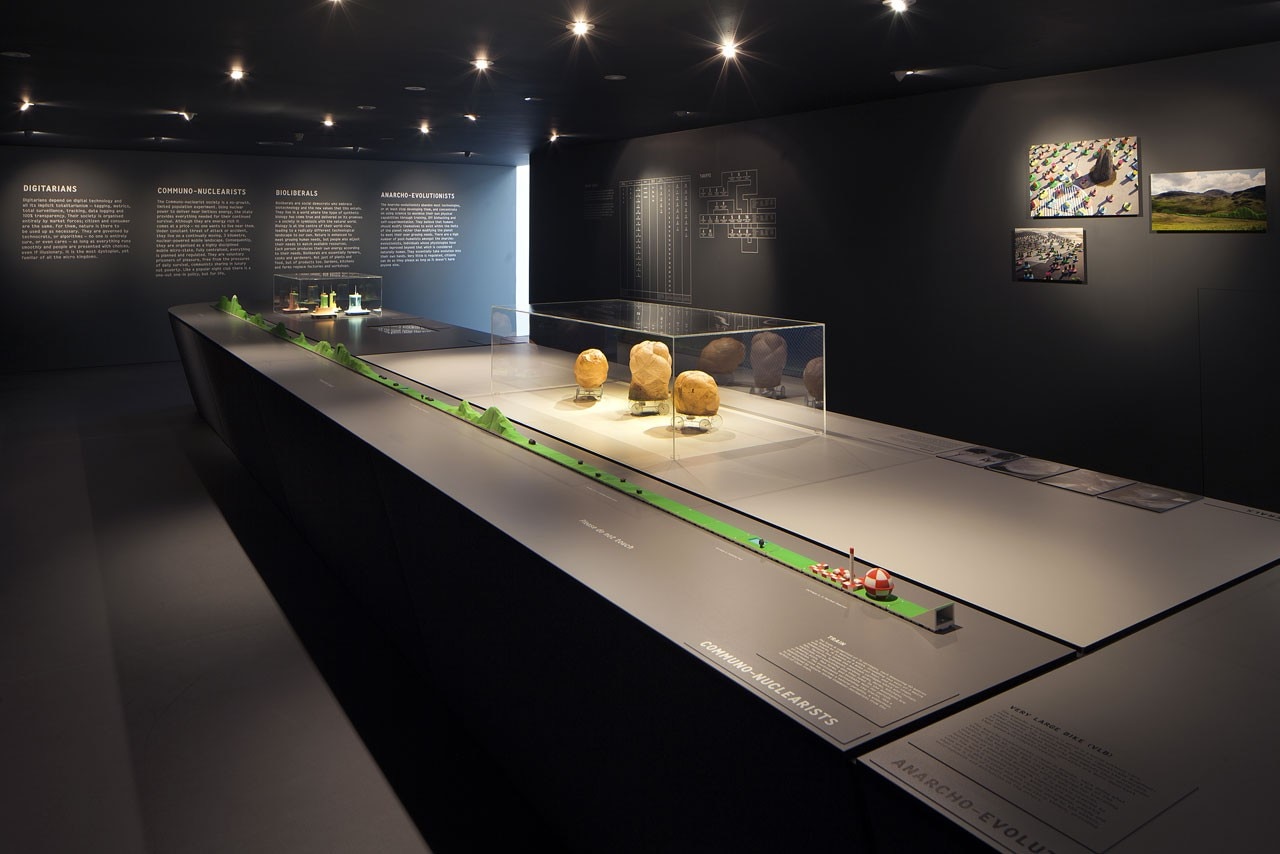 The issue of accessibility is potentially problematic for "United Micro Kingdoms", as it is for all design fiction exhibitions.  Sandwiched between the Museum's recently re-hung permanent collection and its annual "Designs of the Year" celebration, the text-heavy, stripped-back appearance of "United Micro Kingdoms" seemed to deter a number of visitors, who passed all too quickly through the space to reach these more familiar realms. This was unfortunate; the text panels are rich in well-articulated ideas and the objects that are included raise issues that are pertinent to all of us. The challenge is how to make these ideas comprehensible. The stage has been set for a compelling narrative — the props, the storyboards and the scenery are all here.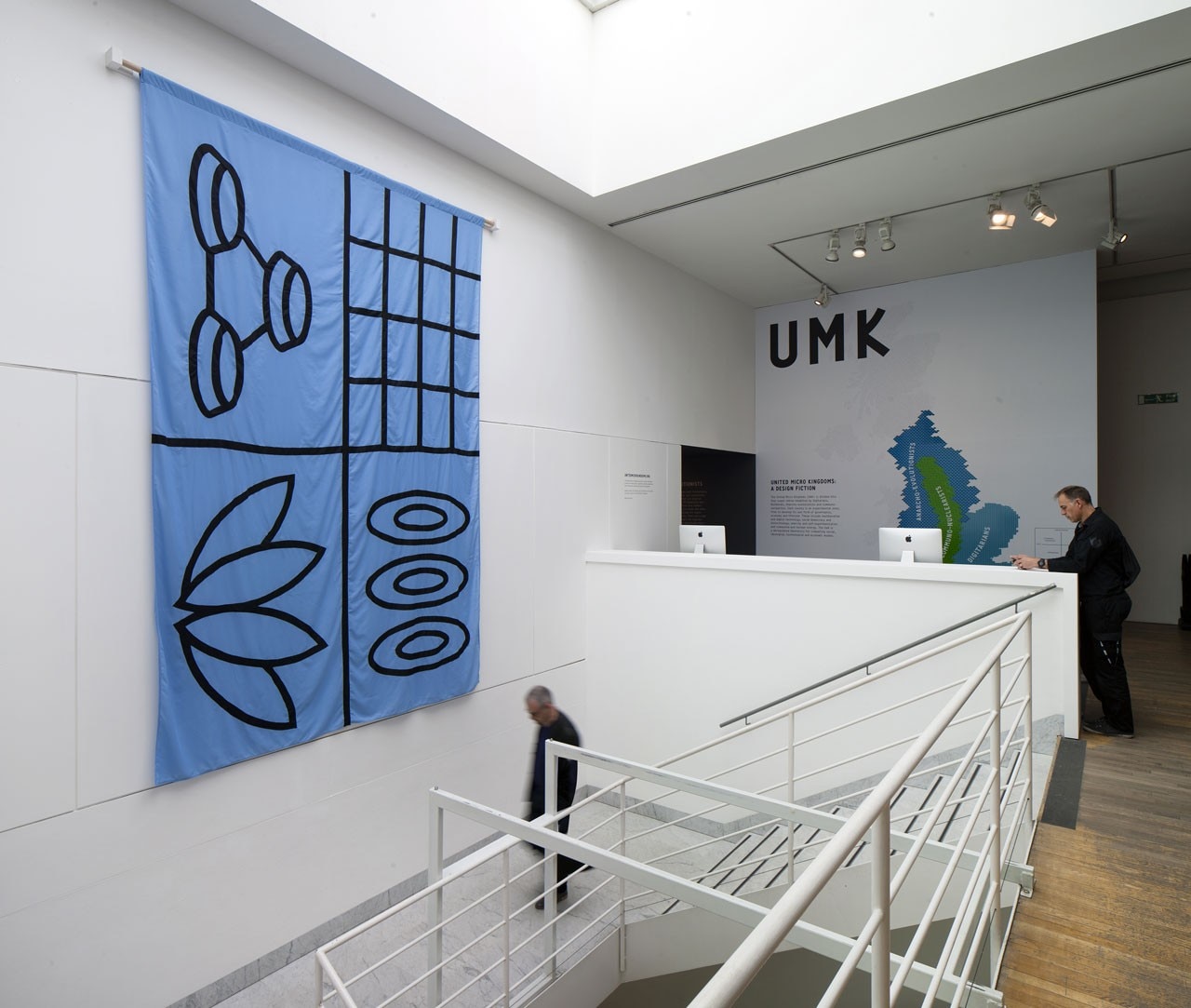 However, apart from a series of intriguing photographs at the rear of the space, missing are the actors that could potentially provide the empathy, the emotional hook to connect us more strongly to these scenarios. Similarly, while the accompanying website unitedmicrokingdoms.org provides a forum for debate, more evidence of this inside the exhibition would have been welcome. Dunne and Raby have undoubtedly produced an exhibition worth seeing, whose message on the necessity for debate over our technological future is important. "United Micro Kingdoms" shows the potency of design fiction, but also arguably the importance of being able to imagine ourselves in its fictional scenarios, if we are to participate in this debate and make it effective. Catharine Rossi (@cat_rossi)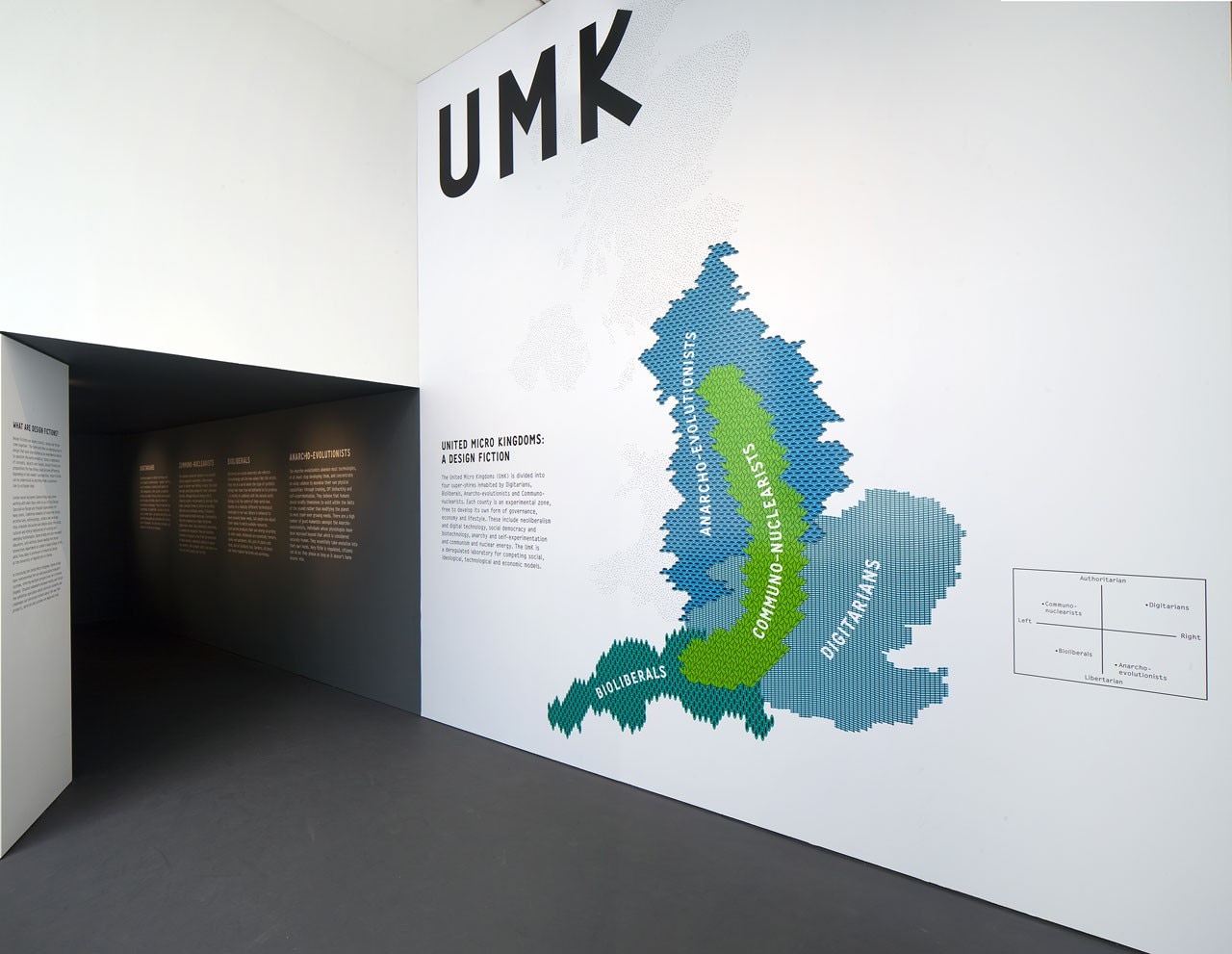 Through 26 August 2013
United Micro Kingdoms (UmK): A Design Fiction
Design Museum London
Shad Thames, London