This article was originally published on Domus 1043, February 2020
For almost a year I worked on the photographs of Le Vele di Scampia in Naples with a tripod and a medium-format camera. My Italian gallery wanted me to do a project; we researched the whole city, but in the back of my mind, I always said I wanted to shoot Le Vele. At the time [around 2006], you could not really go in; and if you did, it was scary. We found a person who lives there – a man maybe 65 years old who sells cheap clothing from his car. He knew everybody there. Then I saw the buildings at night. That was the moment I got hooked.
At night, you don't see the buildings at first. Most are vacant, so they're just black. But in some you have the neon lights in the corridors and staircases; a kind of system of bluish lights. When your eyes adjust, it's magic.
I'm a night photographer anyway, but of course that made the whole operation even more difficult. We got access to the buildings. At first we were circling around them and I took a lot of pictures from outside with a tripod. In Italian, vele means "sails" but in my mind, it meant sailing ships. The buildings look like a line of ships from the side, because they all have different shapes—one after the other. When you walk around them, they're constantly changing their appearance like a moving ship.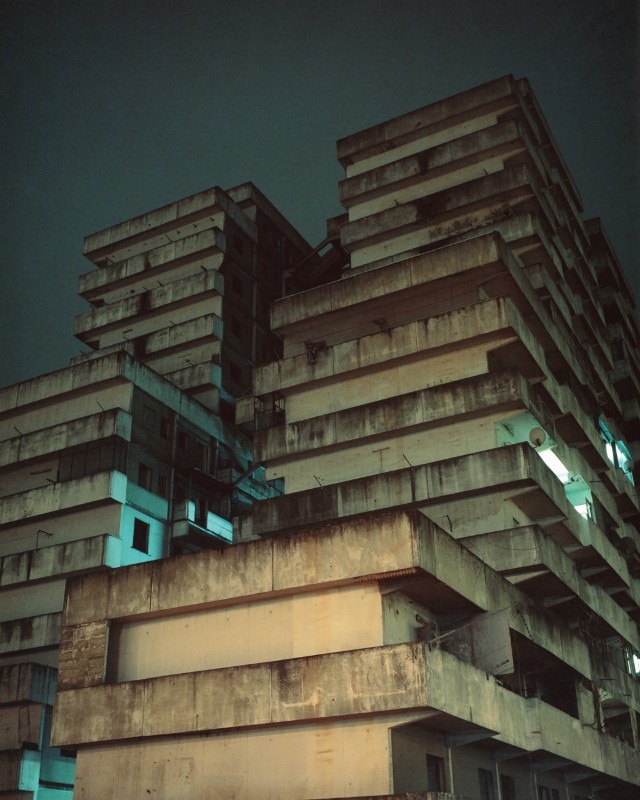 I took pictures of the buildings until we managed to go inside and I started to meet people there. I thought it would be too boring just to have architecture. On my first trip to Naples to shoot, I read Roberto Saviano's Gomorrah (2006) on the plane. It had just come out in a German translation; it was kind of an introduction to what I was going to do. Of course Scampia [the suburb in the far north of Naples in which Le Vele is found] plays a major role in the book, so that was the background I had in mind: how much the city is controlled by and suffering from the control of organised crime on all levels of corruption, and so on. I felt a tension. What I didn't know then is that they would shoot Gomorrah, the film, in Le Vele. Someone from my photos became one of the main characters.
I was amazed that this architecture exists. It's a miracle, even if it's a dystopian one, that you have this structure and it's somehow still in use. It felt like a ruin from a different time, perhaps the future. So, it's this kind of excitement of what it was and what it meant. Now it's an icon, but even at the time, people identified the crime problem in Naples with that feeling. Le Vele is a symbol of this.
It might also be a symbol of failed modernism. Think of something like Alterlaa in Vienna, which my friend Zara Pfeifer has photographed. Like Le Vele it's a very ambitious housing project. But while people want to live in one (Alterlaa), the other (Le Vele) is a total failure. My theory is, and maybe architects don't want to hear it, that success or failure is not because one building is better than the other. You cannot change social structures and conditions by just constructing a building. The guy who helped me in Le Vele is an architect and he was always saying, "Yeah, I think they made a mistake here, this should have been five metres more." I said, "Look around you. Do you think five metres would have made a difference?" It's a mental game that you can actually go up against social issues with a building. Under communism it was easier to force people to use buildings a certain way, but I don't know if this is desirable.
My theory is, and maybe architects don't want to hear it, that success or failure is not because one building is better than the other. You cannot change social structures and conditions by just constructing a building
By accident I read about a Nikon camera where you could take still photos up to 25,000 ASA. For ten years I'd been dealing with 800 ASA and tripods in darkness. With the new camera it felt like you could see deeper into darkness. I bought it and for some reason I had the idea of doing a slideshow or animation of single images, because it didn't have a video feature. A week before another trip to Naples, I was testing the camera in Essen, where I was teaching at the time. I walked the streets at night and shot quickly, "clack clack clack", because for the Le Vele film I wanted to walk around with a camera. It worked!
In the end it looked beautiful. I didn't invent this technique, but I hadn't seen it much at the time. The flickering makes it look a bit like a silent movie. Every second, you're confronted with the idea of a constructed movement in still photographs, and the side effect is a nervousness. This constant feeling of stopping, checking, being uncertain. It doesn't want to flow and when it flows, it stops and goes again. The technique was similar to how I produced the stills. I basically walked around, went in and got closer, discovered some people. It's very personal but also almost subjective. You can feel the camera entering the building and the reluctance, the apprehension.
The different pictures of architecture are more like signifiers of where you are. They define a space but it's not a 100 per cent equivalent to the geographical space
I had a nickname for the building. Il Monstro – the monster. I don't even know if that's proper Italian. For me, it was an entity or creature. It's the only work of mine in which the building is the main character. When I started my career, my series were more about one defined place, but I wasn't interested in a description of place beyond an overview on which the subjects oriented themselves: sometimes the places were small, like a car park. Later, the notion of space opened up. In a newer series of photographs taken in Kiev (Maskirovka, 2017), the space is the whole city, even the whole country of Ukraine.
The different pictures of architecture are more like signifiers of where you are. They define a space but it's not a 100 per cent equivalent to the geographical space. A constructed neighbourhood for the working class isn't new to me. Before Le Vele I worked in Marzahn in Berlin, in Halle-Neustadt, Quartiers Nord in Marseille, or early on in Bristol, England. As a student, one of my first projects was about this kind of council estate. I dealt with issues like the exclusion and marginalisation of the working class, also geographical marginalisation. Which is still happening all over the world. When you look at Le Vele it is obviously the periphery of the city; you build a whole new neighbourhood for certain kinds of classes, people, and it has been criticised, but for some reason in my work, but also in general, this discourse is quietened.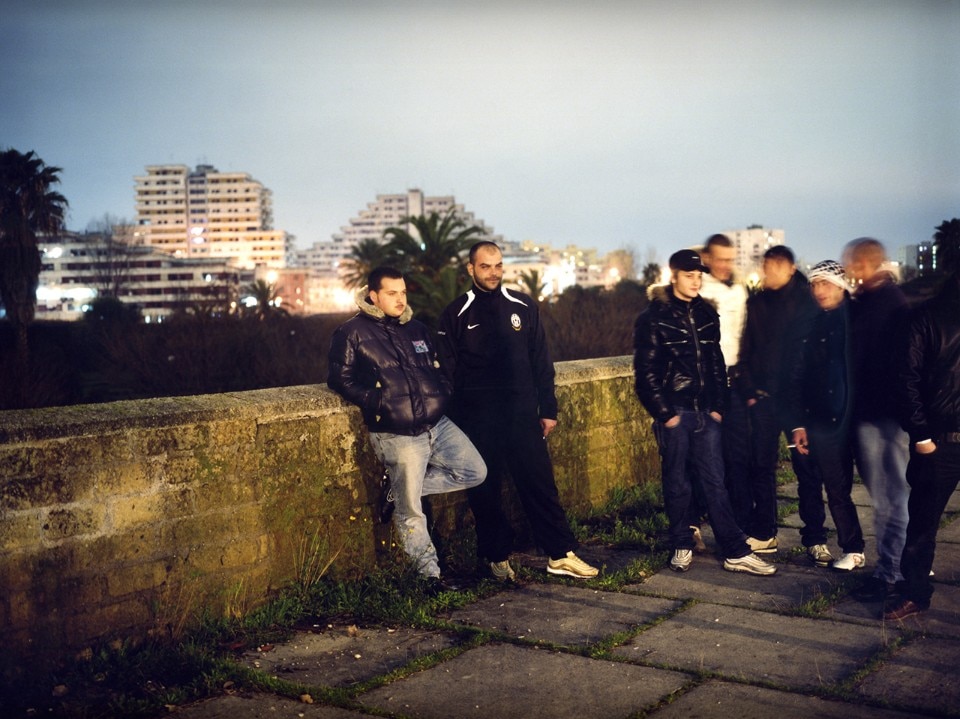 I think the main factor in this discursive shift is social media, which is distorting the senses of here and there, outside and inside. The people in Kiev, for example, are so connected with what's going on
in the rest of Europe, mostly through social media, that there's this fast back and forth of looking at what people are wearing, how they photograph themselves, and so on. So the idea of exclusion and inclusion has changed from being very physical and locational to something else. Criticism of identity politics and class get mixed up; a lot of emancipation or resistance has become very individualised about who you are, where you want to be, and how you want to project these things. Older, leftist theories think more about larger societal groups, but now it's much more fragmented. You could say it's a side effect of neoliberalism. The old narratives just don't seem to work anymore.
The Le Vele project liberated me. It was one of the hardest projects I've ever done. It was my sheer force of persistence and wanting to work in Naples. It was painful and scary. In the buildings, you go higher and higher and it gets darker and darker. Once you're inside, it's not easy to run out. Another major failure is the echoing sound between the buildings; you hear people from far away, but you can't locate them. In a way, Le Vele reminds me of Giovanni Piranesi's drawings of prisons in the seventeenth century.
Would I do another project like Le Vele? Yes, but in a way it's a pinnacle in terms of how architecture, place, social environment and crime, all come together. I did the project with a kind of innocence back then, when the place wasn't as well known. If I went there now, there are so many more layers of iconography, it would probably be more difficult to find my way through. But apparently it's not getting easier to visit. I sometimes see the buildings from an airplane, and they still have this mix of power and attraction.
The text was taken from a conversation between Tobias Zielony and Kimberly Bradley.
Tobias Zielony is a Berlin-based artist known for his photographic depiction of marginalised groups. He has exhibited widely, notably at the German Pavilion at the 56th Venice Biennale with his work "The Citizen" (2015), and has been a guest professor in art schools in Cologne and Budapest.
Kimberly Bradley is a Berlin-based American writer, editor and educator whose work has appeared in publications including ArtReview, Frieze, Monocle, and The New York Times.