Katharina Grosse is performative and characterised by action, Tatiana Trouvé is cerebral and sensual. Both work on architecture, but in completely opposing ways.
Grosse has revolutionised the way of doing and imagining painting within a space. She chooses colour as her field of research, the most irrational, undefinable and unstable aspect of art-works, as well as the freest and most open to change. Her painting interrupts, crosses and cancels all boundaries, invading everything it encounters. Through the use of a spray gun, she expands and strengthens her own body in order to take on vast and complex surfaces. Her wild focus on colour redefines every situation, offering painting a new chance to exist in the daily life of each and every one of us.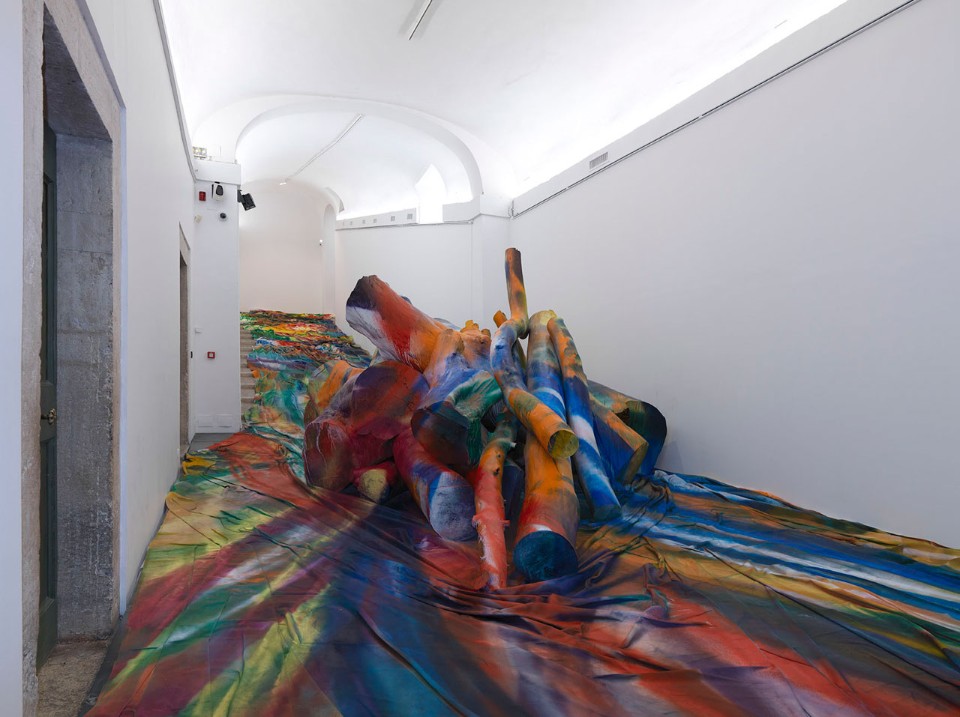 In the main hall of the Villa Medici, she has brought a large tree from the garden, an immense centuries-old pine planted by Ingres in the 1800s, when he was director of the Academy, which has been cut down as it is dangerous. The colossal tree has been sectioned and laid out on the Medici graded ramp, where a flow of acid colour pours from the top like a surging river, crashing into the scene. The mighty pyre of wood is struck by an iridescent multi-coloured tongue which unrolls towards a piece of fabric bunched into a thousand folds.
"Painting is not three-dimensional, it is multidimensional", explains Grosse, "it cannot be measured, and it does not have a consequential structure, a beginning and and an end, like a book, or a piece of music. When I paint, I find myself compressing layers of colour. By scattering large pieces of fabric arranged in infinite folds throughout my installations, I provide the visitor with the physical possibility to enter the space which has been condensed by painting, to have a true physical experience".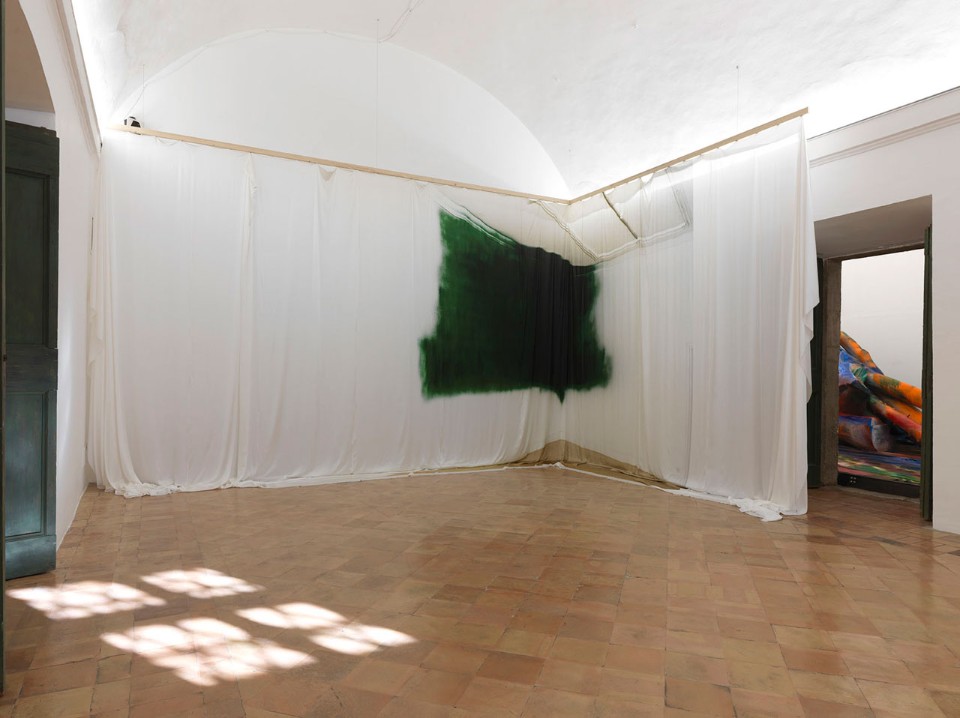 Another hall holds Untitled from 2013, the first in situ work ever created by the artist. It is a green corner painted in the intersection between the walls and ceiling of a room, which has then been photographed and reproduced on large sheets of silk. The work is an effective representation of how, through painting, the German artist marks and subverts architecture. The colour penetrates into the very points where the lines define the design and the volume of the building. The more the space is rigorous, the more Grosse contrasts it, proposing a different way of seeing it.
"The structure of the space and the painting follow very different rules: one can be measured, while the other lacks this material dimension, its proportions exist only in our imagination. It is the very meeting of the imagination and the rational that interests me, it is like being hot and cold at the same time. This dynamic is very similar to our condition in life: we fantasize, while, for example, peeling a potato. The fact that the surface of the painting contracts that of the space is my way of explaining this existential paradox".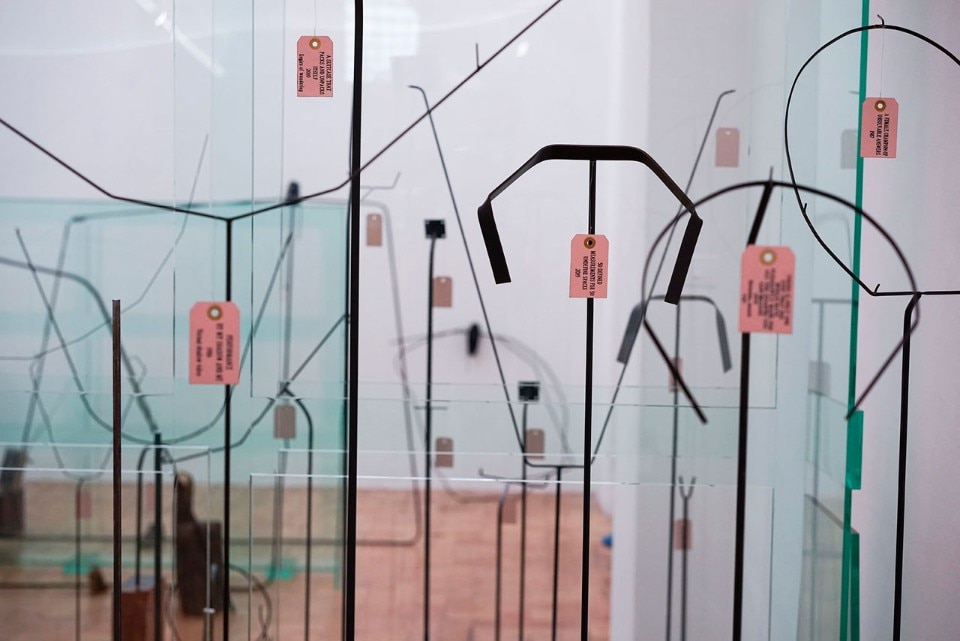 Then comes Tatiana Trouvé: sophisticated, reflective and slow in her practices. Her work is a continuous looking back on stories and experiences. She moves in an uncertain dimension between past and present, reality and possibility, stasis and action. Her favourite method of study is pondered design. Her sculptures and installations are like time machines, mysterious devices which take us both here and elsewhere. Born in Italy, she lives in France and spent her formative years in Senegal. Her work is deeply bound to African storytelling, an oral, rather than written, culture, which is handed down from generation to generation, where stories have a fundamental role. She inherited a strange relationship with magic from Africa. Her works are universes on the limits of reality, they slide into another unknown, unreal and almost disturbing dimension. Even the choice of materials underlines this ambiguity: sculptures which seem soft but which are, instead, hard. Apparently domestic objects which, if touched, tilt, leading us into unknown territories.
"There is always the use of simple elements in my work", she says, "they are important in the economy of the work, but also in society in general. Cardboard, for example, has incredible properties. It insulates from the cold, it is light, transportable and recyclable. Among her various works, she has brought here, to the Villa, some bronze huts which reproduce casts of cardboard constructions. Fragile, momentary worlds, spaces in which the inside is always compared to the outside, simple architecture which are poorly finished, often letting in water and drafts. The roofs are covered in cosmic maps: ancient navigation charts, phylogenetic trees and others, which announce the end of the world, right up to the Lignes d'erre by Fernand Deligny, which study the trajectories of moving autistic children. I wanted to give the impression of precariousness, and at the same time create architectural models on which to carve the story of the world and the universe. They are places which are not made to resist the world, but to dialogue with it".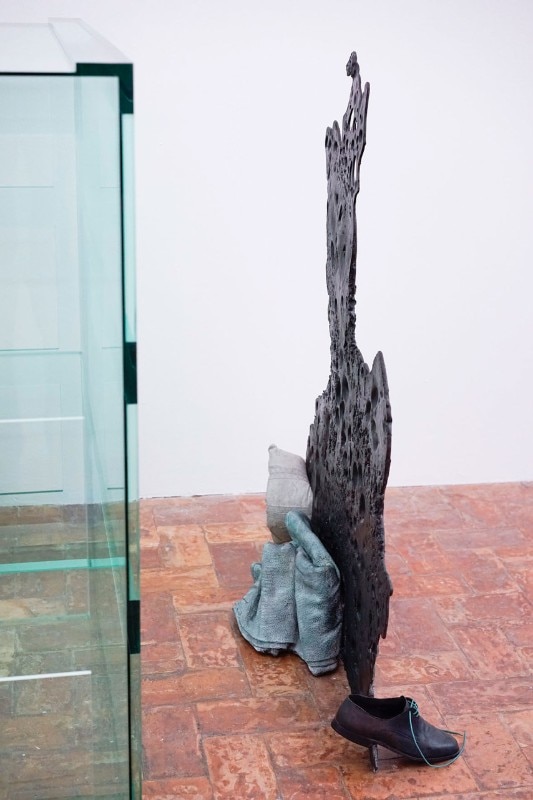 The manica medicea contains a series of sculptures called Les Indéfinis. They are reproductions of enormous crates made out of glass, which filter the image of the works which they once contained. Like strong membranes, the large slabs isolate the works in a neutral area, harking back to a period of existence which is muffled and unidentifiable. These are works which originate from the adversity that the artist has for having her works taken into private collections, from where they never emerge. Trouvé chooses to copy her own works in order to provide them with a second life. But as she reproduces them, at a certain point she gets bored. Thus, the sculptures undergo a further stage of transformation, and take on a new autonomous and indefinite form.
The exhibition is completed with a series of writings, reflections with which the two artists accompany their works. In one of these, Trouvé quotes The book of disquiet by Fernando Pessoa: Why is art beautiful? Because it's useless. Why is life ugly? Because it's all ends and purposes and intentions. All the roads are intended to go from A to B. If only we could be given a road built between a place that no one ever leaves and another that no one ever goes to!" "If my shoes are made of bronze", commented the artist, who often scatters them throughout her works, "it is perhaps because they allow me to make this kind of journey".
Exhibition venue:

Le numerose irregolarità. Tatiana Trouvé & Katharina Grosse

Opening dates:

2 February – 29 April 2018

Venue:

Accademia di Francia – Villa Medici

Address:

viale Trinità dei Monti 1, Rome

Curator:

Chiara Parisi