Chile-based architects Pezo von Ellrichshausen have collaborated with Swiss artist Felice Varini to create Hall for Hull, an ambitious structure which responds to the historic heart of Hull, UK, and will remain in place until 11 November 2017. Together with Trois Points de Vue – a joint commission from The Royal Institute of British Architects (RIBA) and Hull UK City of Culture 2017 – the monumental temporary installation has transformed Trinity Square with sixteen galvanized steel columns arranged in a grid formation in front of Hull Minster to form a new outdoor 'room' for the city.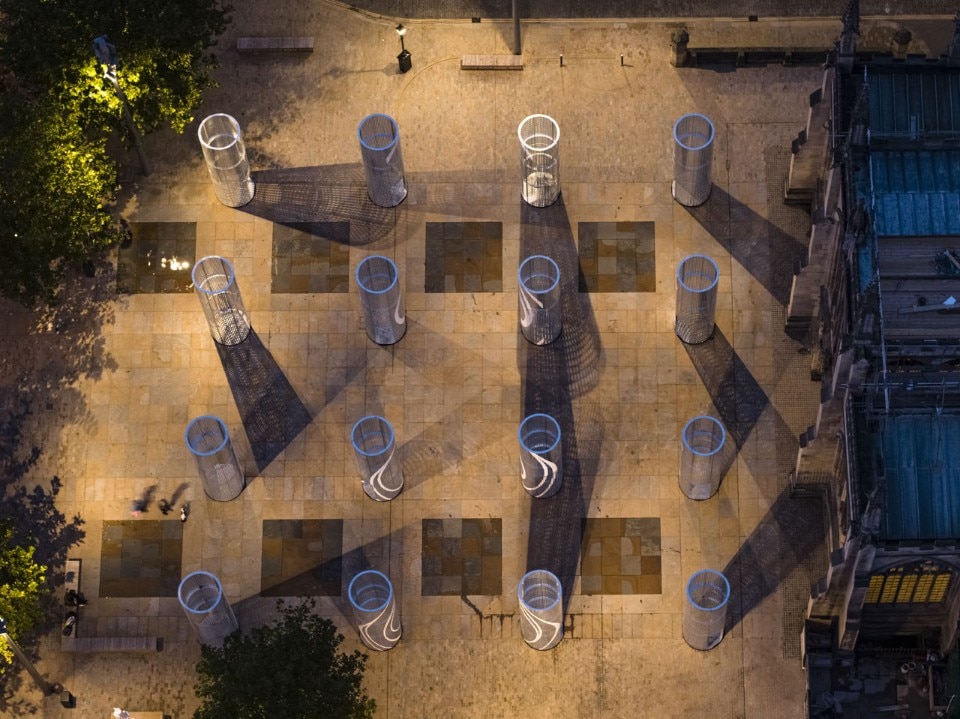 The piece has been commissioned to encourage local people to see their city in new and memorable ways and to become a focal point for tourists. The installation provides visitors with a range of different experiences as they enter each of the six-metre-high columns, open to the sky. Perforations across the columns' frosted-like steel skin creates a delicate interplay of light and shadow across the interiors of each inhabited space. Visual and physical contradictions merge as visitors first encounter a series of imposing, static steel columns from a distance but as they move closer the perforations create as feeling of lightness.
The playful optical illusions continue with the artwork applied by Felice Varini. Through his practice of op-art, Varini has created three hand-drawn artworks across the columns that distort and redefine the otherwise rigid geometry of their solid arrangement, challenging perceptions of perspective and scale in this particular public setting. Each artwork aligns from a different viewpoint across Trinity Square, encouraging visitors to meander through the set of columns, leaving the view of the central axis of the church's nave untouched.
Artist:

Felice Varini

Commission:

The Royal Institute of British Architects (RIBA) and and Hull UK City of Culture 2017