The new board of directors of the Ophthalmologists of Northern Greece Association decided to upgrade the organization's profile, due to the relocation of its headquarters.
The brief called for an interior with strong identity and the ability to manifest the organization's contemporary profile.
The space should provide room for seminars and a designated area for the boards' meetings. Most importantly, it should be inviting to the members and encourage them to hang out and host their meetings.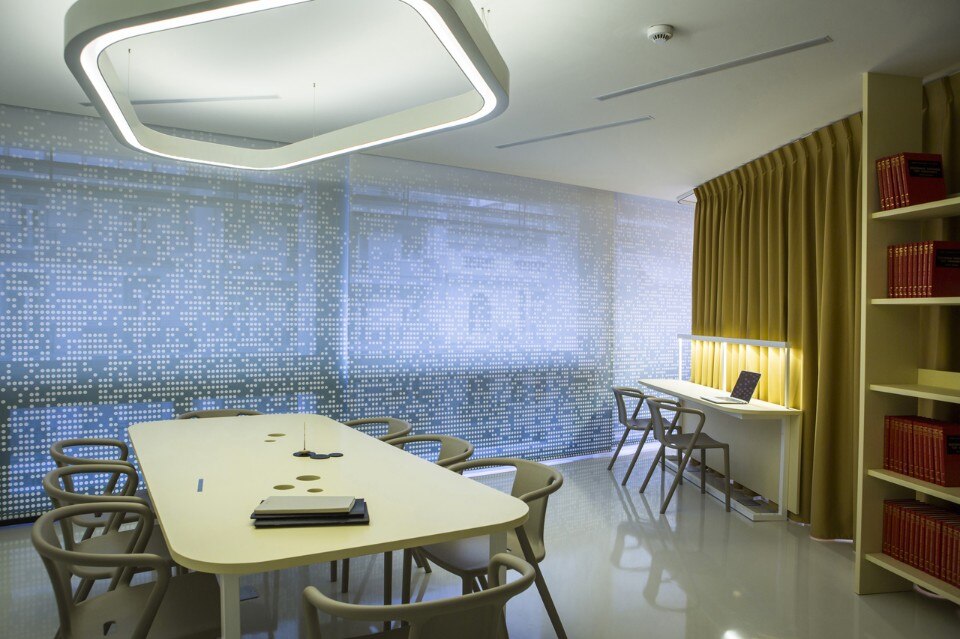 The new headquarter is hosted in a 100 sqm open plan space, on the sixth floor of a building in the city's downtown, that is reminiscent of late modernism. K&K Architects envisaged the space as a contemporary educative club, more than as a typical seminar hall. A see-through curved, custom made, bookcase is the core element of the space. Its curved shape is "followed" by two blackout curtains that enclose and define two seminar areas. A reference to the heavy curtains often used during the Fifties, where the Association traces its beginning.
As they roll on their rails, the ambience changes. The space perpetually transforms from a bright open space to an introverted interior and backwards. The lighting fixtures fitted in the roof contribute to space's "mobility" as they are placed in a rotary vortex-like order. One of the curtains traverses a set of twin bespoke desks, a humorous gesture emphasising the multi-functionality of the space. A curved wall surrounds the secondary spaces. The two curved structures of the bookcase and the wall, define the transition from the entrance to the open area in front of the windows.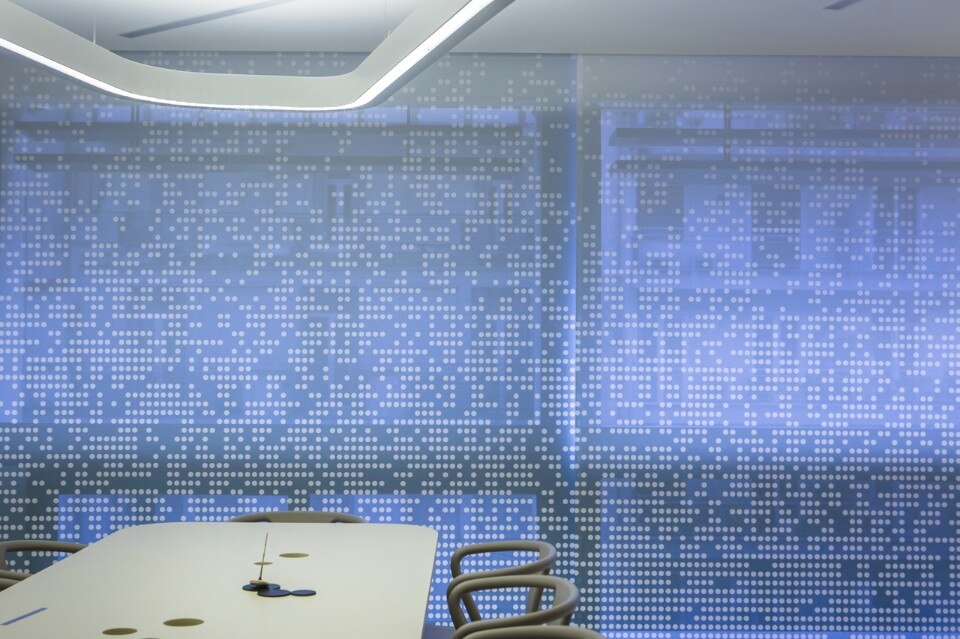 The 10m long glazed facade, oriented to the south, provides an unobstructed view to a series of eclecticist facades, whose tips meet the sky. When the sunshades are open, the buildings across the street seem to rise from the glossy reflecting epoxy floor. When closed, the perforated fabric allows the view to reveal through a blue graphic pattern, designed to dissolve to the sky's blue colour. The vivid colour serve as a playful background to the subtle shades of gold and silver applied to all other elements. All furniture, as well as the pendant light that defines the meetings' area, are designed especially for this project. The result is a fluid continuous space with soft dividers and light colours that exudes a clear, contemporary and welcoming feel.
K&K Architects, Headquarters of the Ophthalmologists of Northern Greece Association, Thessaloniki, Greece
K&K Architects, Headquarters of the Ophthalmologists of Northern Greece Association, Thessaloniki, Greece
K&K Architects, Headquarters of the Ophthalmologists of Northern Greece Association, Thessaloniki, Greece
K&K Architects, Headquarters of the Ophthalmologists of Northern Greece Association, Thessaloniki, Greece
K&K Architects, Headquarters of the Ophthalmologists of Northern Greece Association, Thessaloniki, Greece

Headquarters of the Ophthalmologists of Northern Greece Association, Thessaloniki, Greece
Program: workplace
Architects: K&K Architects (Katerina Kotzia & Korina Filoxenidou)
Area: 100 sqm
Completion: 2015