Educated in his homeland, India, from the very beginning of his career Balkrishna Vithaldas Doshi could outline with his professional trajectory a whole new figure within the history of modern and contemporary architecture: the global architect. Between 1951 and 1954, he had worked in Le Corbusier's studio in Paris and then became supervisor for his projects in Chandigarh and Ahmedabad. He had then opened his own practice there in 1955, designing over 100 private and public architectures in the Indian area over seven decades, winning the Aga Khan Prize in 1995 and the Pritzker Prize in 2018. In the late 1970s, he had begun designing Sangath, the Ahmedabad-based studio he would later open to Domus for a studio visit in 2018 (published on issue 1026 in July of that year). A hybrid and fluid "animal", as Doshi himself told David Chipperfield two years later (Domus 1046, May 2020), a metaphor for architecture and life:
"My building has no ground – there is no plinth, no roof. Instead you arrive into an open space and you see patterns in the flooring, but if you saw them in monsoon you would see something completely different. You turn around, and you look at a pond, you look up at the sky and wonder, 'Where is the building?' I wasn't sure of the kind of animal I was going to create. When it finally appeared, I thought, "Is it correct? Is it architecture?" But isn't life a fluid thing that always makes us wonder and admire? And can't architecture be like a body?"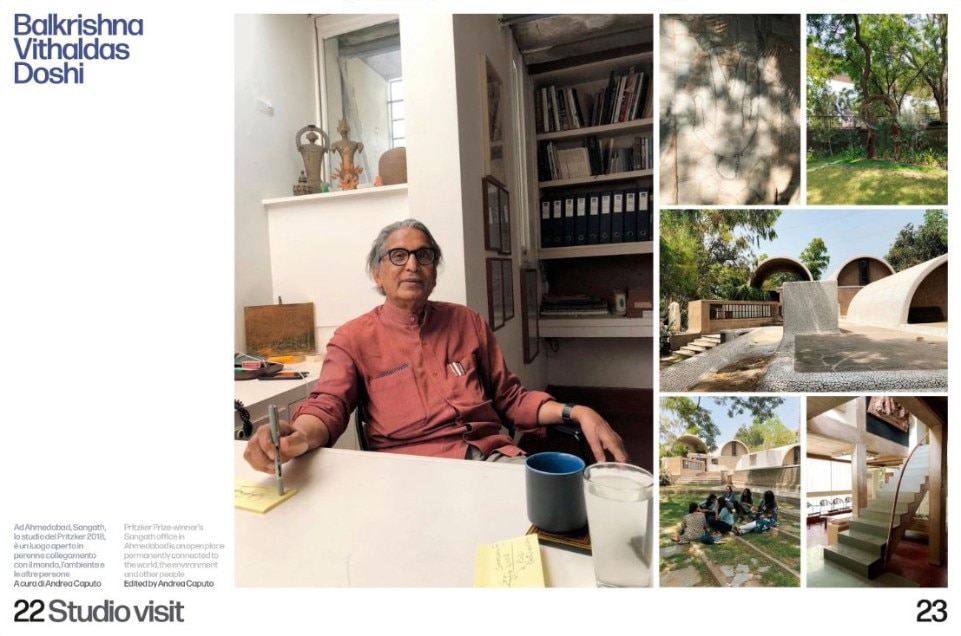 The Sangath concept goes far beyond the traditional workplace model. Its environment showcases a lifestyle – a solemn and secular vision of how we should live and discuss our thoughts.
Balkrishna V. Doshi: I opened my practice in 1956 after coming from the Le Corbusier studio in Paris where I clearly remember his office-door sign, just one line saying Le Corbusier. Nothing else. Louis Kahn did the same but I come from a background where anonymity is equally important because being slightly anonymous gives you the opportunity to break ground. Nobody questions you. The second interrogative was: Am I an architect or someone connected to the world, the environment and people?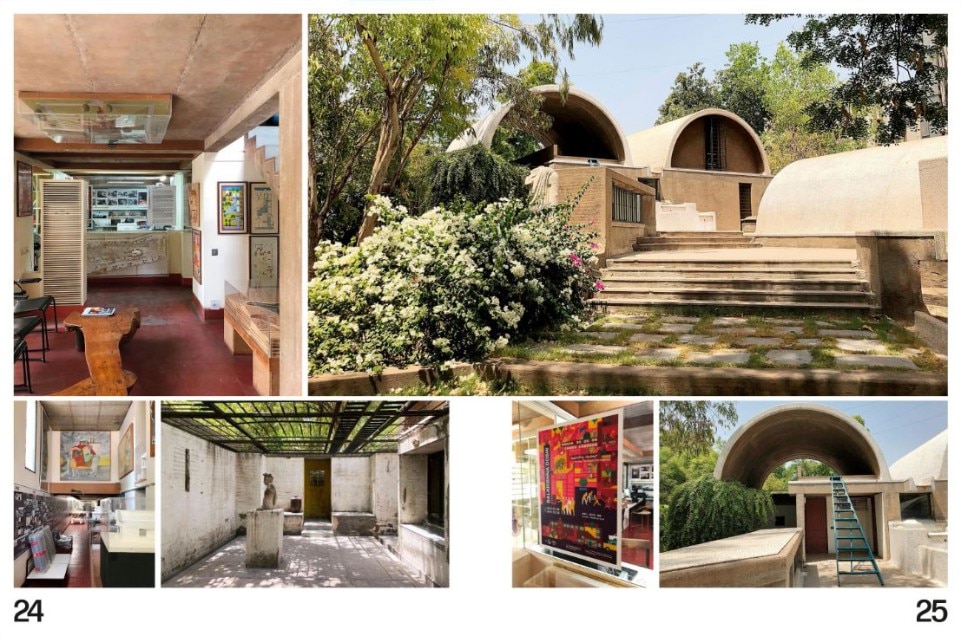 In India, we have a science of the environment and it has a name: Vastu Shastra. I changed it to Vastu Shilpa (design for the environment). Once you claim to be talking about the environment, there is no limit. We are not classified. I am not chained to the micro-scale of design but more involved in a broader analysis of what surrounds us. The fact that I never had a standard architectural education was a plus. I had no preconceptions or limitations to my approach.
This is Sangath: an open place where this ongoing investigation and exchange with people and life happens.