Thierry Mugler passed away yesterday January 23, 2021 at the age of 73 in Paris.
The cafes of the French capital were more than an inspiration for the 25-year-old Mugler, who in 1973 launched his first collection named Cafe de Paris, the springboard for his fame to come. Those were years when fashion and the arts looked back at the 1930s and 1940s. Vittorio Gassman whore a candid cream-toned suit in the style of decadent dandies like D'Annunzio in Dino Risi's masterpiece Scent of a Woman, and Federico Fellini, with his Oscar-winning cult Amarcord, strived to remind us of the inevitable importance of nostalgia - always aesthetic, never moralizing - to overcome the drudgery of the present.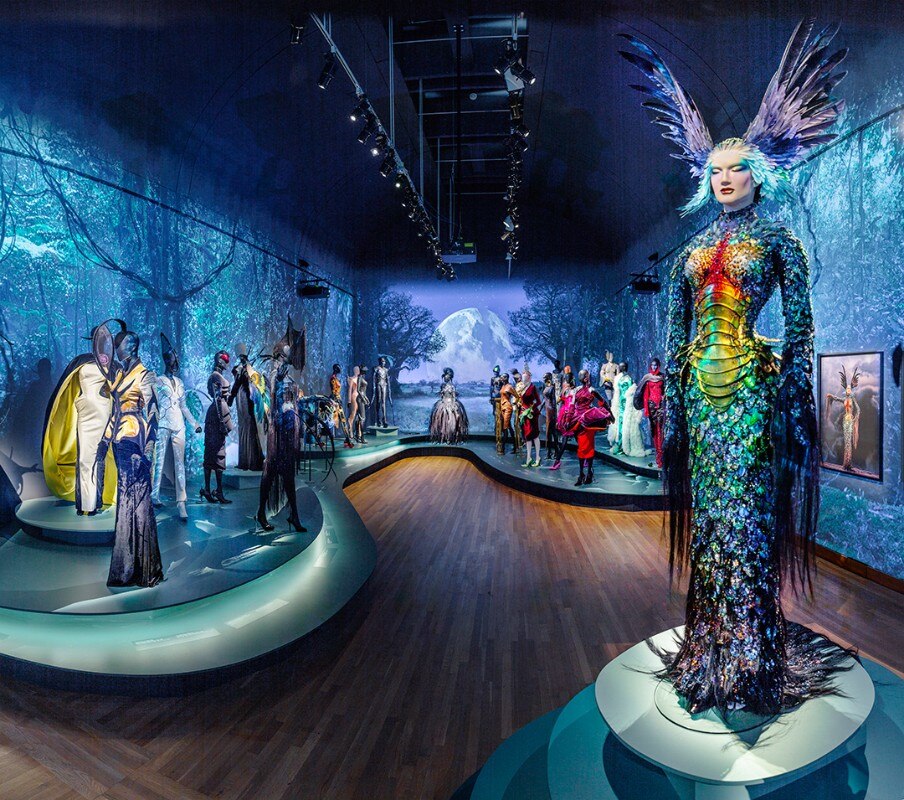 One could argue that this lesson was imbibed by the young Mugler, who subverted fashion in the following decade by proposing his own, wild, imaginary made of futuristic-looking cowgirls and cosmonauts, of Buicks and motorbikes straight from the days of American drive-ins and Hell's Angels, but also an iconography where sirens, nymphs, Christian and pagan divinities were turned by the designer into apocryphal muses.
This Fellinesque cornucopia of characters was brought to life through exaggerated, theatrical,  autohiornical  and seductive - in one word, camp - shapes, whose roots lied in the world of drag clubs and queer counterculture which Mugler loved to move within and that influenced new aesthetic canons across the '70s and the '80s. The same demonised underground scene that Mugler took by hand and conducted– always empowered, never stereotyped – on the globe's most influential catwalks. It comes as no surprise to learn that he was among the first designers to use trans models in runway shows.
"Couturissime", the name given to the prominent exhibition that the Musée des Arts Décorarifs in Paris dedicated to Mugler in 2019, flawlessly captures with its superlative the hyperbolic language of Mugler's designs. 

A lexicon made of exaggerated shoulder pads and hat brims sitting in striking contrast with the uber narrow, pin-up-like waists. The corset – now hip once again in virtue of one of the many bulimic trends set by Tik Tok and produly claimed by that fashion split between the streets and the metaverse – became the trademark of Mugler, who in return transformed it into a shell, an armour empowering the woman wearing it with the charm of a femme fatale for the post-modern era. The corset turned into a work of art, also thanks to the prolific collaboration with sculptor Jean-Jacques Urcun, which began with the Spring/Summer 1989 collection.  
Corsets like the one designed for the Les Cow-boys collection to resemble the shiny shell of a flame-patterned motorbike, pimped with protruding mirrors, and worn by Emma Sjöberg in the 1992 video for George Michael's Too Funky, which the ex-Wham directed with the French designer. 
Rubber was one of the fundamental materials that brought Mugler's visions to life. If latex, at first, was something confined to underground magazines for BDSM-initiates to be hidden under the bed like British designer John Sutcliffe's AtomAge, with Mugler it became an institution of haute couture. By the mid-Eighties Domus 663 explored its application in fashion. Mugler, questioned on the topic, explained that "it's mainly an aesthetic choice less than comfort".
After all, latex, corsets and shoulder pads are all tools instrumental to shaping and (de)forming bodies, whose extreme volumes much stimulated Mugler's curiosity. The designer himself, a lover of bodybuilding, had forged his own body. In 2019, despite his reluctance to mundanity, Mugler had posed naked for the camera of Interview Magazine, discussing his relationship with plastic surgery and bodybuilding. "I think it's important for people to be a complete realisation of themselves. I have always been fascinated by the human body, and I wanted to pay homage to what it can do," he declared.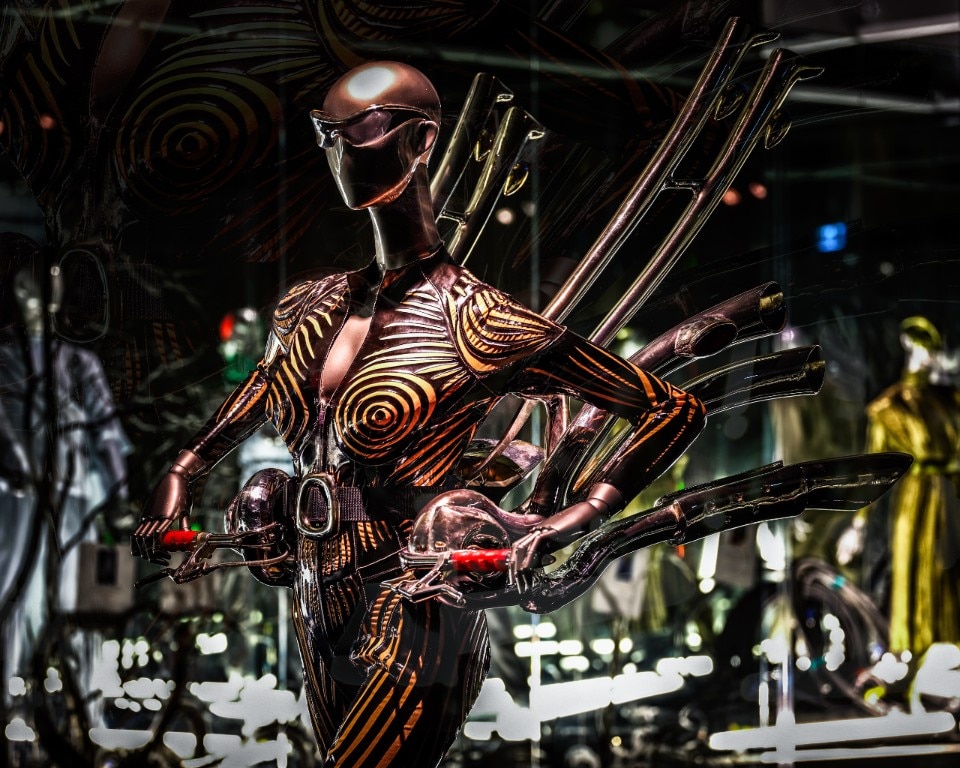 Following the triumphant success of his fragrance Angel in the 1990s and his last collection for Thierry Mugler in 2001, over the last twenty years the Frenchman had dedicated himself to stage and costume design, the natural evolution of his continuous research for theatricality. He hadn't, however, stopped to play and experiment with seduction, updating the syntax of his language to the new status quo of showbiz, the reason why his legacy still stands strong with the likes of Elsa Schiaparelli, and the creations by Charles Jeffrey for his Loverboy. Lady Gaga, natural heiress of his visions, but also the extreme and seductive bodies of Cardi B and Kim Kardashian were some of the names that were dressed by Mugler in more recent times.
"I made my clothes because I was looking for something that didn't exist,. I had to try to create my own world," Mugler once said, without whom today our collective iconography would no doubt be lacking some of its most illustrious pillars. Or, nonetheless, be way less kinky. 
Opening image: View of the exhibition Thierry Mugler: Couturissime. Montreal Museum of Fine Arts. Photo © Nicolas Ruel